What's on this page:
>>> Newest site updates <<<

July 31, 2022

New featured photo of Carl Hoch & His Concert Orchestra on the home page.
Beginnings of a new Factories and industries page; a fuller page with photos, information and comments from contributors is in progress.

May 30, 2022



Many new and enhanced pages

in the Churches section, you can find links there to:
Upper Lehigh churches, Eckley churches, Sandy Run / Sandy Valley churches, Jeddo churches, Drifton churches, St. Luke's Lutheran Church, Sts. Peter and Paul Lutheran Church, Calvary Full Gospel Church, Trinity Methodist Church, Christian Holiness / Holiness Christian Church, Zion Welsh Baptist Church, Bethel Baptist Church, St. Paul Primitive Methodist Church
Correction to page about St. Mary's children group photo of 1896.
Corrections to note about 1896 St. Mary's photo and 1957 FHS class photo comment by Pat Miller on the page of student group/class photos.
Correction to Cozy Corner pizzeria info on Restaurants page.
Commencement program for FHL 1942 added to Schools page.
1939/1940 football team identified as FHS by Steve Yaskewich, who supplied a high resolution crop giving a better view of the players, added to the Football page.
Pictures of a sign and plaque remembering the Freeland Overall Factory were added to the Factories page.
Note from Willam M. Davis added to section about Davis feed mill on the 20C Feed Mills page.
A 1900 notice about the publisher of

Slavonic Truth

was added to the page on Printers, newspapers, etc.
Link to page about Edward Gallagher's barbershop added to 20C Barbers page.
Page of Memorial Day offerings re-posted.

March 29, 2022

Newly featured on the home page: Barney Carr's booklet on cutting mine timber (also added to Mines page), and an undated photo of the Freeland Tigers (also added to the Baseball page).
Information on new edition of Buck Mountain book (with offer by author to trade new edition for old at no charge) added to home page and Buck Mountain page.
A Halls and meeting rooms page was linked from the Buildings page, including new pages for Cross Creek Hall, the Cottage Hotel and Haas Hall, Donop's Hall, Harmony Hall, Krell's Hall, Lindsay's Hall, the Passarella building, Remak's meeting room, Timony Hall, Washington Hall/Hotel, Yannes Opera House, and Zemany Hall, along with updates to the pages for Freeland Hall, the opera houses, the Tigers Club, and the Y.M.C.A.
Two new postcards added to the Upper Lehigh page (third and fourth entries on the page).
A new postcard showing a church was added to the St. Johns - Drums page.
A postcard of part of the Freeland cycle path was added to the Bicycling page.

March 7, 2022

A 1896 South Heberton individual listings page was linked from the People page.
A 1896 page of municipal listings was linked from the Municipal page.
A page about Florence Zierdt was linked from the People page.
Organizations listed in the 1896 directory were added to the Organizations page.
Photo of St. Casimir's Choir from 1915 added to St. Casimir's page.
Another identification of a worker in the ca. 1914 clothing factory photo.
Photo of Miles Bressler's Fredericksburg cigar factory added to the Cigar manufacturers page.
More printers and publishers added to directory lists on Stationers and news dealers page.
Photo of 1958 pharmacy almanac cover added to Pharmacists page.
Goeppert letterhead and return address images added to Hardware etc. page.
1964 zip code promotional card added to Post Office page.
List of FHS 1952 graduates added to Freeland High School class of 1952 page.
Photo and list of FHS 1953 graduates added to Freeland High School class of 1953 page.
Name list added to photo of FHS 1948 JV team on the Basketball page.
Photo with IDs of FHS 1950 basketball team added to Basketball page.
Photo and name list of FHS 1952 basketball team added to Basketball page.
Another DCM classroom photo early 1900s added to Student groups page, and two photos of Upper Lehigh class groups were also posted there.
Photo and name list of FHS 1952 band and majorettes added to the Band, Cheerleaders and Majorettes page.
Photo and names from a 1946 Bible study retreat added to Freeland area Bible schools, classes, retreats page.
Various mercantile listings for Freeland area linked from the Businesses page.
Added to the Mines page: photos of Sandy Run miners and laborers, and an 1875 price list from Philadelphia coal shippers.
Added to a related Mines page highlighting the work of Frank N. Becker: a 1933 ad for an open house in Harleigh to showcase the model steel house featuring the HEATERANGE stove designed by Becker.
A black and white postcard of the Public Park with fence was added to the Parks, picnic grounds, recreation page.
Brief history of precursors to Drozic's Bar added to Saloons page.


January 1, 2022
New featured photos on the home page highlight several Freeland garages from years gone by.
Other updates:
- New Freeland products page and a link to it was added to the Businesses page, with new information added to what was originally posted as a featured photos section on the home page.
- New Service station at Centre and South Streets page and new Car dealerships page added and linked from the Garages page.
- New page for Holy Trinity Cemetery, linked from the Cemeteries page.
- New page for a 1964 tour of Freeland's bars.
- New page for 1992 Freeland Fire Department firetrucks, and a link on Municipal page to the big Freeland fire of 1886.
- Link to Cigar manufacturers page and a Major Shirt Factory help wanted ad 1954 added to Factories page.
- 1946 ad offering ice plant for sale added to the Ice sellers and companies page.
- S. and S. Bottling removed from the 20th and 21st centuries saloons page.
- Identification of two women in Public Park Veterans Memorial photo added to Military page.
- Note from a descendent of George McClellan added to 1926 Semi-centennial page.
- Photo of FHS basketball team 1947-1948 replaced on Basketball page.
- A photo and some discussion of the Hazlebrook Slavonians ca. 1910-1920 was added to the Baseball page.
- Identification note added to 1957 FHS grads photo and another added to the Foster Township grade school photo, ca. 1913-1920, on Student class pictures page.
- The Double Dip was added to the Confectioners page and Restaurants page.
- Boxer Bob Provizzi info and boxing schedule added to Boxing page.
- Notes added about Turri's and the Surf Club to the 20th and 21st centuries saloons page, and the Surf Club notes also added to the Restaurants page.
- Two more ads for Vince's Grocery added to Grocery stores page.
- A longer article about the 1931 DiSpirito feed store fire added to Feed mills page.
- Lindsay Hardware info corrected on Hardware stores page.
- Information on two printers (Flad and Banjock) added to the Stationers and news page.
- PDF of 1940 local area football schedule and rule changes added to the Football page.
- 1897 article about duplication of street names following annexation of South Heberton, Birvanton and Alvinton to Freeland added to the Streets page.
- Information on The Nickelette and the original Seitzinger's drug store with its soda fountain added to the Restaurants page; the Seitzinger's info about its original location was also added to the Pharmacists page.
- Yannes Opera House information corrected on both the Opera Houses page and the Dances and Balls page.
- Nemo's information updated on the Building decor, furnishings and appliances page, in the section on Radio, TV, electrical appliances and services.
- 1925 note from newspaper about where mules were brought out of the old Woodside mine added to Mining, miners, coal pickers page.
- A link to a 1964 tour of Freeland's bars added to the 20th and 21st centuries saloons page.
- Updates to Beer distributors page.
- Note added to page about "mystery bar" on Main Street.
- Bottles by Boyle, Burk, Freeland Brewery, Hudak, Perun, Standard Bottling Works, Sweeney, Yannes, Zelenak sent by Tim Matushoneck added to Bottlers page, along with some updated information about Paul Perun, John C. Fox, George Yannes and John Yannes.
- A 1954 ad for the Skyway Hotel added to the Hotels page.
- More information added to Garages page, and my confusion about the two garages at Hazle and Centre streets gets cleared up.
- Kozel's Cafe information added to the 20th and 21st centuries saloons page.
- Newspaper account of the 1900 Tigers Club's 20th Century Ball added to the Tigers page.

August 22, 2021
New featured photos on the home page highlight several Freeland products and businesses from years gone by. The Mark Postins and Bill Morgan photos and information posted on the home page earlier this summer are now redistributed among these pages:
Freeland 1938 airmail cover sent to President Roosevelt by Postmaster Neale Boyle - Contributed by Mark Postins, posted May 14, 2021 - now at: Post Offices
Ray Morgan, gas station owner and gunsmith - Contributed by Bill Morgan, posted May 14, 2021 - now at: Ray Morgan, gas station owner and gunsmith
Foster Township grade school photo, ca. 1913-1920 - Contributed by Bill Morgan, posted May 14, 2021 - now at: Gallery of student class group photos
Bill Morgan retires from the Hazleton newspapers after 58 years - Contributed by Bill Morgan (son), posted May 14, 2021 - now at: Printers, newspapers, news dealers, stationery stores

August 14, 2021
Updated information about Cheppa plumbing and bar/restaurant businesses added to those pages. More information was also added to the Kopski Automotive entry.

June 6, 2021
New information about the Coffee Pot restaurant added from Gus Speal's grandson, see the Restaurants page. Also, a note was added about the location of the Donop home in the earliest years of Freehold / Freeland (see the bottom section of the Donops page).

June 2, 2021
New page made about August and Margaretta Donop and their family.

May 9, 2021
Posted to home page: information and images about Ray Morgan, William D. Morgan, and a 1938 airmail cover envelope sent by Postmaster Neale Boyle to President Roosevelt; also a link to Hugh Hughes obituary.

March 22, 2021
Photo credit correction for Ray Morgan's garage photo in a list of automobile-related businesses.

February 28, 2021
Three views of Freeland 1886 (travel account, big fire, 10th anniversary celebration photo) now added to Early accounts of Freeland and Freeland area page. Comments from Marion Denion about the Pool room added to the Billiard parlors and pool rooms page, and about Doc and Rose Welsh's on the Confectioners page. Ice skating photos added to Featured Photos section of the home page.
New page added: Ice skating, under Sports.

January 31, 2021
One of two photos now identified as Ellen Farley Carr: One early-20th-century Irish young man still to identify.

January 16, 2021
Index now available for Melanie Akren-Dickson book on Buck Mountain people [scroll to bottom of that page]. Correction posted about Yannes Opera House to the Opera houses page.
New Page added: Two early-20th-century young Irish people to identify.

January 3, 2021
New featured photos about Freeland in 1886 added to home page. Links page updated.

Valerie Bedard photos moved from home page to these pages:
Gallery of student class photos page;
FHS class of 1920 page;
Freeland Men's Chorus page;;
Benjamin F. Davis page;
Jeddo Highland Coal Company page;
Images of coal breakers page;
Bible schools and classes page.

January 1, 2021
New information about the cannon added to the Soldiers Monument and Cannon at Freeland Cemetery page.

December 31, 2020
Ben Abboud photo mat signage added to Photography page.
New pages:
Soldiers Monument and Cannon at Freeland Cemetery
Girls' Loyalty Club
Girls' Loyalty Club in the News

November 28, 2020
Salmon Iron Works page updated with additional information.

November 21, 2020


New page:


Salmon Iron Works

November 14, 2020


New page:


Freeland Police Department, 1932 Annual Ball - program booklet

November 9, 2020
A 1926 insurance policy for miners working underground for the Jeddo-Highland Coal Company was added to the Mines page. A paragraph about the cycling path between Freeland and Sandy Run was added to the Bicycling and Associated Wheelmen page, along with an 1891 Birkbeck's ad illustrated with a picture of male and female cyclists.


New pages:


Individual listings from the 1895 Barry's directory

November 1, 2020
Added a paragraph about Billy Kummer to the Penn State League (Basketball) page. Information from Bill Feissner and Ed Merrick on Kye's Cigars and a mystery from Melanie Akren-Dickson added to Billiards page; Kye's also added to Cigars, cigarettes and tobacco page.


New pages:


Continuation School in Freeland
Jeddo Supply Company Store
Jeddo Casino
Bowling

October 30, 2020
New page on the Penn State League (Basketball). Additions to the Buck Mountain page under Nearby towns.

October 17, 2020
New page on Bicycling and the Associated Wheelmen. Additions to the Print Resources page. Buck Mountain page begun under Nearby Towns.


---
New book about Buck Mountain, 2020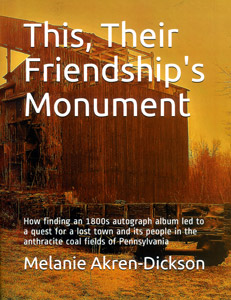 This, Their Friendship's Monument: How finding an 1800s autograph album led to a quest for a lost town and its people in the anthracite coal fields of Pennsylvania, by Melanie Akren-Dickson



Melanie Akren-Dickson has written a book about her great-great-great-aunt Mary Boyd of Buck Mountain's autograph album. Found among her grandmother's effects, the album was signed by 80+ people between 1881 and 1896, when Mary Boyd was age 23-37. Signers included coal miners, schoolteachers, Civil War veterans, even daughters of a Philadelphia magnate of industry, and many familiar names from the region. The album led Melanie to spend years researching the signers and the long-gone village of Buck Mountain. Through family documents and interviews, online resources, public records and other sources she found at least several pieces of information for most of the signers. The book is well illustrated and gives an intriguing view of the lives that intersected in this little autograph album – one of many compelling features of the book being that it documents women of the time as well as men. The main text is 311 pages, with another 64 pages of bibliography and notes. Very highly recommended, especially for those interested in the history of the region. Available on Amazon in both paperback (8.5x11") and kindle.



Pages shown below are poor reproductions from my scanner, showing shadows etc. that do not appear in the actual book, which was very well-produced.

Here are the entries for Sarah (Boner) McMahon and Hugh A. Shovlin. Images reproduced with permission of the author.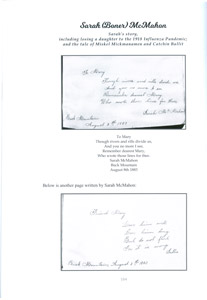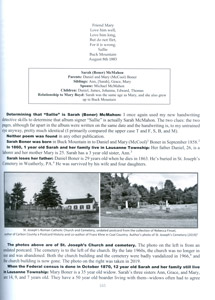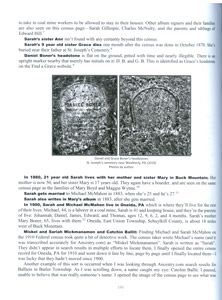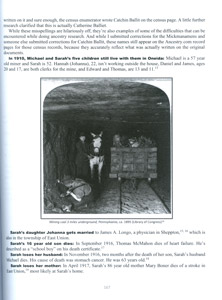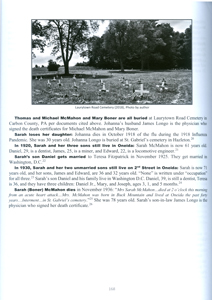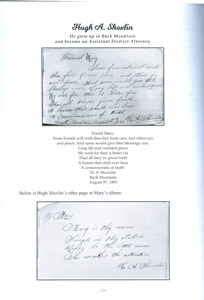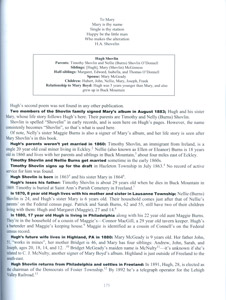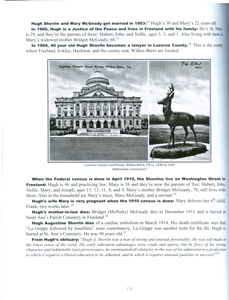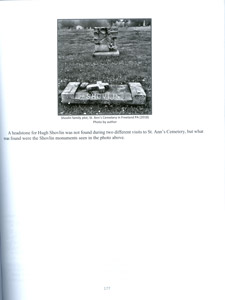 ---
Celebrating 20 years of this website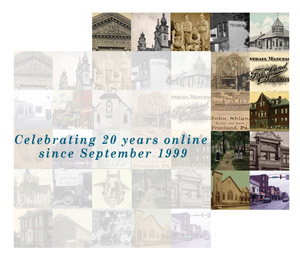 When I started this website 20 years ago, it was a simple thing with maybe a dozen or so pages, no pictures. It was just part of my personal website. I remember just being excited to share online the names of people and businesses listed in some early directories (found at the Hazleton public library on microfilm), along with a list of businesses that my brother Steve and I had put together during a road trip as we tried to come up with the names of every business we could remember from the 1950s and 1960s. That was the site. Here's what it looked like: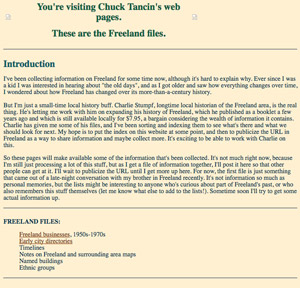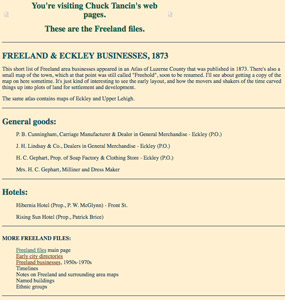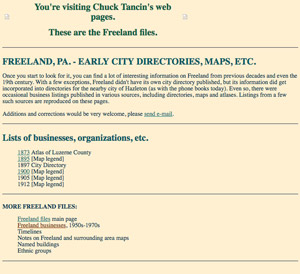 A year later I upgraded the site (still no pictures, though). In the late 1990s I had found Sanborn Fire Insurance maps of Freeland in microfilm at Carnegie Mellon, where I work, and I was ASTOUNDED that there were old maps of Freeland that actually showed every building, with their addresses. Not only that, a few of them also labeled most of the businesses by type of business (Hdwr., Sal., Confect., etc.). How completely amazing that these existed! I remember printing them out section by section on regular typing paper and taping them together, then taking those to Charlie Stumpf and Charlie Reczkowski to share with them (imagine them spread out sheet by sheet on the Corner Store's butcher table in the back room). So exciting!!! Sometime in the early 2000s I purchased digital copies, and my paper copies are now at the Freeland Historical Society. Anyway, here's what the September 2000 site upgrade looked like: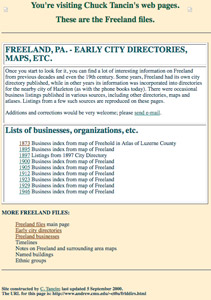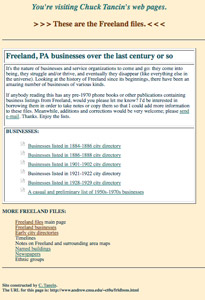 Later it stopped being just part of my personal website and became its own thing, with pictures and sections and the various features it has today. I'm so happy that this site continues to be a good way to share photos and information with anyone who has an interest. Many people have found references to their relatives here, and sent me images and information to share with others. Thank you to everyone who has contributed photos and information to the site (with special thanks to Ed Merrick and Charlie Gallagher), and to everyone who visits it. If you have something you would like to share online about Freeland area history, please consider sharing it here. And if you have some items relating to Freeland area history that you would like to have saved/kept, please consider giving them to the Freeland Historial Society. Thank you!!!


---
Freeland's past/present Roman Catholic churches' records now digitized by NEPGS
NEPGS HAS MOVED TO WILKES BARRE.


NEPGS headquarters located at:
Angeline Elizabeth Kirby Memorial Health Center, Annex II
57 North Franklin St.
Wilkes-Barre, PA 18701

Hours: Wednesdays and Thursdays, 11 a.m. - 4 p.m.
Phone: 570-829-1765


The Northeast Pennsylvania Genealogical Society, Inc. (NEPGS) in partnership with the Diocese of Scranton is digitizing parish records in eleven Pennsylvania counties, including Luzerne.

The project, which began in May 2016, reached a milestone in January 2017 with 100 parishes completed.

Freeland's Roman Catholic parish records are all digitized, including: Immaculate Conception/Freeland Catholic Community, Immaculate Conception Church - Eckley, St. Ann Church in both Woodside and Freeland, St. Anthony Church, St. Casimir Church and St. John Nepomucene Church.

It's important to know that NEPGS has a strict privacy policy for public access to the Catholic records:
Sacramental Records relating to events 70 or more years old shall be accessible to members and patrons of NEPGS, consistent with NEPGS Library Policies.
Sacramental Records relating to events less than 70 years old shall be sequestered and shall not be available to be accessed by members or patrons of NEPGS until such time as the record become 70 years old.
NEPGS removes from the accessible records, all references to adoptions which occurred after January 1, 1926, which is the effective date when civil adoption records were sealed in the Commonwealth of Pennsylvania.
The church records are only available on the NEPGS in-house network. The records are not available online.
NEPGS is an all-volunteer 501c3 nonprofit organization and is open to the public.
When you visit the society, volunteer staff can answer questions about the use of the Digital Collections.
For those who are unable to visit in person, research services are available at reasonable rates. Memberships are also available.

Note for visitors: Non-members are required to pay a $15.00 day pass prior to admission. An enhanced day pass for $25 also provides access to the NEPGS library. All members/patrons are required to sign the NEPGS Library Policy. Cameras and flash drives are prohibited.

Please check out https://nepgs.com for the latest information.
---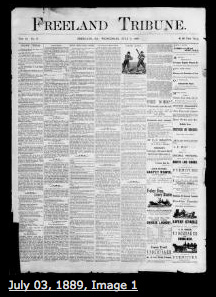 Freeland Tribune 1889-1903 now online.
There are now about 14 years' worth of

Freeland Tribune

newspapers (1889-1903) available online at the Library of Congress Chronicling America site. This represents 3 of the 14 reels of microfilm that were made from 35 years' worth of early Freeland newspapers owned by MMI Preparatory School. The microfilm for all of them is available for consultation at the Hazleton Area Public Library, and now part of it is also accessible online. Yay! Many thanks to the Hazleton Area Public Library, MMI Preparatory School, Penn State, and to all of those who contributed funds and those who have been otherwise involved in making this project a reality.



---
Thesis about Ralph Pecora's Tailor Shop
All of our featured photos have been wonderful, and this month we've got something extra special. Emily Pecora has recently completed a Masters Thesis about the tailoring business of Ralph Pecora, Sr., which stood on Freeland's Centre Street from the early 1900s until Ralph's death in 1959. While the thesis will be of particular interest to those who knew Ralph or other members of the Pecora family, it should have a larger appeal to all Freelanders and ex-Freelanders. It can be downloaded in full here (see below).
Emily is the great granddaughter of Ralph Pecora, Sr. and the granddaughter of Amelia Pecora. She welcomes comments or corrections and is particularly interested in any additional reminisces or information about Ralph and his family. She can be contacted at emily.pecora@gmail.com.


The Tailor of Freeland: Everyday Life, Labor, and Community in a Pennsylvania Town, by Emily Pecora

Clicking these links will open Adobe PDF files of Emily's thesis. If you don't have Adobe Reader on your computer you can download it for free at www.adobe.com.

Preface, illustrations, table of contents - (PDF file size = 1 MB)




Chapter 1 - (PDF file size = 3.1 MB)




Chapter 2 - (PDF file size = 5.1 MB)




Chapter 3 - (PDF file size = 4.7 MB)


---
Here are links to three pages containing previously posted photos and information from the Featured Photos section of the home page: earliest postings, more recent ones, and the most recent ones. They are credited to the sources. Some of these have also been integrated into other parts of the site, while others are still waiting for that. Meanwhile, these past Featured Photos are always available via these links.