What's on this page:

Freeland Centennial comforter featuring 10 Freeland buildings

Named halls, blocks and other buildings in the 1920s, with addresses

Named halls, blocks and other buildings labeled on Sanborn maps

On related pages:
---

FREELAND CENTENNIAL COMFORTER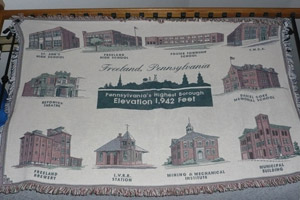 Larry Maso sent a photo of this great comforter that was created to celebrate Freeland's centennial in 1976. It contains pictures of St. Ann's High School, Freeland High School, Foster Township School, Y.M.C.A., Refowich Theatre, Daniel Coxe Memorial School, Freeland Brewery, L.V.R.R. Station, Mining & Mechanical Institute, and the Municipal Building.






---
NAMED HALLS, BLOCKS AND OTHER BUILDINGS IN THE 1920s
In the 1921-1922 city directory there was a listing of "Halls, Buildings and Blocks", and the 1928-1929 directory had some additional named buildings listed. Some of these buildings can still be readily identified because their names were carved into them and can still be seen, often near the tops of the buildings. In other cases, identification is more difficult, and in some cases the buildings are no longer there.
Eventually there will be more information on this page regarding these buildings and others, the purposes for which they were used, and the people or organizations for which they were named. Meanwhile, if you know of others that should be added to this list, I'd appreciate it if you'd let me know about them. Thanks.
Balon Building - 538 Centre

Birkbeck Building - 600 Centre

Eagles Hall - 704 Front

Elks Building - 716 Centre

First National Bank Building - 636 Centre

Freeland Hall - 634 Centre

Knights of Columbus Building - 602 Centre

Krells Hall - 700 Front

Masonic Hall - 702 Centre

Mulhearn Building - 635 Centre

Municipal Building - Centre corner Walnut, 801-805 Centre

Odd Fellows Hall - 634 Centre

Oswald Building - Centre corner Front, 704 Centre

P O S of A Building - Centre corner Front

Pollakoff Building - 521 Centre

Post Office Building - 714 Centre

Press Building - 820 Main

Refowich Building - Centre corner Main

Rosenthal Building - 462 Centre

St. John's Hall - Ridge corner Luzerne

Timony Hall - 815 South

Tribune Building - 824 Main

YMCA Building - 546 E. Front


BUILDINGS AND BLOCKS LABELED ON SANBORN FIRE INSURANCE MAPS:


1900 Sanborn map

Birkbeck Block
Oswald Bldg.
Y.M.C.A. Bldg.



1905, 1912, 1946 Sanborn maps


Y.M.C.A. Bldg.



1923 Sanborn map


Elks' Club House
Y.M.C.A. Bldg.



1929 Sanborn map


Elks' Club House
Freeland Hall