What's on this page:
1884 Geological Map of Luzerne County
Michael C. Korb: Coal Mining in Upper Lehigh, Butler Township, Luzerne County, Pennsylvania
Barney Carr's booklet on cutting mine timber

1910 Miner's Certificate
1869 and 1901 Miner's cards

1926 underground miner's insurance policy from Jeddo-Highland Coal Company
1940s Hazle Mines group photo
Sandy Run miners and laborers (photos)
1875 price list from Philadelphia coal shippers
Memories of a coal country past, from Jim LaRegina - Cindering the streets and roads

Memories of a coal country past, from Diane Unangst
Memories of a coal country past, from Patricia Bzdil Paul
Memories of a coal country past, from Chuck Tancin
On related pages:
Local mining information in Munsell's history of 1880 (coming sometime soon)

Local mining information in Bradsby's history of 1893 (coming sometime soon)
Franklin N. Becker and his work for the Jeddo-Highland Coal Co. in the 1930s
Images of mining, miners, coal pickers

---

Here's an 1884 geological map of Luzerne County from the 2nd Geological Survey of Pennsylvania. The fact that it shows Woodside but not Freeland suggests that it might label mining locations rather than towns. On the right is a cropped section of the map highlighting our area of the county.













---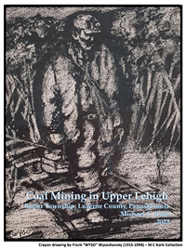 New mining history from Michael C. Korb:

Coal Mining in Upper Lehigh, Butler Township, Luzerne County, Pennsylvania

"Over 60 percent of the world's anthracite coal is here in northeastern Pennsylvania. During the 19th century anthracite coal was the fuel that ignited the Industrial Revolution in America. Our region became the land of opportunity – an expanding economy, growing communities, exploding immigration, innovations in transportation and industry. The eventual demise of the anthracite industry resulted in the opposite effect – a shrinking economy, loss of jobs, out migration, financially distressed local governments, and extensive environmental degradation. Upper Lehigh, in Butler and Foster townships, and the Upper Lehigh Coal Company were an important part of early Anthracite Industry." (page 2)

Mike Korb is a mining engineer who lives in the Township and was involved with an abandoned mine reclamation project in the Foster Township portion of Upper Lehigh before he retired from the Pennsylvania Bureau of Abandoned Mines. He has given us some deep history of the Upper Lehigh mines, and has kindly agreed to make this work available here in PDF format.




Coal Mining in Upper Lehigh, by Michael C. Korb - (PDF file size = 5.3 MB)




---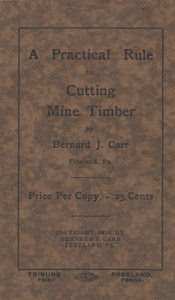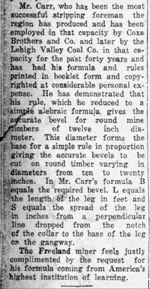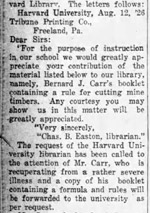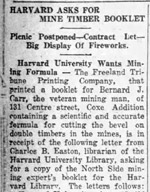 Shawn Carr wrote:

I was looking for a little more information on my great grandfather, Bernard J. (aka "Barney") Carr, a coal miner from Eckley and Freeland, when I found a newspaper article from 19 August 1926 regarding a booklet he wrote on cutting mine timber. I have an original copy of that booklet. Don't know if you're still adding to your history of Freeland, but if you're interested, I've attached a pdf copy of that article and the booklet.

----- Thank you, Shawn! What a wonderful thing to share. I know readers will agree that your great-grandfather Barney Carr did a great thing in sharing his considerable mining expertise with others by publishing this booklet. And word got around! Here is the newspaper report that Shawn sent, about Harvard's librarian writing to Barney Carr in 1926 to ask for a copy of the booklet for their library. The newspaper article praised Carr's expertise and his then-40-year career with local mining companies. Barney Carr's booklet is downloadable here. Many thanks to Shawn Carr for sharing this family link to local mining history.


Bernard J. Carr, A Practical Rule for Cutting Mine Timber - (PDF file size = 5MB)


---

Billy Kuklis shares this Miner's Certificate for Anthony Kuklis, 1910, showing that Mr. Kuklis passed his mining examination.









---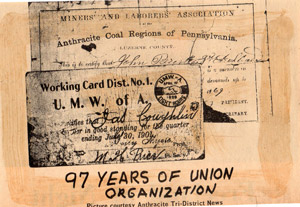 From Ed Merrick: A pair of miners' union cards, perhaps published in the

Penny Saver

? (cited as provided courtesy of

Anthracite Tri-District News

). The front card shows that James Coughlin was a member of the United Mine Workers of America for the year 1901.

The back card, and I wish we could see the whole thing, is dated 1869 and shows membership in the Miners' and Laborers' Association of the Anthracite Coal Regions of Pennsylvania.







---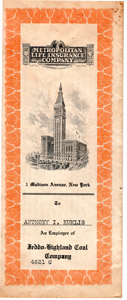 This insurance policy for miners working underground for the Jeddo-Highland Coal Company comes from Billy Kuklis, who wrote:

I found an old insurance policy from the Jeddo-Highland Coal Company dated 1926, it was for my Grandfather. Interesting Letter in the policy from the mine owner John Markle addressed "To The Men Working Underground"

.

When I expressed surprise that there was also a free nursing service involved and asked if his grandfather ever used that feature of the policy, Billy replied:

My grandfather died on New Year Eve in 1934 don't know if they used the policy at that time

.

The policy is from the Metropolitan Life Insurance Company (which had an agent working in Freeland, but I don't know whether that agent was involved in these miners' policies), and it was accompanied by the letter from John Markle shown here. In it he tells each miner receiving the policy that it is a gift from the Jeddo-Highland Coal Company which covers death from any cause, mine-related or not. It also covers total permanent disability and a free nursing service, and "represents an addition to your estate, guaranteed by the largest insurance company in the world."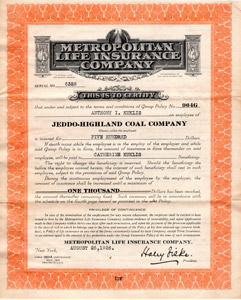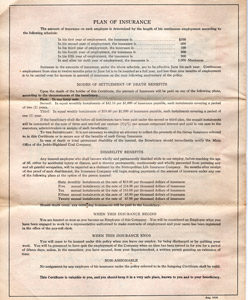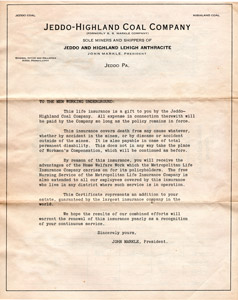 ---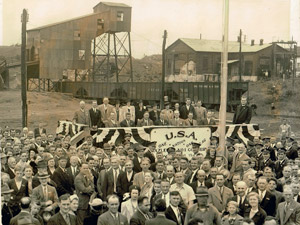 From Larry Maso:

"Here's a picture my wife Marie had of Hazle Mines. Her father was a foreman there. He is in the lower right hand corner with a cigar in his mouth. His two daughters are in front of him. His name was John Silock and his girls were Dorothy and Marie. Not sure of the exact year but probably early forties war time."













---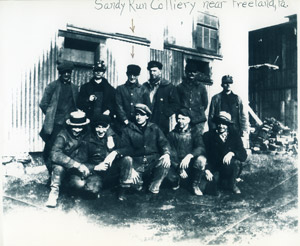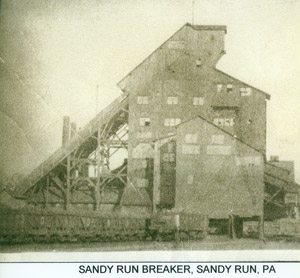 Bob Zimmerman shares this photo of a group of miners at the Sandy Run colliery, ca. 1925. The arrows drawn on the photo point to Bob's grandfather, Charles Becker, who was born in Eckley and died in Essex, Maryland. Bob also sent this photo of the Sandy Run breaker.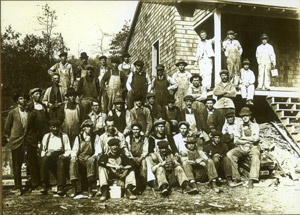 Bob Zimmerman also shared this photo that he has labeled "possibly Italian or Tyrolean workers." Can we assume that these were miners? Might this photo have been taken in Sandy Run (where many of Bob's photos were taken)?

More recently, Jim LaRegina emailed about this photo:

I think the men pictured are carpenters and painters. Compare their dress with the photo of miners at Sandy Run. In most of the miner photos I have seen over the years, the miners were dressed like the Sandy Run miners, dark, dirty and warm. Granted, the other photo may have been taken in warmer months but most of the men are wearing bib overalls. I haven't seen that in photos of miners in action before. A few of the men on the porch are in white bibs including one that may be carrying a paint bucket. White work clothes are what I have seen and associate with painters. Lastly, the house looks newly built. The cedar shake siding is not weathered. Cedar shakes would seem to be unusual for a simple company-built miner's house. Lastly, the man on the lower right is sitting on a stack of boards.


Thanks to Jim for these thoughts. I wonder where this photo was taken? If you recognize anyone here from your family photos, please let me know.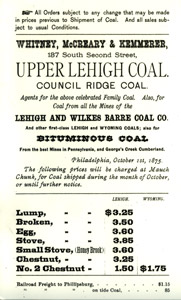 And Bob Zimmerman shared this 1875 price list from coal shippers Whitney, McCreary & Kemmerer in Philadelphia, prices to be "charged at Mauch Chunk, for Coal shipped during the month of October …" Note that Upper Lehigh coal is highlighted.










---

Memories of a coal country past, from Jim LaRegina - Cindering the streets and roads

Our home in Hazleton was heated by coal. In the early 1950s, my grandfather replaced the old hand-fired steam boiler with an automatic, hot water, coal stoker. You'd fill up the hopper from the coal bin with several day's supply of rice coal and the stoker would automatically feed it into the firebox and shake down the ashes into a metal tub. In a week's time we would generate 2 or 3 ash tubs and then bring them to the curb.

The city did not collect ashes like they did with routine garbage collection. A fleet of private ash haulers would collect it from homes. We used "Ernie the ashman" who had a helper and a small, well used dump truck. Risking a hernia for 25 cents per tub in the 1960s, they would heave the tubs and tip them into the back of the dump truck.

Some haulers likely had their favorite stripping hole. Freelanders probably dumped their ash in the now closed dump on the north side of town east of Upper Lehigh. The patch towns probably just took it "out back". At one point Hazleton had at least three places to dump ash.

In Hazleton one such dump was at the edge of the north side of Hazleton in the area of 22nd and Peace Sts. It was located immediately north of what became the Our Lady of Grace Cemetery and is now an athletic field. On the south side of the City off Rt 309, there was another dump on what is known as the No. 6 Hill. We used to dig for old bottles there amid the ash.

In my time, I think Ernie took ash to the east side of the city to Hazleton's Street Department garage near the former Lehigh Valley Coal's Hazleton Shaft. There was likely an old stripping pit there that provided an easy dumping location as well as easy access to heavy equipment to load some of the accumulated ash into city trucks to spread on winter streets. We used some of our "cinders" as we called them on our sidewalks after we shoveled them, but relied on the city to cinder the streets.

Before breakers were electrified, they relied on steam power resulting in large deposits of coal ash for potential winter road use. The same applies to any large manufacturing or industrial building heated by coal.

With a seemingly endless supply of ash, it was likely used liberally after each storm. As plows pushed snow aside after each snowfall, banks of grey, gritty snow grew along the sidewalks. In the Spring when they melted they left a layer of grit and dust that the city street sweeper machine would pickup.


---
Memories of a coal country past, from Diane Unangst
I was reading your "Memories of a coal country past" and your recollections sound very familiar to me based on what I've heard from my family.
I remember making toast at my grandmothers by putting a piece of bread on a long skewer and putting it through a small door in her coal stove. She didn't have a toaster.
I asked my Dad about the ashes. He said they had two garbage cans, one for the garbage and one for the ashes. So everyone did take out their ashes when they took the garbage out. He said the town kept the ashes at the dump.
My Dad said they heated their two story house with the coal furnace in the basement and the one heating duct on the first floor, as well as the coal stove in the kitchen.
My Dad said they used to eat the dinner leftovers for breakfast the next day, and that when he was very young they used to move every time his Dad (the insurance salesman and WW1 vet) found a cheaper place to rent.
My great grandfather Louis Feissner (who lived on Adams St.) worked a steam shovel at the mine near Jeddo. In the early 1900's he had one of his eyes blown out in an explosion there at the mine. I don't know the details but there's another example of how unsafe the working conditions were at the mines.
---
Memories of a coal country past, from Patricia Bzdil Paul
My Bzdil grandmother had a coal stove in our Hemlock St. house and my mother did the kitchen over in the early 50's and had an electric stove installed. We still had the coal furnace and I remember coal being dumped into the coal bin - which was a room in the front of the basement facing the street, and it was very tempting to climb up that coal mountain.
It also brought to mind that I was told my Petrichko grandfather got his shoulder (maybe clavicle?) broken when a beam fell on him while he was working in the mines. He had to walk home with that broken shoulder - 9 miles - have the doctor come to the house to set the bone and pay the doc. Then stay out of work with no pay for 6 weeks. (I think they must have brought the guys to work in a company bus or something and they weren't going out of their way to help him in the middle of the day.)
Anyway, my grandmother then made the kids go out picking huckleberries to sell while my grandfather was out of work so they could eat. And she also made them pick coal off the highway. They lived on South street right near the old Rialto and near what later became the roller rink. (was that a brewery at one time?) There was a bar/restaurant on the corner - Ravina's? The coal trucks would drop coal as they went. My mother said she was mortified doing that - pulling a wagon and picking up coal for the coal stove.
And that coal stove was the only heat in the house. With an outhouse in the back. My mom said she was scared to death to go out there in the middle of the night. Makes you wonder what life was like in Slovakia to make them come here for that?
There was an attempt of doing a strip mine in the field below my house that we played in a lot. When I was little it was just a big hole and we used to catch tadpoles there and climb in and around it. It's totally flat now and I guess has been for years. You might remember it? I think they probably gave up on it, maybe because it was so close to houses? My grandmother worked cooking for priests in a rectory in Hungary and then worked for a wealthy jewish family in NY before moving to Freeland. A lot of the food is the same. I don't know the story of her meeting my grandfather and them deciding coal mining was a good idea. She was able to make pastries like in Austria but my mother said it looked like too much work, getting the pastry dough thin by pulling it not rolling it, so never bothered to learn. But she did learn to make bread and my aunt would pay her a quarter to make it on my aunt's days. You had to get up early to get it going, evidently. My grandmother made her own noodles too. And she made beautiful shirts for her sons. And everyone had a vegetable garden in the back. Remember those?
I know that my grandparents got a cow when my father was a baby so he could have milk. He was sickly as a baby and my aunt told me he had 'waste-away' - which I am pretty sure is TB. The cow was kept in the garage in the back that we played in and that my dad kept his dogs in and rabbits at one time and pigeons too. I wonder if they ate the cow? My dad had a pet groundhog, too. I have a photo of that. Oh and a photo of him on a pony - someone came around with a pony and a camera and took your kid's picture. I think everyone has one like that.
---
Memories of a coal country past, from Chuck Tancin
Even though I didn't grow up in a mining household, our family was in Freeland because of our miners, and of course we used coal in our house, and so I'm taking this opportunity to share a few stories. When I was a little kid in the early 1950s we had a coal stove in our kitchen, where we lived in an apartment owned by my grandfather next door to his garage and above his auto supply store. My grandfather, my uncle Georgie, my aunt Helen (briefly, before she got married), my uncle Johnny and aunt Aggie, and my family all lived in this complex of 3 apartments in a building that my grandfather had bought from George B. Hudack, who had bought it from Peter Timony. My grandmother had died a few years before, after which the family moved from Upper Lehigh to Freeland. My grandfather had gotten out of the mines in the 1920s and began what became a series of several garage businesses. My dad and my uncles Johnny and Georgie worked for my grandfather. My uncle Joe had married and moved to Hazleton. So most of my dad's immediate family was concentrated in that one area at the corner of Carbon and Center streets.
Here are two early incidents. We had this coal stove in the kitchen, as was still common for many families then. My mom had been born and raised in Newark, N.J. and had never seen a coal stove before. (She'd never seen outhouses either, and only agreed to marry my dad on condition that they live somewhere with indoor plumbing, which ruled out the family home in Upper Lehigh.) One day she decided to please my dad by cleaning the stove. She was very thorough, and hoped he'd be proud of her industriousness. He came in for dinner that night and she was in tears because she couldn't get the stove to light. He peered inside the stove and, puzzled, asked her what happened to all the bricks. Wailing, she said that she cleaned out the stove and pulled them all out so they could be thrown away. (City girls, eh?) Fortunately the bricks were still around and he managed to put them back in place so that dinner could get back on track. Lesson learned. On another occasion, I was about 2 years old, playing in the kitchen. Next to the stove sat a coal bucket and small coal shovel. All of a sudden I was choking -- apparently I'd put a piece of this beautiful, gleaming coal into my mouth -- and by the time my dad got to me I was turning blue. He managed to expel the coal and save my life. Sometime not long after that they replaced the coal stove with a gas model, but the furnace for the three apartments would remain a coal furnace for all the years that our extended family lived there, which is to say until very recently.

This was not uncommon -- many local families heated and cooked with coal. We were in anthracite coal country, and Freeland and the surrounding communities owed their existence to the local mines. Although Freeland wasn't a company town, its early success and substantial growth over its first 50 years largely owed to the mining concerns that surrounded it. Here's another little diversion that gets back on track by the end of the paragraph. My grandfather, John Tancin, grew up in northeast Slovakia and by 1908 was a teenager and an orphan, at which time he and his twin brother Andrew took a ship to the U.S. to join their older brother Mike and sister Anna (whose first husband Andrew Krak had died from a mining-related illness in Slovakia). John and Andrew came in through Ellis Island and stopped in Yonkers first to see Anna, who as it turned out would remain in Yonkers with her young son, eventually remarrying, and so we have a branch of the family there to this day. But Mike had gone on to Upper Lehigh to work in the mines, and so my grandfather and his twin brother ended up there, too. A friend of my grandfather's from Slovakia, George Gmiter, would come over the next year, another link in a chain immigration that brought many people from this region of Slovakia to work in the mines in our area. The twin Tancin brothers married Berta sisters, both families raising their children in Upper Lehigh. Andrew's legs were crushed in a fatal mine accident in 1924; my dad told us his memories of being a little kid and seeing his uncle Andrew's body laid out on the kitchen table, and seeing the candle wax dripping onto the dead man's hands. On an earlier occasion, some years before his death, Andrew was walking home from the Upper Lehigh mine with my grandmother's brother George Berta, both men carrying their lunch pails, and they were almost home when a ball of lightning struck as they were walking along the train tracks; the lightning knocked Andrew over and killed George; my grandmother Mary Berta Tancin was watching out the window and saw it happen. That one wasn't actually a mining accident, but there were other mine-related accidents and fatalities in our extended Tancin/Berta family, and sadly this was not uncommon among mining families. The various strikes that took place over the years were not just for better hours and pay, but also for safer working conditions. Those mines were damned dangerous.

I was struck by this on a recent visit to the old St. Casimir's cemetery and the former St. John's Nepomucene Church, where in both places there are large chunks of coal sitting near outdoor crucifixes, starkly underlining the sacrifices made by our area miners and the importance of coal and mining in the lives of the parishioners.

Just to finish this up, though, let me go back to memories from my own life, and many readers will recognize this in their own experience. Even when we moved to a new house in 1960 that had a fancy electric kitchen stove, it also had a brand new coal furnace, which was in use until shortly after my dad's death in 1991, when it was replaced with something that didn't require daily filling of the hopper and frequent removal of the ashes. I asked my brother Steve to share his memories with me regarding the coal furnace, as division of labor in our house was such that he ended up being the one who often tended the furnace. He said that the furnace in the new house was an automatic furnace, and much easier to take care of than our previous one. You didn't have to feed it or stoke it the same way; you just filled the hopper nightly with coal, and emptied the ash can every few days. When the furnace would kick on the grates would shift, knocking most of the ashes down into the ash can, while new coal would come down from the hopper onto the grates. The fan would turn on, lighting the coal from the remaining embers, and those burning coals would heat water that would then flow into our baseboard heating throughout the house. Our furnace was in a small room sectioned off from the rest of the basement. We called it the coal bin, and there was a ground level window in it where Jack Breznitsky would deliver coal twice a year by backing up his truck and lowering a chute into the open window so that the coal could run down into the coal bin. We had a huge pile of coal in that coal bin.

I also asked Steve to remind me about using ashes to make the streets less slippery in winter. I remember that people would haul their ash cans out to the street and spread the ashes (the way we salt roads now) so that the cinders would enable tires to get some traction. What I couldn't remember, but Steve did, was that the borough and township also had trucks that would go out and ash the streets and roads. We're trying to remember where they would get enough ashes to do that. Might people have put out their ash cans along with their trash so that the ashes could be picked up and stockpiled? I'm hoping that someone reading this can help me out with that detail. Steve also recalls, and now that he's reminded me I do too, that in the springtime street sweepers would sweep the streets and then shovel the winter's ashes out of the ditches into trucks to take them away. I can see in my mind's eye one of the men who did this job when I was in grade school and perhaps high school, but can't bring his name to mind at present. I'll post it when I can.

One last thing that flashed through my mind as I was writing this is the coal jewelry that used to be sold at Bertha's Shoppe in the 1950s and 1960s. Bertha's was located directly across the street from the Refowich. Bertha and George sold fabric, including drapery and upholstery fabric, and also jewelry of various kinds. I think they did upholstery work there, too. There was always a lot of interesting stuff on display in the front windows, usually including jewelry of various kinds and often including earrings, pendant necklaces and brooches set with stones of highly polished anthracite coal, as well as desk sets -- matching pencil and pen holders -- made of coal.

And yet another last thing, a grade school coal memory surfaces: rock crystal gardens made with coal and fabric bluing. We did this in class at St. Mary's, painting bluing onto pieces of coal and seeing brightly colored crystals grow on them in the course of a week or two. There is actually a company that still sells this stuff: Mrs. Stewart's Concentrated Liquid Bluing. You can find instructions there so that you, too, can grow a rock crystal garden on some pieces of coal.

These memories will resonate with some readers from their own experience, while others reading this with no such experience will perhaps find them interesting. For the most part my comments here don't reflect the seriousness of what life was like for our area miners, how hard they worked and how difficult their lives were and how much we all owe them. Fortunately we have many other resources that capture and convey some of that reality, including Bob Falatko's A history of Foster Township and much of what has been and is being done by the museum staff and volunteers at Eckley Miner's Village. The August 2013 commemorative coverage of the 1964 Sheppton mine disaster by the Standard Speaker recently provided a stark reminder of the life and death realities faced daily by miners. My rambling memories here are just a way to show some of the ways that coal touches our experience in tangible and intangible ways.

Meanwhile, I'd be grateful for additional information, photos or stories that anyone would like to share about this or other parts of our collective coal experience.