What's on this page:
Franklin N. Becker, engineer and inventor
On related pages:
---


This is the first of four pages about Frank Becker and the Jeddo-Highland Coal Company power plant in the 1930s. The information comes from his great-grandson, Pierre-Yves Vachot. The photos come from his grandmother's photograph album, along with a messenger bag filled with blueprints. You never know where remnants of the Freeland area's past are being saved! Thank you to Pierre-Yves, his grandmother and his family.


In early January 2019 I received an email from Pierre-Yves Vachot, a French engineer. He wrote:


I am doing some researches on my great grandfather (Franklin Nelson Becker) who has lived near Jeddo when my grandmother was a kid (in the 1940s). When my grandmother was 7 or 8 years old her father passed away and she left Pennsylvania for France. She only came back once since, in the '90s and got to see her old house again. She doesn't have any address, the only thing she remembers is Jeddo. …





I am also looking for the location where my great grandfather has worked in 1933, supervising the construction of a big power plant for the Jeddo Highland Coal company. I believe that this power plant has been taken down in the '90s and I couldn't find any traces of where it used to be. The power plant had a huge chimney made of bricks, and you could read JEDDO on the side of it. It was giving electricity to the nearby mines, and It was built next to a Coal Breaker that was built in 1915 (on which you could read "5 Jeddo Highland Coal Co.", I think it had the nickname of Jeddo #5). I read that it was on the road between Freeland and Eckley.



When Pierre-Yves wrote to me, I shared his note and photos with Charlie Gallagher, and he and Pierre-Yves have had considerable correspondence since then. Charlie was able to locate Pierre-Yves' grandmother's house, which was exciting, and the two men have been sharing information and photos. Pierre-Yves' family has given permission to have a number of the photos posted here. These are interesting views of Jeddo-Highland in the 1930s, mostly showing the power plant and some other parts of the operation that Pierre-Yves' great grandfather Frank Becker worked on.

First, here is Franklin Nelson Becker.

Frank Becker was born in Philadelphia on January 19 1894. He attended Lehigh University, and at the time that he filled out his draft card in June 1917, he was working as a mining engineer at Cheever Iron Ore Company in Port Henry, New York.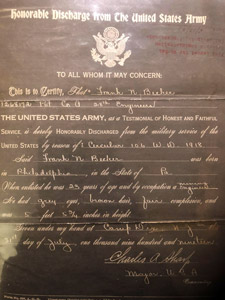 He served in France during World War I, in the 28th engineer division as written on his gravestone "Pvt Co A 28 Eng 28 Div."
https://www.findagrave.com/memorial/132994161/frank-n-becker

Pierre-Yves:

I read they were a company that was working in stone quarries, and wood cutting

.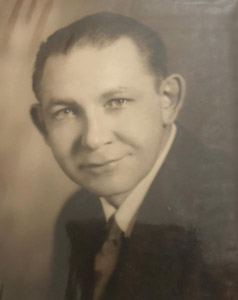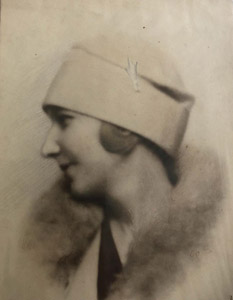 Pierre-Yves consulted further with his grandmother and he reports that Frank shipped for France on December 13, 1917. He and his fellow soldiers disembarked in the port of Saint-Nazaire (west of France), and then his company headed for the East front to Sainte Menhould (Marne). He shipped back to the U.S. on the 26th of July 1919, and it was just before that when Frank first met his future wife, Jeanne, in Marseilles. He came back to Pennsylvania and spent several years exchanging letters back and forth with his fiancée. Sometime during that period he began working in Jeddo (at least as early as 1929).

After a long courtship, Frank went back to Paris to marry Jeanne. They were married at the church of "Notre Dame des Champs (Paris)," on the 19th of January 1929. They left France in February 1929 on a ship called the SS President Harding.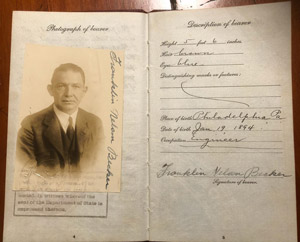 Pierre-Yves:

A little anecdote, when my great-grandfather came back to France to ask for his wife's hand, he was on a business trip to Europe for his company, ... meeting people to discuss or exchange on the subject of Coal Gas. … He was a Protestant and she was a Catholic and so her parents didn't agree to their union at first, but after several years he came back to Paris where they got married. Weeks later they took a ship to his home in Jeddo, where they had their daughter and raised her

. [Their daughter was Pierre-Yves' grandmother.]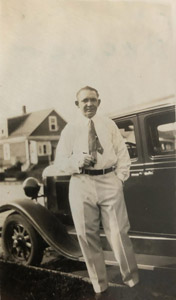 Frank worked as an engineer for the Jeddo-Highland Coal Company from at least 1929 to the mid-1930s. He designed and oversaw construction of the company's power plant, and while he was there he also designed some new inventions that could be used in mining work and applied for patents for them. Photos on the next three pages show views of the coal company and his work for them.

Sadly, after his brief but active professional career Frank died young, around age 43.

Pierre-Yves:

In the last year of Frank's life his health declined rapidly and so they moved to a house not far from Philadelphia (I'm guessing because this is where his parents lived). According to my grandma he came back sick from being exposed to chemical combat gases. He died on the 13th of May 1937, and I read an obituary where they say he was sick because of gases he breathed while in France during WWI

.


---



LEHIGH UNIVERSITY, FOOTBALL, AND EARLY WORK



Here are photos from the Lehigh University yearbook,

Epitome

: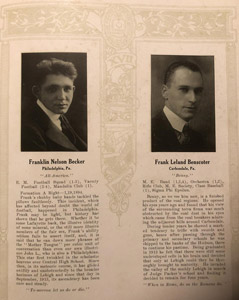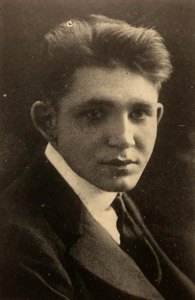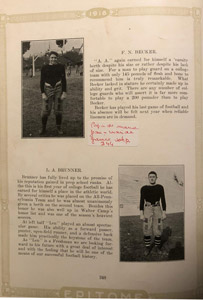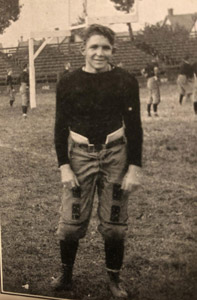 In the football photo caption, note the "A.A." - All American. According to Wikipedia, "The College Football All-America Team is an honor given annually to the best American college football players at their respective positions."
https://en.wikipedia.org/wiki/College_Football_All-America_Team

A few later mentions in yearbooks and alumni bulletins track what Frank was doing after graduation:

The Epitome yearbook for 1920 reported on previous students and their military posts, citing Frank as being in the Infantry: Franklin N. Becker, Pvt., Engrs.

Lehigh Alumni Bulletin, Oct. 1927 - "Frank Becker (All-American) stopped in the office early in the Summer and reports that he is working for the Power Equipment Company and living at 25 West Chestnut St., Philadelphia."

Lehigh Alumni Bulletin 15(2), Nov. 1927-1928 contains this note:
Class of 1917: "Franklin N. Becker has a position with the Power Equipment Company, 1015 Chestnut Street, Philadelphia."
[Pierre-Yves found that the building at 1015 Chestnut Street was built in 1923, and is called the Jefferson building. He hasn't yet found information on the Power Equipment Company that Frank worked at there.]
https://www.commercialcafe.com/commercial-property/us/pa/philadelphia/the-jefferson-building/



And, back to football: the alumni bulletin from 1929 contains some hot opinions about the Lehigh football team, including one from Frank Becker.







---
HOME LIFE



Here is a photo of the Becker family in Pennsylvania, around 1930 or 1931. Pierre-Yves wrote:

A family picture taken in Pennsylvania, with annotations. One of them leads me to believe the great great grandpa had immigrated from Alsace reagion in the east of France, or from Germany. My grandma is the baby in this picture

.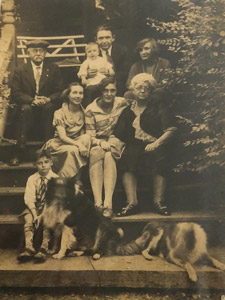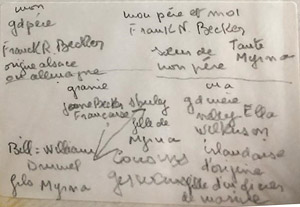 Charlie Gallagher reports that at the time of the 1930 census, Frank, his wife and baby daughter were living on Diamond Avenue in Hazleton. [Although her name was Jeanne, on the 1930 census she is listed as June, and Pierre-Yves thinks she might have taken that name while in the U.S.] Sometime soon afterward they would move to a home in Drifton. We have some photos here of that home -- taken in the 1930s and still remembered by Pierre-Yves' grandmother from her childhood -- along with two photos of the home as it stands today, taken by Charlie Gallagher. The two photos of the circa 1933 interior are particularly lovely.

Pierre-Yves:

Some of the furniture from this house is now in France, in the city of Nantes and the city Pornichet, at my grandma's house, such as the piano, chairs and armchairs, and a table

.