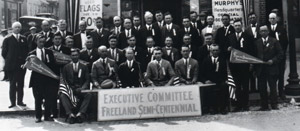 Here is the very sizable organizing committee for the Sesquicentennial celebration of Freeland's 50th anniversary in 1926. The photo came from John Zubach and was published in the September 1967

PennySaver

.

The Pearl Jubilee 20 years before had been an incredible success, and now here they were at the half-century mark in the life of the town.





Janis McClellan Sheppard wrote:

Hello! Just want to send you a huge thank you. I found a 1926 photo of my grandpa on your page. What a treasure! Ö - thatís my grandfather George in the sesquicentennial celebration photo. Itís particularly special to me because Iíve never seen a photo of him as a younger man. Itís such a treasure.





Here is the text from the front page of that

PennySaver

:

"This group of Freeland men were responsible for the successful Semi-Centennial celebration helf in Freeland.The picture comes to us thru the courtesy of Gus Mitke, who was Publicity Chairman for the week long affair.
Left to right, front row: A. L. Mitke, Tim Murphy, decorator, Rudy Goldberg, Chairman Mike Krushko, Patty Gallagher, Condy Johnson.
Second row: Todd Jacobs, George Letchak, Butch Schaub, Goerg McClellan, John McGeehan, Edgar Morgan, Professor Reitz, Clyde Klinger, (unknown), Joe Myers, Patty Carr, Cornelius Dinion.
Back row: Mike Lukac, Connie Welsh, Jim Crawford, Dr. A. A. Redelin, Charles Riley, Frances McHugh, Dr. N. J. Devers, Roy Obberender, Professor W. R. Bray, Nick Rock, Attorney G. G. Bruger, Goerge Hanley, Dr. Dunphy, Dr. Lester Trevaskis, George B. Hudock, William Woodring, Dr. J. J. Whelan."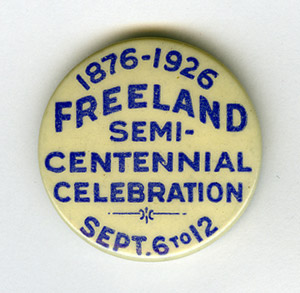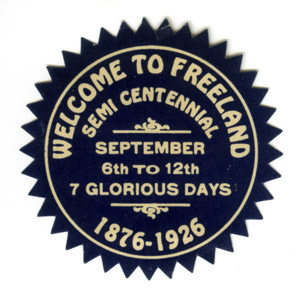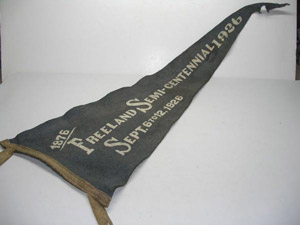 This flag was advertised on eBay some time ago. You can see several men holding similar flags in the committee photo, above.