These photos are old, and the people in them may no longer be with us. However, it's good to have these remnants of past times. If by any chance you recognize any of these students or others in the photos from your own family photos or other sources, would you please let me know? I'll be happy to post that information to share with others.


---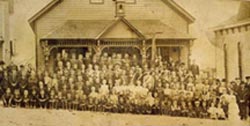 This photo was sent to me by Ann Nakpairat. It's an early photograph of the St. Mary's Greek Catholic Church Children's Lodge which she dates at around 1896. According to Ann, her father, John Malenky, is in the first row, fourth from the right. Born in 1890, he is wearing a cap and appears to be about 6 years old. Her grandfather, George Malenky, said to be a founder of the church, may be the gentleman with the mustache standing in the top row at the far left of the photo. This is a student group, but I want to note that St. Mary's did not yet have an official school at that time. This photo is labeled "Childrens Lodge" in St. Mary's 75th anniversary booklet, 1962, page 55.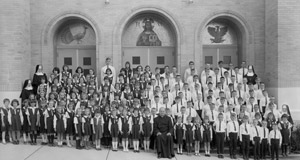 Here is a later student group picture from the early 1960s taken in front of the church, which had been remodeled in the few years before the photo was taken. My brother Steve is in this one. See if you recognize yourself or anyone else!

---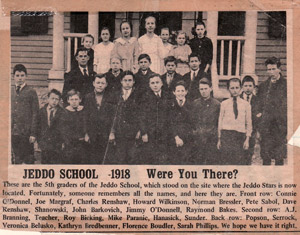 This newspaper photo of Jeddo School students from 1918 was kindly lent to Tom Landers for me to be able to scan a copy during a visit to Freeland in August 2008. I don't know who lent it for that purpose. I scanned all of the material that he had collected from Freeland area people who were willing to let me copy their items, and then I returned all to Tom, except for a few items that the persons involved had explicitly said I could keep. I'm grateful to all of those people who shared their historical items with me that way, and to Tom for being willing to gather the material and then return it to the owners.




---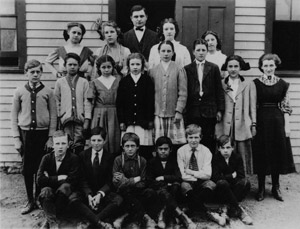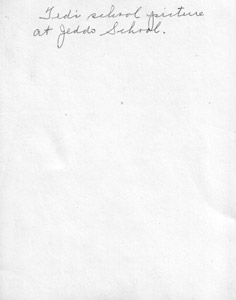 Jeddo School students, ca. 1910-1915



From Valerie Bedard: My aunt left this behind. Her husband, Ted Schuchart, is a student in this photo. She did not indicate which one he is. He had dark hair but was much older when I knew him. Unfortunately we can not identify him.

We are estimating that this photo was taken sometime between the years of 1910 and 1915.





---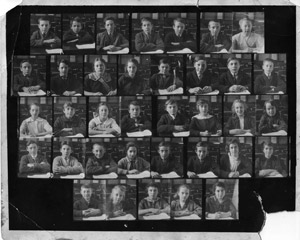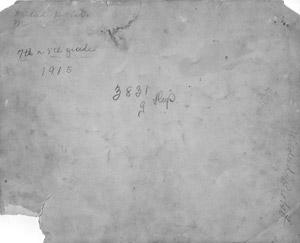 Freeland students, 7th or 8th grade, 1915




From Valerie Bedard: This is from my aunt, Mildred Brobst, who grew up in Freeland. She is the third person in the third row. She wrote on the back that it was taken in 1915 and was 7th or 8th grade.

[When I asked Valerie if this was DCM or Foster, she replied:] "They went to the Hill School and then to the Brick School ó if you can decipher that!" [So I take it that means DCM - CT]


---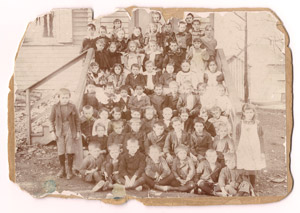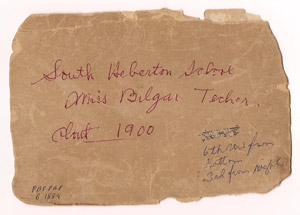 This photo comes to us from Judy Domchick, who wrote: "My Grandfather was George Domchick from Freeland who married Elizabeth Wilson (of Alvin Street). He was a butcher by trade. The picture I have is of him among children attending the South Heberton School. The back of the photo says "South Heberton School, Miss Bilgar, Techer. About 1900." I found Miss Bilgar's name on one of the documents that was printed on your site. It said Miss Sadie H., domestic, h 4 Birkbeck. This fits as my Grandfather was born in 1889." If anyone out there can identify anyone else in this photo, would you please let me know?


---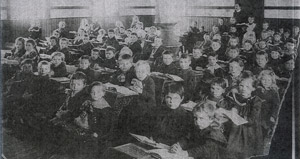 School children, public school on School St. just west of Vine St., early 1900s, from Nadine Heckler: "The photo of the children in the school ... I'm told that Esther Williams is one of the children in that photo at a school in Freeland that was on Fern Street up near Walnut St. hill. The photo would have been taken I would say 1901-1905."

After I posted this, Nadine checked with her aunt Esther who confirmed that this was indeed the public school on School Street, just west of Vine street.


---

Foster Township grade school photo, ca. 1913-1920



A few years ago Bill Morgan wrote:

On your website, I found my Uncle Edgar Morgan listed in the 1921-1922 Freeland city directory, under Newsdealers and Stationers. I had been told he ran a newsstand. Are any Morganís listed in the 1928-1929 directory.

[I sent Bill the list of Morgans from that directory.]



Bill Morgan added:

My Dad, William Morgan, was a Freeland native, and later became managing editor of the Standard-Speaker in Hazleton.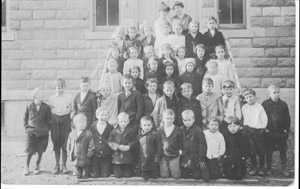 I think my Dad is somewhere in this picture, but I donít know which person. Could that be the old Foster Township building. Just FYI, I attended MMI, and I was a freshman in the year after the fire. The fire had burned the old section of the building, but not the newer section in back. Since there was a shortage of classrooms, a number of us had some classes in the Foster Township building. If I remember correctly, only MMI was using the building. I just remember thinking that my Dad had gone to school in the same building. Ö My Dad was born in 1908, so if he is in the picture and you want to estimate the ages of the kids, you can get an approximate date.


Photo credit: ďFrom the archives of Bill Morgan, former managing editor the Standard -Speaker in Hazleton.Ē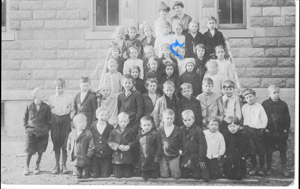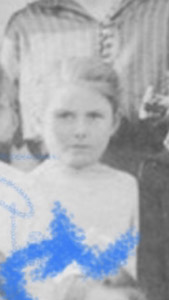 Ryan Strawn wrote:

I was analyzing the Foster Township School photo from maybe somewhere between 1913-1920 posted on your Freeland history website. I couldnít see any faces in it that bore any distinct familiarity to my relatives that I know, but one little girl very closely resembles my mother when she was a little girl. I have my motherís home movies from her childhood somewhere on tape where she resembles this little girl, but all the other photos I have of my mom when she was young are buried deep behind storage in my basement. Of course it could be anybody, and not a relative, but the resemblance to my mother in her is very close.



These are the candidates if any of my family were in this photo: Helen A. (Racosky) Sisack (1904-1991) or Ethel (Racosky) Sholtis (1908-1976). Their older sister was Mary (Racosky) Nemchick- my momís great-grandmother. Ö I marked her in blue [see cropped detail]. If you would take my mom when she was a child and put her next to this girl, one would think they were twins.

Thanks to Ryan for these photos and comments.


---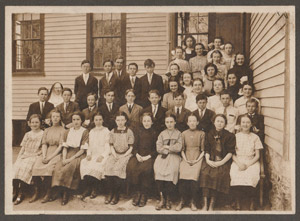 This photo comes to us from Eleanor Boyle Duckett. Written on the back is "

St. Ann's Class of 1912.

" The school was St. Ann's in Woodside, and Eleanor was told that her great-aunt Mary "Mamie" Boyle (born 1898 in Drifton) was among the students in this photo. Mamie, who would later become a local teacher, would have been 13 or 14 at the time of the photo.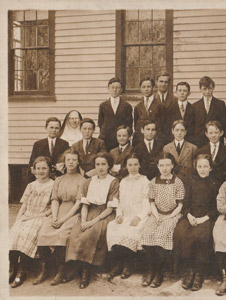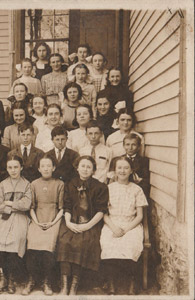 ---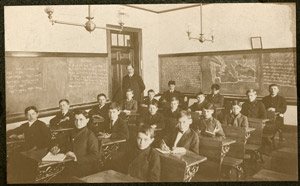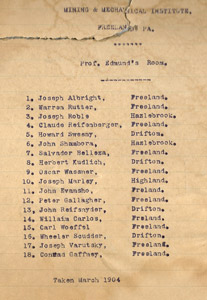 Photos from Mary Rosenkrans and Ed Bacon: This is an

MMI classroom

, and thatís Maryís and Edís great-uncle Peter Gallagher in the back row, center seat. The note with the photo says it was taken in 1904, so that would have been at the newly built school below Carbon Street. The teacher is Professor Edmund. Itís hard to read the blackboards, but the left boards contain a mathematics lesson and some Greek text. The boards to the right in this photo show text headed ďLesson 47,Ē a map, and more text. Iím adding a closer look at the faces.

It looks like the studentsí names on the list might be given in order, but if so we donít know whether the list starts with the row nearest the blackboard or the row nearest the camera. Either way Peter is at the end of the middle group of six.


---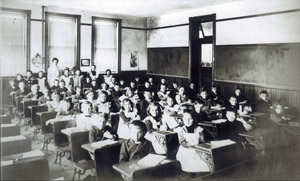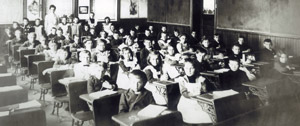 Another DCM class photo from Bob Zimmerman, taken in the early 1900s.








---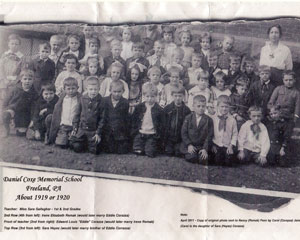 Here's a great class photo from 1919 or 1920, of a young class at Daniel Coxe Memorial School. Ed Merrick sent it with this note:

"Here is a copy of a great old photo that my cousin in Sarasota, Ann Cravener, sent to me. It was sent to her by another cousin of mine, Nancy (Remak) Penn, who is the family's most ardent historian. The photo had been sent to Nancy by Carol (Corazza) Jones, with whom I went to school from grades 1 through 8, until we parted ways when I went to MMI."



According to the legend at the bottom of the photo, these kids were in grades 1 and 2, with Miss Sara Gallagher as their teacher, standing in the back row at right. I love the ties on the two boys in the front row at right, and the big bow on the girl in the middle of the 2nd row. Several nice family links spelled out on the bottom of the photo, too. Thank you to Carol Jones, Nancy Remak Penn, Ann Cravener, and Ed Merrick for this!




---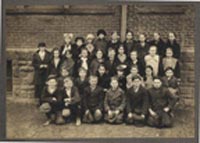 Daniel Coxe Memorial School students, 1919. Teacher, Miss Hinkle. Harold Davis, Violetta Deach, Mohan, Charles Derench, Stephen Yuhas, Ralph Barret, Vera Harris, Elizabeth Davis, Evelyn Zeisloft, Walter Nowak, Mabel Unagst, Howard Howe, Thel Davis, Prisilla Brehem, Mary DeComa, Anna Slank, Ida Squarko, Isadore Daubert, Angelene Durange, Nickolas Nocchi, Stella DeMarie, Emily DeJohn, Florence Saricks, Junior Griswals, Violet Kozel, Anna Tomcho, Jetta Burns, Amendler, Mabel Heller. Girl in second row, behind kneeling pupil, third from left is unidentified. Anyone know? Tell Nick Nocchi.

That was the caption when this photo was reproduced in the PennySaver 6(7), Nov. 1968, p. 16. These names are written on the back of the photo itself: Violeta Deach, Elizabeth Davis, Mabel Unagst, Isadora Daubert, Mary DeComa, Evelyn Zeisloft, Priscilla Brelem, Anna Slank, Ida Squarko, Stella DeMarie, Mabel Heller, Ethel Davis, Vera Harris, ____ Amendler, Jetta Burns, Anna Timcko, Violet Kozel, Nicholas Nochie, Junior [Oswald?], ____ _____, Florence Saricks, Emily DeJohn, Angeline Durange, Howard Howe, Walter Nowak, Stephen Yulius, Charles Derench, Ralph Barrett, ____ Mohan, Harold Davis, and teacher Miss Hinkle. The photo came from John Zubach, as do the last four on this page.


---


And another DCM photo from around 1919! We have two copies of this photo; the sepia one at left was owned by Carol Jones, and both are provided here courtesy of the Freeland Historical Society.

Written on the back of the black and white copy:
Sara Heyes (back row, 3rd from left, born 11-19-1913)
Eliot Oberender (3rd row, 6th from left)
Teacher Sara Gallagher
First and second grades
Irene Remock (4th from left, 2nd row)
Daniel Coxe Memorial School, Freeland, Pa., about 1919

---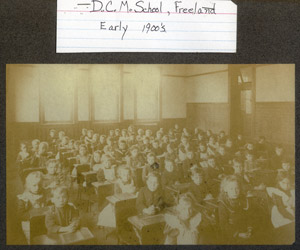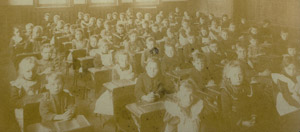 DCM class, early 1900s


Another DCM classroom photo from Bob Zimmerman, labeled by him. The cropped copy might be easier to see faces in.


There are a lot of little kids in this classroom! All looking well groomed and well behaved. Does anyone look familiar to you from your old family photos? If so, please let me know and I'll post information here.




---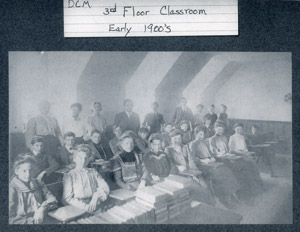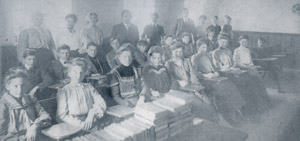 DCM class, early 1900s


Another DCM classroom photo from Bob Zimmerman, labeled by him. The cropped copy might be easier to see faces in.



This one is quite different from several others he's contributed to this page, as the students are older - Bob's label says D.C.M., 3rd floor classroom, early 1900s. These look like 7th or 8th graders, perhaps. Some teachers are in this photo, too. If you can identify anyone here from your own family photos or from old school documentation, would you please email me? I'd be happy to post the information here.


---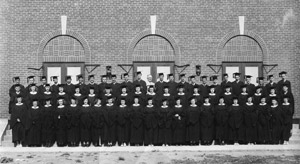 Foster Township High School graduating class, 1941

. This photo was given to me at the end of a talk on Freeland area history that I gave at the Freeland branch of the Hazleton Area Public Library. Colleen Tatar was very kind in arranging that event, one of two that I spoke at there about 10 years ago. At those events I reconnected with old friends and I met some of the people who have been contributors and collaborators for my website and my research in local history, and I've been grateful for those connections ever since.

I've added a crop of the photo at a higher resolution, hoping to make it easier to see individual faces.


---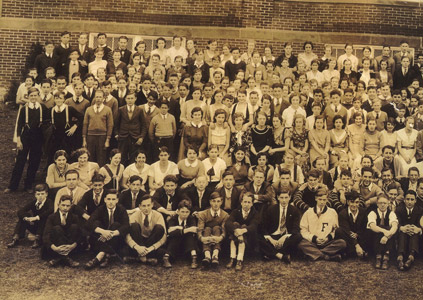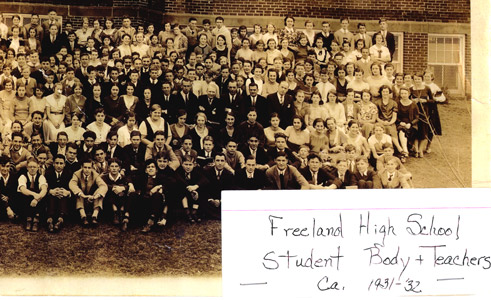 Freeland High School: These two photos (halves of a larger photo) come to us courtesy of Bob Zimmerman, who wrote the label on the right-hand photo. The photo was taken in front of Freeland High, showing the class of 1931-1932, along with their teachers. According to Bob, in the last row, 5th from left is Eleanor Welsh, and 6th from left is Eleanor Becker. Third row, 6th from left is Mary Greshko who later taught at DCM and Freeland High. Larry Maso tells me that his brother Silvio is the boy at the left end of the very back row, with dark sweater and dark hair. If you recognize yourself or anyone else, will you please let me know and I'll add that information here?

---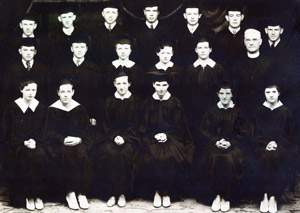 St. Ann's High School: Here's another 1932 graduating class - this photo comes to us from Charlie Gallagher. There are just 18 students in this class photo. Charlie notes that the tall boy in the center of the back row is Bernard Joseph Gallagher, Jr. More recently, Hugh Maloney posted his mother's copy of this photo along with identifications on facebook, and has given permission to post the identifications here:

Front row. left to right. Ruth McBearty (RN), Anna Johnson (teacher), Agnes Brogan O'Donnell (teacher), Agnes Haganey Maloney (my mother) (teacher), Anne Gaffney (Mother of the Class), Margaret Brogan Jones (LPN)

Row 2. Eddie THE BARBER Gallagher (newspaper reporter), John J. S. Shrader (head of a children School in West Chester), Helen Medleck (Order of St. Basil, nun) Rita McGarey (Order of Sisters of Mercy, nun), Susan McMenamen (Order of Immaculate Mary, nun) Rev. P. A. Hopkins (Pastor)

Row 3. James JIMMY Gallagher (mechanic), Emmett Thomas, John Nosal, Bernard J. Gallagher, Eugene Farley (Insurance Agent), Bernard A. Gallagher


---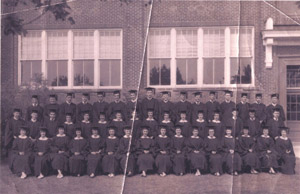 Freeland High School: This 1957 class photo comes from Bill Smith. The photo was taken in front of Freeland High, and unlike the one above from 1932, this one shows the class wearing their graduation caps and gowns. I'm adding a crop at a higher resolution so faces can be seen a little better, although the photo I have is very grainy. If you recognize yourself or anyone else, will you please let me know and I'll add that information here?



Pat Miller wrote about this FHS 1957 graduates photo:

I really enjoy your comprehensive history of Freeland. Keep up the great work. Front row fifth from the left is my sister, Dolores Ferko. Dolores graduated from McCannís School of Business in 1958. She later married Quentin Wackley, St. Annís High School Class of 1956.) Sadly Dolores passed away Nov. 8, 2019 and Quentin preceded her in death on November 30, 2018.




---

This one came from Eugene Della Croce. To my eye it may have been taken outside of St. Ann's Church on Centre Street (the church that was torn down in the mid-1960s and replaced by the current church, recently renamed Immaculate Conception), but perhaps it's older than that.

---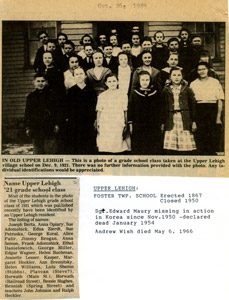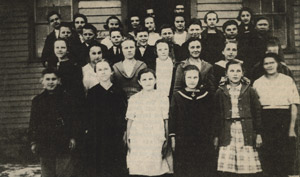 Upper Lehigh schools

This is the 1921 grade school class in the Upper Lehigh school in Foster Township. (There was another Upper Lehigh school not far away in Butler Township.) I'm typing the names so that they're searchable: Joseph Berta, Anna Opiary, Sue Adomshick, Edna Zierdt, Sue Petruska, George Koral, Alice Palir, Jimmy Brogan, Anna Semon, Frank Adomshick, Ethel Danielowich, George Miller, Edgar Wagner, Helen Buchman, Jeannette Lesser, Kasper, Margaret Heckler, Ann Breznitsky, Helen Williams, Lulu Shemo (Stubbs), Plavcan (Steve?), Horwath (Main St.), Horwath (Railroad St.), Bessie Hughes, Bennish (Spring St.), and teachers John Johnson and Ralph Heckler. Photo from Charlie Stumpf.




This is the grade school class at the Foster school in Upper Lehigh circa 1922

. All I have is a photocopy, so the faces aren't very clear.
The photocopy came from Charlie Stumpf.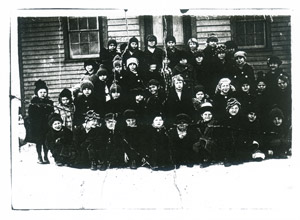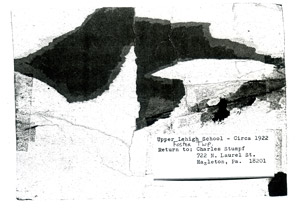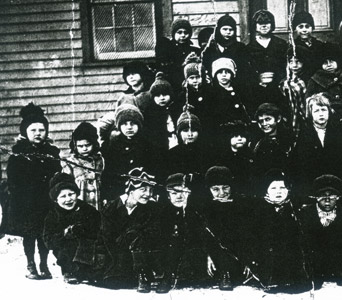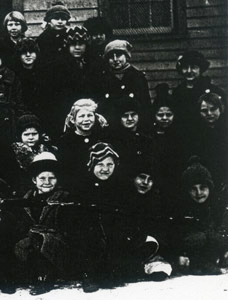 ---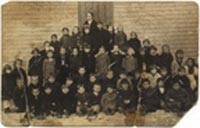 ** Note: The enlarged view of this photo has been digitally repaired by Jay Cawley of Harleigh. He also digitally repaired my dad's grade school photo shown at top left of this page. Thank you, Jay.



---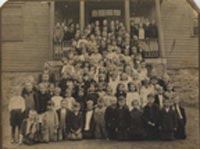 This photo was taken at the Sandy Valley School, according to Edward Kimmel.


---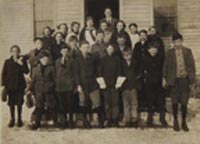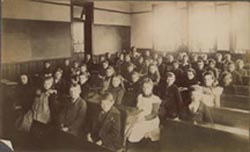 This last photo is from 1901.


---