What's on this page:
---

Shown above left, the former Brezina & Myers pool room, more often just referred to as "the pool room" when I was growing up in Freeland, was torn down in 1996. Although there were some other pool tables scattered around town, there was only one place called the pool room. It was at 512 Centre street, and I really didn't know anything about it, other than that it appeared to me to be only for teen-aged boys (like the pinball machines in Woodie's).

When it was being torn down in 1996, Vic Oleyar – a former Freeland news correspondent and Plain-Speaker staff writer and photographer – wrote a piece about the pool room for the Standard Speaker. Thanks to Ed Socha and Charlie Gallagher for sending me copies; I've pulled information from it for this page and I'm grateful to Vic Oleyar for writing it.

But it turns out that there were also other, earlier pool rooms and billiards academies around town, at least one other that also had a bowling alley. They might have mostly been in bars, or maybe a few were in spaces dedicated to pool and/or billiards and/or bowling. One of those even predates the various Myers partnerships of "the pool room" in that building. A partial list follows these notes on the Brezina & Myers pool room.


---
THE BUILDING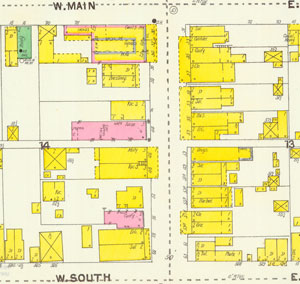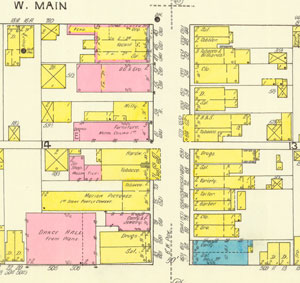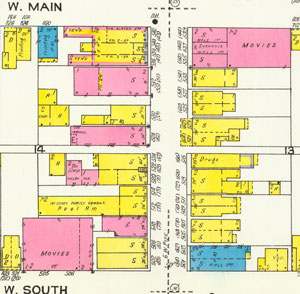 These 3 Sanborn map details show the NW corner of Centre and South streets in 1905, 1912 and 1923. In 1905 the double building on the corner had a saloon and a dry goods store, then there was a confectionery next to that, and then a dwelling with a bit of property on all sides of it. That house stood on the site of what would later be the Brezina & Myers pool room. AND although by 1895 it was a house, earlier directories list it as Manus Conaghan's saloon in 1884 and Matthew Dening's saloon in 1886. So that's what was on the site where the pool room would be built.

Between the making of the 1905 and 1912 maps, though, several buildings in this part of the block were torn down and the new buildings now filled more of their lots (minimal space around each building), resulting in much denser commercial development in this block. Where that house had been at 52 Centre in 1905, now there was a two-story motion picture house, the Star theatre, stretching back 1/2 block to the back of the lot, and the borough had redone the address numbering system so that the new address was 75 and 73 Centre. You can also see that several more buildings were torn down on South St. (on a lot then numbered 505-506 South St.) and Timony Hall was being built, soon to be another theater. So within a few years there was a new entertainment section emerging around that corner. The Refowich theater was still a couple of years in the future. At other locations, movies and dances (and some basketball games) were happening at Krell's Hall on Front and Washington streets, and live entertainment was happening there and at the Freeland Opera House at Ridge and Luzerne. Dances and concerts were also happening in the Public Park and at the Cottage Hotel, and probably elsewhere, too.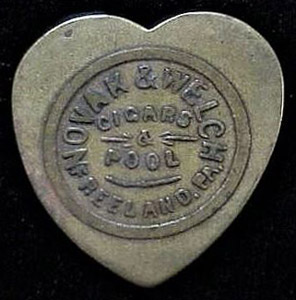 The 1923 map shows that Timony Hall was now showing movies (see the Strand theater page for what happened there next) and the Star had become a pool room! Now we're getting closer to "the pool room" that still existed in the 1950s-1960s and beyond, but in the early 1900s it was the Novak & Welsh Pool Room, listed at 508 Centre in 1917 and at 512 Centre by the 1921-22 and 1928-29 directories. (Another address renumbering had taken place, this one resulting pretty much in the addresses we have today. If you're interested in Freeland's address changes, there's a page about that.)

In the 1921-1922 directory, John Novak, Billiards, Cigars & Tobacco was at this site and also Lester P. Trevaskis, Dentist (probably upstairs?). In the 1928-1929 directory, John Novak has a cigar and tobacco store there but is not listed for a pool room - Sweeney Bros. saloon was there instead, and Dr. Trevaskis had moved over to 508 Centre. Further down on this page are the lists of pool rooms and billiards parlors from various directories, and you can see that in 1928-1929 there are 6 places listed under "Billiard and Pocket Billiard Rooms," which I assume means bars with a billiard table.


---



THE POOL ROOM

AND ITS VARIOUS OWNERS



Here's where we pick up with Vic Oleyar's essay in the July 19, 1996

Standard Speaker

: After an introduction by the reporter referring to the demolition of the Rinaldo building that had been the pool room, Vic's written essay was presented: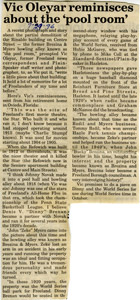 Vic wrote: "I think Johnny Novak made it into a pool hall and bowling alley about 1918 (when Vic was six). Johnny was one of the stars of Freeland's All-Home Five in that era, which took the championship of the Penn State Basketball League. I believe Denis V. "Dinny" Brenan became a partner with Novak and ran it for several years into the 1920's decade. John "Zeke" Myers came into the picture about this time and the bowling alley was known as Brezina & Myers

[corrected here, should say Brenan & Myers – CT]

. Zeke lost an arm in an accident in his early years and running the property was an ideal and fitting occupation for him. He was a tremendous personality and made friends every which way he turned." …

"[Around the late 1920s] the bowling alley became know about that time as the Bzdil and Myers business. Tommy Bzdil, who won several Hazle Park tennis championships, became Zeke's partner and helped run the business until the 1940's, when John "Bucky" Brezina, an outstanding bowler in his time, bought his interest and the property became known as Brezina and Myers. …"

I left out the very interesting middle of Vic's notes where he writes about the sports announcing at the pool room, which sounds amazing! Read the whole article here at right. Article courtesy of the

Standard Speaker

.



More reminiscences:





From Bill Feissner:

The sign on the poolroom read "Brazina and Meyers Bowling and Billiard Academy." Zeke Meyers, I believe was married to Dot, who owned Dot's Restaurant, and least we forget Cookie -- Cookie works parttime at Nocchi's Pharmacy. Zeke was an amputee, he had one arm off at the elbow. The poolroom had the front room with a candy/cigarette counter, 3 coolers, two for beer and one for soda, and 2 pinball machines. The back room was like a large hall. The front of it had 4 pool tables, and the rear of the hall had 5/6 bowling lanes. They even used to hire us kids to pick pins when the had bowling tournaments. 10 cents a game plus tips, not too bad in those days.





From Eddie Barna:

My uncle John Brezina was a partner in the Brazina and Myers Pool Room from 1940 until around 1962. He was from the Brezina family that was one of the founders of St. John's church. FYI: The poolroom was originally a movie theater around 1900. I believe that it was John Nowak that started the business of a poolroom and bowling alley, but I don't have any info on the date. John Myers joined John Nowak, who later sold out to Tommy Bzdil. My uncle bought into the business around 1940 and ran it with Myers until 1962-63?





From Ed Merrick:

"Bowling and Billiard Perfection" ('53 Minamek yearbook ad)



From Marion Denion:

On the Poolroom, no, I did not frequent it, but both my husbands did -- Chuck Boyle at the card table and Don Denion at the pool table. And, as all the family says, they both told the same story. I think it is a good part of history. During WWII, the logo "Kilroy was here" started showing up everywhere with a little bald character (Google "Kilroy was here"). The story we heard from both was that in the men's room there was graffiti all over the walls and

somebody had written:




=====




I jumped with glee, I jumped with joy because I was here before Kilroy.




And below it someone wrote,




Sorry to spoil your little joke but I was here and my pencil broke. Signed KILROY.




=====




As for any other stories, maybe what happened in the poolroom stayed in the poolroom!!??




One other thing, Mothers need not have worried. These were two of the greatest guys you would want to know. Two God loving very responsible citizens, wonderful family men and both with a great sense of humor.




They spoke well of Brezina and Meyers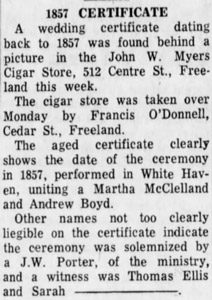 A mystery from Melanie Akren-Dickson:

Melanie sent this copy of a 1971 article reporting that an 1857 marriage certificate was found in the pool room, which had been taken over by Francis O'Donnell. It was found behind a picture hanging on the wall, and recorded the wedding of Martha McClelland and Andrew Boyd in 1857. The marriage certificate has since disappeared. Melanie is related to the married couple and would be grateful to hear of any news as to where the certificate is now.






---
SOME OTHER POOL ROOMS / BILLIARD PARLORS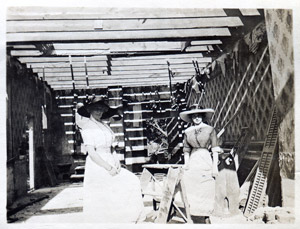 There was apparently at least one pool room in Drifton or Woodside. This photo from Charlie Gallagher shows relatives of his and has written on the back: Old Pool Room, 1913. Charlie wrote:

Here's the picture you wanted of the Old Pool Hall in 1913. Emily (Eckert) Gallagher on left. Louise (Eckert) Warfel on right.


He added more recently:

Since both Eckert girls were from Drifton, this may be a pool hall in Drifton. I really don't know.

The entire picture collection in the 1913 time frame were of the Woodside Lake and Drifton. So it may be a Drifton location. The only description was the old pool hall. Another thought, there are trees and woods visible in the back window of the pool room, so it may have been Drifton.





In Freeland: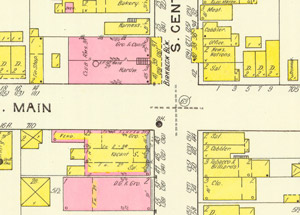 1912 phonebook:


DePierro R M, Pool Room – 50 S. Centre

In chapter 2 of her masters thesis, Emily Pecora wrote: The Refowich Building, home to the Refowich Movie Theater, which would entertain Ralph's children several nights a week when they were teenagers and young adults, was opened in 1914, in a new building that replaced a saloon, a cobbler, and a billiards hall.



Charlie Stumpf wrote in his book on Freeland:

The Refowich Theatre building also contained considerable office space on the second floor, as well as a pool room (p. 23).



Also, not listed in the 1912 phonebook:

Next to the Citizens Bank, where there had previously been a jewelry and watch shop, there was now a larger building that had a tobacco shop in front and a billiards hall and bowling alley behind. [Also see 1927 ad for Toney's Smoke Shop, below.]



1917 phonebook:


Novak & Welsh, Pool Room - 508 Centre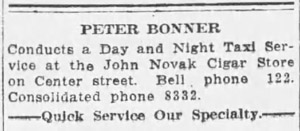 Peter Bonner taxi ad in 1919 - "at the John Novak Cigar Store on Center street" (ad from Ed Merrick) - Bonner lived in Drifton and conducted his business by phone and from Novak's cigar store and billiards parlor.



1921-1922 directory:




Billiards and Pool


Kasarda, John – 330 Centre
Kusmider, Charles K. – 600 Centre
Novak, John – 512 Centre
Stasko, John – 446 Centre [next door to O'Donnell's livery – CT]



1923 Sanborn map:


Billiards and bowling at 21 S. Centre (later number: 618 Centre, next to Citizens Bank on the south side)

1927 ads: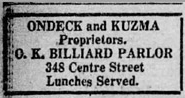 O.K. Billiard Parlor at 348 Centre St., Ondeck and Kuzma, proprietors - where lunches were also served.




Toney's Smoke Shop

on Centre St., next to Citizens Bank (Anthony Dinovic, proprietor) - Cigars, billiards and smokers' supplies (misspelled Divovic in this 1927 ad from Ed Merrick)




1928-1929 directory:




Billiard and Pocket Billiard Rooms


Dinovic Bros. - 616 Center
Gregor, Frank B. - 446 Center
Kasarda, John - 330 Center
Machella, John - 305 Center
Yuhas, Peter - 626 Center
Zelenak, Andrew - 525 Fern




A mystery pool room token: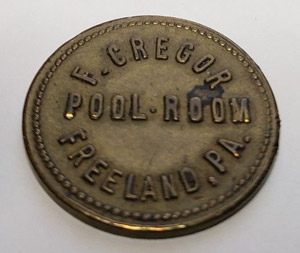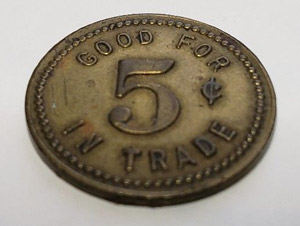 1932 Freeland Police Department's Annual Ball, program from Billy Kuklis:
Brenan & Myers, Bowling and Billiards, 512 Centre St.
Central Billiard Parlor, M. Grohowski, Prop.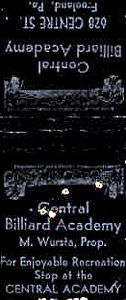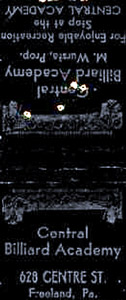 Matchbook, undated:


Central Billiard Academy – 628 Centre St., M. Wursta, Prop. [this was the address next to what would become Woodie's; earlier, A. A. Bachman's store was at that location; later, Gordon Feissner's Hardware Store; building's no longer there]



1940 directory:




Billiards and Pool


Bzdil & Myers - 512 Centre
DellaCroce, Rocco - 350 Centre
Kasarda, Jno. - 330 Centre (John "Kye" Kasarda, proprietor; after 1959, George Chonko)
Petrosino, Isadore - 814 South
Uricheck, Andrew - 602 Ridge



1941 phonebook:


Bzdil & Myers billiards, 512 Centre



1948 phonebook:


Brezina & Myers billiards, 512 Centre; also in the Yellow Pages under Billiard Academies and also Bowling Alleys



1957 phonebook:


Brezina & Myers billiards, 512 Centre; also in the Yellow Pages under Billiard Academies and also Bowling Alleys



An advertisement in a 1960s high school yearbook

lists J. W. Meyers Cigar Store at this site.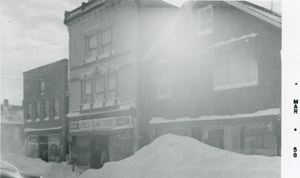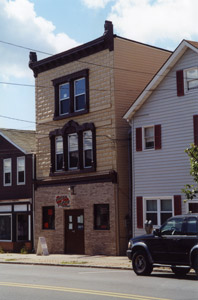 From Bill Feissner:

I was looking at the pool room page and fail to see any mention of the one on lower Centre St. It was called Ky's, not sure of the spelling. He was an old gent that mostly sat behind the counter. In the back there was one pool table and a card table. Later he passed away and the building and business was bought by George (Happy) and Anna Chonko, who continued to operate the business. Happy also did plumbing work.


1958 photo from John Zubach; I took the other photo sometime in the last 30 years or so. Looking at the Zubach photo, I wonder who had that grocery store on one side, and what business was on the other side in 1958? In 1940 the grocery at 326 Centre was owned by William Rodzewich, and Anna Cunningham had a restaurant on the other side of the cigar store.


Ed Merrick shared an article dated December 22, 1960:


Police Seize 84 Gambling Devices In Raids Which Hit 20 Luzerne County Communities


[summarizing] More than 100 state and local police took part in raids in Hazleton, West Hazleton, Freeland, Mountaintop, Drums and Harleigh, seizing machines but resulting in no arrests. Two Freeland locations were named: "Kye's Pool Room, 330 Centre street, Freeland, George Chonko; Brezina and Myers' Pool Room, 512 Centre street, Freeland, John Brezina and Myers."



From Mary Ann Rosetta Schaeffer

about her uncle Mike Masley's store at 457 Hemlock street, mentioning also another pool room, date unknown:

My Uncle's store was named, I think, "Masley's" store and the entrance was on South St. It was part of their home. The bar was on the other side of the house in the living room area and the pool hall was in the house across the yard and the back was on the alley road. The home had a stone wall facing South St. I believe it was 3 houses within one area, and all those places are still there

.



My own [vague] memory:

I seem to remember a pool table at "Ratsie's Pizza" in Grog Hollow, around 1966-1967 -- maybe on the corner of either Foster or North streets intersecting Centre or Ridge? I have no idea who the proprietor of Ratsie's was (a woman seemed to be the manager) or whether that was even the real name of the place. It seems unlikely in retrospect; maybe it was a nickname for the owner?

Thanks to everyone who contributed to this page. Can you add more information or any corrections? Please let me know. Thanks, and enjoy.