What's on this page:
20th-century wedding reception / dance halls

Ticket for Grand Ball at Haas's Hall, New Year's Eve, 1890

Dances and balls at the Yannes Opera House

On related pages:
---
20th-century wedding reception / dance halls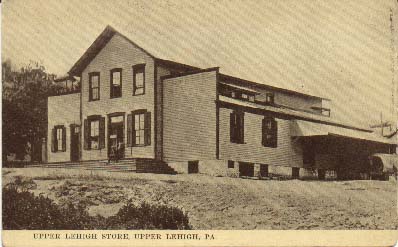 Boyko's Hall - Main St., Upper Lehigh (built in the 1880s by the Windsor Coal Company, to serve as the company's general store and butcher shop; later acquired by the Boyko family and operated as a dance hall; when I was four years old I was the flower girl for my aunt Helen and uncle Charlie who had their wedding party there - photo at left shows the building when it was the company store; the building eventually burned to the ground)

Highland Hall - Highland road

Krell's Hall - corner of Front & Washington Streets (previously Yannes Opera House; later Freeland Auditorium)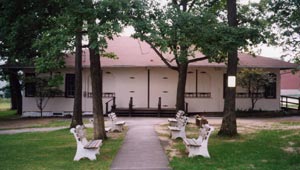 Public Park Pavilion - Public Park, east Front St.

St. John's Church Hall - Ridge & Luzerne Streets (the old hall, was formerly the old church)

St. John's Church Hall - Fern Street between South and Main Streets (the new hall, on site of former Freeland Brewery)



St. Mary's Parish Hall

- Fern Street, next to St. Mary's rectory (on the site of the old grade school)

St. Michael's Bowling Alley - Fern & Carbon Streets



Timony Hall

- South St. between Ridge and Centre Streets (see also Timony Theatre, above)



Yannes Opera House

- corner of Front & Washington Streets (later Krell's Hall, and later Freeland Auditorium)


---
Ticket for Grand Ball at Haas's Hall, New Year's Eve, 1890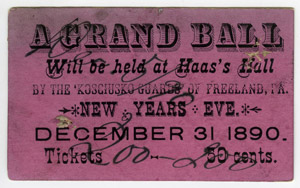 Posted originally in 2010. First question: where was Haas's Hall? It didn't ring a bell with me at all. This ticket is from 1890. Aha - in the city directories for 1882-1884, 1884-1886 and 1886-1888, Frederick Haas is listed as proprietor of a hotel / the Cottage Hotel at the corner of Washington and Main streets. In 1895 he's listed as the proprietor of the Cottage Hotel as well as a saloon at that address, and in 1897, HENRY Haas is listed as the proprietor of the Cottage Hotel. According to the 1897 city directory, also living at that address are Annie Haas (dressmaker), Harry Haas (barber), and Lillie Haas (waitress). Frederick isn't mentioned; after his death Henry took over as proprietor.

In W. W. Munsell's History of Luzerne, Lackawanna and Wyoming Counties, Pa. (1880), Frederick Haas is described as having been born in Germany, March 11th, 1830 and as being the proprietor of Harmony Hall at South Heberton. It also says that he kept a hardware store and shoe shop, and that his wife was Ann Elizabeth Noth, of New York city. So, there are a few questions right there: where were the hardware shop and shoe shop, and might she be the dressmaker mentioned in the 1897 directory (in which case, maybe she's his widow by then)?

Going back to my first question: where was Haas's Hall? In 1880 Munsell says that Frederick was proprietor of Harmony Hall, in South Heberton. Where was that hall located exactly? South Heberton was the area of town around Birkbeck Street, between Front Street and Upper Lehigh. I don't yet know where Harmony Hall was located. Haas's Hall turns out to have been the hall connected with the Cottage Hotel, which Frederick Haas later had built, turning over Harmony Hall to others to manage.

And what would the "Grand Ball" on New Year's Eve on December 31, 1890 have been like? The ticket says "By the 'Kosciusko Guards' of Freeland, Pa." They would have been part of Freeland's Polish community. The Kosciusko Guards also marched in the civic and industrial parade at Freeland's Pearl Jubilee in 1906. How many people do we think would have attended a ball like this?



After this was posted, Ed Lakitsky sent this additional information:



I notice your article on Hass Hall in Freeland.

Andrew and Katie Lakitsky purchased the Cottage Hotel around 1917 (I have the deeds) and operated a rooming house, butcher shop and maybe a saloon.

Before that a John Fisher owned what is now the garages which were horse and stables behind the present day cottage hotel. that I understand from my aunt is where they kept horse sleds for travel in the snow.

The big dining room on the south side of the cottage hotel, from the Hass and Fisher days of ownership, was removed in a boundary dispute when Fisher sold the hotel to my grandfather around 1917.

Hope this helps a little.


---
Dances and Balls at the Yannes Opera House
[This is a correction to what was previously posted.]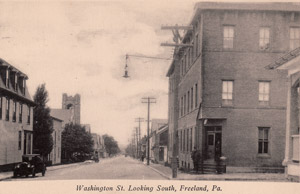 John Yannes was born in the Tyrolean alps, emigrated to the U.S. decades later, and moved to Freeland sometime around 1879. He was listed in the 1882-1884 and 1884-1886 Freeland directories as a bottler located at the southwest corner of Front and Washington streets. He was NOT listed in the 1886-1888 directory, likely because of the disastrous fire that was accidentally started in a neighbor's barn, destroying his building and a number of other buildings on that block in mid-September 1886. He had a new 3-story brick building erected there on that corner in 1887-1888 (see postcard at right) that would become his opera house, hotel and saloon, with a bottling business in the back. Sometime between late 1899 and early 1901 his building was sold to [William?] Krell, and had its grand opening as Krell's Hall later in 1901. Yannes moved his saloon business two blocks south to "the old Berner property" at the southwest corner of Washington and South streets.

Around 1915 Krell's Hall was leased to St. Ann's Church for the use of the Young Men's TAB Society and was operated as a source of revenue for the parish. This may have been when it was known as the Freeland Auditorium. Moving pictures were now being shown there, and basketball games were played. In 1938 the building became an A&P store, which operated until destroyed by fire in 1974. The site is now occupied by the Convenience Mart at Front and Washington. The postcard at above right shows the building as it was rebuilt by Yannes, courtesy of the Freeland Historical Society.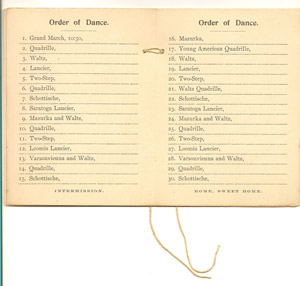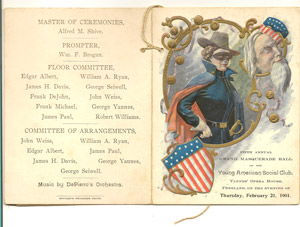 This February 21, 1901 dance card is for the Fifth Annual Grand Masquerade Ball of the Young American Social Club. Dancers could fill in the names of who they had promised a particular dance with. The card comes to us from Bernard Yannes.

Master of Ceremonies: Alfred M. Shive. Prompter: William F. Brogan. Floor Committee: Edgar Albert, James H. Davis, Frank DeJohn, Frank Michael, James Paul, William A. Ryan, George Seiwell, John Weiss, George Yannes, Robert Williams. Committee of Arrangements: John Weiss, Edgar Albert, James H. Davis, William A. Ryan, James Paul, George Yannes, George Seiwell. Music by DePierro's Orchestra. The invitations were printed by Owen Fowler's Freeland Progress, the newspaper publisher.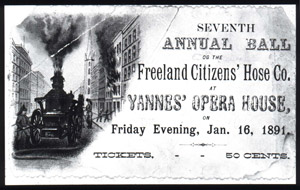 The Freeland Citzens' Hose Co. also held a number of their annual balls at the Yannes Opera House. This invitation announcing the Seventh Annual Ball to be held on January 16, 1891 came from John Zubach.






---



Dances and balls at Krell's Hall

[This is a correction to previous information posted.]

You can learn more about the Yannes Opera House and Krell's Hall on their pages (links at top of page). Briefly here, the Yannes Opera House was built in 1887-1888 and he ran it until early 1901 when it was acquired by William Krell, who renovated it and reopened it as Krell's Hall in 1901.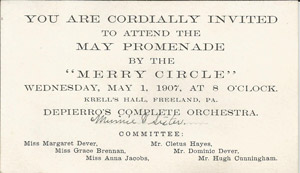 Here are a few examples of the dances and balls held at Krell's Hall:

1901 - Young Men's C. T. A. B. Corps annual ball
1901 - Tigers Athletic Club, twelfth annual ball
1902 - A. O. K. of M. C., Loyal Castle, No. 65 Military Ball
1902 - Ancient Order of Hibernians (A.O.H.) Divisions 6 and 19, banquet and dance
1902 - St. Ann's parish, married women, banquet for 1,065 people and dance
1902 - Balaklava Social Club Grand Ball
1906 - Young American Social Club, tenth annual Grand Masquerade Ball
1907 - Tigers Athletic Club, annual ball 1907 - Merry Circle, May Promenade (Thanks to John "Zeke" Zurko for the invitation)