On related pages:
---



Harmony Hall, South Heberton



In his 1880 History of Luzerne, Lackawanna and Wyoming Counties Pa., W. W. Munsell wrote: "Frederick Haas, proprietor of Harmony Hall at South Heberton, was born in Germany, March 11th, 1830. He keeps a hardware store and shoe shop. His wife was Ann Elizabeth Noth, of New York city."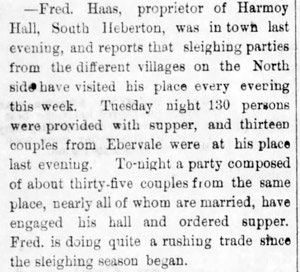 I don't know when Harmony Hall was built, or where in South Heberton it was located (although it was apparently north of the cemetery), or how long Frederick Haas had been its proprietor when Munsell wrote about him in 1880. This article shows that in January 1882 he was still proprietor and that Harmony Hall was apparently a thriving hotel and hall of considerable size.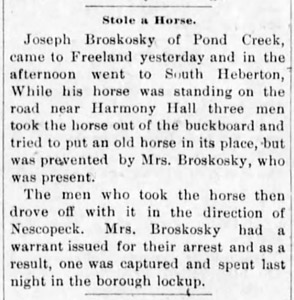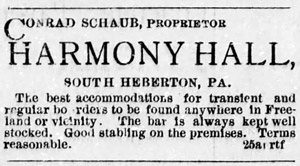 Not long after that article, Haas was listed in the 1882-1884 directory as proprietor of the Cottage Hotel on Washington Street. Later mentions of Harmony Hall in South Heberton occasionally showed up in the newspapers, showing that it was run by other proprietors, such as Conrad Schaub in 1884. The horse theft article is from 1894, so Harmony Hall was still in operation then.



Thanks to Ed Merrick for research and the 1882 clipping.