On related pages:
---



Haas Hall and the Cottage Hotel



[An expanded page on the Cottage Hotel is in progress.]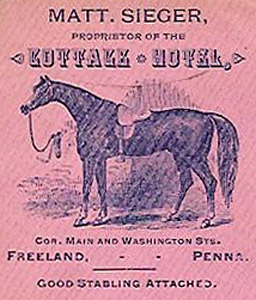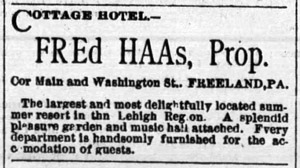 The Cottage Hotel may have been the longest-running business in Freeland. In the 1899 obituary of Mrs. Anna Elizabeth Haas, widow of Frederick Haas, it was reported that after the Haases came to Hazleton, they "occupied a farm in Beaver Valley, and later moved to Freeland where they built the Cottage Hotel and embarked in the hotel business." I have the impression from reading newspaper references that the hotel was built by 1882 but that perhaps Frederick Haas was not yet ready to shift his attention from Harmony Hall to running the new hotel. Matthew Sieger was proprietor of the Cottage Hotel in 1882, and by 1884 Haas had taken over that position, noted in clipping at left.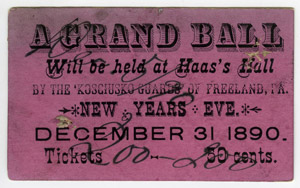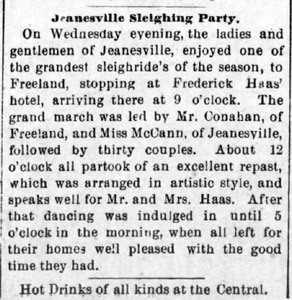 The hotel later passed through a number of other owners and managers, but in the years when Haas had it (he died in 1896), Haas Hall was part of the Cottage Hotel. It was a sizable space, and many dances and balls were held there, as well as traveling exhibitions from time to time, some of which attracted large audiences. The ticket shown here was for a Grand Ball there on New Year's Eve, 1890. The 1888 clipping at right describes "one of the grandest sleigh rides of the season" bringing 31 couples from Jeansville who came to party at the Cottage Hotel until 5:00 a.m.


There's a bit more information on the Hotels and Dances and Balls pages. Thanks to Ed Merrick for the 1884 and 1888 clippings shown here.