What's on this page:
7 hotels - images and notes
Why so many hotels in Freeland?
Hotels listed in directories and maps, 1900-1940

On related pages:
The Cottage Hotel - page in progress
Krouse Hotel - page in progress


Ad at right from Ed Merrick, dated October 2, 1883. Larger crops shown below.


More to be added to this page in the coming weeks.


---
CENTRAL HOTEL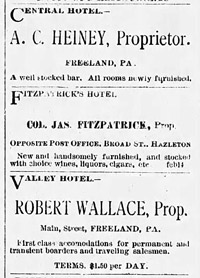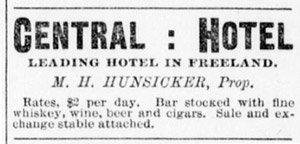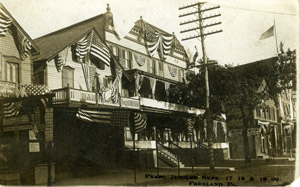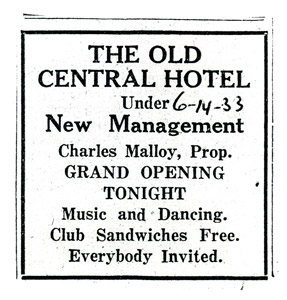 The leftmost photo comes from Ed Socha and shows the Central Hotel during the 1906 Pearl Jubilee. The building next door on the left is Dan'l F. O'Donnell's place, offering bowling and pool, also selling candy, cigars and tobacco. Another sign lists: oysters in all styles, hamd and cheese sandwiches, hot coffee, chocolate, tea.

The articles from 1927 and 1933 came from Charlie Stumpf and talk about the renovation and reopening of the Central Hotel under new management. There is more about this hotel on the Central Hotel page.


---



COTTAGE HOTEL



Possibly the oldest surviving business in Freeland. At present I'm just posting some older ads here, but I have more information, including early and later ads from Ed Merrick, and I will make separate pages for this hotel and the Krouse Hotel with more information.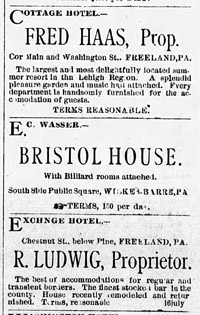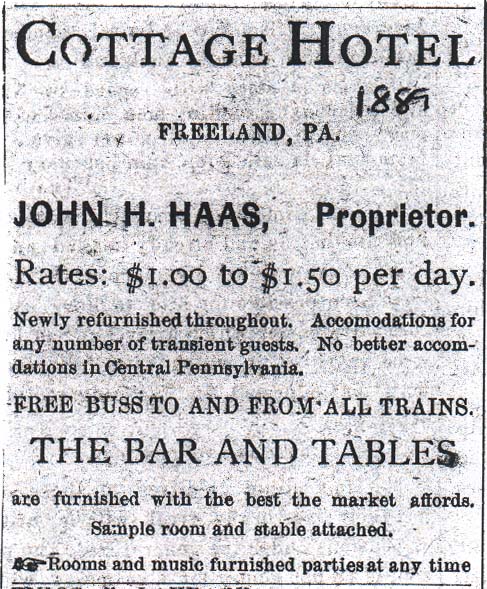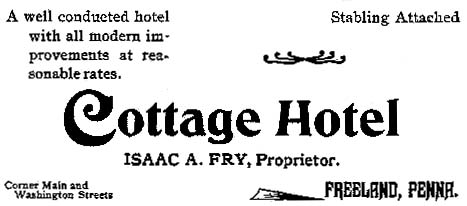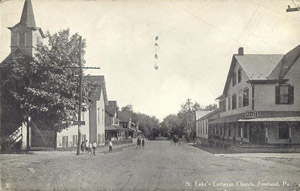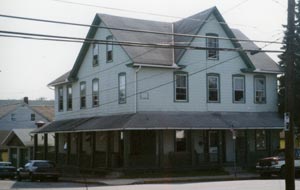 Left to right: 1883 ad from Ed Merrick; 1889 ad from Charlie Stumpf; an ad from the 1895 directory; a postcard showing the hotel across from the old St. Luke's church; and a photograph I shot in 2000.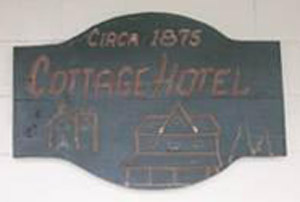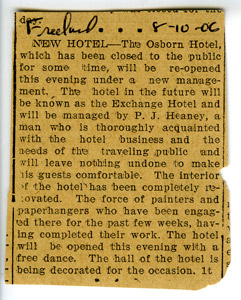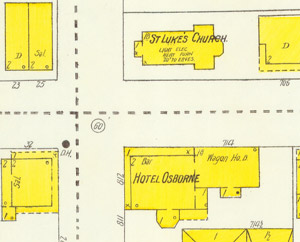 Left to right: A historical label on the hotel sometime between the mid-1990s and the mid-2010s; notice that Mrs. Jane DeFoy will be leasing the Cottage Hotel in 1901, from the Freeland Tribune; an 8-10-1906 article from Charlie Stumpf about the hotel's changing ownership; and a detail from the 1905 Sanborn map showing it labeled "Hotel Osborne".


---
KROUSE HOTEL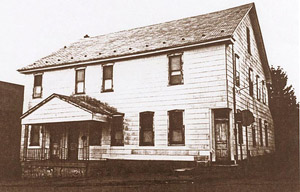 1201 Birkbeck St., Mrs. Mary Krouse, proprietor. This hotel was strategically located on the Drums to White Haven stagecoach route. The old hotel building had been empty for many years when a couple of arsonists burned it down some years ago.

This photo is from Carolyn Moering, who is related to the Krouse family, and who wrote:

As it happens, I was studying the 1920 census, and found the little Krouse family at 1201 Birkbeck, managing the hotel, which, as per the census, Mary Krouse owned free of a mortgage. Mary's son, Jacob Krouse, lived (rented) at 1213 Birkbeck with his wife Maria, and managed the livery stable. Two of the non-family boarders were teamsters at the livery stable

.

Mary Krouse was born Mary Katrina Fuchs (Fox), and came to the U.S. from Germany with her parents when she was 12. John and Mary Krouse ran the hotel, and she continued that work for years after his death. When she died she had been a widow for 37 years.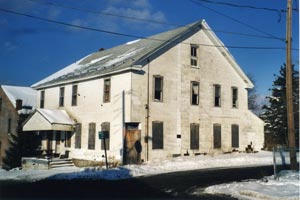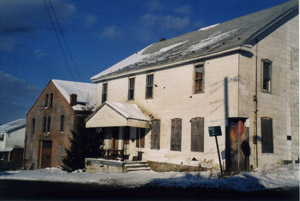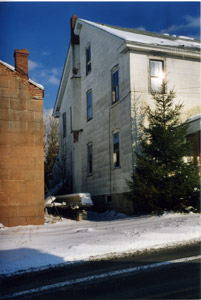 My brother Steve and I took these photos of the hotel and livery buildings in 2000, trying to imagine what they would have been like as a stagecoach stop a century earlier.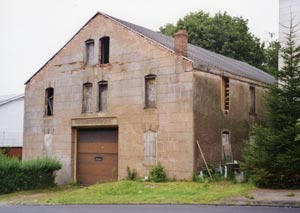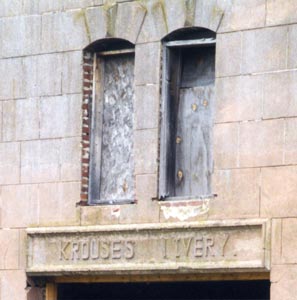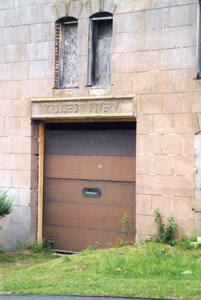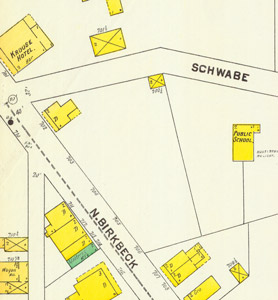 The 1905 Sanborn map detail here shows the location of the Krouse Hotel. It also shows a "mattress factory" nearby at what was then numbered 714 Birkbeck Street.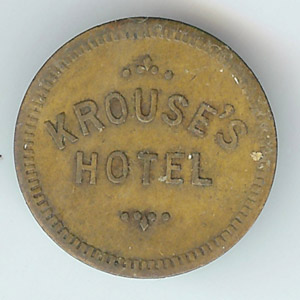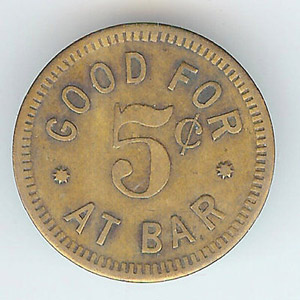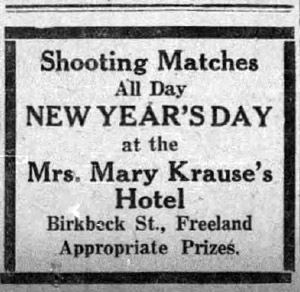 A token good for five cents at the bar, from the early days.

1922 shooting day ad from Ed Merrick.




---
MERKT HOTEL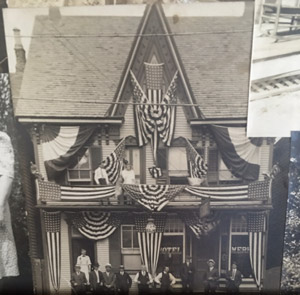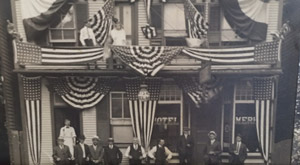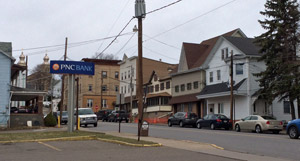 Diane Unangst, who is related to the Merkts, sent this hotel photo to me. The first listing I saw of the Merkt Hotel was in the 1917 telephone directory, address 723 Front Street. The rightmost photo shows the location and the building which was still there when Charlie Gallagher took this photograph. Apparently Jacob Merkt first ran the Washington Hotel on Walnut Street (see below) for a while, and then moved to open a hotel on Front Street. His brother Michael "Charley" Merkt had a confectioner shop for many years in Freeland.



---
ST. ELMO HOTEL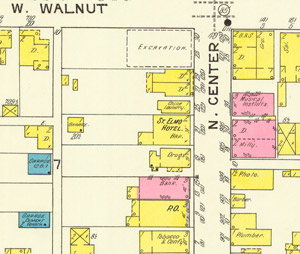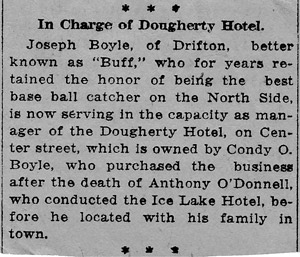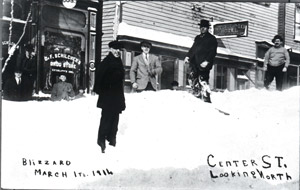 Left to right: Detail from 1912 Sanborn map showing the St. Elmo hotel and bar, a Chinese laundry next door on one side, and on the other side Frank Schilcher's drugstore, the Citizens Bank, the Post Office, and A. Leppler's tobacco and candy shop.

The middle item is a short article from Eleanor Duckett that *might* refer to this hotel, as it was owned and run by Willy Dougherty.

Prior to the St. Elmo Hotel, in 1897 there was a hotel at this same site called the Delmonico Hotel, run by Stephen Drasher.



The photo came from John Zubach and shows the hotel and drugstore in the aftermath of the 1914 blizzard. The photo was sent to Tom Zubach by Gus Mitke in 1969, probably for the Penny Saver, and the accompanying letter included this:

left to right, Antone Leppler, next unidentified, third man Tony Leppler, small boy above drift unidentified, fifth man is Willy Dougherty in the sweater - proprietor of the St. Elmo Hotel. Everybody knew Willy, a celebrity in Freeland. Old Dr. Schilcher's drugstore is also an old landmark

.


---
VALLEY HOTEL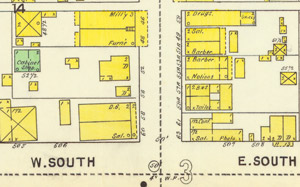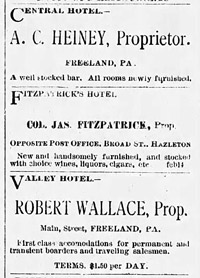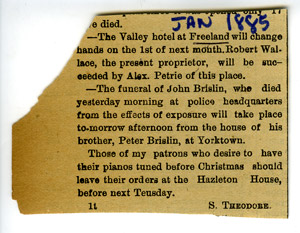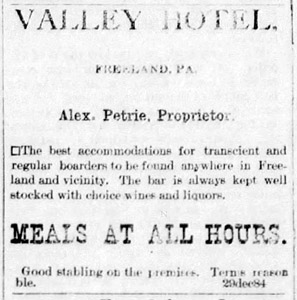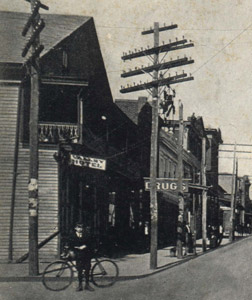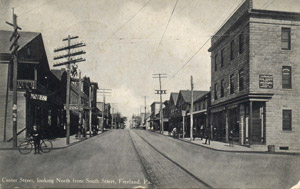 Top row: Detail from 1895 Sanborn map showing a saloon at the northwest corner of Centre and South streets; brief 1885 news notice about the Valley Hotel changing hands; two ads from Ed Merrick, the 1883 ad with Wallace as proprietor, the 1885 ad with Petrie.

Bottom row, from left: An enlargement from the postcard at right showing the Valley Hotel sign; the postcard of that intersection. At left you see the Valley Hotel and a drug store; at right there's a sign on that building for J. M. Reagan, Real Estate and Insurance. The trolley tracks go up for another block or two. You can see the old steeple of the former Borough Building in the far distance on the right.


---



WASHINGTON HOTEL, ALSO CALLED WASHINGTON HOUSE, WASHINGTON HALL



Occasionally when events were hosted here, Albert Goeppert's hotel was referred to as Washington House or Washington Hall. It was on west Walnut street near Centre, right next to the Tigers Club Room.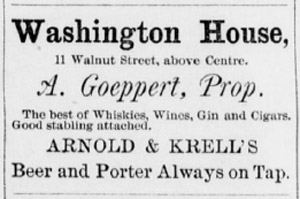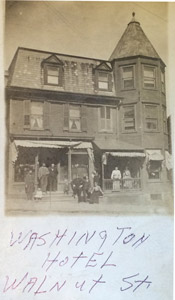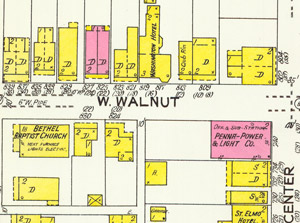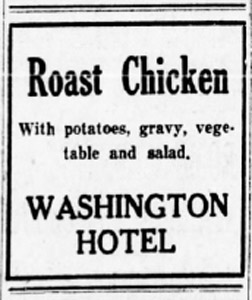 Top row, left to right: 1890 Freeland Tribune ad for A. Goeppert's Washington House at 11 Walnut Street (between Centre and Ridge Streets); 1893 ad from Ed Merrick; photo of the Washington Hotel from Nick Deitos, Sr.; the Tigers Club Rooms next door to the hotel, decorated for the 1906 Pearl Jubilee.

Bottom, from left: The Washington Hotel and Tigers Club Rooms on the 1923 Sanborn map; a 1936 ad for the hotel's restaurant, from Ed Merrick.


---
OTHER HOTELS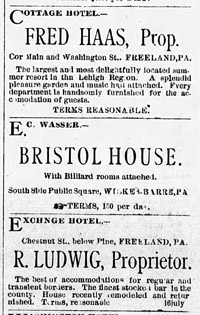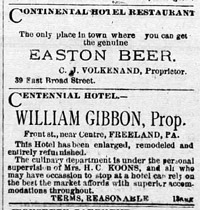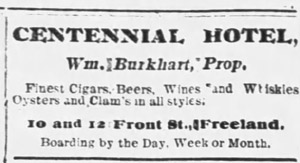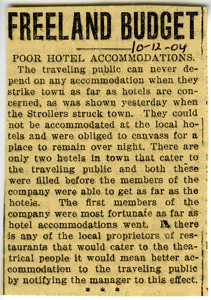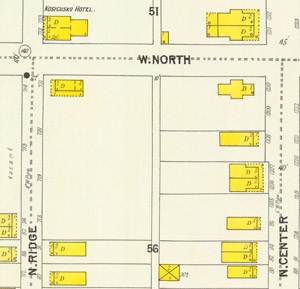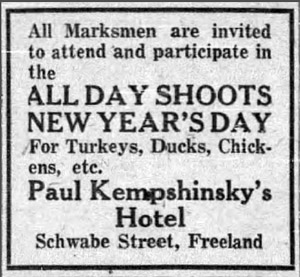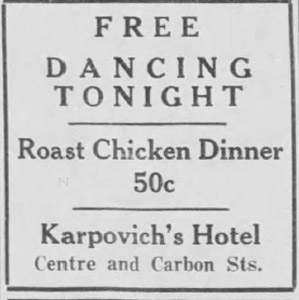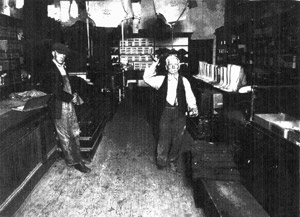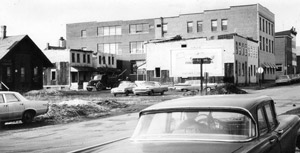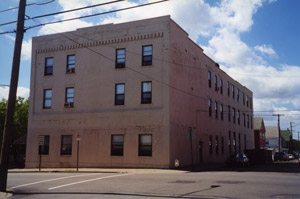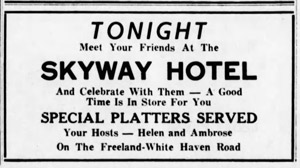 Top row, from left: 1883 Exchange Hotel ad and 1883 and 1897 Centennial Hotel ads from Ed Merrick. A small 1904 news article from Charlie Stumpf bemoaning the lack of more than two good quality hotels that "cater to the traveling public."

Middle row, from left: A detail from the 1900 Sanborn map shows the "Kosciusko Hotel" and saloon at the corner of Ridge and North streets. A1922 ad for a shooting day at Paul Kempshinsky's Hotel, and a 1933 ad for the Karpovich Hotel, both from Ed Merrick.

Bottom row, from left: The building at Centre and Carbon that is now senior apartments had once been the Bereznak Hotel, also Bereznak's bar, and his boots and shoes store. The image at left is a photocopy given to me by Charlie Reczkowski years ago, showing John Bereznak in his boots and shoes store. I asked the late George Bereznak about this image and he replied: John Bereznak was my grandfather. He owned the building on the corner of Center and Carbon St. It had a store, bar room, hotel rooms and his living quarters. It was affectionately known as the 'Honeymoon Hotel'.

The two photos show the Freeland Sportwear Company factory, in what had previously been the Bereznak building. In the mid-20th century the factory was owned and run by members of the Pavlick family. Now it is an apartment building for Freeland seniors.

A 1954 ad for the Skyway Hotel on the Freeland-White Haven Road comes from Steve Yaskewich.


---

WHY WERE THERE SO MANY HOTELS IN FREELAND MORE THAN A CENTURY AGO?

The sole survivor and oldest ongoing business in Freeland may be the Cottage Hotel, and yet in the 1890s through 1920s there were quite a few hotels! On the related page listing hotels from old directories and maps, you'll see that in 1897 the number of hotels in Freeland increased dramatically after South Heberton was annexed to Freeland, making the town much larger. People were coming to visit from elsewhere to see the mines and the various technologies that were being developed and tried out in Drifton, Highland, and other mining communities. Immigrants were moving to the coal towns and also to Freeland, and some would stay in hotels temporarily while looking for a place to live. Maybe some of these hotels were more like boarding houses, people putting renters up in their own homes. Traveling salesmen often stayed overnight to meet with town business owners. And people were also coming to Freeland to see if it might be a good place to set up a business and perhaps raise a family. Hotels could have been a step in that process.

Some of these hotels also had bars and restaurants or at least meals offered for hotel guests. The Krouse Hotel at Birkbeck and Schwabe was a stagecoach stop on the road from Drums to White Haven, and so it had a livery stable nearby, as did the Cottage Hotel and Central Hotel and perhaps some of these other hotels too (stables for some of them if not actual livery businesses).

More information on Freeland's hotels will be added as it surfaces, but meanwhile, please enjoy what's here. If you have information to share, please let me know. Thanks, and enjoy.


---



Hotels listed in directories and maps, 1900-1940





1900-1901 city directory




Hotels in business listings:


Central Hotel, M. H. Hunsicker, proprietor, rates $2 a day, The best hotel in the city, Centre
Cottage Hotel, S. Kresky, proprietor, $1.25 a day
Eagle Hotel, Fred Krone, cor. Birkbeck and Johnson
Magagna, Peter, hotel and saloon, cor. Centre and South
Park View House, hotel and saloon, Front



1905 Sanborn Fire Insurance Co. map


Black Diamond Hotel
Central Hotel
Eagle Hotel
Hotel Osborne
Krouse Hotel



1912 Sanborn Fire Insurance Co. map


Black Diamond Hotel
Central Hotel
Cottage Hotel
Eagle Hotel
Krouse Hotel
St. Charles Hotel
St. Elmo Hotel
Washington Hotel
Roosevelt House



1912 telephone directory


Central Hotel, W F Cantner – 15-17 Centre
Krause Louisa, Hotel – S Washington
Krause Mary, Hotel – 194 Birkbeck
Schulz George, Hotel – Front



1917 telephone directory




Hotels in general listings:


Central Hotel, W. F. Cantner, proprietor - 622 Centre
Cottage Hotel, O. E. Myers, proprietor - 559 S. Washington
Danko, George S., Hotel & Garage - 827 South
Krause, Mary, Hotel - 1201 Birkbeck
Merkt, Jacob, Hotel - 723 Front
Petrilak, Michael, Hotel - 302 Adams
Ranieri, Joseph, Hotel - 520 Ridge



1921-22 city directory




Hotels in business listings:


Central Hotel – 622 Centre
Cottage Hotel – 559 Washington



1923 Sanborn Fire Insurance Co. map


Central Hotel
Krouse Hotel
St. Elmo Hotel
Washington Hotel



1928-29 city directory


Hotels in business listings:
Central Hotel, 622 Centre
Washington Hotel, 819 Walnut



1929 Sanborn Fire Insurance Co. map


Central Hotel
Krouse Hotel
Washington Hotel



1940 city directory


Hotels in business listings:
Altamont Hotel - Hazleton, Pa.