What's on this page:

Images relating to the Tiger Athletic Club

Booklet from the 35th Anniversary celebration of the Tigers

On a related page:
There are several Tigers team photos on the Baseball page
[Image at top left comes from Ed Bacon; it's cropped from a Tigers team photo on the Baseball page.]


---
TIGERS ATHLETIC CLUB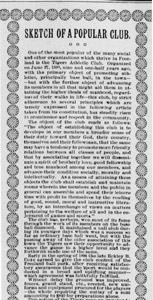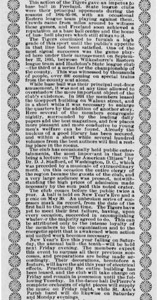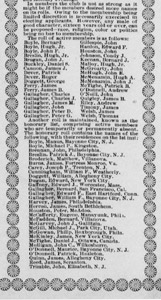 Here's an article about the Tigers Athletic Club from the Freeland Tribune, December 26, 1898, sent independently by both Joan Buday and Mary Rosenkrans. Thanks to you both!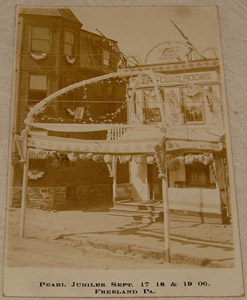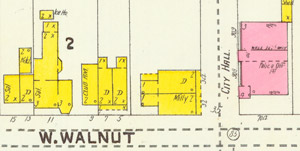 This is a great photo! Most of the photos from the 1906 Pearl Jubilee that I've seen show Centre Street, but here is a photo of the actual Tiger Club Rooms on Walnut Street. Look at those decorations! At right is a detail cropped from the 1905 Sanborn map that shows the club's location.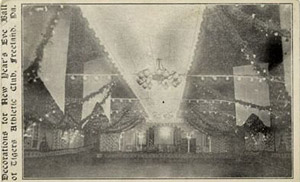 Here's a postcard showing the New Year's Eve party decorations at the Tigers Athletic Club. On the back it says: "Spend the Holidays in Freeland, Pa., and attend the Twenty-seventh New Year's Eve Ball of the Tigers Athletic Club, Friday Evening, December 31, 1915. Timothy Hall, New Year's Day Matinee Dance. New Year's Night Dance. Magnificent Electrical Effects. Superb Decorations. Finest Dancing Floor in State. 1889 -- 1916." So this was all set up at Timony Hall on South Street between Ridge and Centre, a building that was made originally as a dance hall and a site for indoor sporting events and then later as a theatre. Eventually it became the Rialto Theatre, and then after that served as a temporary cutting department for the Freeland Manufacturing Company in the 1980s. The building was torn down just a few years ago for the construction of the new Nocchi's pharmacy building, now a CVS.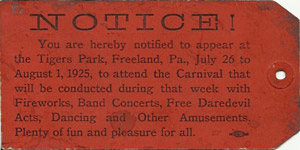 This item comes from Danny Balon, who described it as "a 'summons' that must have been put on peoples doorknobs to advertise a carnival that was going to be held at Tiger's Park in the summer of 1925. The promised entertainment includes fireworks, band concerts, dancing AND free daredevil acts !!! I found this inside of a cocktail guide that hadn't been opened in a long long time and as a result, it was in amazingly good condition. I also found the tag and hole interesting and concluded that this must have been placed on peoples doorknobs with a string which made sense given the fact that we are predating the notion of placing paper adverts under people's windshield wipers, obviously. This item just blew me away as I imagined that perhaps my grandfather tucked this away at some point with the intention of taking my father, who would have been 6 years old at that time, to see the 'free daredevil acts'."

I'll add that I can remember being 4 or 5 and being allowed to go with some of our neighbors to see a circus that had come to town in the mid-1950s and was set up in Tigers Field.

Very

exciting!



---


TIGERS CLUB 35TH ANNIVERSARY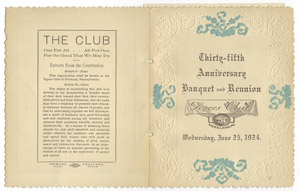 This booklet comes to us from Joan Buday. She wrote: "I was given this lovely and memorable booklet from June 25, 1924 -- The Tiger's Club 35th Anniversary Banquet and Reunion." Very nice of her to scan it and share it with all of us here! Clicking this link will open an Adobe PDF copy of the booklet. If you don't have Adobe Reader on your computer you can download it for free at <www.adobe.com>. This PDF file size = 2.2 MB.