What's on this page:

Tigers Athletic Club history

Sports and Tigers Park (will add more later)
Tigers dances and balls

On related pages:
There are several Tigers team photos on the Baseball page
---

[Image at top left comes from Ed Bacon; it's cropped from a Tigers team photo.]


---
History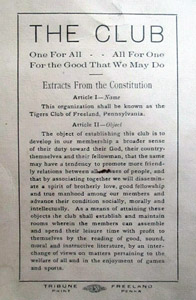 The Tigers Athletic Club was organized on June 27, 1889 not only to promote athletics -- principally baseball, for which it is now remembered -- but even more fundamentally (based on its constitution) to develop in its members "a broader sense of their duty toward their God, their country, themselves and their fellow man, that the same may have a tendency to promote more friendly relations between all classes of people, and that by associating together we will disseminate a spirit of brotherly love, good fellowship and true manhood among our members, and advance their condition socially, morally and intellectually. As a means of attaining these objects the club shall establish and maintain rooms wherein the members and the public in general can assemble and spend their leisure time with profit to themselves by the reading of good, sound, moral and instructive literature, by an interchange of views on matters pertaining to the welfare of all and in the enjoyment of games and sports." These extracts from the Tigers constitution shown above were printed by the Tribune Printing Co. on the occasion of the Tigers Club's 35th reunion in 1924.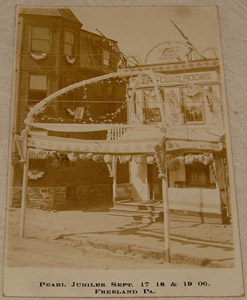 In 1891 club members leased the Goeppert building on Walnut street, and added another story to enlarge it. There in its club rooms members would gather in the evenings to relax, read and talk together. The club rooms included a library of books, daily newspapers and magazines. The club also held occasional public entertainments, both in their club rooms and in other halls around town. This photo postcard shows the club's building decorated for the 1906 Pearl Jubilee.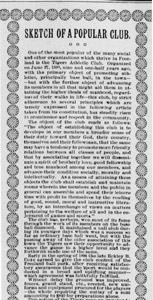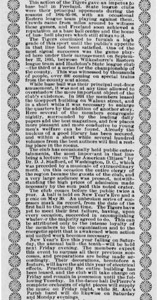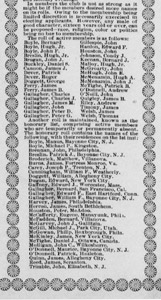 Here's an article about the Tigers Athletic Club from the Freeland Tribune, December 26, 1898, sent independently by Joan Buday, Mary Rosenkrans and Ed Merrick. Thank you, all!









---



Sports and Tigers Park



I know that what the Tigers were best known for was sports, but I don't have a lot to post at present about the Tigers teams right now. However, you can find photos of several of the Tigers baseball teams on the Baseball page. Some don't have identifications provided, but there are names for the 1903 and 1907 players on the page. I'll add more Tigers information later.

I also don't have much about the Tigers playing at Tigers Park at the south end of Centre street to post today, but Ed Merrick shares memories of a pickup football game played there in the mid-1960s.

His photos here show Pal Whitehead and others enjoying pickup football games in the mid-1960s. Ed took the leftmost photo at a football game on September 6, 1964 at the Tigers Park, noting:

"or MMI Field as it has come to be known. Pal was coach of Woodie's Raiders, who lost to Smokey's Bears 18-0."

I asked him if he could tell me more about these games at Tigers Park. He wrote: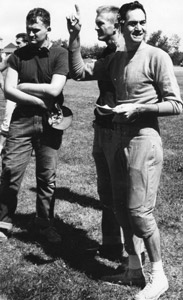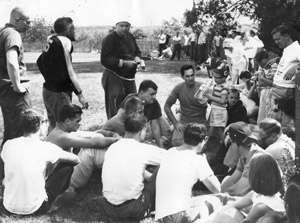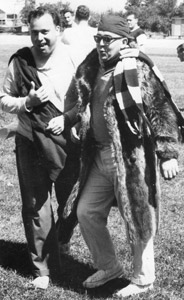 They were pickup teams. The manager of the Bears was Jim Quinn, whom I do not know. He was probably a guy who came in for a cup of coffee, started talking to Pal, and challenged him to get a team together and play. We had no helmets and pads; we didn't even have goal posts, hence the score. Tom Zubatch published a bunch of the photos in his Pennysaver, and I wrote a funny article to go with them.





For your information, [the photo at right] shows Don Snyder and Jack Timony, girded for battle; [in the center photo], Pal in center seated; standing, Carl Poppolardo, your neighbor; a fellow who is familiar but whose name I can't come up with; Don Snyder in white hat; and Ed Herbener, with his arms over a fence at right; I can't remember the name of the fellow in the middle.

A fourth photo from Ed shows this great action shot!













Also, here is something about one of the many non-sports events that were held there over the years.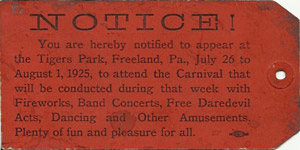 This item comes from Danny Balon, who described it as "a 'summons' that must have been put on peoples doorknobs to advertise a carnival that was going to be held at Tiger's Park in the summer of 1925. The promised entertainment includes fireworks, band concerts, dancing AND free daredevil acts !!! I found this inside of a cocktail guide that hadn't been opened in a long long time and as a result, it was in amazingly good condition. I also found the tag and hole interesting and concluded that this must have been placed on peoples doorknobs with a string which made sense given the fact that we are predating the notion of placing paper adverts under people's windshield wipers, obviously. This item just blew me away as I imagined that perhaps my grandfather tucked this away at some point with the intention of taking my father, who would have been 6 years old at that time, to see the 'free daredevil acts'."

I'll add that I can remember being 4 or 5 and being allowed to go with some of our neighbors to see a circus that had come to town in the mid-1950s and was set up in Tigers Field. Very exciting!


---
Dances and balls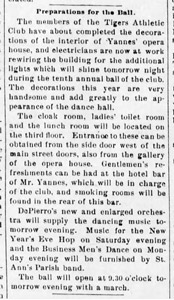 A 1931 article about preparations for that year's Tigers New Year's Eve Ball included a retrospective note: at that point this annual event was one of the oldest annual social events in northeast PA. It says that their first ball was held on January 17, 1890 in the Yannes Opera House. Subsequently it was held there a number of times as well as in Washington Hall, Cross Creek Hall, Timony Hall, the Cottage Hotel hall, and St. Ann's auditorium (perhaps other locations, too?). At left is an article on preparations for the 1898 ball.

Ed Merrick shares the article shown below on the Tigers Club's "Twentieth Century Ball" on New Year's Eve at the turn of the previous century, and perhaps one of the last events before the Yannes Opera House changed hands to become Krell's Hall. The hall was transformed for the occasion into a "fairyland," an illuminated forest of spruce and holly "carried from the Oley valley by the wagon-load." Electrical features of the decorations made possible through the Electric Light Company enhanced the effects. Music by DePierro's Orchastra. To continue the next evening, with St. Ann's Band. QUITE AN EXTRAVAGANZA. Thanks, Ed.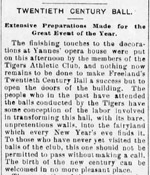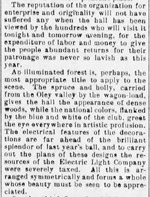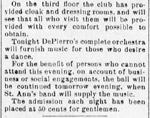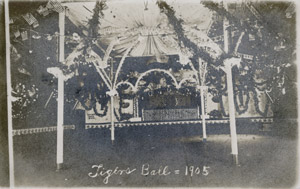 Shown at left are the decorations for the 1905 annual Tigers Club ball. I don't know whose hall the 1905 ball was held in, but the decorations were quite elaborate.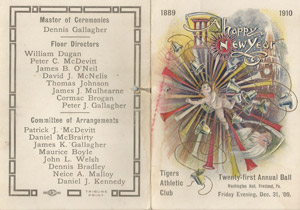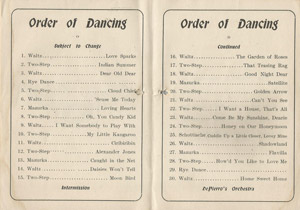 John "Zeke" Zurko contributed these images at right of the program for the 1909 annual ball. I am guessing that Washington Hall was Albert Goeppert's Washington Hotel, which was next door to the Tigers Club Rooms on Walnut street.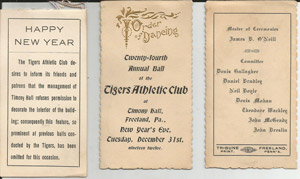 John "Zeke" Zurko also contributed this image at left of cards distributed at the 1912 annual ball. This ball would have taken place soon after the original Timony dance hall opened. Note that the leftmost card says that "the management of Timony Hall refuses permission to decorate the interior of the building." By the time of the 1915 Tigers Ball that policy had changed (see below).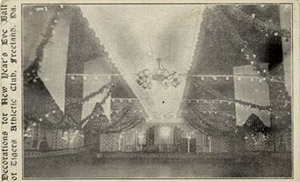 Text on the reverse side of this image of the 1915 Tigers Ball decorations:
Spend the Holidays in Freeland, Pa., and attend the Twenty-seventh New Year's Eve Ball
of the Tigers Athletic Club, Friday Evening, December 31, 1915, Timony Hall.
New Year's Day Matinee Dance, New Year's Night Dance.
Magnificent Electrical Effects, Superb Decorations, Finest Dancing Floor in State.
1889 - 1916.



Thanks to Ed Merrick, Joe Moore, Charlie Stumpf for research, clippings, assistance. Thanks to John "Zeke" Zurko for images of the dance cards for the 1909 and 1912 balls.