On related pages:
---

The original Yannes building at Front and Washington was apparently a wooden building and it housed his bottling business and perhaps a saloon. It burned down along with a number of other buildings in a big fire in 1886. After that he had a new, larger, 3-story brick building erected on the same property in 1887-1888 that would become his opera house, hotel and saloon, with a bottling business in the back.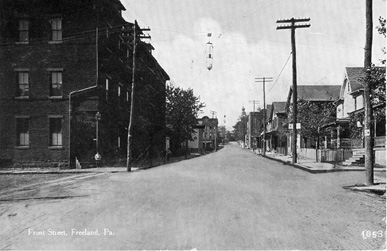 You can read more about John Yannes and the Yannes Opera House on the Opera houses page and the Dances and balls page, but here I want to highlight that he also made meeting rooms available to local groups for meetings and other events. For example, looking at directories for 1895, 1896 and 1897, in 1895 there were four organizations listed in the directory as holding their regular meetings there: "Division 6, A O H B of E meets first and third Thursday evenings; Division 19, A O H B of A meets first and third Friday evenings; Young Men's T. A. B. Society meets first and third Sundays; and Garibaldi Beneficial Society meets last Sunday of month." The Garibaldi Beneficial Society continued to meet there in 1896 and 1897, while the other three met elsewhere in those years. Other organizations met in other halls and meeting rooms around town.

Here are just a few more examples of the many events held there in addition to the theatrical entertainments that took place on the opera house stage:
1888 - P.O.S. of A. Ball
1890 - Knights of the Mystic Chain, Loyal Castle no. 65 anniversary entertainment
1890 - Young Men's T.A.B. Society lecture and entertainment
1891 - Knights of Labor annual ball
1897 - Citizens' Hose Company Fair (2 weeks!)
1898 - Tigers Athletic Club tenth annual ball
1900 - Tigers Athletic Club, Twentieth Century Ball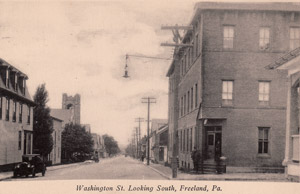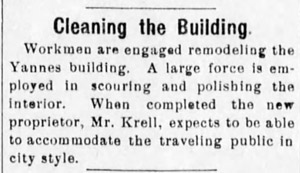 Yannes ran his businesses there until sometime in early 1901, when he moved his saloon and bottling works two blocks south to "the old Berner property" at the southwest corner of Washington and South streets. His building had been acquired by William Krell, and had its grand opening as Krell's Hall on May 11, 1901. [This information comes from contemporaneous newspapers and corrects some other information published elsewhere.]


Thank you to Ed Merrick for research and clippings, to John Zubach for the black and white postcard of Yannes' Opera House, and to the Freeland History Society, Joe Flanagan and Tom Landers for the sepia postcard photo of Krell's Hall.