What's on this page:
Continuation School in Freeland
The purpose of Continuation School

---



These articles about local Continuation Schools were researched by Ed Merrick.

I had not heard of Continuation Schooling before – it was legislated to address the fact that so many children were leaving school to work in the mines and elsewhere, and it was felt that they needed to have SOME education, somehow, so that they could be productive members of society as adults. The program was controversial and difficult to oversee, but the intention was good. If someone in your family quit school to go to work in the 1920s and early 1930s, maybe they attended Continuation School. I'm summarizing the articles he found, and adding an explanation of what Continuation Schooling was.


---
Continuation School in Freeland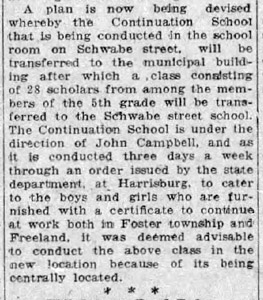 September 1, 1922: A plan is underway to move the Continuation School currently held at the school on Schwabe street (the former South Heberton school) to the municipal building. Because the Continuation School is for boys and girls who have work certificates for jobs in Foster township and Freeland, the municipal building is thought to be a more central location.

September 12, 1923: The Freeland Continuation School is in session in the South Heberton school building, Monday, Tuesday and Wednesday of each week, 8 a.m. to 5 p.m. All boys and girls between 14-16 who are employed are required to attend one 8-hour day of schooling each week. Employers are asked to see that the minors they employ are being schooled, as required by state law. The school had 17 in attendance yesterday; Mr. Thomas Roman is temporarily teaching the school.

May 13, 1924: Continuation School law is not being obeyed, and so the Hazleton school district is taking drastic steps to force some local employers of juvenile labor to obey the compulsory education laws. "It seems that some youngsters stay away from work and also from the continuation school one day. Then the industries allow the children to work the other five days." The school district has served notice on employers that they will be arrested and fined if they do not enforce attendance of continuation schooling for their juvenile employees.

October 21, 1926: In a case in Ashley, Judge Fuller expressed his disapproval of the continuation schooling law, saying that "continuation school have but little educational value, because it obstructs opportunity of children to obtain decent renumerative employment."

September 1, 1928: The Freeland Continuation School will open Tuesday morning at 8:00 in the Daniel Coxe School building. This program in Freeland had close to 150 students/week last year. This is one of the largest in enrollment in the eastern part of the state. Miss Lillian Kester will have charge of the school.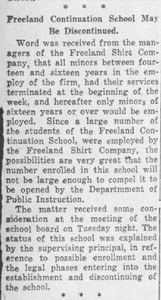 August 4, 1933: Word was received from the managers of the Freeland Shirt Company, that all minors between 14 and 16 years in their employ had their services terminated at the beginning of the week, and hereafter only minors of 16 years or more would be employed. Many of the Continuation School students worked for the Freeland Shirt Company, and now that those under 16 were being terminated, the remaining other students continuing to be enrolled in the Continuation School were thought to be too few to compel the Continuation School to remain open.








---



The purpose of Continuation School



[From "Pennsylvania's Continuation Schools", by James H. Fuller, in

Journal of Education

, 1916; 84(19): 508-510]

"The Act, known as the Cox Child Labor Law, which was passed May 13, 1915, by the Pennsylvania State Legislature, and which went into effect January 1, 1916, provides in general that all those minors, male and female, who are working, shall attend school eight hours a week. Hence the name Continuation School. The Act was framed and fathered by Governor Blumbaugh, and grew out of his long and varied experience as a schoolmaster."

This law was made to ensure that minors who were working would still receive some education, either in the district where they lived or where they worked. Compliance was intended so that if a student persistently skips the classes, their employer must discharge them, and then they must return to regular schooling. The law had a provision for keeping tabs on applicants for working certificates, so that if a minor of 14 wants to work they must be willing to continue schooling for 8 hours a week, and they must actually secure a job before being allowed to leave their regular schooling. At that point they are hired and also enrolled in Contination School. Before a student of 14 can leave regular school they must have passed the sixth grade, or remain in school full-time until they are 16.

The courses taught are those thought to be of greatest possible usefulness to the student. Academic subjects (40%) included (a) English, letter writing, spelling, reading of semi-technical trade articles and writing about vocational subjects; (b) industrial geography emphasizing home industries, and the materials, products, distribution and consumption that are associated with human labor; (c) personal and community hygiene, health habits and safety; (d) civics, first of the home community and then more broadly (especially important since 50% of the parents of these students were immigrants). Fixed vocational subjects (30%) included arithmetic relevant to the industries, industrial bookkeeping, and shop sketching. The variable vocational subjects (30%) consisted of a study of the machines and processes that the students use in their work during the day. It was also intended that a course on manual training be given to the boys, and on domestic science to the girls.

This "new type of applied pedagogy" was intended to address three problems with the regular system: delinquents who spent most of their time on the streets, those who have lost their fathers or for other reasons are compelled to earn money for the home, and those who incline toward manual and vocational interests rather than more abstract study. The overall aim was to give those not academically oriented a good, functional basis for work in the trades and industries and for life in the community.