On related pages:
---

Ray Morgan, gas station owner and gunsmith, posted 5-14-2021



I learned about Ray Morgan and his gas station on west South street (on the site of the current Freeland Diner) from two brothers: Tom Morgan (now deceased), and later from Bill Morgan, both writing about their uncle Ray Morgan.

More recently, Ed Merrick sent me this ad from the August 10, 1928 Plain Speaker showing that before Ray had the gas station, he was selling Hood tires at 154 Washington street as early as 1928. The 1928-1929 Freeland directory listed him at r154 Washington street as a machinist.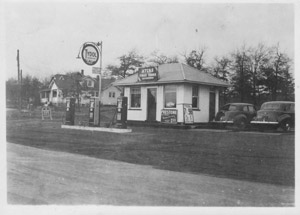 Both Tom Morgan and Bill Morgan sent me this photo of their uncle Ray's gas station, and gave permission to post it. In March 2021 Bill contacted me again.

Tom wrote:

Dear Ms. Tancin: I recently learned about your Freeland history web site. Do you have any information on my uncle Raymond Morgan. He was a gunsmith and also owned the little Flying A garage on South Street. It is now the Wooden Nickel Diner I believe. I don't know if you remember the little gas station on the edge of town. He was born sometime around 1900. He made target 22 rifles used in shooting completions. …



He later wrote:

I found the old photo of my uncle's gas station. I know very little about my uncle. My son became interested when I told him about Ray's rifle being used to win an Olympic gold medal. …





I never knew my uncle having only met him once as a very small child. His father was a mine foreman the family lived in Pond Creek. Later my grandfather got a civil or political job and the family moved to Washington Street. The house was directly behind the old MMI gymnasium. My father was the youngest of 8 children and Ray was the oldest. They were many years apart. I think Ray would have been born approximately 120 year ago.

(1890s - CT)

Tom then asked for information on the Jeddo and Drifton machine shops. He wrote:

I am doing some research on my family history. I think my uncle learned his machining trade at the Drifton shops. He later went on to become a gunsmith. I remember an old wood fence between Citterio's plant and Callelo's that the old timers said was the old Drifton shops property. What I picked up listening to them was that the shop did heavy industrial manufacturing, building locomotives and mining equipment. I suspect there were foundries, forge and welding shops on the site. …



A few years later Bill wrote:

My uncle Ray owned the garage. The building is now part of the Freeland Diner at South and Birch streets. Within the past few years, the house in the background was still identifiable. Ray moved to New Haven, Connecticut, and was a machinist and gun smith. He made 22 caliber, prone position, competition target rifles. Apparently the guns are still well thought of, at least among those with that particular interest. …





My understanding is that Ray only made the action part of the guns, and that other craftsmen added the barrel and stock. Some of his guns (he actually only made the action, not the barrel of stock) have been turned into works of art with beautiful wood stocks. This is a

link to a forum about my uncle's guns

. Note there is a reference to a magazine article in one of the responses.



Thank you to Bill Morgan and to the late Tom Morgan for information and photo, and to Ed Merrick for the 1928 ad.