What's on this page:
On related pages:
---

You load 16 tons, and what do you get?
Another day older and deeper in debt.
St. Peter, don't you call me 'cause I can't go -
I owe my soul to the company store.
-- written by Merle Travis, and made a hit by Tennessee Ernie Ford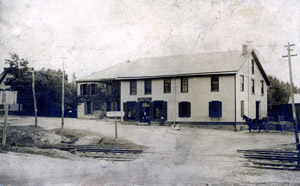 The content of this page comes thanks to the research of Ed Merrick.

He sent 9 articles about the various Jeddo Stores, and I'll summarize them, posting a few. This photo of the Jeddo Supply Co. General Store came from John Zubach.




---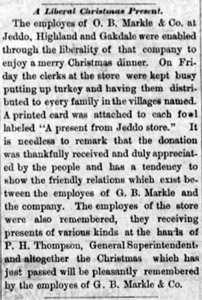 12-28-1880
A Liberal Christmas Present
G. B. Markle & Co. gave each of their employees at Jeddo, Highland and Oakdale a turkey, distributed through the Jeddo Store, each with a card attached saying "A present from Jeddo Store." Store employees also received gifts via P. H. Thompson, General Superintendent.

5-13-1896
Ebervale
In May 1896 the manager of the Jeddo Store was working with staff to mark goods and put them on the shelves of what would be G. B. Markle & Co.'s new store in Ebervale. Mining was expanding again in Eberly after a hiatus of 8-10 years. The new company store was repainted under the supervision of A. A. Bachman of Freeland.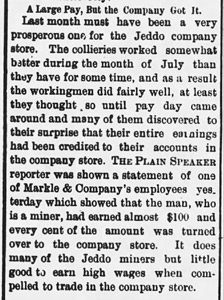 8-23-1898
A Large Pay, But the Company Got It
After a particularly good month for the mines, miners were shocked to find that their entire paychecks were credited directly to their accounts in the company store. "It does many of the Jeddo miners but little good to earn high wages when compelled to trade in the company store."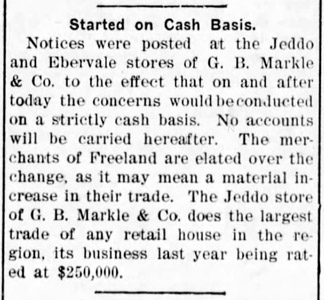 7-15-1901
Started on Cash Basis
Notices were posted that from this day forward, purchases would be made on a strictly cash basis, and no accounts would be carried going forward. Freeland merchants were excited to hear this news, as it would send more shoppers their way. The Jeddo Store has been doing the largest trade of any retail store in the region.





10-19-1907
Dead of Miner's Asthma
Death notice for Albert Brazinski, one of the first Polish settlers of the region who lived in Highland for 30+ years and died at age 68. His wife had been mysteriously murdered on the Jeddo mountain about 17 years before, which left him brokenhearted. Ed commented: "I included the obit because it contains information about the Highland woman killed on her way home from the Jeddo Store. That is, she had to walk over the mountain to do her grocery shopping." He recalled swimming at Markle's Dam as a boy and seeing women from Highland walk past on their way through the woods to and from the A&P in Freeland. At a time when local travel was by horse for some and by automobile for only a few, the main mode of transportation continued to be walking for many people in the area.

[People without cars (or earlier, horses) walked long distances to do their shopping, as mentioned in this death notice for Albert Brazinski, whose wife was killed around 1890 when walking back to Highland from the Jeddo Store.]

1-29-1923
Fertilizer Permit List – State Department Bureau Fighting Wart Infection Here Arranges For Sale of Manure
This article was about fighting Potato Wart, a disease which affects potatoes, making them inedible, but doesn't infect humans. The state designated which places were certified as qualified to sell manure for fertilizer. On the approved list in this article: Jeddo Highland Coal Co. (Harleigh, Ebervale, Jeddo No. 4, Highland No. 2, 5, 6); also Jeddo Supply Company in Jeddo, Ebervale and Harleigh.

12-6-1934
Jeddo Post Office Moved
After being located in the front of the Jeddo Store for many years, the Post Office was moved to the old train depot building across the tracks. Postmaster Welsh replaced former Clerks Warner and Rohland with Dan Brannigan and John McGeehan, Jr. The former clerks were employed as bookkeepers by the Jeddo Supply Co. and so remained with the store. George Farrar of the Freeland Post Office came in to instruct the new hires.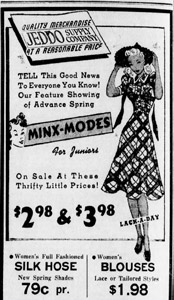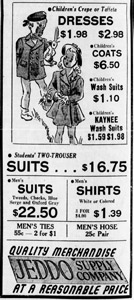 3-21-1940
Jeddo Supply Company ad from Ed Merrick, highlighting clothing items for women, children, men. The ad doesn't mention shoes but the store also sold them.

5-3-1951
Company Store in Harleigh Closed
One of the few remaining old-time company stores in the region has been closed. The stock and account books have been moved to Jeddo, and longtime store manager Miss Bid Coll of Hazleton has been transferred to Jeddo, while the Post Office will remain in Harleigh.




5-3-1951
Company Store Passing Out
"One by one, the company stores of the Hazleton region are passing out of existence."