What's on this page:
Freeland & Vicinity Honor Roll - Contributed by Charlie Gallagher
Sts. Peter & Paul's Eastern Greek Catholic Church WWII memorial
Jeddo World War II Honor Roll

MMI Memorial dedication, 1947
Public Park Veterans Memorial
Coxe Memorial, Freeland Cemetery

109th Field Artillery, Third Penna. Field Artillery, 1879-1917

On related pages:
---

A few words about the scrapbook link contributed by Billy Kuklis: "Some info about the scrapbook - it was assembled by my Dad (William Kuklis Sr.) and my Aunt Catherine Kuklis Shelhamer during World War II. It has newspaper articles and stories about many service men and women from Freeland and surrounding areas. It also has some interesting info about the atom bomb and the death of President Roosevelt."


---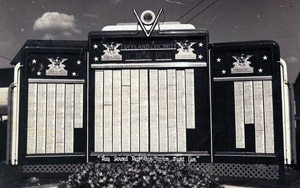 This is the "Honor Roll" memorial that used to stand on Centre street next to the Borough Building, where the firehouse was built in the mid-1950s. Charlie Gallagher sent this. Sadly, the names aren't readable in the photo. If you know of someone who has a clearer photo, will you let me know? I would love to post it here. However, I'm delighted to share this photo from Charlie. On the bottom center of the memorial it says, "They served that this nation might live."

There are four "Honor Roll" plaques at the top, which I assume are for the different branches of the military. The "V" at the top under the American Legion emblem is outlined in neon, and there are neon tubes around the perimeter of the piece; it looks like there were three different color neon tubes around the perimeter of each tablet (red, white and blue).

Some of you will also remember the smaller Honor Roll memorial that used to stand in the center of Upper Lehigh, and I wish I knew what happened to it, and I wish we had a photograph of it to post here.


---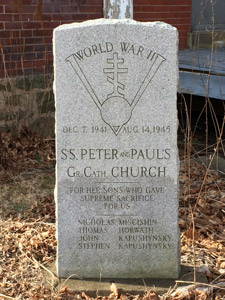 This memorial to parishioners who died in World War II stands on the site of Sts. Peter & Paul's Eastern Greek Catholic Church.

Four names are listed: Nicholas Miscishin, Thomas Horwath, John Kapushynsky, Stephen Kapushynsky.












---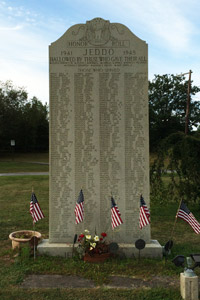 Jeddo World War II Honor Roll - photographed with Carol Jones in September 2017.


















---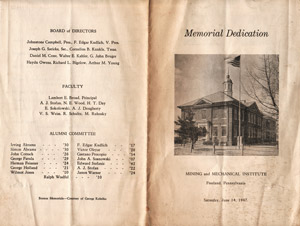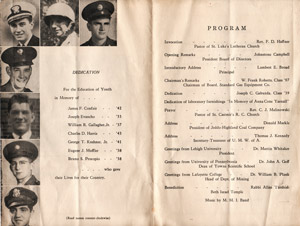 The men being commemorated at this Memorial Dedication on June 14, 1947 at MMI were James F. Confair, Joseph Evancho, William R. Gallagher, Jr., Charles D. Harris, George T. Kushner, Jr., Eugene J. Muffler, and Bruno S. Procopio ... "who gave their Lives for their Country." Bronze memorials were supplied courtesy of George Kobelka.

This dedication ceremony program was kindly lent to Tom Landers for me to be able to scan a copy during a visit to Freeland in August 2008. I don't know who lent it for that purpose. I scanned all of the material that he had collected from Freeland area people who were willing to let me copy their items, and then I returned all to Tom, except for a few items that the persons involved had explicitly said I could keep. I'm grateful to all of those people who shared their historical items with me that way, and to Tom for being willing to gather the material and then return it to the owners.


---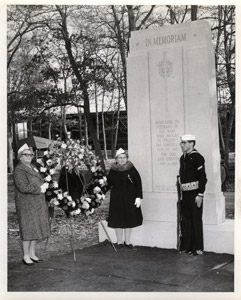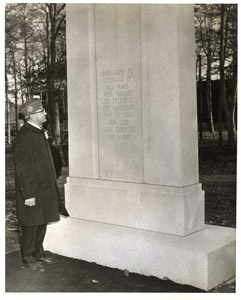 Public Park Veterans Memorial - These two photos came from Bob Celantano. One shows George Kobelka at the ceremony. I don't have the names of the two women in the other photo (if you know, please tell me and I'll update this information) - is the sailor Jim DiPronio? I don't have a date for this, guessing late 1960s.







---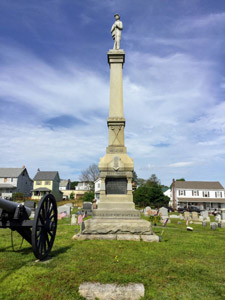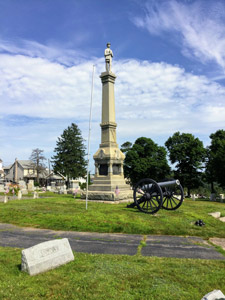 Coxe Memorial at the Freeland Cemetery - photos by Charlie Gallagher. Information about this memorial will be added at another time. Meanwhile I just want to add that I remember marching in the Memorial Day parades as a Girl Scout, and the way the parade route ended at the Freeland Cemetery where a commemorative ceremony was held.








---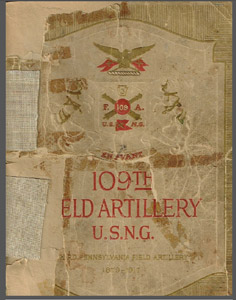 This was shared by Larry Maso, who wrote: "It is from my wife's uncle Michael Gordon of Hazleton in the National Guard. I believe he was gassed in France and also developed black lung in the mines and still lived to be 79. Some of it was in bad shape but I was able to digitize the whole thing." The full title is: A Short History and Illustrated Roster of the 109th Field Artillery, 53rd Artillery Brigade, 28th Division, Armies of the United States, Colonel Asher Miner, Commanding Officer. Headquarters Home Station, Wilkes-Barre, Penna. 1879-1917. Larry has given us a PDF of this extensive listing with photos of all of the men who served in this division. Thank you, Larry.

Clicking the links below will open the Adobe PDF file. If you don't have Adobe Reader on your computer you can download it for free at www.adobe.com.

109th Field Artillery history 1879-1917 - (PDF file size = 23.1 MB)



---

About this page: Many Freelanders have served our country through military service. I will add information to this page as I acquire it. At present this website doesn't have a Military section, and I can't add one without having to redo the sidebar by hand on every page in the site. When I migrate these pages to a different web platform in a year or two I won't have that problem, and at that point I'll add an actual Military section. For now, this page is linked from the People section.