On related pages:
---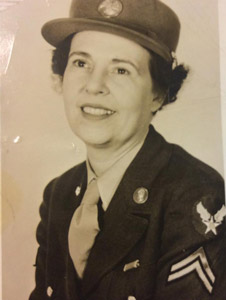 Darlene Miller sent this story and the accompanying photo and clipping about her great-aunt, Florence Zierdt. Darlene wrote:

I thought you could use this on the history of Freeland website either under the pages for veterans of the area or just under the people stories

. Thanks to Darlene for sharing this.



Here is Darlene Miller's story about the life and career of Florence Zierdt.



I am honored to have known my great-aunt, Florence Zierdt, during my lifetime. Much of her story takes place before I was born. Assisted by newspaper articles, various websites, family lore and my personal experiences with her, I have pieced together this timeline of her life.

Florence Zierdt was born in 1900 in the Honey Hole area of Drums. In 1911, she moved with her family to Upper Lehigh where her father (William Zierdt) hauled lumber to the colliery there as part of his business. After Florence graduated from Foster Township High School, she attended McCann's School of Business. She is listed in the 1921 American Shorthand Teacher Booklet as having a teaching certificate for Gregg's Shorthand. She attended the Pace Institute in New York for a course in court stenography.

Her first job in her field was as the secretary for the department of research engineering of the Dodge Motor Corporation in Detroit, MI. By 1935, Florence returned to New York and worked as a freelance court reporter. She recorded a number of radio speeches, including the famous Al Smith/Mayor LaGuardia discussion broadcast over a national hook-up. She began a position as a court stenographer in the office of the New York City District Attorney, Thomas E. Dewey. During the late 1930's and early 1940's, Dewey was named special prosecutor to combat organized crime in Manhattan. Dewey gained fame for successfully prosecuting Mafioso kingpin Charles "Lucky" Luciano and other racketeers, along with those involved in political corruption at Tammany Hall. Dewey left the DA's office and became Governor of New York. He eventually entered and lost the 1944 and 1948 Presidential runs.

Florence remained at the office of the NY District Attorney working for the new prosecutor, Frank S. Hogan, until the beginning of WWII. In January of 1943, U.S. Rep. Edith Nourse Rogers of Massachusetts introduced identical bills in both houses of Congress to permit the enlistment and commissioning of women in the Army of the United States, or Reserve forces, as opposed to regular enlistments in the U.S. Army. This would drop the "auxiliary" status of the WAAC and allow women to serve overseas and start the "free a man to fight" call to arms for women as part of the war effort. (www.army.mil/women//history/wac.html) In February of 1943, Florence Zierdt joined the WAAC in New York City.



In January of 1944, an article was printed in the Sheppard Field Texacts, the official publication at Sheppard Field, Tx, about Florence. It was re-printed in the Hazleton Plain Speaker. The following information is taken from that article.

"Corporal Florence Zierdt is a member of the WAC detachment, serving as a reporter in the Judge-Advocate's office. She was an ace court reporter before joining the WAACs on February 18, 1943 in New York City. At the time she was employed in the office of Frank S. Hogan, NYC district attorney. She received a military leave from his office to join the Army. Florence did her basic training at Fort Oglethorpe, Ga. and then attended the Army Administrative School at Texas State College for Women at Denton, Tx. She reported to Sheppard Field on May 26, 1943."

According to the Commonweath of PA WWII Veterans Compensation Bureau, Corporal Florence Zierdt served 14 months domestically and 15 months in foreign service before entering the Thayer General Hospital in Nashville, TN on July 21, 1945. Thayer General was part of the Veterans Administration at that time. After receiving an honorable discharge from the service, Corporal Zierdt returned to New York City to her pre-war position. Within a few years, she moved back to her hometown area. She worked as secretary for the local United Mine Workers office. She later held a position at the Luzerne County Courthouse until her retirement when she returned to Upper Lehigh.

I lived in Upper Lehigh with my family at that time and recall many visits from my Aunt Florence to see my mother (her niece). During her many years in the Freeland/Hazleton area, Florence Zierdt was very active in the local art community. I have friends who knew her and still have some of her artwork. I have a picture she drew of my mother, and other family members also have her drawings. In 1970, WVIA broadcast a program called "A Woman's View with Carol Guild." One program featured Rhoda Janov who discussed arts and antiques donated to promote education in the arts for their fundraising. Florence Zierdt was mentioned as one of the local artists who had donated her art in an article in the Hazleton Standard Speaker published on May 22, 1970.

On August 21, 1951 an article appeared in the Wilkes-Barre Times Leader reporting that a formal application for a charter to incorporate the Christian Science Society of Hazleton. Florence Zierdt is listed as one of the incorporators and directors on the document filed. Eight days later, the charter was granted and listed an asset of the Society as the church building on Diamond and Alter Streets in Hazleton. I personally remember her explaining her thoughts on the teachings of Mary Baker Eddy to our family. At the time of her death in 1979, Florence was residing in Hazleton, PA. She is buried in the St. John's Evangelical Lutheran Church Cemetery in Butler Township, PA near the gravesites of her family and ancestors.