What's on this page:
Bowling in Freeland

Bowling in Jeddo

On related pages:
---

Bowling in Freeland

The Star Theatre was built sometime between 1905 and 1912; it was bought by John Novak and made into a pool hall and bowling alley around 1918, according to a reminiscence by Vic Oleyar (see Billiards page).

By 1912 there was also another pool room and bowling alley next to Citizens Bank (see Billiards page).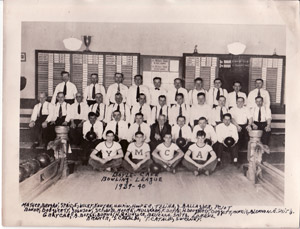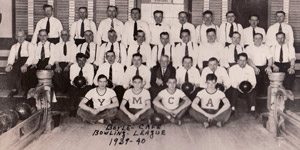 Boyle Cafe Bowling League 1939-1940

. Photo courtesy of Tom Landers, Joe Flanagan, and the Freeland Historical Society.






Back (4th) row, L-R:

Mather, Brogan, Spaide, Wilky, Kanyak, Halpin, Hooper, Tehila, J. Gallagher, Pelot.


3rd row, L-R:

Bonor (or Bohor?), Dougherty, Johnson, Schaub, Moore, Mulhearn, F. Boyle, H. Dougherty, Doggett, McNelis, Glennon, E. Smith.


2nd row, L-R:

Graycar, G. Boyle, Burns, H. Gallagher, Bellezza, Smith, Lorenz.


Front row, L-R:

Kramer, S. Cataldo, F, Cataldo, Sweeney.





St. Michael's Recreation Center

- Fern Street [I will add information on St. Michael's bowling alley in the near future.]


---



Bowling in Jeddo



This 1927 article comes from Ed Merrick and is also posted on the Jeddo Casino page.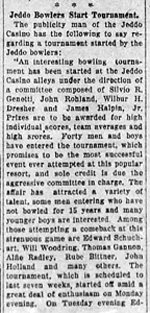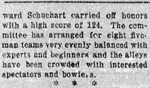 February 7, 1927




Jeddo Bowlers Start Tournament


A committee was formed to arrange a tournament, with eight 5 player teams of men and boys evenly balanced with experts and beginners. Prizes would be given for high individual scores, team averages and high scores. Some men entered who had not bowled for 15 years and were making a comeback, and many younger boys were also interested. The tournament lasted 7 weeks.