What's on this page:
Freeland High School 1938-1939 drum majors and majorettes

Freeland High School 1938-1939 band leader Don Luckenbill

Freeland High School Band 1940s

Freeland High School 1940s majorettes
Freeland High School 1952 band and majorettes

Freeland High School 1952-1954 cheerleaders and majorettes

---
1930s
---

These next six photos come to us from Mary Cooper, who wrote: "

My aunt Marion Gabuzda Boyle Denion recently informed me of your new page of Cheerleaders and Majorettes. She encouraged me to share with you my mother's, Martha Gabuzda Cooper's photos of her junior year at FHS as the drum majorette. She was class of 1940 … Here are each of the photos with the detailed info my mother, Martha, wrote on the back of each one. Martha Gabuzda was part of the Freeland High School Band as the Drum Majorette her Junior Class year of 1938-39. The first five below are taken at St. Michael's Park in McAdoo, PA on 8 Oct. 1938

."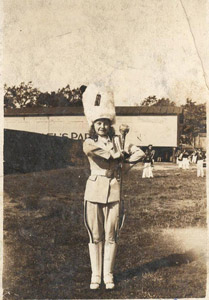 Drum Majorette, Martha Gabuzda Cooper (Junior year). Marion Denion commented: "

I wanted you to have the picture in that elaborate uniform [with jodhpurs]. It appears that that may have been the last year for it. Maybe it wore out and they could not afford another like it. I will send you pictures of my sister Beezie and me [1940s]. It looks like we all wore pretty much the same uniform even into the '50s. As I remember, some lady in Freeland made ours. A name will not come to me. Martha also said that the band director was Don Luckenbill. The new band director on Beezie`s picture is Harold Domchick

."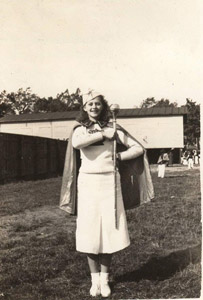 FHS Drum Majorette Beatrice Wagner (Senior Year).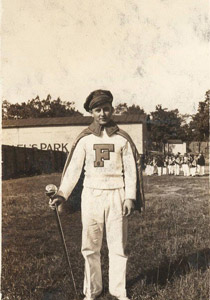 FHS Drum Major, Ray Shrader (Senior Year).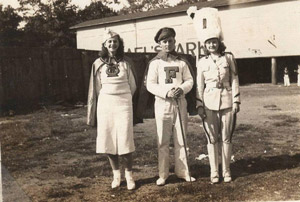 Drum Major and Majorettes - Beatrice Wagner (class of 1939), Ray Shrader (class of 1939) and Martha Gabuzda (class of 1940)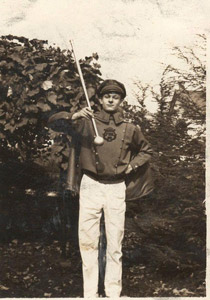 FHS Drum Major George Sholtis (Senior year) class of 1939.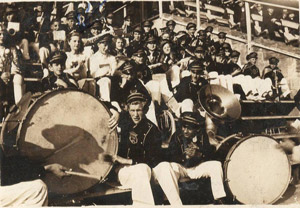 Group shot of the Freeland High School Band at Cranberry Park in West Hazleton on 15 Oct. 1938.





Mary added: "

Marion also sent mom a DVD of Freeland History from the Freeland Historical Society. It is a "black and white video filmed in the late 1930s in and around the town." In the middle is Freeland High School with the band (Martha in the lead) marching around the front of campus. The football team is also showing off for the camera. Thank you for including this aspect of Freeland history. Enjoy!

"

A few days later Mary sent two more photos relating to these, writing: "

Mom told me last night that the band director was Don Luckenbill. I found him in the 1940 census listed as a teacher, age 25. … You won't believe it….as I was looking for something else, I found two photos of Don Luckenbill, the FHS Band director! 1938-1939. Taken by Norman Zeisloft, professional photographer stamp on back of photo. Mom wrote Luckenbill's name on the back of each

."

Ed Merrick adds: "

Mary Cooper writes that Norman Zeisloft was the professional photographer who shot the pictures of Don Luckenbill. I met Norm when I got hired by the St. Petersburg Times. He joined the Times photo staff after service in the Air Force during World War II. A Freeland native, he told me he had dated one of my mother's sisters, but I don't remember which one. Small world

."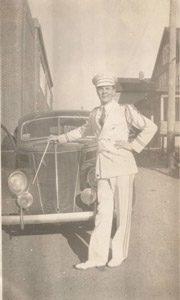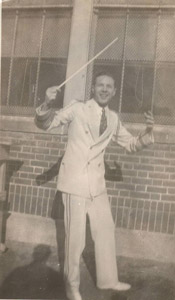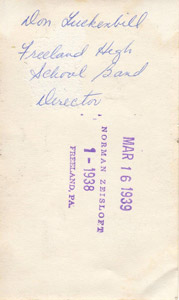 Don Luckenbill, the FHS Band director, 1938-1939. Photos taken by Freeland photographer Norman Zeisloft.






Thank you, Mary, for sharing these wonderful photos!


---
1940s
---

Judy Domchick Hall, daughter of FHS band leader Harold Domchick, sent these photos of the FHS Band. She wrote, "

In 1940 Mr. Luckinbill wrote a proposal to the school board requesting an additional music/band instructor for the Freeland and West Hazleton schools. The result was my Dad, Harold, being hired as a Professional Employee. Also, somewhere is my papers I have a copy of Dad's contract with the school board where he was hired to teach music at two of the schools, his duties, an inventory of all the instruments, his salary, etc. etc. It's definitely history!

" About the first two photos she wrote: "I don't have any notes on these other than they were in Dad's album and I assume they are in the '41-'42 time frame."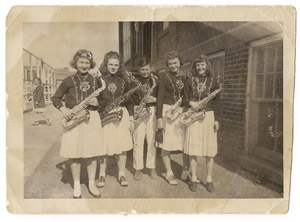 A group of FHS saxophone students, year about 1940 -1942.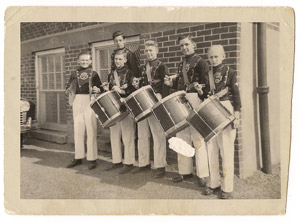 A group of FHS drum students, year about 1940 -1942.




About this next group photo, Judy wrote: "

This Freeland High School Band @1941 or '42. My dad went into Navy just after I was born in '43. The only one I know in the picture is Jeannie Geoppert, the majorette in the back row in the dark uniform. She was lead majorette and the daughter of my Mom's cousin. She later married Vic Dei Tos

." Thank you, Judy, for sharing these!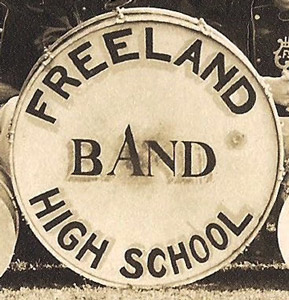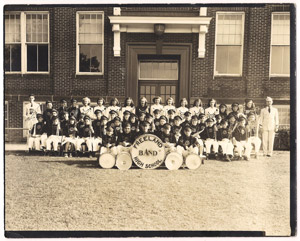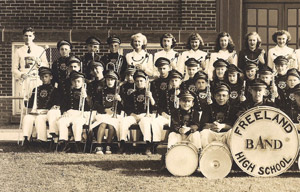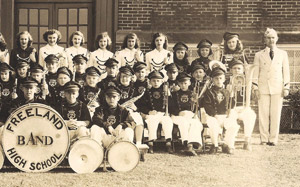 These next four photos from the 1940s come from Marion Gabuzda Boyle Denion, who wrote: "

A little note to go with those pictures. Harold Domchick was a great band director of the `40`s. He succeeded Don Luckenbill, it must have been in 1942 or '43 since Domchick is on Beezie's picture; she graduated in 1943, Martha was in '41. He loved music and the rhythm of it, and loved teaching it to his students. A great memory of mine is of his three trumpeters, George Domchick, Tom Lavinka, and Edmund Capece playing together on stage in the auditorium at FHS during the band concerts. I think one tune was "Trumpeters Lullaby." Whenever I hear that I think of them. I think they all graduated in 1944

." Thank you, Marion, for all of these photos.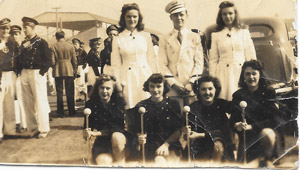 Bernice "Beezie" Gabuzda on right in white, band director Harold Domchick, 1943.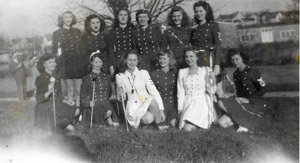 Bottom row from left: _____, _____, Marion Gabuzda, Dorothy Yesalonis, Lucille DeMelfi, _____, 1945-46.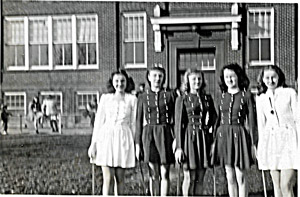 Lucille DeMelfi, _____, Dorothy Yesalonis, Elaine Gallagher, Marion Gabuzda, 1945-46.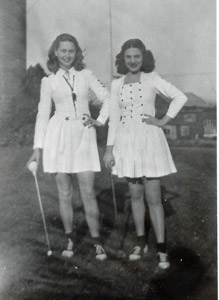 Marion Gabuzda and Lucille DeMalfi, 1946.






Also from Marion, about the next 3 photos: "I put a few photos in the mail for you. One in the cemetery brought back memories of Memorial Day in Freeland in the 1940s. The FHS band would assemble at the borough building, about 10 a.m., parade down Center to Front St. and down to Birkbeck St. to the Freeland Cemetery for a beautiful Memorial service (I think it was Ecumenical), then parade to the Public Park on Front St. for a day of food and games and fun. Unfortunately, I don`t have any pictures of the park in the 40`s or the memorial service. I hope somebody does. I don`t remember any other bands participating. Does this still happen up there?"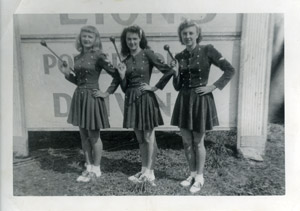 Dorothy Yesalonis, _____, _____.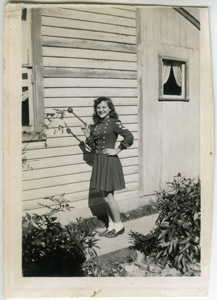 FHS majorette, unidentified, ca. 1940s.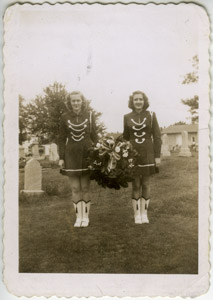 Alma Herring and Jeanne Goeppert, Memorial Day, 194_, Freeland Cemetery, Birkbeck St. (thanks to Marion for added information)







---
1950s
---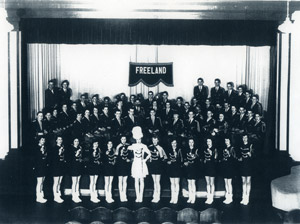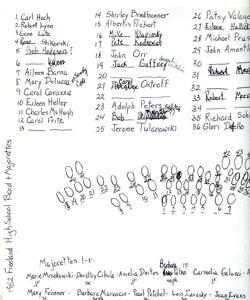 This photo of the Freeland High School band and majorettes comes to us from Bob Zimmerman. As you see, he has also identified many of the people in the photo.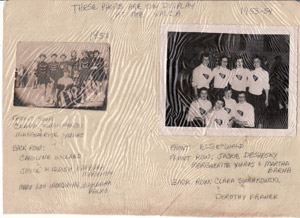 I scanned this at the Freeland Y in 2008. Photo courtesy of Tom Landers, Joe Flanagan, and the Freeland Historical Society.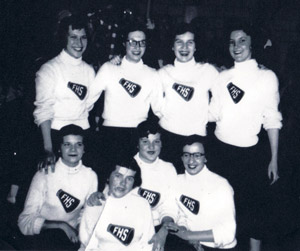 FHS Cheerleaders, 1953-1954. In front: Elsie Wald -- Front row: Jackie Deshesky, Marguerite Yuhas, Martha Barna -- Back row: Clara Swankowski, ____, ____, Dorothy Franek. Photo courtesy of the Freeland Historical Society.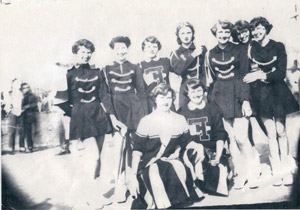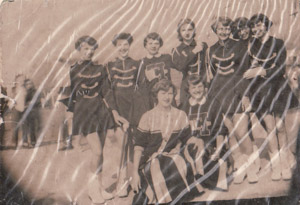 FHS Majorettes, 1952. Front row: Clara Swankowski, Marguerite Yuhas -- Back row: ____, Caroline Holland, Jackie Deshesky, Joyce Kiddish, Barbara Marencin, Mary Lou Woodring, Barbara Palko. Photo courtesy of the Freeland Historical Society. (Thank you to Carol Snyder and Ed Merrick for identifying Jackie Deshesky.)




---