What's on this page:
20th-century (and a few 21st-century) restaurants
Restaurants listed in directories, 1900-1940

More on related pages:
---



Note: This mostly contains the text/images from the old page, to be updated. Please send updates and corrections!



Itís hard to clearly separate bars from restaurants, because thereís so much overlap between them. Yet in the past it has seemed sensible to have separate pages for bars and restaurants. Now I'm rethinking that, so changes may be coming to this section. Many restaurants are just restaurants, whether or not they serve alcoholic drinks. Many bars are just bars, although many also serve some food, even if only snacks or a limited selection of bar food. Weíve also had many bars in Freeland that served meals, usually cooked by women in the family. During Prohibition, meals and non-alcoholic drinks were mainly how these places stayed in business, and meals continued to be served in many bars later. So the lines are not clear-cut, and I put these businesses on one page or the other mostly depending on how they were categorized in directories or in their own ads.

For this reason, whether youíre on the Saloons and Bars page or the Restaurants page, please check out the other one, too! As I said, there may be some reorganization of these restaurant/bar pages later.



Al's Blue Pines - Freeland/White Haven Highway (later location of Jimbo's Party Beverages?) (thanks to Bert, formerly from the State Store, for this addition; I had Al's on the saloons page but Bert said that Al didn't have a beer license)

Amentler's - 457 Ridge Street (Rocco Amentler, proprietor), merchant, restaurant (age 28 in 1940 Census)

Balas Distributing - East South Street (Freeland/White Haven Highway) (from 1986 St. Casimir's booklet via Ed Merrick) (Bert, formerly from the State Store, said that Balas's later got a beer license from Dude's Ranch and then sold it to the Foster Township Fire House)

Belekanich's - 409 Ridge St. (Anna Belekanich, proprietor) (age 32 in 1940 Census)

Bonner's Restaurant - 420 Centre Street (John and Bryan Bonner, proprietors) (ages 36 and 41 in 1940 Census)

Tommy Bzdil's BBQ Restaurant - 452 Centre St. (Tom Bzdil, Sr., proprietor)



Cheppa's

- 418 Centre Street, previously located at 457 Ridge Street (John Cheppa, proprietor) (From Ed Cheppa: When Ed's parents decided to move their business to 418 Centre, they bought that building and extensive renovations were made to it. The mines were slow at this time during the Depression, just working a few days a week, and so a number of John's friends were available to help dig out a basement beneath the first floor, with picks, shovels and wheelbarrows. They put in a concrete block foundation, poured a concrete basement floor, added steel beams to support the upper floors, and substantial renovations were made to all three upper floors. A two-car garage was added at the back of the lot, now gone. The Cheppas moved in during spring 1933. After the repeal of Prohibition, "taverns" that could only sell near-beer now had the opportunity to apply for liquor licenses, but they had to show that they could accommodate up to 40 diners in order to get a full license; otherwise, could only get a beer license. Cheppa's got the full license. Some of the taverns also sponsored summer picnics at one of the local groves, and Cheppa's did this, too.)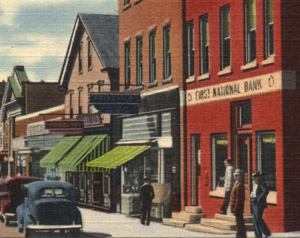 The Coffee Pot - 529 Centre St. (Gus Speal, proprietor) - First located at 615 Centre; in 1940 they were at 630 Centre (see sign in this photo), next to Fairchild's Luncheonette, what would later be Woodie's; finally they moved to 529, near the Refowich Theater.
(

From Bill Feissner:

The Gus Speal business referred to was in the Gus Speal building and was known as "The Coffee Pot". It was run by Chris Speal, her maiden name. She later married Tom Fedorshak, and they both ran it till closing and they moved to Florida.)
(

From Scott Donaldson, Gus's grandson, writing from Scotland:

Itís actually spelt Speal not Spiel. The same Gus Speal that donated the Little League pitch to the town. He was my maternal grandfather & Chris was my aunt. So, Gus Speal (originally Speliotis or Spiliotis , not sure) was an immigrant from Greece via Canada. He was married to Georgina (nee Turnbull) who originally hailed from Dundee, Scotland. He died in 1956, she died in 1984 - both are buried in the local cemetary apparently, along with Georgina's mother who must have come to live with them? Gus & Georgina had 5 children - George, Chris, Vrula (my mother), Alex & Elizabeth. Elizabeth is the only one of those left alive. All were brought up helping out in the Coffee Pot (we have a suspicion that the cafe moved premises at one point but I would need to try to check that) but all but Chris left the town & indeed the State in adulthood. As far as I know the family moved to Freeland mid-1920s & the restaurant was I believe still operating in the '80s. Gus was very civic minded & donated the land for the Little League field.)
https://www.newspapers.com/clip/5242035/5311957/
https://www.newspapers.com/clip/5239565/631957/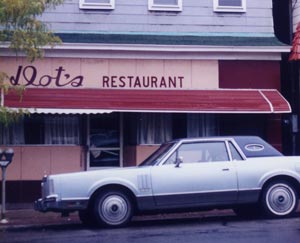 Cozy Corner - Ridge & North Streets (Robert Ravina in answer to my questions: yes, also known as Ratsie's, last owners were Mary and Pat Dinofrio, original owner named Philamena _______, this little pizza place may have closed in the 1970s - thank you to Robert Ravina for this information) [I remember it from the mid-1960s, a small place with a counter and stools and also a pool table; friendly woman ran it then; good pizza -- CT]

Cunningham's Restaurant - Centre St., between Main & South Streets

Dot's Restaurant - Centre St., between South & Luzerne Streets (Dot Myers, proprietor). Courtesy of the Freeland Historical Society, here is an old menu from Dot's.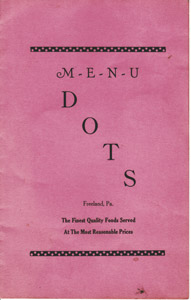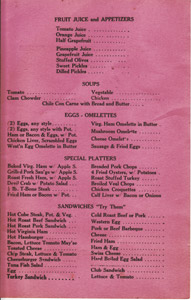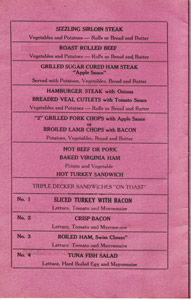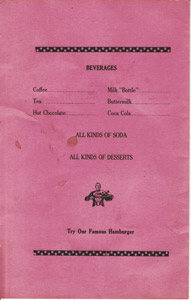 The Double Dip

- in or next to the Balon Building (Mrs. Bradish, manager) (From Marion Gabuzda Boyle Denion: I was reading the section on Fountains, resturants and ice cream parlors, and noticed that The Double Dip was not mentioned. In the early 1940's the Double Dip ice cream parlor was a small store in the Balon building or next to it across from the Refowich. I think a Mrs. Bradish managed it. My sister worked there from '40 to '43. It was the "hang out" for the FHS kids. I had started to work there when they closed, but at the same time Doc and Rose Welsh opened their ice cream parlor in the Welsh building and hired me. It became the hang out for the FHS kids '43 to to '46 and we all called it "Rose's". Rose and Doc were great to work for and to all of us kids. They sold Jane Logan icecream. The sign out front said "Jane Logan". ... It just came to me that Carmelita worked at the Double Dip before she went to Woodie's.)

Eddie's Bar and Restaurant - 421 Centre St. (1975-1989) (Eddie Barna, proprietor) (From Bill Feissner: Carcia's Bar was sold to Ed Barna and became Eddie's Bar. He bought the Eagles next door and made a large dining room out of it. He then retired and sold it to Jackie and Leanne Kochie, which is now The Other Side.) (From Eddie Barna: Gauzís Furniture Store at 423 Centre Street was in operation through the mid-1940s. The Eagles bought the building in the late 1940ís and remodeled it for their Club, which they used until 1984. I bought it and used the first floor for my main dining room and the second floor was used for private parties. It is now the Other Side Bar & Restaurant.)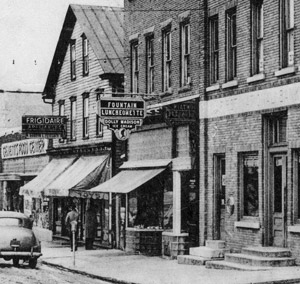 Fairchild's Luncheonette - 628 Centre St. (Elwood Fairchild, proprietor), merchant, confectionery; Howard Fairchild, 924 Walnut St., chef of confectionery (ages 26 and 45 in 1940 Census) - Sold to Elwood Whitehead in 1950, see under Woodie's, below.

Fairchild's News Stand - 712 Centre St. (Walter Fairchild, proprietor) (age 49 in 1940 Census)

Famalette's Pizza - 542 Centre St. (Anthony Famalette, proprietor) (From Eddie Barna: In the building north of Balon's Bar, (the Gallagher building, I think ...), there was a photographer during the late 40's and early 50's. I don't remember the name, but maybe one of your readers will remember. After this business closed, Tony Famalette opened a pizzeria and was there for a couple of years. Some may remember the heat from the pizza oven causing the wall to push out towards Main Street.)

Feist Cigars - 929 Washington St. (Russell Feist, proprietor), cigar maker, own place (age 45 in 1940 Census)

Gunning's Restaurant - 513 Centre St. (Patrick Gunning, proprietor and waiter) (age 60 in 1940 Census)

Guzzi's Restaurant - 831 South St. (Anthony Guzzi, proprietor) merchant, restaurant (age 48 in 1940 Census) (CT: in city directory listed at 831 South St. - ??)

Karpowich's Restaurant - 329 Centre St. (Edward Karpowich, proprietor and waiter) (age 36 in 1940 Census) This was the former site of Joseph Greshko's restaurant and bar.

Learn's Lunch and Soda Fountain - 722 Centre St. (Harvey "Pop" Learn, proprietor) (From Beth Learn: My cousin was given a xerox of an article with the headline: "Recall 'Pop' Learn's?" Here's the first few paragraphs, word for word: Freelanders, remember Harvey "Pop" Learn's Lunch and Soda Fountain at 722 Centre St.? The site is now the Welsh building. "Pop" Learn's was the mecca in the mid and late thirties as the "popular hangout" for Freeland High students and basketball players -- everyone went to "Pop" Learn's." Pop Learn was probably my Dad's Dad or my Grandfather Harvey Simon Learn. I was not aware that he had such a mecca but that would coincide with my Dad in HS etc.)

Marion's Restaurant - Centre St. between Carbon and Luzerne streets (From Bill Feissner: Marion's Restaurant became Jabo's Bar, then was sold by Jabo to an Indian named Mushie, and became the Rustic Lounge.)

Mehales' Restaurant - 449 Ridge St. (John Mehales, proprietor) merchant, restaurant (age 49 in 1940 Census)

Miskevich's Restaurant - 360 Ridge St. (William Miskevich) merchant, restaurant (age 46 in 1940 Census)

Mischissen's Restaurant - 402 Centre St. (Michael Mischissen, proprietor) merchant, restaurant, home at 443 Ridge St. (age 50 in 1940 Census)

Mulhearn's Restaurant & Bar - 637 Centre St. (Joseph L. Mulhearn) employer, restaurant (1940 Census)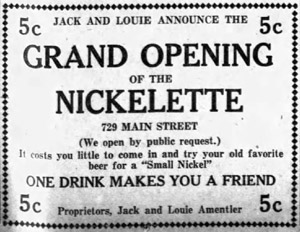 The Nickelette

- 729 Main St. (Jack and Louie Amentler) - In 1999 I had a conversation with my mom's friend Catherine about food stores and restaurants she remembered from her younger years. Among them was the Nickelette, which at the time she said was "now Nemo's". [Nemo was John Nemesh - Nemo's Radio and Television Shop was first at 434 Centre Street, and later he had a TV repair shop on Main Street between Centre and Washington.] She remembered "ice cream, hot dogs, dancing (to a jukebox), sodas for teens, 50 cent minimum, around the 1950s." More recently Ed Merrick sent me this ad for the Nickelette's grand opening in June 1934. It was at 729 Main Street and run by Jack and Louie Amentler. Thanks to Ed and Catherine.

Noke's - Centre St. (Formerly Woodie's; closed in 2009? These photos show that many of the existing fixtures from Woodie's were still in use by Noke's.)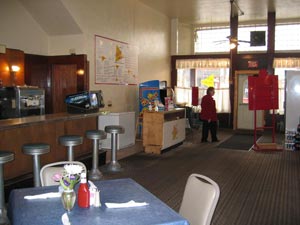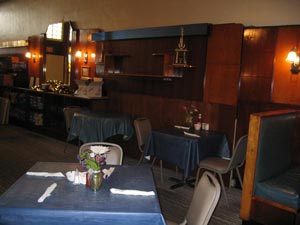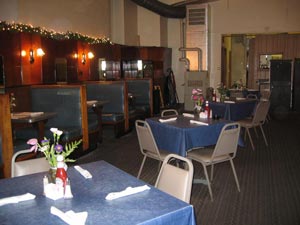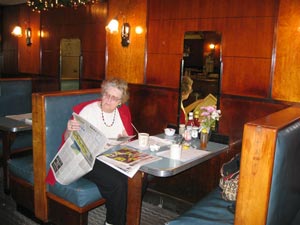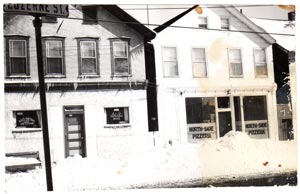 Northside Pizzeria - 326 Centre St., and also previously at 355 Centre St. (From Ed Merrick: This photo shows Kostick's Bar and Grill (left) and the North-Side Pizzeria at 355 Centre Street, where our grocery store used to be, on February 1, 1966.)

Northside Restaurant - Centre St., between Luzerne & South Streets

Remak's Restaurant - 709 Main St. (John Remak, proprietor) (From E. Merrick: "John Remak (my uncle), proprietor. My grandfather, Mike Remak, started this business. Early on, he also distributed beer from a horse-drawn wagon. My grandfather also had two stores-on-wheels, which were driven by my dad, Tony Merrick, and my uncles, Mickey and George.")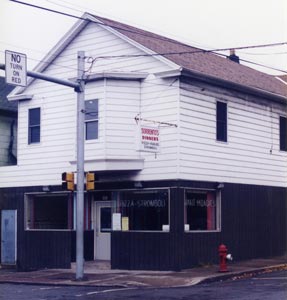 Russell's Ice Cream Shop - Centre St., between Front & Main Streets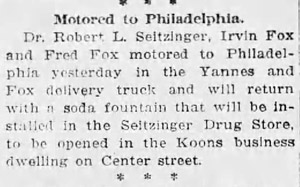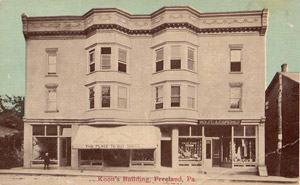 Seitzinger's Drug Store and Soda Fountain (original location) - 623 Centre St. (Founded by Robert L. Seitzinger) - Before Seitzinger's drug store was at 608 Centre Street (torn down a few years ago), it was at the Koons building at 623 Centre, where later Charlie Coxe would have his men's and boys' clothing store. Here we see a brief report that the elder Dr. Seitzinger and two Fox family members (Seitzingers, Foxes and Krauses were related) drove to Philadelphia in the Yannes and Fox bottlers' truck to get a soda fountain for the new drug store soon to be opened in the Koons building. Thanks to Steve Yaskewich for this item.

William Selvestrovich - 731 Front Street, proprietor, employer, restaurant (age 48 in 1940 Census)

Sophie's Luncheonette - 442 Centre St., between South & Luzerne Streets (Sophie Karpowich, proprietor; now the Northside Restaurant)



Sorrento's Restaurant & Pizzeria

- 462 Centre St., a longtime local favorite.

Subway - Centre and South Streets, with Nocchi's Pharmacy

The Sugar Bowl (Gus Stenopolis?) - Centre St., between Main & South Streets

Surf Club - Ridge St. (Louie Cherone, proprietor) (

From Eddie Barna:

I lived up at 708 Ridge, so I spent a lot of time in the lot where the Surf Club is at present. After the war, the Cherone's bought an old airplane glider (I don't know what they eventually did with it) and we played inside it. We had a ball. We were too young to travel down to the Public Park by ourselves, so this was "our park". It was just the body of the aircraft. No wings. We played inside making believe we were pilots. Oh, the good old days!!) (

From Steve Mischissen:

My parents, aunts and uncles went to the Surf Club located on Ridge Street. They would go there on Friday nights when they all returned to Freeland. This was in the sixties and seventies. They treated themselves to lobster tail. The Surf Club also had a deli located on the level below the restaurant called Louís. They were opened past midnight and my cousin and I would stop there for late night hoagies. My father also went to the American Legion located on Centre Street. I have been to the Other Side on Centre Street and believe they are still operating. We had family post funeral lunches there.)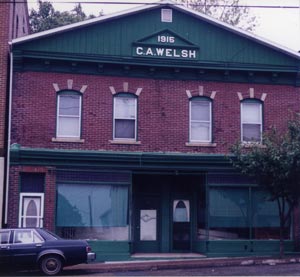 Ursta's - 451 Ridge St. (John Ursta, proprietor) merchant, restaurant (age 54 in 1940 Census)

Doc Welsh's - 722 Centre St. (Cornelius Welsh, proprietor) (From Ed Merrick: "The Largest and Most Expensive Soda Fountain in Freeland." I suspect they meant that the soda fountain equipment, and not the ice cream sodas, was the most expensive in Freeland.)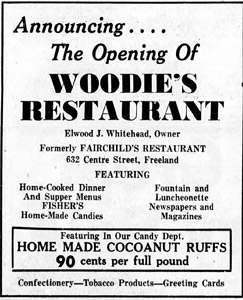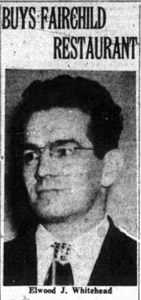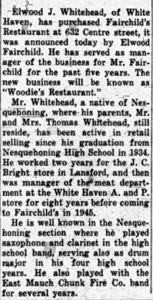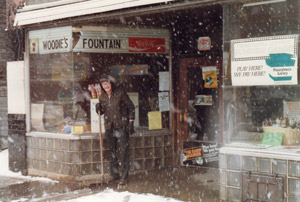 Woodie's Fountain and Luncheonette - 632 Centre St. (From Ed Merrick: Brothers Woodie and Pal (Elwood and Robert) Whitehead, proprietors; head waitress was Carmelita Ricotta; "Mom" Dietrich was the cook -- Photo of Pal at Woodie's was taken by Ed) (Dolly Madison Ice Cream, Fisher's Homemade Chocolate, Novelties ('52 Minamek)); ("Where friends meet to eat." ('53 Minamek)). (See the photos of Noke's, above.)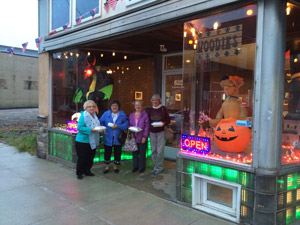 Woodie's

- 632 Centre St. -

Woodie's reborn!

Extensively renovated, menu expanded, opened in 2019. The photo at right shows Carol Jones (far right in photo) and three of her friends, who I enjoyed a good meal with at Woodie's in September 2019.

Yeskevich's Restaurant - 449 Centre St. (Magdelina Yeskevich, proprietor), merchant, restaurant (age 43 in 1940 Census) (CT: Magdalena in city directory)

[Thanks to Jack Polachak, Beth Learn, Ed Merrick, Bill Feissner, Eddie Barna, Ann Swankowski, Steve Mischissen for additions and corrections. I or my brother Steve took the Sorrento's photo at top left and a number of others on this page. Photos contributed by others: Balon's Bar interior from Frank Balon, Genie Boyle's from Bill Smith, Kostick's and Northside Pizzeria from Ed Merrick, Procopio's from John Zubach, and Remak's from Nancy Penn.]

Information from the 1940 Federal Census come to us courtesy of Ed Merrick. In some instances, it's not clear whether the individual is the owner/proprietor of the store or an employee, but we'll list them here. Some of the addresses from the 1940 Census might be home addresses rather than business addresses. He adds: The handwriting was hard to decipher in many instances, and so corrections are welcome. Many of the businesses have been in the same family for years, and so the first names may differ in earlier or later years.


---



Restaurants listed in directories 1900-1940





1900-1901 city directory




Restaurants in business listings:


DePierro Bros., restaurant, Ridge
Maloy, James J., restaurant and saloon, 53 Centre
Rugens, John, saloon and restaurant, 74 Centre
Shambora, Peter, saloon and restaurant, 162 Centre



1917 telephone directory




Restaurants in general listings:


Dougherty, W. M. - 726 N. Centre



1921-22 city directory




Restaurants in business listings:


Mulhearn, Joseph L. Ė 637 Centre



1928-29 city directory




Restaurants and lunch rooms in business listings:


Coffee Pot, 615 Centre
Mulhearn, Joseph L., 637 Centre



1940 city directory




Restaurants in business listings:


Amentler, Jno. F. - 725 Main
Amentler, Rocco T. - 457 Ridge
Balon, Frank - 536 Centre
Belekanich, Anna - 409 Ridge
Boner, Jno. - 420 Centre
Boyle, Eugene C. - 700 Main
Brueningsen, Harold - Main, Upper Lehigh
Cunningham, Anna - 336 Centre
Cheppa, Jno. - 418 Centre
Danko, Jno. M. - 827 South
Defalco, Frank - 722 South
Grega, Geo. A. - 525 Fern
Grohowski, Michl. - 302 Washington
Gunning's Restaurant - 513 Centre
Guzzi, Anthony - 831 South
Kaminsky, Carl - 1115 Birkbeck
Karpowich, Edw. - 329 Centre
Kozel, Albian T. - 527 Centre
Kuklis, Cath. - 133 Birkbeck
Learn, Harvey - 722 Centre
Machella, Jno. J. - 302 Centre
Mattis, Jno. E. - 360 Centre
Mehale, Jno. J. - 449 Ridge
Mischissin, Michl. - 402 Centre
Mulhearn, Jos. L. - 637 Centre
Myers, Dorothy M. - 436 Centre
Nowak, Jno. - 1121 Birkbeck
Nowak, Jos. K. - 977 Walnut
Nowak, Stanley J. - 807 Schwabe
Procopio, Salvatore R. - 520 Ridge
Ravina, Jos. S. - 413 Centre
Remak, Michl. - 709 Main
Selvestrovich, Wm. - 729 Front
Sledwesky, Ignatz - 715 South
Speal, Gus - 630 Centre
Turri, Angelo - 229 Ridge
Urenovitch, Victoria - 443 Centre
Ursta, Jno. - 451 Ridge
Yeskewich, Magdalena D. - 442 Centre
Zike, Julius J. - 1133 Walnut