What's on this page:

Photos and postcards of Freeland area football teams
Team mascots

As always,

if you can identify anyone in these photos not already identified below

, will you please let me know and I'll post the information. Also, additional photos or information can be shared here. Thank you, and enjoy.


---

FREELAND AREA FOOTBALL TEAMS


---
1900s
---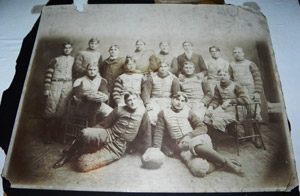 This photo came to me from Curt Javic some years ago. He wrote: "

Hi. I purchased a photo this week in Renningers in Ephrata. The photo is of a 1902 football team –fairly young players- late teens - early 20's. On the ball is written CRESCENTS -1902. The names on the back of the photo are - Jowak, J Coll, Bernard McLaughlin, Frank Hindson, Louis Stolz, Cony Welsh, H. Sims, Cletus Fultz, George Hartman, John Dusheck, J. Motsko, John James Baskin, Harvey Deitrich, Peter O' Donnell, & Aubrey Powell. Written in pencil & apparently the owner at one time is Lou Stolz 730 Birkbeck St Freeland Pa. I did some research ... Louis Stolz at one time was the Police Chief of Freeland & was born in 1880, therefore in this picture he was 21- 22 years old. I think therefore these people might be slightly older than say Freeland High School. After researching the names on the back, most of the gentlemen are from Freeland or Foster Township. ...

" The larger image of the photo (click thumbnail image) has been repaired digitally by Jay Cawley; here is the original photo as I received it.

When I received Curt's email, I contacted the late Tom Landers to ask if he knew anything about this team. His reply provided this additional information:
The 1902 Crescents - a very good team - all Freeland residents.
John Nowak - owned the pool room on Centre St.
Bernard McLaughlin - a mailman.
Louis Stolz - Chief of Police during 1920s, later a coal and iron police office.
George Hartman - Freeland Burgess (mayor).
Connie Welsh - owned Welsh's Drug Store on Centre St.
Aubrey Powell - a small man but very fast runner; a Freeland page writer for the Standard Speaker in the 1930s-1940s, @ a penny per word.

Tom added: "

I do not know if the field was named after the team or the team after the field. Crescents Field was located across from Alvin and Maple streets, and the outfield had a crescent running track around it. My high school baseball team (St. Ann's) played its home games on this field, 1948-1953

."

I will add that with Tom's death in June 2013 we lost not only a great man but one who had a perhaps unparalleled wealth of knowledge of Freeland's history and especially its sports history.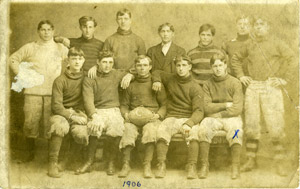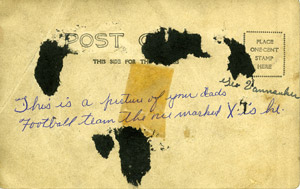 This photo postcard of a 1906 Freeland area football team comes from Bob Vannauker. His father George Vannauker is the player whose knee is marked with an "X", and at right is the back of the postcard. I'll try to find out which team this was! The enlarged view has been digitally repaired by Jay Cawley - thank you, Jay.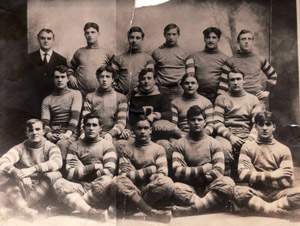 MMI football team in 1908. Photo courtesy of Freeland Historical Society.






---
1910s
---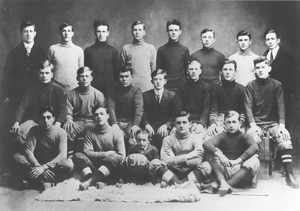 This photo of the 1913 Freeland Yellow Jackets football team comes from Barbara Bartol Rentenbach. She wrote: "

My grandfather is in the second row, the one on the left side of this picture: Wante Bartolo/Bartol ... at some point they dropped the last 'O' in his name.

" The image at top left of this page was cropped from this photo, showing the team mascot holding the football.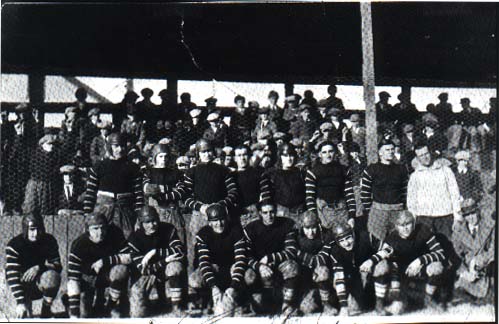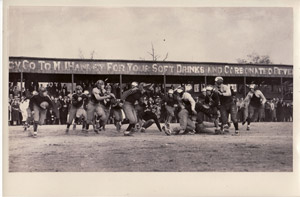 From PennySaver 7(5), Sept. 1969, p. 1: "Remember when semi-pro football was going strong in the area. Here is a picture of the Freeland Yellow Jackets, and you'll probably recognize many of them. The place is Tigers Park. Remember when it had covered bleachers and a big fence. If you're over 35 you probably remember when the schools held their annual Field Days there. And the circus stopped there, too!" Photo from John Zubach. [And I can add a childhood memory: I remember going to a circus in Tigers Field around 1955; our neighbor Judy Jastremsky, who lived a block or two away, let me go with her and her younger brother Jackie. Very exciting - we could walk to the circus! - CT] The team posing for a photo taken at a game came from John Zubach. The game action photo comes courtesy of Tom Landers, Joe Flanagan, and the Freeland Historical Society.


---
1920s
---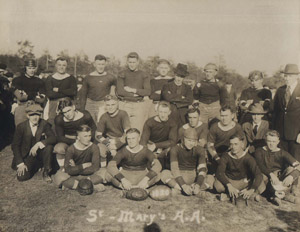 St. Mary's football team, 1920. Written on front: St. Mary's A.A. Written on back: Pollack. Also written on the back are the names of the players! Row 1: F. Kobrick, J. Bzdil, J. Kasha, G. Hrin, Mike Yuhas. Row 2: Nowak, G. Thomas, A. Letchak, A. Lavinka, G. Laputka, B. Mohon, P. Tucker, Manager. Row 3: M. Bzdil, A. Shigo, G. Potochney, J. Boyle, R. McDevit, Father Brinsky, G. Lechman, S. Gillespie, Bucastow, Coach. Photo from John Zubach.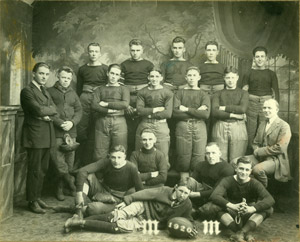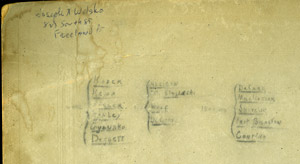 MMI football team, 1920. It's hard to read the names written on the back, also shown here, but I'll try to transcribe them [note that they might not correspond to who's in each row in the photo]: Kozer, Kemp, ____, Stanley, Coyourko, Doggett -- Allison, Stazleski, Wolf, ____ -- DeCarr, Mackovian, Shovelin, Prof. Bucastow, Contina. Corrections welcomed! Photo from John Zubach.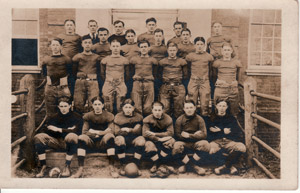 MMI football team, circa 1920s. Photo courtesy of the Freeland Historical Society.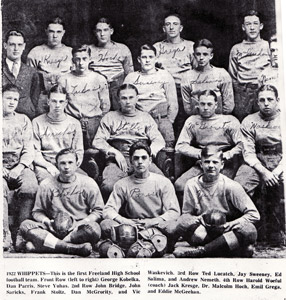 FHS Whippets, 1922. The names are in the caption, but someone also wrote them on the chests of the players. Thanks to whoever did that! Front row, L-R: Goerge Kobelka, Dan Parris, Steve Yuhas -- 2nd row, L-R: John Bridge, John Saricks, Frank Stoltz, Dan McGrority, Vic Waskevich -- 3rd row, L-R: Ted Lucatch, Jay Sweeney, Ed Salima, Andrew Nemeth -- 4th row, L-R: Harold Woeful (coach), Jack Kresge, Dr. Malcolm Hoch, Emil Grega, Eddie McGeehan. Photo courtesy of Tom Landers, Joe Flanagan, and the Freeland Historical Society.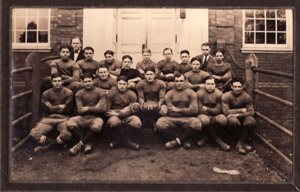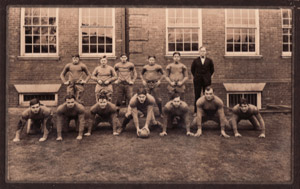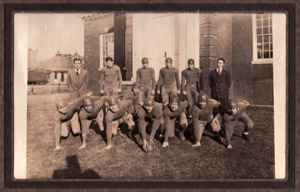 MMI football, circa 1924. One photo shows the 1924 team seated on the steps, and the other photos look to be around the same period. This annotation is on the 1924 photo: "The fellow holding the ball is Frederick John Yannes '25. He played center and was captain of the team." Photos courtesy of MMI Preparatory School.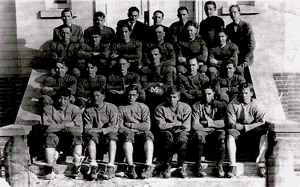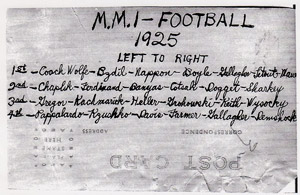 MMI football team, 1925. Sorry we only have a photocopy, but on the plus side the names are written on the back of the postcard. 1st row, L-R: Coach Wolfe, Bzdil, Nappon, Boyle, Gallagher, Letout, Mave… -- 2nd row, L-R: Chaplik, Ferdinand, Banyas, Cotsak, Dogget, Sharkey -- 3rd row, L-R: Gregor, Kachmarick, Heller, Grohowski, Keith, Wysocky -- 4th row, L-R: Pappalardo, Kzushko, Davis, Farmer, Gallagher, Demshock. Photo courtesy of the Freeland Historical Society. Photo courtesy of the Freeland Historical Society.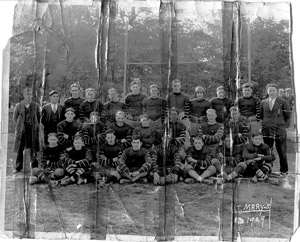 This photo of the 1929 St. Mary's football team comes to us from Jack Polachak. He writes: "

My father is in the second row, kneeling , second from the right., sixth from the left.

" Digital photo repairer Jay Cawley made some repairs to this photo, but the damage was too extensive (especially on several faces) for him to be able to fix everything. Here is his partial photo repair. Still, even though the original photo is quite damaged (it might have been rolled up at some point), you can see that there is still a lot of good visual information there. Don't give up on an old photo just because it's in bad shape!



---
1930s
---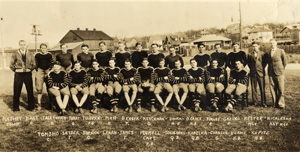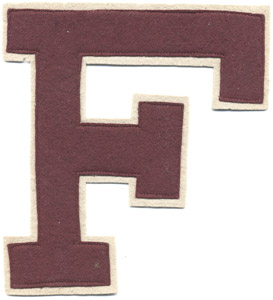 These two images come to us from Beth Learn, whose father Glenus "Glennie" Learn attended Freeland High in the 1930s, graduating in 1934. She's not certain but she thinks this team photo is from 1932 or 1933. Also shown is his Freeland High athletic letter. This is the Learn family that's connected with the former teenage hangout, Learn's Lunch and Soda Fountain. A clipping quoted by Beth reads: "Freelanders, remember Harvey "Pop" Learn's Lunch and Soda Fountain at 722 Centre St.? The site is now the Welsh building. "Pop" Learn's was the mecca in the mid and late thirties as the "popular hangout" for Freeland High students and basketball players -- everyone went to "Pop" Learn's." Beth added: "Pop Learn was probably my Dad's Dad or my Grandfather Harvey Simon Learn. I was not aware that he had such a mecca but that would coincide with my Dad in HS etc." (... and here are more recent comments from Karl Krone: "It says E Talerovich. At first, I thought the E was a first name initial. Actually, it stands for the position played, End. Also, the correct spelling of the last name is Talarovich. So, E Talerovich is actually one of the team ends. Probably, my uncle, Mickey Talarovich. Turri is clearly John Turri the school teacher.") Agreed, the initials refer to positions, not first names.

Here are the names and positions written on the photo: Back row: Coach Rathey, Bart E., Talerovich E., Turrie G., Tulevich F.B., Mays E., Berger T., Korchnak G., Dovick H.G., D. Croce (Della Croce?) H.B., Firley E., Gresko E., Kester Mgr., Nickleson Ast. Mgr.. Front row: Tomsho C., Snyder T., Domnick C., Learn G., James T., Pechell Capt. F.B., Sokoloski Q.B., Kobelka Q.B., Corazza G., D. Croce (Della Croce?) H.B., Kupitz H.B.

I'll add that the scenery in the background of the team photo is also interesting. Can anyone who's reading this identify any of those buildings? Where was this photo taken?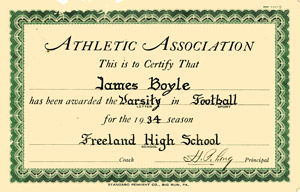 Here is the certificate from James Boyle's participation in the FHS varsity football team in 1934, shared by his daughter Eleanor Boyle Duckett. James was also on the FHS basketball team, so see that page for photos of the team he was on in 1934-1935 and also 1936.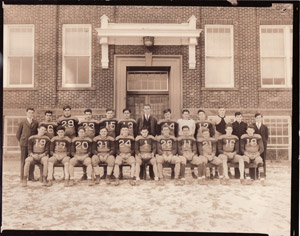 FHS football team, 1934. Eleanor Boyle Duckett saw her uncle in this photo, "... James Boyle (#16), seated in the front row. From what my dad, James, told me when I attended the University of Maryland, College Park, he was offered a football scholarship to Maryland, but didn't want to attend a "cow college." He attended the University of Scranton on a basketball scholarship instead." Photo courtesy of Tom Landers, Joe Flanagan, and the Freeland Historical Society.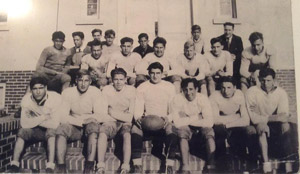 Charlie Rudewick writes: "MMI football team, 1935. My Father is second from the right in the first row." Photo courtesy of Charlie Rudewick; he originally posted it on Facebook, and it's re-posted here with his permission.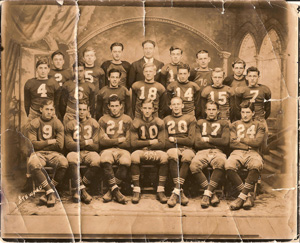 This photo of the 1937 MMI football team comes from Frank Balon. He wrote: "

This is MMI's football team from 1937-1938. My dad Stanley is actually the 3rd from the left in the middle row. He is so small, you can't see his number!

" The enlarged image (click on thumbnail image at left) was repaired digitally by Jay Cawley; here's what the actual photo looks like. Again, amazing what someone skilled in digital graphics can do. Thanks, Jay!

Marion Gabuzda Boyle Denion commented on this photo: "

The photo of the MMI Football team 1937 sent in by Frank Balon, the top row 2nd from left is my brother Stephen J. Gabuzda. Stevie and "Statz" Stanley Balon were best friends through high school and many many years later. I last saw Statz at my brother's burial in White Haven in 1992

."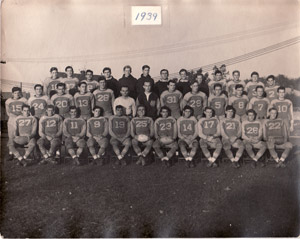 A Freeland football team, 1939. Is it Freeland High's team? That looks like Herb Rathey in the center. Photo courtesy of Tom Landers, Joe Flanagan, and the Freeland Historical Society.





---
1940s
---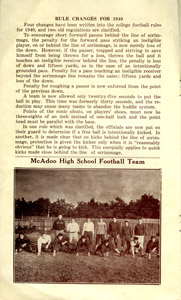 Purchased on eBay recently:

1940 Football Schedule and Photos

- Hazleton, West Hazleton, Freeland, McAdoo, Hazle Township, M. & M. I. - published by The Freeland Press.



You can download the 14-page booklet here:


1940 Football Schedule - (PDF file size = 4.5 MB)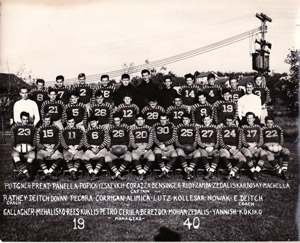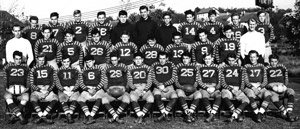 Freeland High School football team, 1939 or 1940. Photo courtesy of Tom Landers, Joe Flanagan, and the Freeland Historical Society. A cropped close-up from Steve Yaskewich allows us to see the faces more clearly - he notes that this is an FHS team. Steve wrote:

The Football picture is either from the fall of 1939 or 1940. My uncle graduated in 1941 and he is in the picture.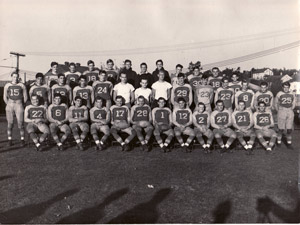 Same coaches, different shirts … Written on the photo: Potcner, Preat, Panella, Popick, Yeskevich, Corazza (captain), Bensinger, Rudy, Zamba, Zedalis, Karbosky, Machella -- Rathey (coach), Deitch, Dovan, pecora, Corrigan, Alimica, Lutz, Kollesar, Nowak, E. Deitch (coach) -- Gallagher, Mehalisko, Rees, Kuklis, Petro, Cerula, Berezock (3 managers), Mohan, Zedalis, Yannish, Kokiko. Photo courtesy of Tom Landers, Joe Flanagan, and the Freeland Historical Society.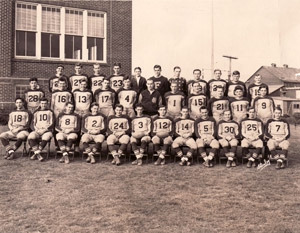 FHS football team, possibly 1940s. Photo courtesy of Tom Landers, Joe Flanagan, and the Freeland Historical Society.






---
1960s
---

Photos from Ed Merrick, showing Pal Whitehead and others enjoying pickup football games in the mid-1960s. Ed took the leftmost photo at a football game on September 6, 1964 at the Tigers Park, noting:

"or MMI Field as it has come to be known. Pal was coach of Woodie's Raiders, who lost to Smokey's Bears 18-0."

I asked him if he could tell me more about these games at Tigers Park. He wrote: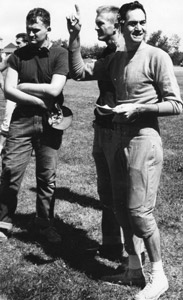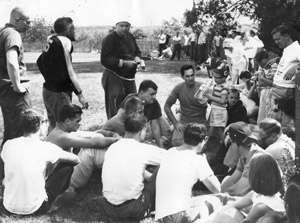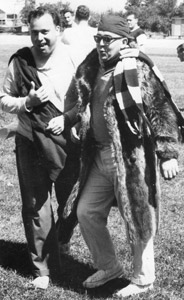 They were pickup teams. The manager of the Bears was Jim Quinn, whom I do not know. He was probably a guy who came in for a cup of coffee, started talking to Pal, and challenged him to get a team together and play. We had no helmets and pads; we didn't even have goal posts, hence the score. Tom Zubatch published a bunch of the photos in his Pennysaver, and I wrote a funny article to go with them.





For your information, [the photo at right] shows Don Snyder and Jack Timony, girded for battle; [in the center photo], Pal in center seated; standing, Carl Poppolardo, your neighbor; a fellow who is familiar but whose name I can't come up with; Don Snyder in white hat; and Ed Herbener, with his arms over a fence at right; I can't remember the name of the fellow in the middle.

A fourth photo from Ed shows this great action shot!



---
TEAM MASCOTS / BALL BOYS
Only one of the photos on this page includes a mascot, and that's the 1913 Freeland Yellow Jackets football team, photo courtesy of Barbara Bartol Rentenbach. I don't have boy's name; he's also shown at the top left of this page. My thought has always been that mascots bring good luck, so I hope this young man did that for the Yellow Jackets.