What's on this page:
The photo of the girl is now identified as

Ellen Farley Carr



Original post about a young man and young woman, possibly Doughertys
NEW INFORMATION about possible family connections
---

The miracle of getting old, old photos identified!


A success story to inspire us all to look again at these and other old photographs …



Thank you to Leah Della Croce, Richard della Croce, Ann Marie Della Croce, and Tom Gretchen for their helpful replies and for a positive identification of one of these photos!

So now we know that the girl is Ella Farley Carr.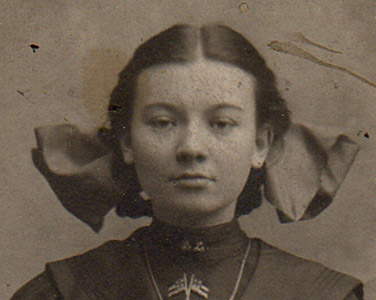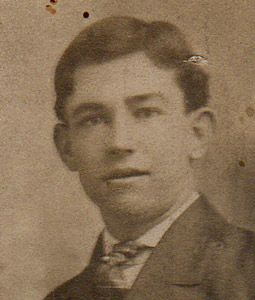 These photos from Veronica Heston were first posted here in 2014, and then again in early January 2021.
Both posts are shown further below. Between the first and second posts, Veronica did more research and came up with an idea that these young people might not be Doughertys, but from families where men married Dougherty women, so they might have the last name Farley, Gallagher, McBrarity or Doggett instead. And that turned out to be right!



I posted this on Facebook for her:


"Do these people look familiar? Possibly Dougherty, Farley, Gallager, McBrarity, or Doggett -- do these look like people that you have seen photos of before, either members of your family, or perhaps friends or relatives in photos of your grandparents/great-grandparents or others in their generation? Please let me know. …"



About the girl in the photo: here's what came back in response (reprinted here with permission):


1. Leah Della Croce: We're related to the Farleys and Doggetts. My gram, Ann Marie Della Croce, might know who this is.
2. Richard della Croce: I believe the woman on the right is my maternal grandmother. Ella Farley Carr, wife of Patrick V Carr, Pine Knot Hill.
3. Richard della Croce: My mother Ann Marie DellaCroce confirms that the woman in that picture is her mother.



About the boy in the photo: Tom Gretchen posted some feedback that wasn't an identification but could be helpful

(reprinted here with permission)

:


1. Tom Gretchen: Joe Doggett was a neighbor of mine and a WWl veteran. He was gas attacked with his outfit. He died in Feb. 1961. He lived with his sister Nel McGarey (married to Bill McGarey). Don't know if this pic is of Joe Doggett. Be cool if it is.
2. Leah Della Croce: Gram didn't recognize the boy but I do think it's a Doggett. They lived in Freeland at the same time our family the Farleys did and they were all very close friends/cousins.



Here is Veronica's response:


I'm speechless! Your connections came thru and so quickly. Richard della Croce says the young girl is Ella Farley (Carr). She and my grandmother would be fairly close in age. According to the 1900 census Ella was born in 1895. My grandmother, Margaret Dougherty, was born in 1889. That's so great to have Ella identified.
Ella (Ellen) was a name repeated in the families. They were most likely named Ellen after their mother, Ellen Reilly Dougherty, who died at the age of 33.
No. I'm not on Facebook.
In Edward Doggett's obit in 1939 a son, Joseph, is mentioned as a survivor but I don't see him in the 1910 census with the rest of the family. I have not researched the siblings so I don't know anything about Joe Doggett.
This is so helpful. Thanks …

With permission from Leah I shared her email address with Veronica, so now they are in touch. Thank you to all for this lovely success. May I encourage readers to take a look at photos on the school groups page, the sports pages, the celebrations pages to see if you see anyone from your families old photos? You might spark some identifications and family connections for yourself.


---
Do these young people look familiar? [and see further below for update]
Dougherty – Farley – Gallagher – McBrarity – Doggett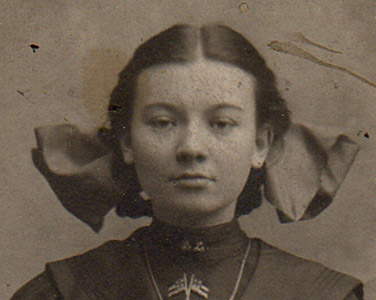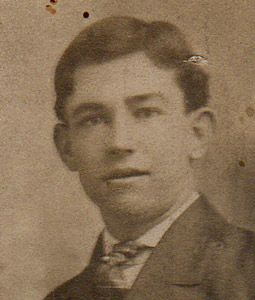 If you have any of these names in your family tree, do you recognize either of the young people in these photos from early 20th century?



Some time ago I received email from Veronica Heston, and I posted it and her photos on 8-10-2014. She wrote:



Hi, I have two post card photos that were sent to my grandmother (Margaret Dougherty Flynn), one in 1907 and one in 1911, from Freeland. Unfortunately both photos were cropped and the message and name of sender was lost. Showing on the back is my grandmother's name, address and the post office stamp. The cards were sent to her in Wilkes-Barre where she lived. Do you ever post photos on your website to ask if someone could identify the person in the photo? One is of a young man and the other of a young woman.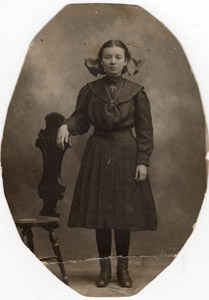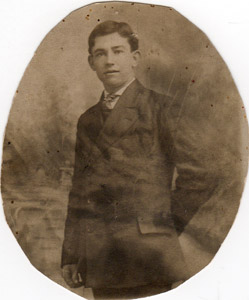 My grandmother, Margaret, had Dougherty relatives in Freeland and that's why I believe the boy and girl on the cards are Dougherty's. I also understand that I might not get a response. Thanks for trying. Veronica.



Here are the full photos, or as much of the full photos as Veronica has:

[These enlarged views of these photos have been digitally repaired by Jay Cawley - thank you, Jay!]





Please

read on for newer information ...




---



Now Veronica has more information:



She wrote recently: In 2014 I asked you to post two old postcard photos (dated 1907 and 1911), that had been addressed to my grandmother, Margaret Dougherty, on your website. I believe I've done as much research on my Dougherty family as I can. During that research I came to the conclusion that the young persons in those photos might not have the Dougherty name but rather the names of men who married into the Dougherty family. My grandmother, Margaret Dougherty, was the child of a second marriage. So she had older step-siblings - who had children, some of whom were around her age. Several of the families who lived in Freeland were the Farley's, Doggett's and McBrarity's.

It's possible the photos of the young lady and man were from one or both of those families

.



Freeland marriages:


Mary Dougherty married Owen Farley
Anthony Dougherty married Mary Gallagher
Anna Dougherty married Frank McBrarity
Hannah Dougherty married Edward Doggett



More information about those marriages:



Mary Dougherty & Owen Farley married around 1884. They lived in Hazle Township in 1900, then in Foster Township's Woodside District in 1910, and then on Fern Street in Woodside in 1920. Mary died in Drifton in 1924. Owen died in 1939. Both are buried in St. Ann's cemetery.

Anthony Dougherty & Mary Gallagher married in 1907. By 1920 they were living on So. Wyoming St. in Hazleton city. Mary died in 1933. Anthony died in 1955. They are buried in St. Gabriel's cemetery.

Annie Dougherty & Frank McBrarity married in 1889. They were married by Father Fallihee in Drifton. By 1910 they were living on No. Poplar St., Hazleton City. Annie died in 1926. Frank died in 1924. Both are buried in St. Gabriel's Cemetery.

Hannah Dougherty & Edward Doggett married in 1893. Hannah died in 1913. Edward died in 1939. Both are buried in St. Ann's Cemetery.


---



So, friends, does the boy look like someone that you have seen photos of before

, either in your family, or perhaps a friend or relative in photos of your grandparents' or great-grandparents' generation? Please let me know. Any leads would be very much appreciated by Veronica. Thank you!