According to the history of Freeland written by Charles Stumpf, there have been a succession of post offices in Freeland. Most of the information on this page comes from him, and more information can be found in his booklet, Freeland.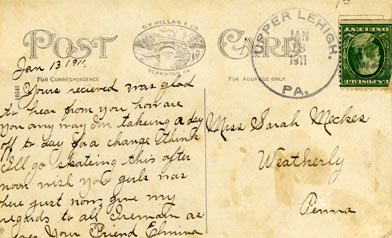 A post office was established at Upper Lehigh in 1867 (and closed in 1929), and residents of South Heberton received their mail there until South Heberton was annexed to Freeland. Another post office was established in the Woodside section on February 19, 1873. On November 27, 1876 the name of this post office was changed from Woodside to Freeland.

On April 16th, 1890, building contractor John M. Cunnius began work on the foundation for a new Freeland post office, and Andrew Fritzinger was in charge of all masonry work on the building.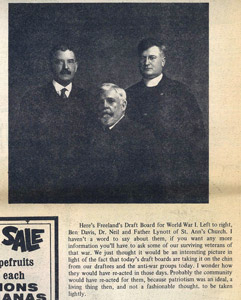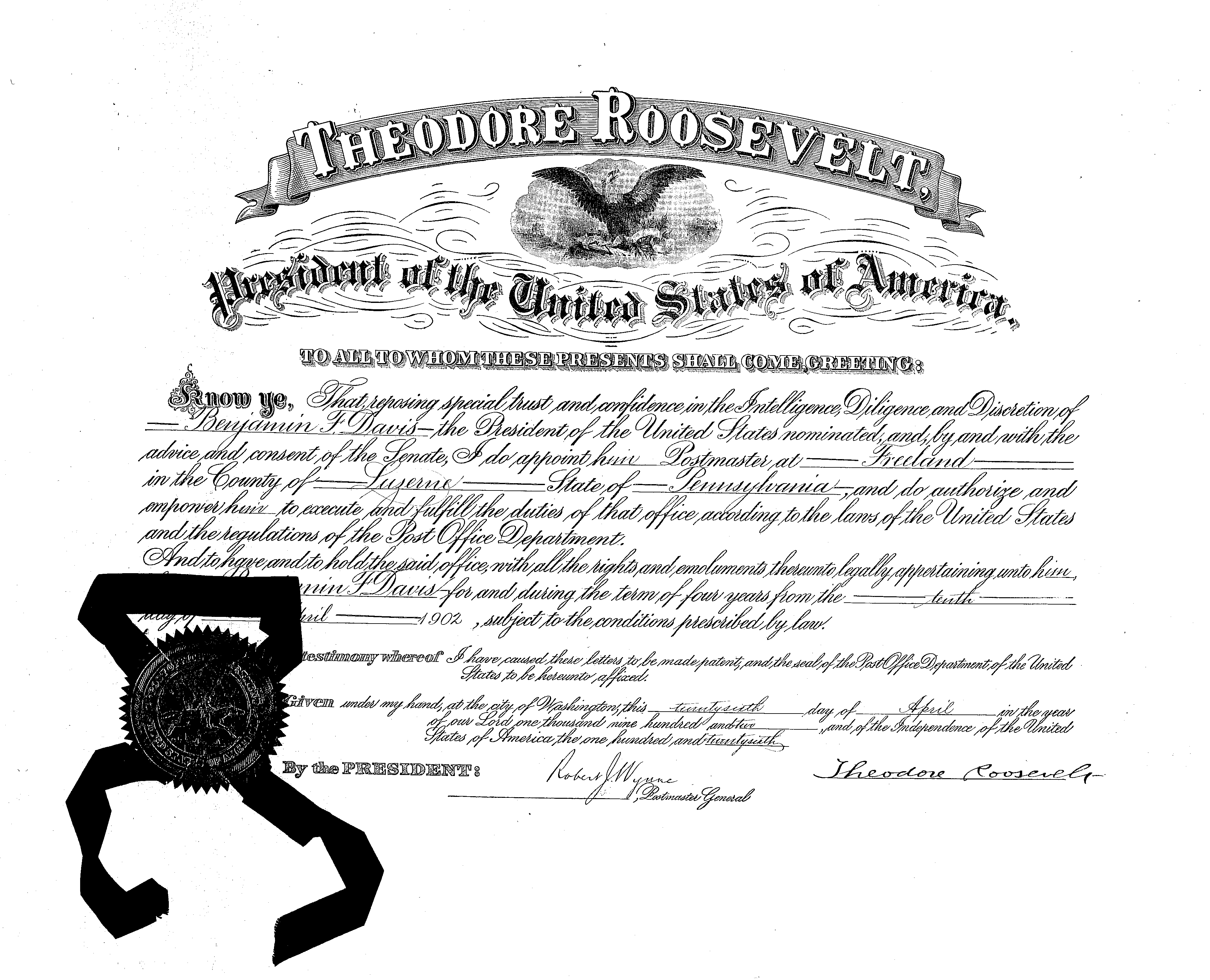 Awhile back Bill Davis sent me these three images in connection with Benjamin F. Davis's being appointed Freeland's postmaster for two 4-year terms, 1898-1906. The photo at left of Davis with Dr. Neil and Fr. Lynott, who all served as Freeland's draft board for World War II, appeared in Freeland's PennySaver, although at present I don't know which issue. The documents shown at right are copies of his appointments to the Postmaster position, one from President William McKinley and the other from President Theodore Roosevelt.


In the early 20th century the Freeland Post Office was located in the Goeppert building at 714 Centre Street, on the west side of the street between Front and Walnut streets. The information visible at the top of the building says "A. G. 1893".

Here's what the 1921-1922 city directory said about Freeland's post office: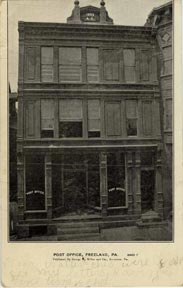 Postmaster: E. J. Doggett
Assistant Postmaster: Orion L. Vanaken
Clerks: George C. Farrar, Ralph Alden
Carriers: T. J. Doggett, George Woodring, Patrick Roarty
Rural Delivery to White Haven: Lester Stine, messenger

Office hours:
General Delivery and stamps: 7 a.m. to 7:45 p.m.
Money orders: 7 a.m. to 6 p.m.
Registry window: 7 a.m. to 7:45 p.m.
Deliveries: 9 a.m., 11:15 a.m., 2:30 p.m., p.m.
Collections: 7:30 a.m., 11 a.m., 2 p.m., 4 p.m.
Mails arrive: 7:10, 8 and 10:48 a.m. and 1:45 and 7:15 p.m.


---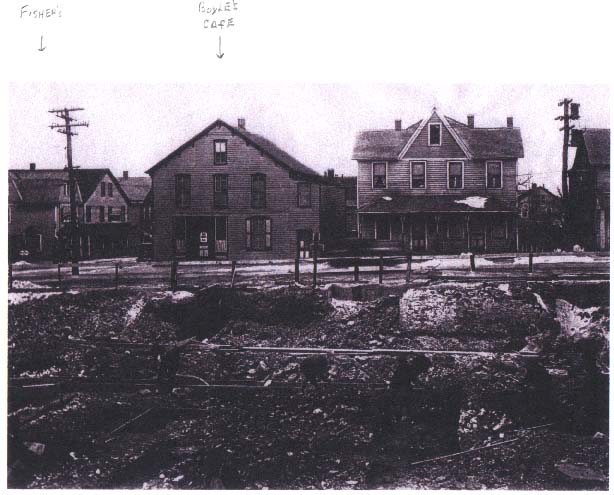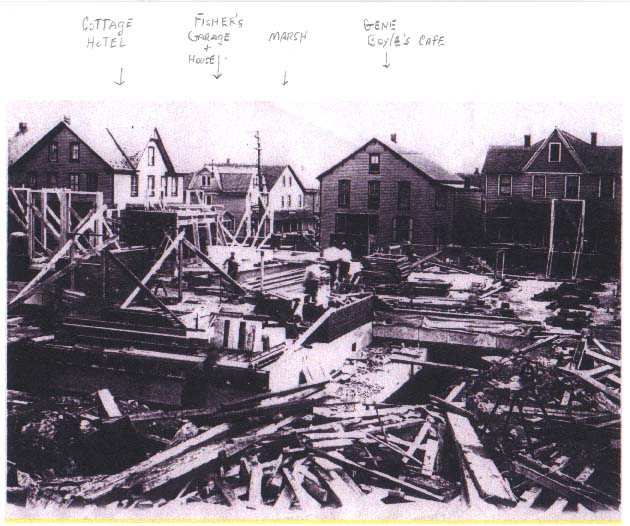 A new post office building was constructed in the mid-1930s and was dedicated on October 30, 1937. This is the current Freeland Post Office and stands on the northwest corner of Main and Washington streets. These great photographs, taken during the construction of the current post office building, are provided here courtesy of Bill Smith. Note that several nearby buildings have been labeled: the Cottage Hotel, Fisher's garage and house, the Marsh home, and Genie Boyle's Cafe. At left, ground is being broken for the new building. At right, workers are framing the new building.


The Dedication program for the new United States Post Office in Freeland comes from Billy Kuklis. The employees were:
Postmaster: Neale J. Boyle
Assistant Postmaster: George C. Farrar
Clerks: John T. Denneny, Philip J. Burns, Emil L. Schmutzer
Carriers: George A. Woodring, Patrick X. Roarty, Bernard J. McLaughlin, William F. Shive, Edward C. McGeehan, Aloysius G. Brogan
Rural Carrier: Raymond H. Shelley
Special Delivery Messenger: Gordon Horn, Jr.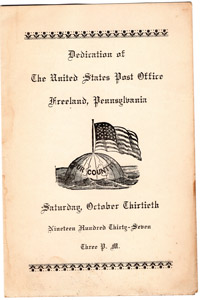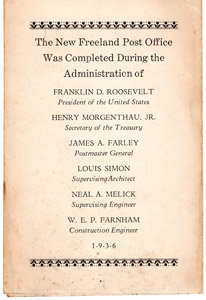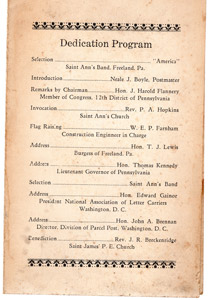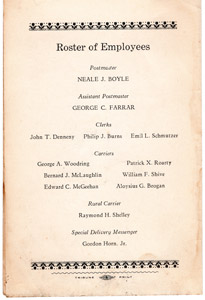 ---



Freeland 1938 airmail cover sent to President Roosevelt by Postmaster Neale Boyle



In April 2021 I received this email message from Mark Postins in England:
Good evening and greeting from England. I don't know if the attached pictures are of any interest for your web page. As you can see from the first picture it's a airmail cover and was sent by the post master Neale Boyle to the president, but I think the back is as interesting as it has a cachet stating that it was once owned by Roosevelt.
Not a bad buy for $3 yesterday from a car boot sale in rural Leicestershire. U.K.
All the best, Mark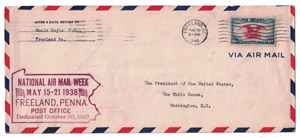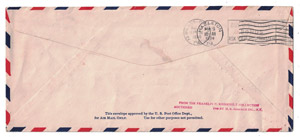 Attached were these two images. Thank you, Mark! As you see, this airmail envelope was stamped and sent during National Air Mail Week in 1938 to "The President of the United States". The ink stamp at bottom left includes the dedication date of our post office on October 30, 1937, the previous fall. I know that there was a lot of pride in our new post office back then. View photos of its being built on the Post Office page.

On the back of the envelope we see that it was also canceled at the Hazleton and Wilkes Barre post offices before being loaded onto a plane and making its way to President Roosevelt. Those cancels include an exhortation to buy U.S. Savings Bonds at the post office. The back of the envelope also shows that it was ink-stamped again later, when it was being auctioned: "From the Franklin D. Roosevelt Collection, auctioned 1946 by H. R. Harmer Inc., N.Y."

I'm grateful to Mark for sharing this piece of Freeland history with us. This was posted as a featured photo on the home page in May 2021


---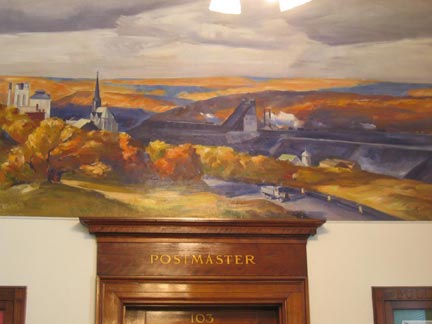 The image at left shows the cornerstone that had been hidden by hedges for quite some time until late August or early September 2012. The photo and the news that the cornerstone had been uncovered came to me from Charlie Gallagher (thanks, Charlie). The image at right shows the colorful mural inside the building. Artist John Folinsbee was commissioned in October 1937 to paint this mural, measuring 13 feet 11 inches long, and 5 feet 3 inches high, over the door to the Postmaster's office. This work was part of the Federal government's Works Progress Administration (WPA) program. The mural is still there today and gives a beautifully rendered bird's-eye view of the local area at the peak of autumn color.

There is a better photograph of this mural, plus information about the artist and his other work, at the website for the John F. Folinsbee Catalogue Raisonne Project. As noted there, "This mural depicts a view of Freeland from Butler Terrace." If you go to that page and click on the image of the mural to enlarge it, you can click through six different versions, including preliminary sketches of the Freeland Brewery and St. John's Nepomucene and St. Mary's (mislabeled Polish) churches, along with the coal breaker.
In 2008 David Lembeck published an article in Pennsylvania Heritage about Pennsylvania's post office murals. The Editor of Pennsylvania Heritage has kindly given me permission to make the article available here as a PDF. The citation is: David Lembeck, "Rediscovering the People's Art: New Deal Murals in Pennsylvania's Post Offices," Pennsylvania Heritage XXXIV, no. 3 (Summer 2008), 28-37.



Rediscovering the People's Art - (PDF file size = 1.8 MB)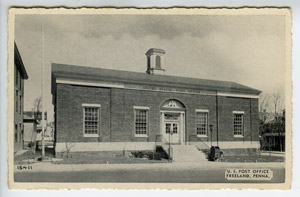 Here is a photo postcard of the current post office, seemingly made not long after it was built. You can see that the landscaping in front of the building was minimal and apparently still new. The outside mailbox wasn't located curbside but was next to the steps.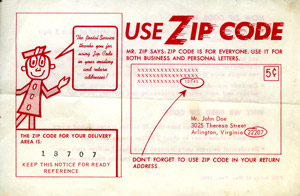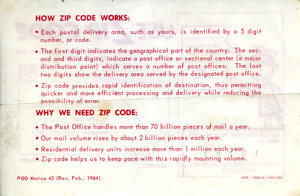 Although this announcement was for Nuangola, it is an example of how the new zip code system was being promoted in Luzerne County in 1964.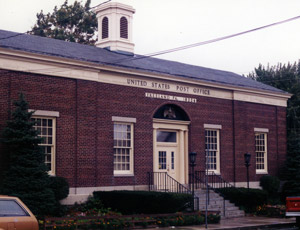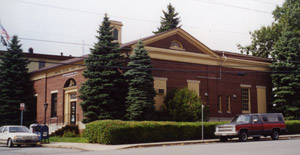 These last two photos were taken by me and my brother Steve in the early 2000s. When I heard that the trees and hedges had been taken down or were planned to be taken down, I dug around to find these photos so that I could post them here. The building looked great with this greenery around it, and I'm sorry they were taken out.

---

POSTAL WORKERS LISTED IN 1940 FEDERAL CENSUS

[Thanks to Ed Merrick for this list.]


Mary Bolish - House 21, Hazle Brook, postman (age 43 in 1940 Census)

Julius Boraskie - 321 Centre St., mail carrier (age 24 in 1940 Census)

Neale Boyle - 916 Centre St., postmaster (age 50 in 1940 Census)

Aloysius Brogan - 316 Ridge St., delivery carrier (age 25 in 1940 Census)

George Farrar - 323 Maple St., assistant postmaster (age 49 in 1940 Census)

Edward McGeehan - 309 Ridge St., deliverer (age 34 in 1940 Census)

Bernard McLaughlin - 821 Centre St., mail carrier (age 25 in 1940 Census)

John P. McNelis - 632 Walnut St., clerk (age 26 in 1940 Census)

Patrick Roarty - 507 Vine St, delivery carrier (age 40 in 1940 Census)

Emil Schmutzer - Freeland-Drums Road, Butler Township, clerk (age 43 in 1940 Census)

William Shive - 1144 Walnut St., carrier, parcel post, postal (age 41 in 1940 Census)

Peter Sweeney - 822 Front St., custodian (age 50 in 1940 Census)

Lawrence Welsh - 445 Adams St., postmaster (age 45 in 1940 Census)

George A. Woodring - 554 Walnut St., mail carrier (age 44 in 1940 Census)