What's on this page:
Ads for stationers and news dealers

About stationers, newspapers and news dealers in Freeland
Bill Morgan retires from Hazleton newspaper career
Flad Printing
Harold G. Banjock Printing

Printers, stationers, booksellers, newspaper publishers and news dealers that were listed in various Freeland directories, 1882-1940

---



At top left corner of page:

J. A. Christy stationery store, 1894 ad, from Carol Jones.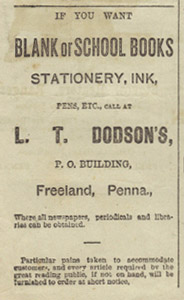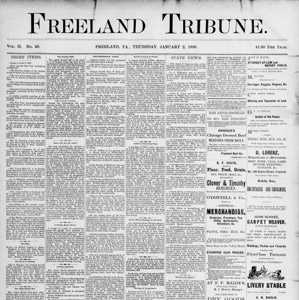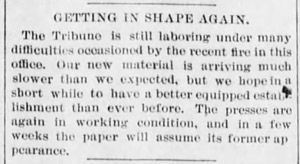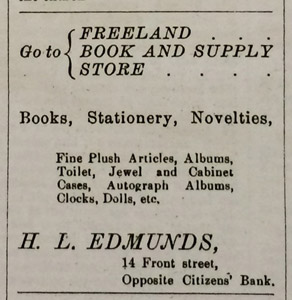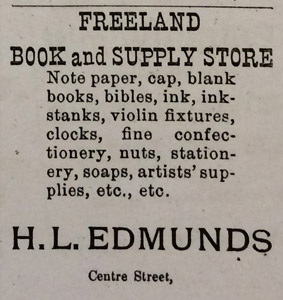 Left to right, above:
L. T. Dodson, stationery store 1882 ad from Joan Buday. Freeland Tribune, 1890.
Two H. L. Edmunds stationery store 1894 ads from Carol Jones.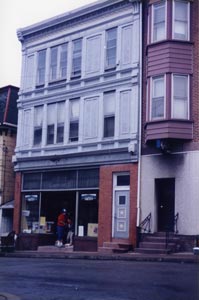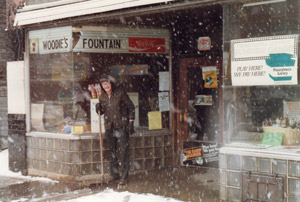 Left to right, above: North Side News header from Hazleton newspaper, 1956. News items could be left at Fairchild's news stand. Woodie's sold newspapers and magazines, here with Pal Whitehead, photo taken by Ed Merrick.


---



About stationers, newspapers and news dealers in Freeland



Freeland has had several newspapers in the past. There have also been stationery stores and news dealers in town. Stationers had shops where they sold some or all of these kinds of items: writing paper, envelopes, pencils and pens and ink, drawing paper, office supplies of various kinds, books, magazines, newspapers. News dealers sold newspapers and maybe magazines and even comic books in addition to whatever else they sold in their stores – for example, tobacco products, candy, soda, lottery tickets, etc. In addition to the local papers, Freeland news dealers also carried several papers from further afield. When I was growing up, for example, we subscribed to the Plain Speaker, and we bought the Philadelphia Inquirer and the New York Daily News at Woodie's on Sundays. Fairchild's on the next block up sold newspapers. I'm trying to remember if Nocchi's also sold papers.

The newspapers that were published in Freeland included the Freeland Daily Progress (Owen Fowler), the Freeland Tribune (Thomas A. Buckley), the Freeland Press (W. R. Flad), Freeland's Suburban PennySaver (Thomas Zubach), and two Slovak papers: Slovenska Pravda (Andrew Zemany) and Katolic (Rev. John Stas). I will add more information about these as I find it, but for now, a few more details can be found on the Print Resources page. Freeland news was also reported in the Hazleton papers, the Plain Speaker and the Standard Sentinel, later combined as the Standard Speaker. Among the community sections in these Hazleton papers, Freeland news came under the heading of North Side News. Aubrey Powell and later Joe Falatko handled news of the North Side, and Ed Merrick has also found columns by George MdGee in 1907 and 1927, and by Edward P. Gallagher in 1946-1947, about whom Ed commented: Edward P. Gallagher was the son of the barber and may have been hired just after he got out of World War II service.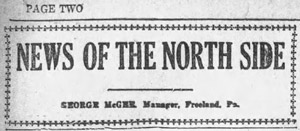 From Ed Merrick, who also worked for the Hazleton newspaper both as a reporter and as a photographer:

Another North Side correspondent was Bill Morgan, who was born in Sandy Valley but identified as a Freelander. Bill went on to become editor of the Plain Speaker and then the Standard-Speaker when the Standard Sentinel and the Plain Speaker merged. He was also active in North Side sports as a coaching assistant. I always regretted not having the honor of working for Bill because I was nightside and he was dayside.





He was so genial and such a nice man. He sent me a note once about an accident photo I had taken and which he had had enlarged greatly for the next day's afternoon edition because, as he said, unlike so many photos, it so vividly told the story of what had happened. For a two-week period I was under his tenure when, as police reporter, I was sent to Wilkes-Barre to cover the Mastrota murder trial. When I put in my overtime, Bill said I was being too conservative and added hours.
---

Bill Morgan retires from the Hazleton newspapers after 58 years, posted 5-14-2021

Photo credit for these next two images: "From the archives of Bill Morgan, former managing editor the Standard -Speaker in Hazleton."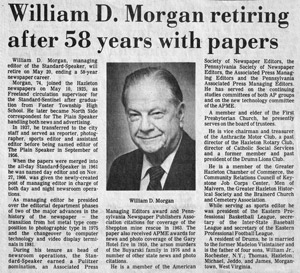 William Morgan worked in the Hazleton newspapers for 58 years, retiring in May 1983. His son Bill sent scans of two clippings that had been saved from that time. William Morgan started out after high school in 1925 as Freeland circulation supervisor for the Standard-Sentinel, later becoming North Side correspondent for The Plain Speaker. In 1937 he transferred to the city staff to work as a reporter, photographer, sports editor and assistant editor, eventually being named editor in 1956. Later the papers merged into the all-day Standard-Speaker in 1961 and he became day editor. Five years later he got the newly-created post of managing editor in charge of both day and night newsroom operations.

As managing editor he presided over the transition from hot metal type composition to photographic type in 1975, and over the switch to computer technology and video display terminals in 1981. While he was head of newsroom operations the Standard-Speaker earned a number of awards, described in the article with photo shown here.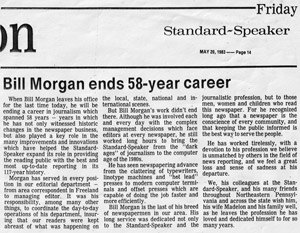 The other clipping from Bill, an op-ed from his dad's colleagues at the paper, comments that Bill Morgan "played a key role in the many improvements and innovations which have helped the Standard-Speaker expand its role in providing the reading public with the best and most up-to-date reporting in its 117-year history." His colleagues also called him "the last of his breed of newspapermen in our area … he recognized long ago that a newspaper is the conscience of every community, and that keeping the public informed is the best way to serve the people."




---



Flad Printing



About another printing establishment,

Charlie Rudwick wrote:

I remember going to a printing shop on Main Street (left hand side about 1/3 of the way from Centre Street) around 1954-1956. It was an older guy and I think he was closing the shop at that time. He had given me a toy printing press and some of the block letters he used on the big press. I looked on the "History of Freeland" pages but couldn't find anything there. Do you know of this place?





I wrote back to him, and he replied:

The buildings at the 816-824 Main Street address are definitely where I remember going. No, I don't have either the little press nor letters (but truly wish I did). I cannot remember much about the guy (age, appearance, etc.) or how many times I had been there. The printing press at the shop was huge and he had racks upon racks of the block letters.



So that printing establishment sounds like it was William Flad's shop, but whether the man that Charlie met there was Mr. Flad is unknown.

According to Oscar Jewell Harvey's history of Wilkes-Barre, William Robert Flad was the son of Michael Flad and Pauline Feist Flad, born in White Haven in 1868. He began his training at age 12 in the printing office of W. A. Feist, publisher of the White Haven Journal. Eventually that business changed from a newspaper to other kinds of printing, including government printing, and Flad was made foreman of the plant. in 1895 he moved to Freeland and began the "Freeland Press." In 1927 he sold the paper to W. E. Joyce of Hazleton, who in 1928 was still the owner and publisher. Flad continued to own the building. He also served as Freeland's Postmaster under Presidents Roosevelt and Taft and two more years under President Wilson. Harvey reported that after selling the newspaper he continued to maintain his general book- and job-printing business, and "His plant is modern in all its appointments, and as it is housed in Mr. Flad's own building he has taken care that no useful device is lacking to complete the possibilities for efficiency which the building affords." (vol. 5 or 6, p. 184-185) In the 1940 Federal Census (thank you, Ed Merrick) for Freeland a continuing family connection can be seen: Walter L. Feist was listed as a printer for the Flad Company.

1948 phonebook -- of the 3 Freeland printers listed that year, only Flad's was also in the yellow pages:
Flad, W. R., Printing Co., 820 Main (yellow pages: Printers, Lithographers, Embossers; Offset printing)
Freeland Printing Co., 324 Centre
Tribune Printing Co., 824 Main


---
Harold G. Banjock Printing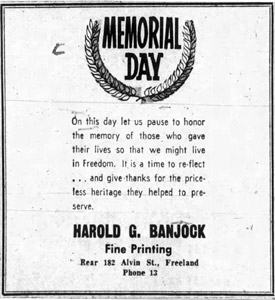 Harold G. Banjock owned and operated a printing shop in Freeland. He lived at 182 Alvin St., and the printing shop was behind his home. Thanks to Charlie Gallagher for information and Ed Merrick for the ad.

The 1957 phone book has this ad in the yellow pages:
BANJOCK HAROLD G
FINE PRINTING
BUSINESS & COMMERCIAL FORMS
JOB PRINTING OF ALL TYPES
WEDDING ANNOUNCEMENTS
Rr 182 Alvn ···· Freeland-13


---



Printers, stationers, booksellers, newspaper publishers and news dealers that were listed in Freeland's business listings in various directories, 1882-1940:




After Ed Merrick sent me a 1906 ad for the Slovak Printing Company which also listed the Kushnerick brothers as its managers (see further below), I thought I should once again go through the copies of directories or parts of directories from the 1880s-1890s to see if there were more people working in the printing/publishing/newspaper businesses than I'd noted the first time around. Sure enough, especially looking at the individual listings in the 1890s, I found more names of printers, publishers, etc., and even a reporter! So here is an updated list of people working in this business. Thanks to the Hazleton Area Public Library for directories on microfilm, and to the Greater Hazleton Historical Society for directories in their collection.




1882-1884


Dodson, Luther T., postmaster, also bookseller and stationer, also agent for Central Express Co., Walnut near Centre
Fowler, Owen, publisher, The Freeland Progress, 26 Centre near Walnut
O'Donnell, Edward, wall papers, paints, &c., also stationer, Front near Washington



1884-1886


Dodson, Luther T., postmaster, also bookseller and stationer, also agent for Adams Express Co., 8 and 10 E. Walnut
Fowler, Owen, publisher, The Freeland Progress, Centre near Walnut; 26 S. Centre
O'Donnell, Edward, wall papers, paints, &c., also stationer, 43 E. Front



1886-1888


Dodson, Ruth A., Mrs., bookseller, also agent for Adams Express Co., 8 and 10 E. Walnut
Fowler, Owen, publisher, The Freeland Progress, 26 S. Centre
O'Donnell, Edward, wall papers, paints, &c., also stationer, 32 E. Front



1895




Newspapers:


Freeland Tribune (Semi-Weekly) - Thomas A. Buckley, editor and publisher; 14 Main
Semi-Weekly Progress - 7 Centre
Slavonic Truth - 19 Main
The Press (Weekly), H. L. Edmunds, editor - Centre



Stationers:


Christy, James A. - 27 Centre
Dodson, Ruth A. - 8 Walnut



1895 Barry's directory:

(some paid extra to have the bold type)


Buckley, Daniel S.

, mgr Freeland Tribune, h 16 Main


Buckley, Thomas A.

, justice of the peace and publisher Freeland Tribune, 14 Main, h do


Crawford, Ely

, treas The Press and clerk Coxe Bros & Co, h Johnstone cor Pine


Edmunds, H. L.

, editor The Press, h Centre next P.O.


Flad, W. R.

, manager The Press, h White Haven


Fowler, Owen

, publisher Semi-Weekly Progress, h 48 Centre
Freeland Tribune (Semi-Weekly), Thomas A. Buckley editor and publisher, 14 Main
Kushnerek, John, printer, h 161 Centre
McTighe, Daniel J., printer Freeland Tribune, h 16 Main
McTighe, Patrick B., printer Freeland Tribune, h 16 Main


Ondeck, Michael J.

, publisher Slavonic Truth, h 19 Main


Press (The)

(Weekly), H. L. Edmunds, editor, Ely Crawford treas, W. R. Flad manager, Bohlin Block, Centre
Sachs, William S., printer Progress office, h 5 Front


Semi-Weekly Progress

, Owen Fowler publisher 7 Centre


Slavonic Truth

, Michael J. Ondeck publisher, 19 Main
Ulrich, Bernard, printer Progress, h S Heberton
Zemmy [Zemany], Michael Jr., printer, h 28 Main
Zona, John D., printer, h 19 Main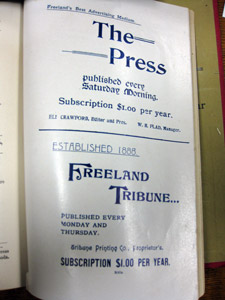 Ads for two Freeland newspapers appeared in the 1896 directory. Notice how they highlight different things about their papers. The Press names its editor/president and its manager. The Freeland Tribune names its parent company and notes that it has been in publication since 1888.



1896 city directory:


Ashman, Joseph, printer, h 73 e Front
Buckley, D. S., reporter, h 19 w Main
Crawford, Eby [Ely], editor Press, h e Johnson for Pine
Flad, W. R., mgr. Freeland Press, h Johnson near Birkbeck
Fowler, Owen, prop. Freeland Progress, h 48 n Centre
Kushnerek, John, printer, n Ridge
McTighe, D. J., printer, h 19 w Main
McTighe, Patrick, printer, h 19 w Main
Ondeck, M. J., editor Slavonic Truth, h 19 e Main
Press Printing Co. (W. R. Flad, Ely Crawford), 21 s Centre
Slavonic Truth, Andrew Zemany mgr., 19 e Main
Zemany, Andrew, mgr Slavonic Truth, h Washington cor Main



1897




Newspapers:


The Press, W. R. Flad and Ely Crawford, props. - S Centre
The Semi-Weekly Progress, Owen Fowler, prop. - N Centre near Front
Slavonian Katolik, Rev. John Stas, editor - 127 Ridge
Slavonic Truth, Andrew Zemany, mgr. - 19 E Main
The Tribune, D. S. Buckley, mgr. - W Main



Stationers:


Dodson, Ruth A. - 8 E Walnut
Woodring, Silas - 27 S Centre



1897 city directory:


Ashman, George, printer, h, Front E
Buckley, D. S., manager, Tribune Printing Co.
Crawford, Ely, editor, h, Johnson corner Pine, Freeland Press
Cushnerick, Joseph, printer, Centre S, 162
Flad, W. R., manager, h, Johnson E, Freeland Press
Fowler, Owen, proprietor, h, Centre N, 48, Semi-Weekly Progress
Freeland Press Printing Co., w, Centre S, W. R. Flad, Eli Crawford
Hart, Edward, printer, h, Highland
McTighe, D. J., printer, 19, Main W, h
McTighe, Patrick, printer, 19, Main W, h
Myers, W. F., printer, 119, Washington S, h
Sachse, William, printer, 5, Front E, h
Yastromski, Anthony, printer, Ridge cor Luzerne, h
Zemany, Andrew, manager, Slavonic Truth, Main E near Centre, h
Zemany, Michael, Jr., printer, 17, Main E, h



1900-1901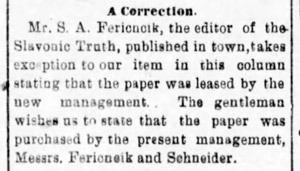 Fowler, Owen, editor Semi-Weekly Progress, Centre
Grover, M. B., drugs and stationery, 59 Centre
Kushnerick Brothers, wholesale and retail dealers in confectionery and cigars, 134 Centre (no longer listed as printers)
Slavonic Truth, weekly newspaper, $1.50 yearly, Main
"The Press", weekly newspaper, job printers, W. R. Fald, proprietor and editor, terms $1.00 a year, 21 Centre
Semi-Weekly Progress, printers, Centre
Slavonic Truth, weekly newspaper, $1.50 yearly, Main
Tribune, The, newspaper, terms $1.50 a year, Main
Tribune Printing Co., limited, D. S. Buckley, mgr., job printers, Main
Woodring, Silas, books and stationery, 27 Centre
(The Standard Speaker April 12, 1900 announcement at right comes from Ed Merrick.)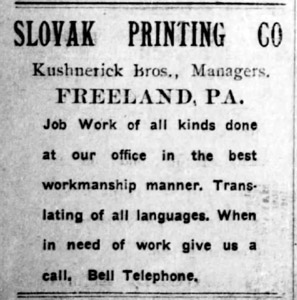 1906 ad


Slovak Printing Company - Kushnerick Bros., managers. Job work of all kinds at our office in the best workmanship manner. Translating of all languages. When in need of work give us a call. (This 1906 ad comes from Ed Merrick.)



1912 telephone directory


Freeland Press, W R Flad, Prop – Centre
Freeland Tribune – Main




1917 telephone directory


Alden, J. A., Stationery & News Agency - 605 Centre
Freeland Press - W. Main
Freeland Tribune - 824 Main



1921-1922




Newspapers:


Freeland Tribune – 824 Main
Plain Speaker, The – 17 W. Broad, Hazleton
Press, The – 820 Main
Standard Sentinel – 23 N. Wyoming, Hazleton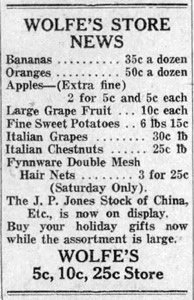 Newsdealers:


Morgan, Edgar A. – 605 Centre
[Fairchild's Confectionary Store - 712 Centre, old Post Office building (W. H. Fairchild) Not listed under newsdealers/magazines in the directory; ad at right is from 1922]
[Wolfe News and Variety – 605 Centre – (Charles Wolfe) News and variety store, not listed under newsdealers in the directory; the ad at right is from 1922]



Printers:


Press, The – 820 Main
Tribune Printing Co. Ltd – 824 Main (Printing of all kinds.Source: Catholic Reference Book and Parish Register, circa 1924)



1928-1929




Newspapers:


Philadelphia Inquirer, 605 Centre
Plain Speaker, 23 N. Wyoming, Hazleton
Standard Sentinel, 23 N. Wyoming, Hazleton



Stationery:


Steward's Studio & Gift Shoppe, 717 Centre



1940




Newspapers:


Freeland Press (weekly) - 219 Washington
Plain Speaker, The - 512 Centre
Plain Speaker - Standard Sentinel - 23 N. Wyoming av, Hazleton, Pa.
Standard-Sentinel - 512 Centre



News dealers:


Fairchild, Walter H. - 712 Centre



And a 1940 printer noted elsewhere:


Walter L. Feist - 703 Front St., printer, Flad Company (age 49 in 1940 Census)