What's on this page:
August and Margaretta Donop
August Donop, Jr. and Amelia (Knyrim) Donop and family
Founding of Freehold/Freeland
Donop home
---

Photos of the Donop family are shared here courtesy of Susan Bulla, Great, Great Grandaughter of August and Margaretta Donop. Thanks also for further contributions from Susan Bulla, Ed Merrick, Donna Maso, Joan Buday.

In July 2019 I received email from Susan Bulla, which began:

I found your website while looking for information on my great-great grandfather, August D. Donop. His granddaughter, Amelia Donop was my paternal grandmother. The family moved at some point to Niagara Falls, NY. I never knew much about the Freeland connection, as the focus of the family history was always on my paternal grandfather, Charles M. Dunlap, Sr., whose father, Orrin E. Dunlap, Sr., was an early historian, photographer, and editor for the Niagara Falls Gazette. My grandmother's family was seldom mentioned, but she felt strongly enough about her family ties to have her ashes scattered at the family burial plot in Freeland when she died in 1982. She was one of 8 children born to August's son August and his wife, Amelia Knyrim Donop.



Sue was preparing to visit Freeland for the first time a few weeks after sending that email message, to see the town, the family home, and to visit the cemetery. She did make that visit in late summer 2019.


---

August Donop (1829-1881) and Margaretta Myers Donop (1829-1887)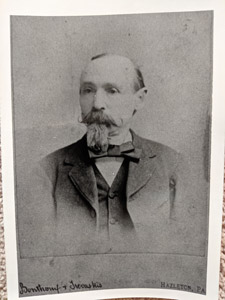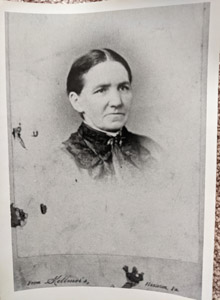 This photo of August Donop was made by Bonthomy/Trevaskis, and the one of Margaretta Donop was made by Kellmer, both being photographic studios in Hazleton. Photos courtesy of Susan Bulla, Great, Great Grandaughter of August and Margaretta Donop.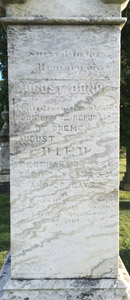 August Donop's tombstone is in the Freeland Cemetery near the entrance, and Margaretta is also buried there. Their granddaughter Amelia E. Donop Dunlap's ashes were scattered there in 1982, a little over a century after August's death.




William Munsell mentioned three Donops in the biographical section of his History of Luzerne, Lackawanna and Wyoming Counties, Pa., published in 1880. He wrote:





August Donop

, of Freeland, was born in Bremen, Germany, August 23d, 1829. He is a bookkeeper and dealer in real estate, and has held all the offices in Foster township. His wife was Margaretha Myers, of New York.



Mrs. Margaretha Donop

, of Freeland, was born in Bremen, Germany, June 13th, 1833. She was the owner of the site of Freeland.



Henry J. Donop

, of Freeland, was born in Hoboken, N.J., December 13th, 1858. He is now station agent and telegraph operator at Jeddo.

Source: William Watkins Munsell. History of Luzerne, Lackawanna and Wyoming Counties, Pa., With Illustrations, and Biographical Sketches of Some of Their Prominent Men and Pioneers. New York: W. W. Munsell & Co., 1880. [A digital copy can be read online at http://www.archive.org/details/historyofluzerne00wwmu]




The Findagrave.com website contains this information about August and Margaretta Donop, both buried in the Freeland Cemetery:



August D. Donop, born in Germany 23 August 1829, died at age 51 on 13 February 1881. https://www.findagrave.com/memorial/193169195/august-d.-donop

Margaretta Donop, born in 1829, died at home in Freeland at age 58 on 26 November 1887. https://www.findagrave.com/memorial/193168075/margaretta-donop

Thanks to Donna Maso for sharing pointers to the Findagrave information.




August D. Donop's obituary is not posted there yet, but Ed Merrick has found it online. It is transcribed here, and Margaretta's can be read at the Findagrave site.





Wilkes-Barre Daily Union Leader for Feb. 16, 1881




The Founder of Freeland Dead


August Donop, Sr., a prominent and respected citizen of Freeland, died at his residence in that place yesterday morning.
In 1868, what is now known as Freeland was a wild place of woods and Mr. Donop conceived the idea of purchasing it and laying out a town plot so that the working men who chose to save their money could buy a house and be independent of the company's houses. He immediately laid it out in lots and commenced the sale, encouraging the new enterprise by the building of a beautiful villa for his own use. The result was the rapid sale of lots, the erection of dwellings and business places and the final incorporation of the now thriving borough of Freeland. The deceased was a man of high moral character, and as such universally esteemed. He was 52 years of age. The funeral services will be held by the Rev. A. B. Jack, of Hazleton, at the house of the deceased, in Freeland, on Wednesday afternoon at 2 o'clock. Interment in the Freeland cemetery.



Wilkes-Barre Telephone for March 1, 1881


DONOP – February 15th, 1881, at Freeland borough, August Donop, aged about 65 years [he was 51 – CT]. His death was very sudden. Esquire Donop was the founder of the pleasant little borough of Freeland on the highlands between Upper Lehigh and Hazleton. He was an energetic, far-seeing and useful citizen and kind neighbor.


---

August Donop, Jr. and Amelia Knyrim Donop and family



August Donop, Jr. (1855-1903) and Amelia Knyrim Donop (1862-1935)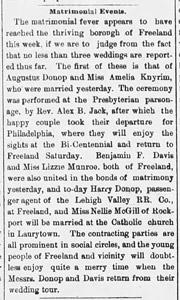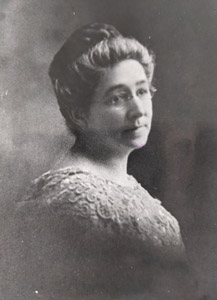 In 1882 the Donops' son August Donop, Jr. married Amelia Knyrim (her photo shown here), as reported in the article at left from the Hazleton Sentinel on October 26, 1882.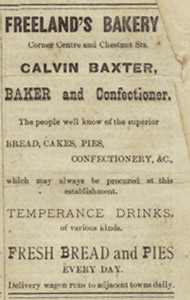 "Gus" worked as a baker and candy maker in his own bakery. On September 9, 1881 the Hazleton Sentinel reported his intention to start a wholesale flour and feed store, and a week later on September 17, 1881 they reported that "Calvin Baxter has rented the Donop bakery in Freeland." The ad at right from the Freeland Progress in 1882 shows Baxter's bakery at the corner of Centre and Chestnut streets. So Donop's and later Baxter's bakery would have likely been at the northeast corner [later Reese's store, 901 Centre the modern address], the only business building shown at that intersection on the 1900 Sanborn map [earliest view I've seen], labeled "Conf'y" there for confectionery. Although I've also seen an 1882 reference to a Donop flour/feed business, I have no idea where it was.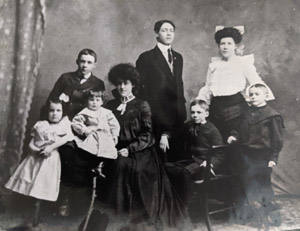 August and Amelia had eight children, shown in this photo taken in 1903/1904, sadly around the time of or soon after his death. A few years later in 1911 Amelia Donop relocated with her children to Niagara Falls. Sue comments:

I am amazed Amelia Knyrim Donop moved to Niagara Falls on her own with any of the 8 kids that were still at home. Ida, the eldest would have been in her mid 20's. My grandmother, also Amelia, was about 13.



Photos courtesy of Susan Bulla, Great, Great Grandaughter of August and Margaretta Donop. 1882 ad for Freeland's Bakery is from Joan Buday.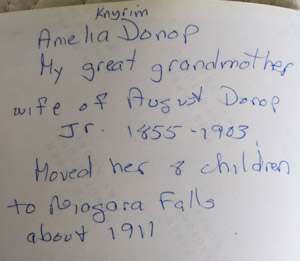 On the back of the photo of Amelia Knyrim Donop, Sue Bulla wrote:


Amelia Knyrim Donop – My great grandmother, wife of August Donop Jr. 1855-1903. Moved her 8 children to Niagara Falls about 1911.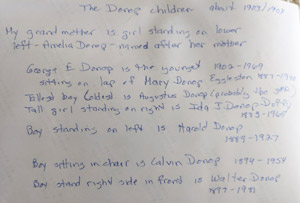 On the back of the photo of the 8 children of August and Amelia Donop, Sue Bulla wrote:



The Donop children about 1903/1904





My grandmother is girl standing on lower left, Amelia Donop, named after her mother.





George E. Donop is the youngest 1902-1909, sitting on lap of Mary Donop Eggleston 1887-1940.





Tallest boy (oldest) is Augustus Donop (probably 3rd).





Tall girl standing on right is Ida J. Donop Duffy 1883-1969.





Boy standing on left is Harold Donop 1889-1927.





Boy sitting in chair is Calvin Donop 1894-1954.





Boy standing right side in front is Walter Donop 1897-1981.






The Findagrave site also has information about August Donop, Jr., his wife, and their children.



https://www.findagrave.com/memorial/193165988/august-donop

https://www.findagrave.com/memorial/173511421/amelia-donop

Their children's information is linked from both of their pages.

Thanks to Donna Maso for sharing pointers to Findagrave information.


---

Founding of Freehold/Freeland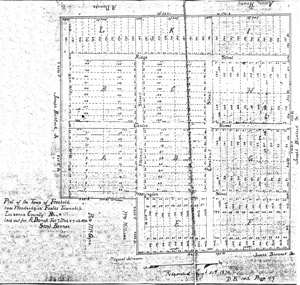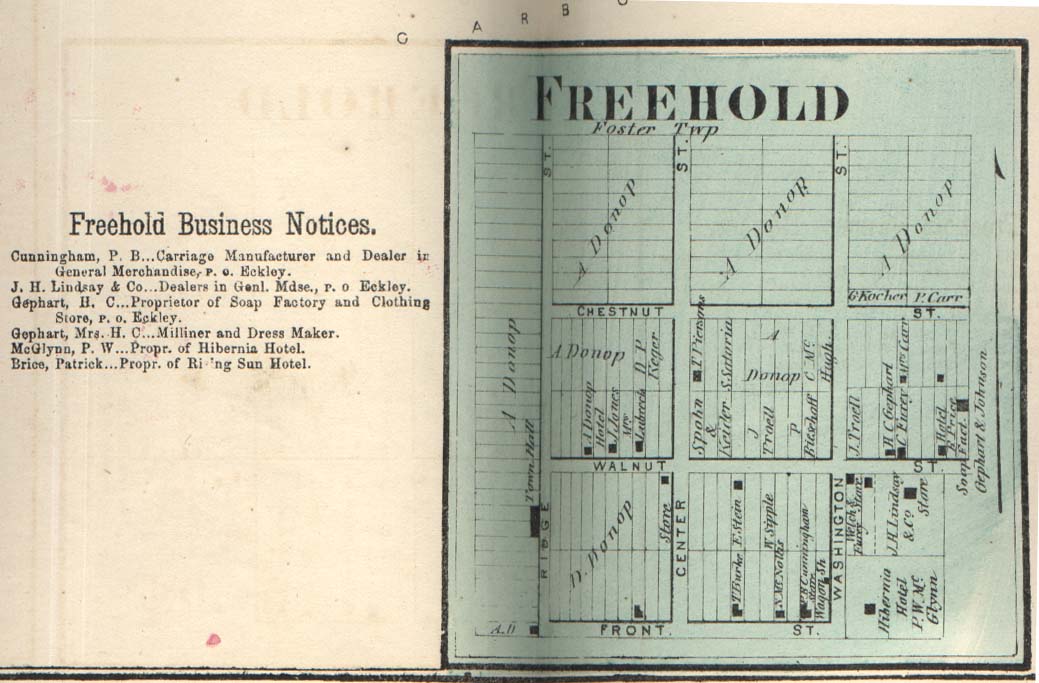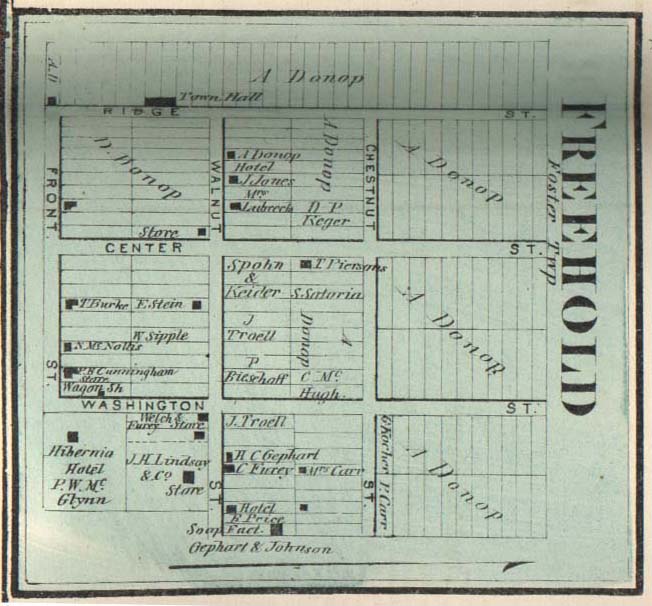 The official 1870 Freehold map is held at the Luzerne County Courthouse; this redrawn copy at left was published in the Freeland Penny Saver. The center map comes from D. G. Beers' Atlas of Luzerne County, Pennsylvania (1873); I've added a rotated copy at right for readability.




From Charles Stumpf's Freeland book:



Page 6 - Augustus Wilheim Von Donop is credited with being the founder of Freeland. Born in Bremen, Germany, when he became a citizen of the U.S. he dropped the 'Von' from his name. While employed as a clerk for the George B. Markle coal firm at Jeddo in 1868, Donop purchased a large track [tract] of land and offered lots for sale at ten dollars each. Originally the new settlement was known simply as 'Donop's village' but he was averse to having the community named 'Donopville'. Mr. Donop even refused to have a street named after him.

In his original planning of the village Mr. Donop calculated that Walnut Street would be the main thoroughfare of the town since it was favorably located and ran parallel to the old stagecoach turnpike to White Haven, which passed along what is now known as Schwabe Street.

Page 7 - By 1876 Freehold's prosperity warranted a movement to organize it into a borough, bounded by Foster Township on all sides, bordered by Ridge, Chestnut, Washington and Main Streets. The signatures of 39 petitioners officially made the request. … The petition was dated April 1, 1876 and was approved on May 26, 1876 and confirmed by the court on September 11th of that year.

A meeting was called in town hall. It was a long affair with much discussion and the presentation of many ideas and opinions. Postmaster Luther Dodson pointed out that there was already another town bearing the name 'Freehold' within the postal district. So the selection of a new name became the order of business. After much deliberation Mr. Manus Conaghan stood up and declared: "Gentlemen. I do not believe that we are getting anywhere and there is no use discussing this problem all night. Since we cannot seem to agree on a complete new name, why can't we change just a part of it? I move that we change just the last part and call the town Free-LAND."




From William Munsell's History of Luzerne, Lackawanna and Wyoming Counties, Pa., published in 1880, a year before August Donop's death:



Page 264 - The site of Freeland is part of the old Lindsay tract, purchased by Tench Coxe, who sold to Joseph Birkbeck, and he to Mrs. Margaretha Donop, wife of A. Donop, Esq. in 1872. They came from New York city and were the first settlers at Freeland. Their house, on the estate of Mrs. Donop, Front and Centre streets, was the first built here. She also owns and controls forty of the buildings and lots surrounding it. Immediately after the purchase Mr. and Mrs. Donop caused the land to be surveyed into a town plat, which they called Freehold, and September 11th, 1876, the town was chartered as Freeland borough.

… The town hall, on Ridge street between Front and Walnut, was built by Mrs. Donop in 1875.
… The first tavern was on Walnut street, built by A. Donop, and kept by John Jones, who is the present landlord.
… The works by which the town is supplied with water were constructed in 1880, by A. Donop and J. Birkbeck.
… The justices of the peace are A. Donop, elected December 14th, 1876, and Isaac Goodman, elected in February, 1880.
[I've left out the parts that don't relate to the Donops.--CT]




From an article on the history of Freeland published in the Hazleton Sentinel on August 20, 1906 at the time of the Pearl Jubilee, thanks to Ed Merrick. [August Donop is mentioned many times, and while it repeats much from Munsell it also adds some further information -- I'm leaving out the parts that don't refer to the Donops]:



"… The Donops came from New York City and were the town's oldest settlers. Their house, which was recently purchased by Joseph Neuburger, now deceased and which is at present occupied by his family, was the first built here. The Donops owned and controlled mostly all the buildings in the town at that time. Immediately after the Donops made the purchase from Joseph Birkbeck, they had the land surveyed into a town plot, which they called Freehold."

"… The first town hall was built on the corner of Ridge and Walnut streets in 1875 by August Donop. … The first saloon was on Walnut street, in the building now owned by Jacob Merkt, which was built by August Donop and conducted by John Jones, and is one of the present landmarks. … The Freeland Water Works were started in 1880 by August Donop and Joseph Birkbeck. … The first Justice of the Peace was August Donop, who was elected in 1876 and was succeeded by Isaac, Goodman, who was elected in February, 1880. … The first town clerk was August Donop, while William Johnson was the first high constable."




Donop properties in Freehold / Freeland



In 1880 William Munsell wrote that the land that became Freehold was sold by Joseph Birkbeck to Margaretta Donop [Munsell said in 1872 but it was likely several years earlier, probably late 1860s], and that the Donop home was built on her estate. After August Donop died in 1881, Margaretta managed the properties on her own, and later, having remarried around 1884, with the aid of her second husband, Joseph Balsic.

The Donops sold various properties from the time Freehold was platted and recorded in 1870 so that the town could grow. Sales continued after August's death, including the sale of four acres of cultivated land west of Freeland, suitable for about 40 building lots (Hazleton Sentinel, July 25 and 26, 1881). Sales of additional lots were reported in the Hazleton Sentinel in June 1882 and June 18, 1883. Then, as noted in Margaretta's 1887 obituary, "About three years ago Mrs. Donop married Joseph Balsic, a Polander, and the latter, in order that his wife should have no trouble in the conveyance of her large amount of real estate, and in accordance with her own desire, petitioned the Court to have his name changed to that of Joseph Balsic Donop, which petition was granted."


---

The Donop home

The images here show the home as it was depicted in William Munsell's 1880 history, and as it looked a few years ago when I took these two photos. The Donop home was the first building in the original village of Freehold, and remarkably it is still standing today.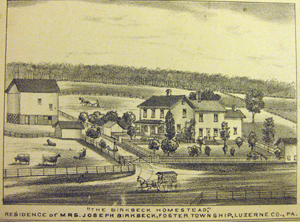 About the image at right, Munsell wrote: "Their house, on the estate of Mrs. Donop, Front and Centre streets, was the first built here." He said "Front and Centre" because at the time there were no other buildings between their home and Centre street, so that property was indeed at Front and Centre, although now we would say the home is at Front and Ridge. Also, in the earliest years of Freehold / Freeland, Front street was the southern border, with no development below it, so at first the Donop home fronted onto a road and then open land.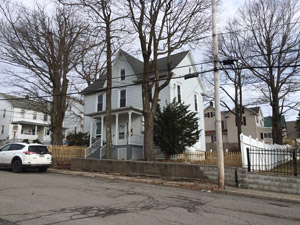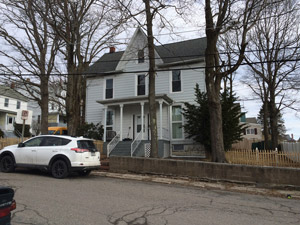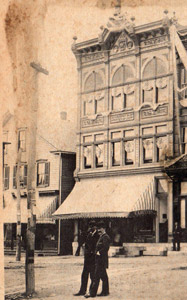 On August 20, 1906 the Hazleton Sentinel reported that the Donop home had been recently purchased by Joseph Neuberger, whose clothing store occupied the ground floor of Freeland Hall, shown here in an 1892 picture also from Ed Merrick (on the site of what would later be Woodie's). Sadly, Joseph Neuberger died soon after buying the Donop home, which was ideally located just a short block away from his store. The Neuberger family was living there at the time of the Pearl Jubilee (Freeland's 30th anniversary) in mid-August 1906.

Thanks to Ed Merrick for the 1906 reporting about Joseph Neuberger and for the photo showing Freeland Hall and Neuberger's in 1892 [cropped from a larger photo]. Thank you to Sue Bulla for sharing her family story with us, and again to Ed, Donna Maso and Joan Buday for contributions.