What's on this page:
Bicycle races in Hazleton in 1894
Local biking enthusiasm

Where to buy bicycles in the 1890s in Freeland

Associated Wheelmen and the Cycle Path Project

Associated Wheelmen of Freeland
Possible traces of old North Side path might still exist

---
Ed Merrick did most of the research for this page, finding newspaper articles dated 1894-1902 that traced the rise of bicycling and cycling clubs in Hazleton and nearby areas, including Freeland. The postcard at left shows a section of a Freeland cycle path. It's not as smooth as modern bike trails often are, but you can see that a lot of work had to be done to clear a path through the woods and make it smooth enough to use. This page gives some of the history of how bicycling came to be popular in the region in the 1890s.

August 24, 1894 – The Road Race – The Wheelmen Will Run the Road Race This Afternoon – Many Local Flyers Entered Members of the Wheel Club in Hazleton are running a first trial of the road race to Ebervale store and returning to the front of the English Lutheran church on Church Street, going to Diamond Ave., Alter St., and to Harleigh and Ebervale store, where riders will be registered by a checker before returning via the same route. "Most of the local cracks have entered and tonight's race will undoubtedly be hotly contested." 18 riders were registered for the series of 3 races, after which 2 medals would be awarded.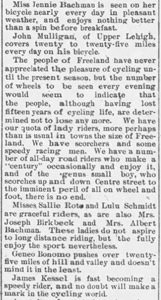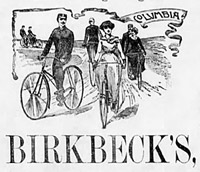 But local interest in bicycling went far beyond racing. This partial clipping from Donna Maso talks about how love of biking extended to short- and long-distance riders, male and female, as well as the ubiquitous "small boy, who scorches up and down Centre street to the imminent peril of all on wheel and foot." Just to look at one of the people mentioned in this clipping, Donna Maso's research showed that the Lulu Schmidt mentioned here was one of 5 children of Reverend John H. Schmidt and Louisa Ann Newman Schmidt; Rev. Schmidt came from Germany, lived in Altoona and then relocated to Freeland where he oversaw the building of St. Luke's Lutheran Church. His daughter Lulu worked as a Woodside teacher, a pianist and entertainer, enjoyed bicycling, and married William A. Feist, White Haven postmaster and printer.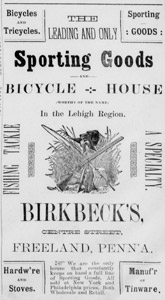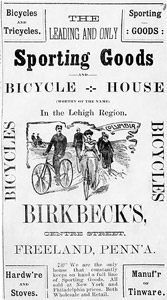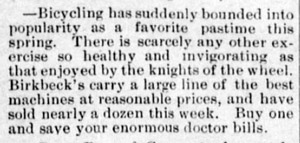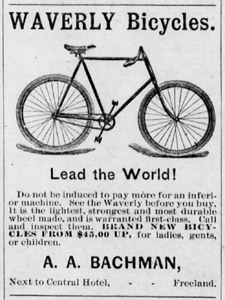 Bikes were being sold in Freeland at Birkbeck's (corner of Centre and Main, later the site of the Western Auto Store, where my bike came from in the mid-1950s - center 1891 ad at right from Ed Merrick) and at A. A. Bachman's (1895 Bachman's ad at left from Ed Merrick; later the site of Feissner's Hardware, next to Woodie's).



A March 21, 1898 article reported that the Associated Wheelmen of Hazleton and Vicinity were organized as a stock company due to the need for large contributions in order to start the work of the group, which involved making dedicated bike paths. Shares were dues-paying and non-dues-paying. "Wheelmen paying $20 get 20 shares of stock and upon payment of one dollar extra for this year's dues a decalomania badge for his wheel will be given him which will be necessary to wear on the head of his bicycle to prevent his arrest when using the private paths of the Association." Wives and daughters could also have privileges for the price of on share and one dollars dues for the year. Children under 16 could get a badge without buying stock. "Some may not approve of the plan but the visible work of the Association must be done with picks and shovels and the wheelmen must have the money to pay for it." I. P. Pardee, A. Markle and John Markle were among the members listed in 1898.


On Marc 29, 1898 the Cycle Path Project was announced. The board decided to begin work as soon as they had $1,000 in the treasury, which at present contained $800. It was estimated that $2,000 would be needed for the current year's work but that getting it started sooner would help in raising the rest of the funds. "With one thousand dollars in hand a fine road can be built from Diamond Avenue to the top of the mountain on a grade not greater than that of Broad street and then should money still be scarce the old wagon road can be put in good riding condition. An important addition to the plan was the option for interested wheelmen to pay in labor on the road rather than in cash, "so that a man who has two dollars worth of time and muscle will be just as welcome as the man with a two dollar bill." It was hoped that work could begin soon so that the road could be of use during the beautiful spring months. A local shop, The Hazleton Machinery and Supply Company, offered to everyone who bought a bicycle at retail price one share of the stock of the Hazleton organization, allowing use of the private bike paths.

In September 1898 the Associated Wheelmen of Freeland was granted a charter, organized by its board of directors: E. B. Coxe (Drifton), H. C. Koons, A. S. Oswald, F. H. Albert, G. Rippel, H. S. Hause, Joseph Birkbeck, J. C. Berner. Many well-known names at the time!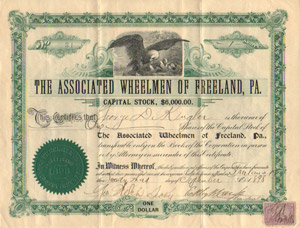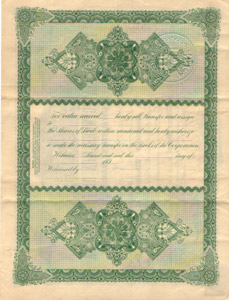 Here from Blair Varker is one of the first stock certificates for the Associated Wheelmen of Freeland from September 1898. He wrote to me in 2005, when I knew nothing about the Associated Wheelmen: My name is Blair Varker. I enjoy your Freeland Pa. web page and all the information about the town. While going through my recently deceased father's papers, I found a stock certificate from 1898 from The Associated Wheelmen Of Freeland Pa. It was made out to my grandmother's father, George Kugler, for $1. I am interested in any information you might have about the company or the Kugler name. I scanned the stock and would send you a copy if you would like it.

Blair Varker is no longer at that email address, so, Blair, if you see this page, thank you for pointing me toward this interesting part of Freeland's history!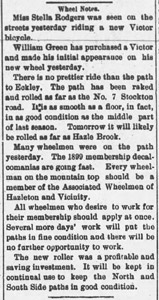 An article from April 5, 1899 documents the decision among the Hazleton group to have a 1,600 pound, 2 foot wide roller made for the maintenance of the private bike paths. By April 20th the path going from Hazleton to No. 7 Stockton had been raked and rolled and was open for use of members. The article shown here extols the benefits of membership AND mentions Miss Stella Rodgers (wheelwoman!) riding her new Victor bicycle. Also in April 1899, James McHugh, Charles Farrell and Edgar Albert were appointed by the Associated Wheelmen of Freeland to take care of bicycle path maintenance.

A few months later, in June 1899, the court appointed side-path commissioners for Luzerne County under a new act "providing for the construction and maintenance of side-paths along highways in the townships of this commonwealth for the use of bicycles and pedestrians" between 3 and 6 feet wide.

Another article from this period reports that "Contractor Freas is making good headway with the cycle path between Freeland and Sandy Run. It has been plowed and harrowed and nearly the entire length has been rolled. A representative of the TRIBUNE rode over the course yesterday and found the work to be well done so far."

In August 1899 a note in the Plain Speaker suggested that officers of the Associated Wheelmen of Hazleton & Vicinity should station an officer along the North Side bicycle path "in order to apprehend, if possible, the parties who lurk in the woods near Stockton and hold up not only pedestrians but cyclists."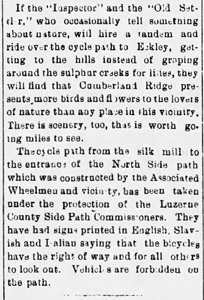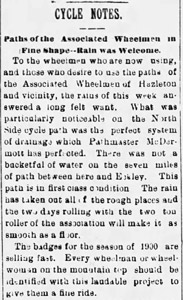 By April 1900, the Hazleton organization decided to sell the decalomanias giving use of the paths for 50 cents each for the current year. By reducing the cost of path use by 50% it was hoped that many wheelmen would take advantage of the paths. The interesting update shown at right from May 1900 gives some sense of how the paths were being used and appreciated, and about trying to maintain right of way on the paths for cyclists.

An article on May 31, 1900 announced that Judge Simonton at Harrisburg declared the bicycle sidepath law of 1899, by which all bicycles were to be taxed not more than $1 per year for the purpose of building sidepaths, to be unconstitutional. The reported added, "Local wheelmen will not regret it because they already have a system of paths unsurpassed for beauty and variety and paths along side of steep and dusty road would have no charm for them."

The last article that Ed Merrick found is from April 1902 and reported that the Associated Wheelmen of Hazleton and Vicinity had elected its new directors and their first more "will be the repair of the North Side path if the support of the wheelmen warrants it."

One day a few years ago, local historian Bob Zimmerman was kind enough to drive me around and give me narrated tours of local places. We were driving by the Crescents area (near where Carr's bottling works used to be) heading east toward White Haven, and he pointed toward what he said was the remains or at least the location of "an old bicycle path" paralleling route 940 there, on the left as you head east. Because we were on a driving tour, we didn't get out to look for it, so I don't know if there are still traces of this path there. I'm wondering where it started and how far it went, and also wondering how close it was to the road. I'm sure it's grown in by now, but maybe there is a trace there of the path that used to be there.