On related pages:
Garages - Transportation in the automotive age
---

Sometime between the publication of the Freeland directories for 1921-1922 and 1928-1929, a garage/service station was built at the southeast corner of Centre and South streets. The main research for this page was done by Ed Merrick.


1928 – Freeland Service Station, Centre and South (listed in 1928-1929 directory, I don't know when it opened or who ran it)

[____-1941] – Art Holland, service station, Centre and South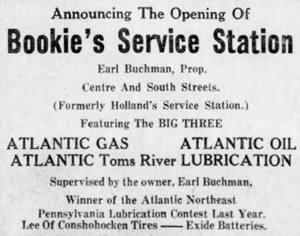 1941 – Earl "Bookie" Buchman of Upper Lehigh, Bookie's Service Station - "Earl Buchman of Upper Lehigh has taken over the Art Holland Service Station on Centre and South streets, and will assume management today. … Mr. Buchman has served as attendant at the Holland station for the past several years …" (April 1, 1941) (ad at left 1941)




1946 – James E. Lutz, Atlantic Service Station (ad at right 1946)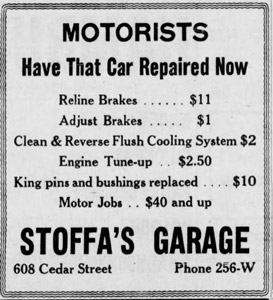 1948 – Thomas Stoffa, 608 Cedar Street, opened a garage and auto repair shop (ad at left 1948)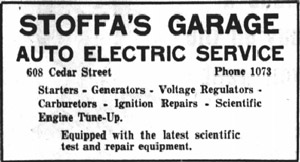 1951 – Thomas Stoffa, 608 Cedar Street, Stoffa's Garage, auto electric service (ad at right 1951)

1952 – John Butula, Jr. of McAdoo, Centre & South, operated Atlantic station before Stoffa took it over in early 1953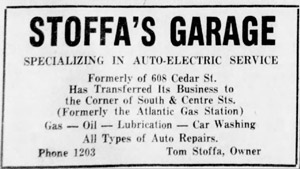 1953 – Thomas "Tom" Stoffa, Centre & South, 2-23-1953 "completed moving his business to the new Centre and South street location over the weekend." (ad at left 1953)

1953-1956 – Tom Stoffa, Centre & South – From Joe Stoffa: "If you check it out Tom Stoffa owned the Atlantic Gas Station on the corner of Centre and South Streets 1953 to 1956. He was well knowed for being a top auto mechanic in the area. Times were hard and while dad hauled stone for the PA Turnpike N.E. Extension during the day of 1953 and 1954 I ran the gas station from 7am to 6pm. I was 11 & 12 at the time. Before the gas station he ran his auto mechanic business from under our home on 608 cedar street."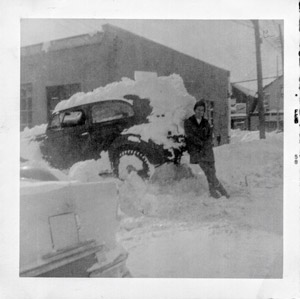 1958 [until ??] – Emil "Toots" Pollack Gas Station (don't know when it opened as his); (photo from Charlie Gallagher, who wrote:

Here's Toots Pollack's Garage in 1958. Photo from South Street looking toward Centre. Rocky Amentler's is the building on the right actoss Centre, and Lenny's Market is to its left. Bernard J. Gallagher III in the photo worked for Toots

.) – According to Pollack's 2002 obituary, he operated that gas station at Centre and South "for many years and later operated the same garage on the Freeland-Drums Highway. He was affiliated with American Automobile Association and graduated from MMI in 1945 and the General Motors Technology School."


Thank you to Ed Merrick, Joe Stoffa and Charlie Gallagher for information, to Ed Merrick for the ads, and to Charlie for the photo.