What's on this page:
20th-century cigar, cigarette and tobacco stores

Tobacco businesses listed in directories, 1900-1940

On related pages:
---

The 1958 photo at top left of Kye's Cigars came from John Zubach.


---



A steady supply of local cigars came from the Bressler factory:





Bressler Cigar Manufacturing

- Cunnius and Foster Sts. - Miles Bressler - "For REAL enjoyment, smoke El Rector, a mild Havana blend, strictly hand made; a ripened product of 25 years' mfg." (1923 ad) - "Try one of the new brand cigars named after "Freeland" (1924 ad) - "Here's a real smoke that is helping to boost Freeland! El Rector 10c cigar (from Charlie Stumf, 1920s ad) - More information on Cigar Manufacturers page.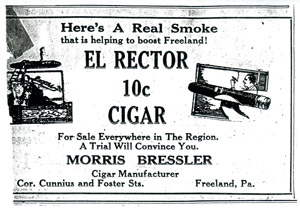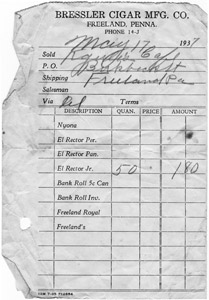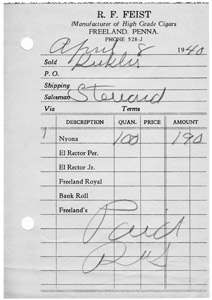 This undated ad for Bressler's El Rector cigars came from Charlie Stumpf.


The 1937 receipt for cigars still has the Bressler billhead, although Bressler died in 1928; by 1940 the bills have Russell Feist's billhead. Both came from Bill Kuklis -- more Kuklis bar receipts are on the page about Kuklis' Cafe.


---

Here are a few 20th-century tobacco sellers. More will be added as they're identified. Thanks to Ed Merrick for 1940 census notes, and to the late Ann Swankowski for the info on her dad's cigar store. Please send corrections and additions to this list!

Chonko's Cigars - 336 Centre St., between Carbon & Luzerne Streets (George "Happy" Chonko, proprietor)

Feist Cigars - 929 Washington St. (Russell Feist, proprietor), cigar maker, own place (age 45 in 1940 Census)



Kye's Cigars -

330 Centre (John "Kye" Kasarda, proprietor; after 1959, George Chonko) - see 1958 photo at top left of page -

(

From Bill Feissner:

I was looking at the pool room page and fail to see any mention of the one on lower Centre St. It was called Ky's, not sure of the spelling. He was an old gent that mostly sat behind the counter. In the back there was one pool table and a card table. Later he passed away and the building and business was bought by George (Happy) and Anna Chonko, who continued to operate the business. Happy also did plumbing work.)





Anthony Kuklis

- Birkbeck St. - Cigars, candy, soft drinks, Birkbeck St. (from Billy Kuklis, 1932 FPD Ball program)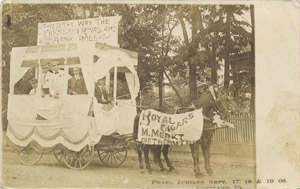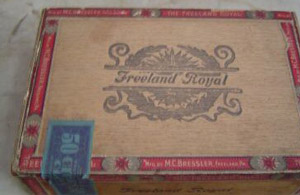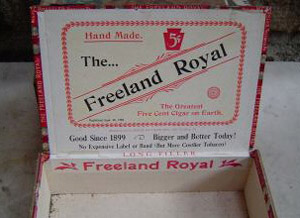 Merkt Confectionery

- Centre St. (Michael "Charley" Merkt, proprietor) - Merkt's was one of the places selling Bressler's Freeland Royals, advertised on the Merkt parade float. Also, two views of a Freeland Royals ("Good since 1899") cigarbox.

Myers Cigars - 436 Centre Street (John Myers, proprietor) - with Tom Bzdil? - cigar store (age 41 in 1940 Census)



Novak's Cigar Store

- 512 Centre St. (1924 ad)

Timesquare - Centre St., near the Borough Building (Vic Piazzi, proprietor) (From Ann Swankowski: Getting to my father's store. I believe he opened it in the early forties. It was called TIMESQUARE. It was originally located below Joe Rish's Barber shop and the Daddy purchased the building on the corner, directly across from the ELKS. He had the store downstairs and made an apt. upstairs for his brother and his wife. The store was a great hangout for all the men. He sold candy and cigars, but it was known as a cigar store, so whatever else they sold I really don't remember. They did a lot of politicking there and when television first came out he had one in the window. People would go uptown and stand outside to watch TV. As far as I remember it was a popular place and a great hangout. It was not open during the day. Daddy was paymaster at Jeddo Highland Coal Co. He would open up after he had his supper until about midnight.)


Toney's Smoke Shop

- Centre St., next to Citizens Bank (Anthony Dinovic, proprietor) - Cigars, billiards and smokers' supplies (misspelled Divovic in this 1927 ad from Ed Merrick)







---



Tobacco businesses listed in directories and maps, 1900-1940





1900-1901 city directory




In business listings:


Bockowiski, C. C., cigar manufacturer
Kushnerick Brothers, wholesale and retail dealers in confectionery and cigars, 134 Centre
Leichtman, M., confectionery and cigars, Centre
Merkt, M., cigars, fruits, candies, pipes, etc. (wholesale and retail), 19 Centre
Nutze, S., cigar manufacturer, Centre
Schach, Anton, confectionery and cigars, 30 Centre



1917 telephone directory




In general listings:


Leppler, A., Cigars & Confectionery - 710 Centre



1921-22 city directory




In business listings:


Bressler, Miles C., cigar manufacturer, 1106 Cunnius
Merkt, Michael, cigars and tobacco – wholesale, 706 Centre
Kisner, Jesse E., cigars and tobacco – retail, 710 Centre
Kusmider, Charles K., cigars and tobacco – retail, 600 Centre
Learn, Charles, cigars and tobacco – retail, 606-630 Centre
Novak, John, cigars and tobacco – retail, 512 Centre
Senick, Joseph, cigars and tobacco – retail, 319 Centre
Zurko, Andrew, cigars and tobacco – retail, 319 Centre



1923 Sanborn Fire Insurance Co. map


M. C. Bressler, Cigar Factory



1928-29 city directory




In business listings:


Bressler, Miles C., cigar manufacturer, 1106 Cunnius
Paris Wholesale Candies, cigars and tobacco – wholesale, 716 Ridge
Danko, Geo. S., Jr., cigars and tobacco – retail, 827 South
Gallagher, Daniel S., cigars and tobacco – retail, 542 Center
Lechman, Peter, cigars and tobacco – retail, 418 Center
Morgan, Edgar A., cigars and tobacco – retail, 605 Center
Novak, John, cigars and tobacco – retail, 512 Center
Novitsky, Anthony, cigars and tobacco – retail, 341 Center
Polcha, Andrew, cigars and tobacco – retail, 833 South
Senick, Joseph, cigars and tobacco – retail, 319 Center
Wursta, John, cigars and tobacco – retail, 451 Ridge



1929 Sanborn Fire Insurance Co. map


M. C. Bressler, Cigar Factory



1940 city directory




In business listings:


Feist, Russell F., cigar manufacturer, 1106 Cunnius
Brislin, Jno., cigars and tobacco, 338 Centre
Kanyak, Jos., cigars and tobacco, 305 Centre
Kasarda, Jno. - 330 Centre (John "Kye" Kasarda, proprietor; after 1959, George Chonko)
Yefchak, Geo., cigars and tobacco, 616 Centre