What's on this page:
Brief history of Kuklis' Cafe

Clickable samples of Kuklis' Cafe bills and paperwork

---

From Billy Kuklis:
The history about my dad's bar. My Grandfather (Anthony) and Grandmother (Catherine) Kuklis started the bar on Birkbeck Street sometime in the early 1930's. My grandfather died in 1935 and my Grandmother ran the bar with the help of my father until 1965 when my Grandmother died. Then my father (William) and my Mother (Lucy) operated the bar until 1987 when my dad died and the bar was then closed for good. The bar was a small friendly neighborhood gathering place where everyone knew everyone and they got together to chat about what was going on around town. It had two rooms. The first room is where the bar was located; it had eight bar stools, a large card table with chairs and two small card tables with chairs. The second room had a dining room table with chairs, and two small card tables with chairs.

The Kuklis Bar was the first bar in Freeland to have a Color TV. My Uncle John worked for RCA in New Jersey in the late 1950's and purchased one for the bar in 1958 or 1959. We also had a large antenna on our roof to get the New York and Philadelphia channels years before cable.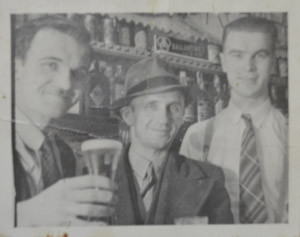 From Billy Kuklis: "The picture was taken in Kuklis bar in 1938 or 1939 per the writing on the back of the photo. My Uncle George Kuklis on the left and my dad William Kuklis on the right I don't know the person in the middle of the picture."

What follows are an assortment of bills and paperwork of various kinds from the mid-20th century, showing what kinds of purchases the Kuklises made in order to stock and operate their bar. Fascinating to see what they were stocking for their customers, and some of the people/companies they were doing business with. Thank you to Billy Kuklis for sharing this behind-the-scenes view of his family's bar with us.




---

Beer bills: Freeland Brewing Co. (3), Kehoe-Tilinski Brewing Co., A. M. Belekanich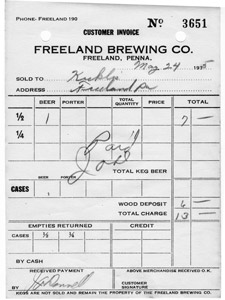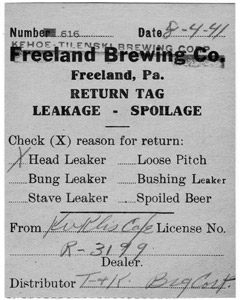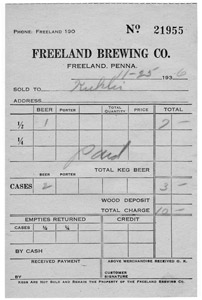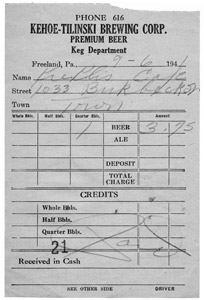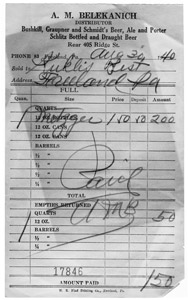 ---

Beer bills: A. M. Belekanich, Yori's (2), Mattavi Bros. (2)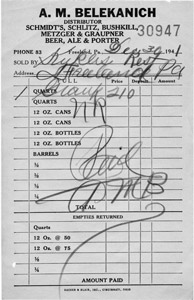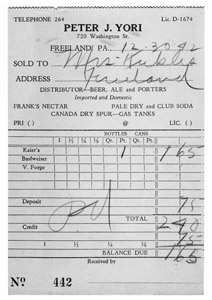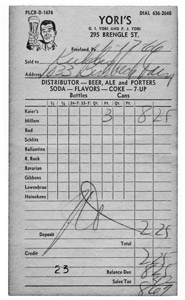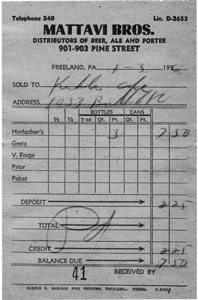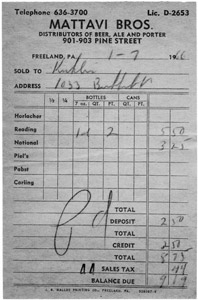 ---

Cigar bills: Bressler and Feist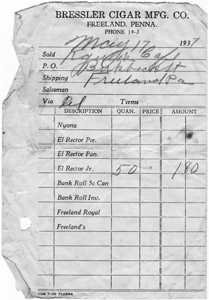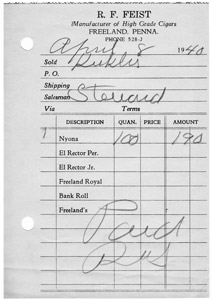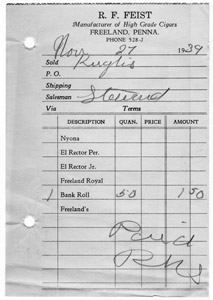 ---

Food and dairy bills: Branz (2), Mercearia Portugueza, Glen Almus Dairy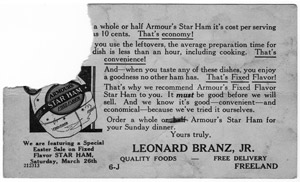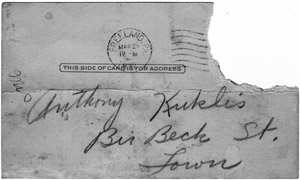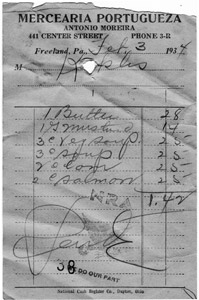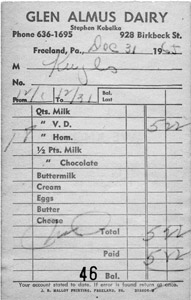 ---

Food and dairy bills: Sharp's Bakery, Rex Wholesale Confectionery (2)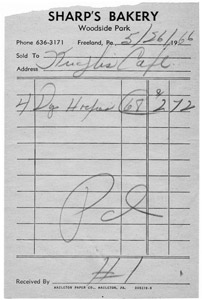 ---

Soda bills: Standard, S&S and Carr's Bottling Works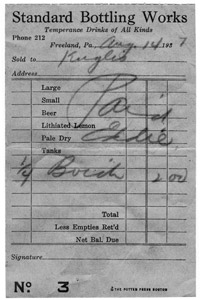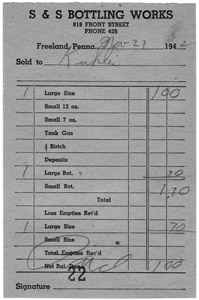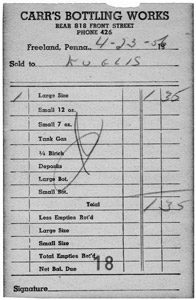 ---

Coal bills: Sandy Run and Jeddo-Highland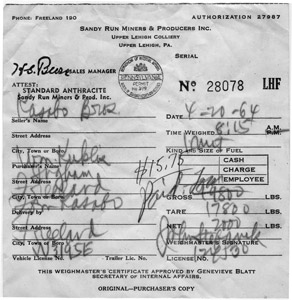 ---

Utility and other bills: Nemo's, Ira Berger & Sons, Freeland Water Co. (2), Standard Sentinel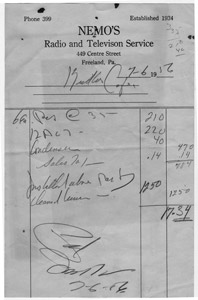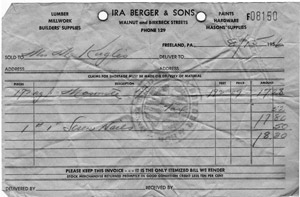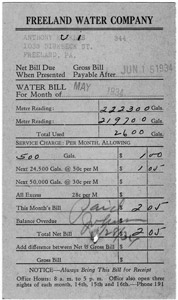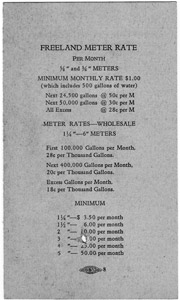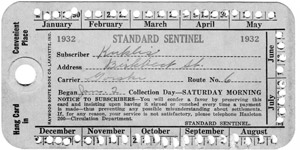 ---

Legal paperwork for the bar: U.S. Second Liberty Loan of 1917, Luzerne County Beverage License, Luzerne County tax receipt, Charles Wolf insurance bill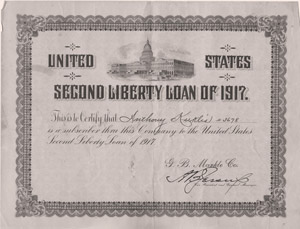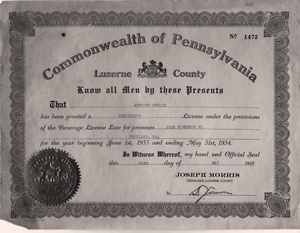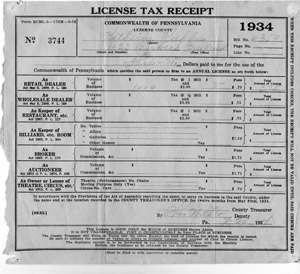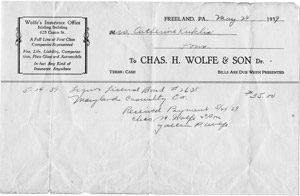 ---

Legal paperwork for the bar: IRS liquor special tax stamp coupons, Freeland tax collector's notice (front and back)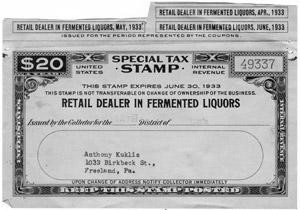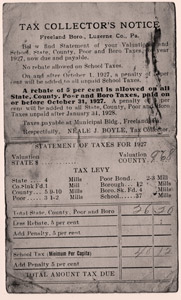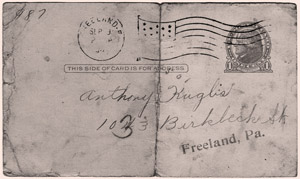 ---