What's on this page:
Images from previous century
1873 map of the area
On related pages:
---

This is an early 20th century view of Drums, from a postcard postmarked 1908.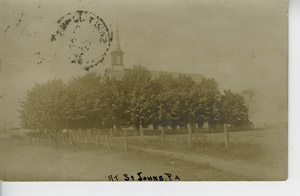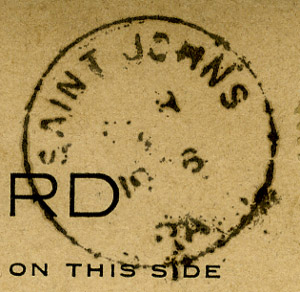 This postcard showing a church surrounded by trees and a fence is hand-labeled "At St Johns, Pa" and was postmarked in 1908. At lower left there is a horse-drawn wagon parked. If anyone can tell us anything about this view, please share.








This early view of Hughesville, later renamed St. Johns, comes from Munsell's History of Luzerne, Lackawanna and Wyoming Counties, Pa. (1880). It includes portraits of George Hughes (for whom Hughesville was named) and his wife, and also shows St. John's church (for which the town would eventually be renamed).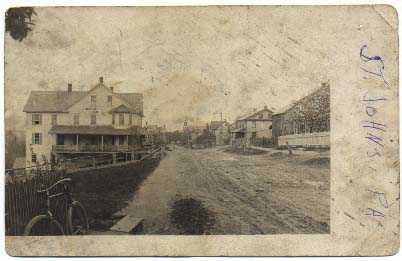 This photo postcard shows the Hotel Eroh at left and a church, presumably St. John's? The steeple appears to be identical to that in the early view of Hughesville, above. In this photo the street has not yet been paved. Someone has written "St. Johns, PA" along the right side of the card. This card comes to us courtesy of John Zubach.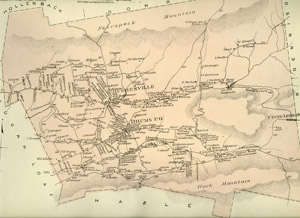 Here's the map of Butler Township that appears in D. G. Beers' Atlas of Luzerne County, Pennsylvania (1873). Familiar sights noted include Drums, Hughesville, the Nescopeck Creek, Hell's Kitchen, Upper Lehigh, the Honey Hole, and Nescopeck and Buck Mountain.