What's new on this page:
On related pages:
---

For some time I've been wanting to make a web page about products that were developed in Freeland or in the nearby Freeland area. How to define this category -- from such products range from the items shown here that were packaged and labeled as coming from Freeland but likely sold beyond the Freeland area (including alcoholic and non-alcoholic drinks bottled locally), to items created in Freeland and sold directly in Freeland but not necessarily packaged/labeled to be sold from store shelves (Andy Hasara's kielbasa, Barb Haraschak's custom clothing, etc.).

I don't have much information for this page yet, but I thought that maybe people would be interested to see these few items. I'm looking for more information about these products, and for suggestions of more local products. If you can help, please let me know. Thanks!


---
J. E. WILLIAMS & CO., PERFUME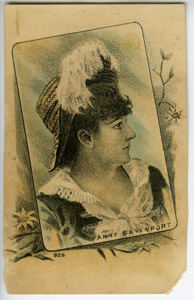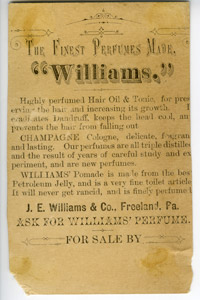 I was fortunate to find and buy this ad card on eBay for a business I hadn't heard of before: J. E. Williams & Co., Freeland, Pa., Perfume. The undated card advertises "The Finest Perfumes Made," with a portrait of popular actress Fanny Davenport on the front. It describes Williams' perfumed hair oil and tonic, cologne, pomade. I have not yet found J. E. Williams in any directories, and so I don't know the full name of J. E. Williams or the location of this business. If you know, please email me!






---

KA-DO SOAP – KA-DO SOAP WORKS, FREELAND, PA.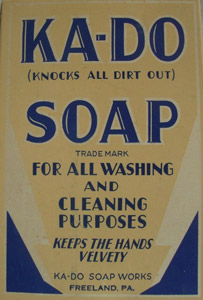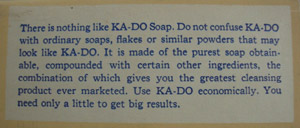 "KA-DO Soap (Knocks All Dirt Out). For All Washing And Cleaning Purposes. Keeps The Hands Velvety. Ka-Do Soap Works. Freeland, Pa." Probably made in 1930s-1940s, but I don't really know. At present, a mystery – can anyone tell me who made this soap, where it was made, and when? I've got an empty Ka-Do box but it just doesn't answer those questions!


---

FREELAND STOVE ENAMEL – FREELAND H. C. PAINT CO., FREELAND, PENNA.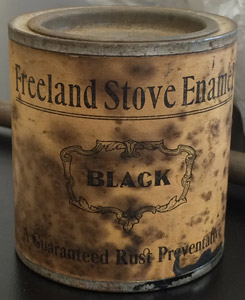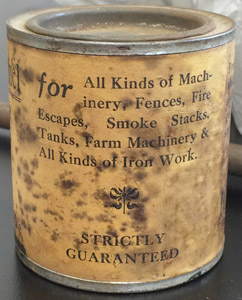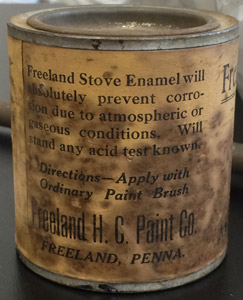 This item comes from Jim Etheredge, who kindly allowed me to photograph it. Charlie Gallagher later kindly sent some information about the product and the business, and I found some mentions of the company in 1920s Freeland directories.

From the can label: For All Kinds of Machinery, Fences, Fire Escapes, Smoke Stacks, Tanks, Farm Machinery & All Kinds of Iron Work. Freeland Stove Enamel will absolutely prevent corrosion due to atmospheric or gaseous conditions. Will stand any acid test known. Directions – Apply with Ordinary Paint Brush.



From Jim Etheredge:

… I will say that I believed the can to be 1930's maybe, but I'm no expert in those types of containers

.



About Carbon black, Charlie Gallagher wrote:

I think the high carbon means a high carbon content in the paint. Carbon black is the mineral ingredient used in black paint. Carbon black is also used in rubber to make tires. It gives them the color and makes the rubber stronger and more durable.



Thanks to information at several websites that Charlie sent me links for, I see that it's a substance that is produced through the incomplete combustion of heavy petroleum products, including coal tar and vegetable matter. In addition to its uses in tires and rubber products, it's also used in paints, among other products. Its characteristics led to its use as an anti-corrosive surface coating on corrosion-prone metals, acting as a barrier against environmental conditions. So, it was perfect for stove enamel!

About the company: Charlie Gallagher searched the Pennsylvania government site on corporations and found that the Freeland High Carbon Paint Company was listed from June 13, 1925, with a Johnson Street address and William Birkbeck listed as the owner. Although the company was already listed several years earlier in local directories, apparently Birkbeck didn't register it with the state until mid-1925.

The Freeland directory of 1921-1922 has this listing and ad:
Freeland High Carbon Paint Co, Wm Birkbeck prop, Works Schwabe, Office Birkbeck Bldg

The Freeland directory of 1928-1929 has this listing:
Freeland High Carbon Paint Co (Andrew Sholtis), 726 Schwabe

So Jim's stove enamel can could have come from the 1920s or perhaps even the early 1930s, depending on how long that business continued.

Thank you to Jim Etheredge for this interesting example of Freeland enterprise, and to Charlie Gallagher for supporting information.


---

ALL-PLUS, THE SCIENTIFIC SURE SOLDER FOR LEAKS IN RADIATORS AND CRACKED BLOCKS. – H. J. CHEMICAL COMPANY, FREELAND, PA.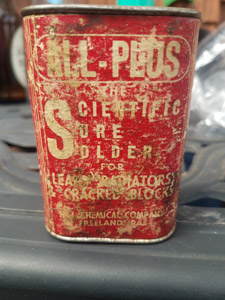 Tom Yaruso sent these photos.



From the can label:

ALL-PLUS. The Scientific Sure Solder for Leaky Radiators & Cracked Blocks. H. J. Chemical Company, Freeland, Pa.
[from back of the can] … All-Plus is a special preparation of _____ metals and non-metals. It stops and [repairs?] leaks in radiators, engine blocks, ______. There is no clogging and will neither crack nor corrode metal or rubber _____.
It functions successfully with all anti-freeze solutions.





From Tom Yaruso:

I worked for "Pappy" Halko … he was our science teacher at Foster Township high school; I worked for him 2 to 3 nights a week at the H.J. CHEMICAL COMPANY, it was in his big shed in his yard on Center Street going north, a few houses before M.M.I. I have in front of me a can of his ALL-PLUS, THE SCIENTIFIC SURE SOLDER FOR LEAKES IN RADIATORS AND CRACKED BLOCKS. His other product was RUBBER BUFF for patching tires; its been almost 50 years and I can remember filling 1 qt. cans of rubber buff by hand pumping out of 55 gal. drums. I am sure some of the oldtimers will remember him.





From Kathleen Halko Gallagher:

I was surfing the net looking for information on my father, John J. Halko, Sr. He taught school at Foster Township High School, we lived at 117 Centre Street, Freeland, PA and owned and operated H. J. Chemical Company, producing automotive associated products, which products were manufactured in the family garage located on the property.





We moved to Delaware about 1955 and my father started a business around 1960 called, Freeland Chemical Company, 1605 McArthur Drive, Greater Wilmington Airport, New Castle, DE, where we sold automotive associated products. He had an exclusive contract with Technical Rubber Company, Johnstown, OH, were he sold his patented product, named Rubber Buffer, a solution that you would wipe on a tire before applying a patch to the tire, instead of using a buffing stick to make the patch adhere. Dad went on to create another patented product called Rubber Lube which was used to mount and de-mount automotive, tractor and airplane tires. He had testimonials to prove that a person could remove a tire from its rim simply by swabbing the solution on the edge of the rim. He continued to manufacture the radiator stop leak, he also invented another product called Pen-O which was an excellent general purpose penetrating oil for mechanics and also as household lubricant. I had worked for my father for 17 years at Freeland Chemical Company, prior to his retirement at the age of 91. Daddy passed on July 7, 1986.



Thank you to Tom Yaruso and Kathleen Halko Gallagher for sharing memories, information and photos.


---

THE S & S BOTTLING CO., FREELAND, PA.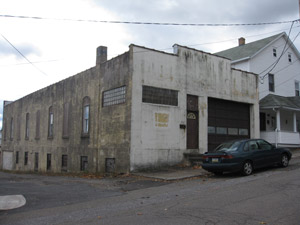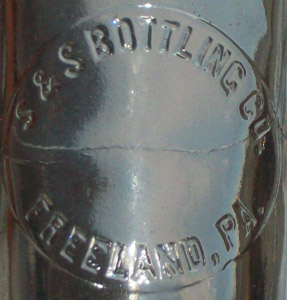 S. & S. Bottling Co. was founded in 1938 by Stephen Shimko & Stephen Saylor, at which time it was the only soft drink company in Freeland. In the 1940 Freeland directory their bottling works is listed at rear 412 Washington Street. In July 1940 they moved to 818 Front Street, the old Washington Silk mill (behind the First National Bank), where they installed complete new washing and filling equipment, and planned to install a large refrigeration unit. I don't know whether they also bottled beverages from other companies or if they only made their own soda.

On May 31, 1944 the Standard Speaker reported that George Woodring bought the S. & S. bottling plant from Shimko, noting that Woodring was one of the first mail carriers in Freeland, having begun work with the post office when delivery service was first instituted in town. Six months later on December 14, 1944 the Standard Speaker reported that Russell Feist, who a few years before took over operation of the Freeland Cigar company at Cunnius and Foster streets, had moved his machinery and equipment from that factory building "to the former Washington Silk Mill property on Front street, which he purchased several months ago." The same article noted that "The S. & S. Bottling Co., which was formerly located in the mill building, moved several weeks ago to the bake shop property formerly operated by the Fox bakery at the rear of Centre street, between Main and Front streets."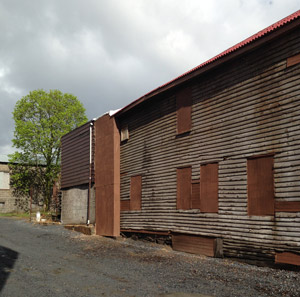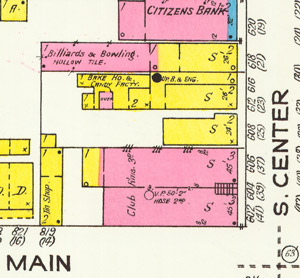 S. & S. might have moved to that Fox Bakery building at 612 Centre next to Seitzinger's Drug Store (side of the Fox building shown here soon after demolition of Seitzinger's building, and shown on the 1923 Sanborn map), but it doesn't sound like it stayed there. S. & S. was listed at 818 Front street in the 1941, 1948 and 1949 phone books. In the 1948 phone book George Woodring was listed as bottling there at 818 Front. Listed as S&S Beverages, George A. Woodring, proprietor in the 1947-1948 Minamek yearbook (from Ed Merrick, from Don Snyder's copy)





From Eddie Barna:

In the late 40's and early 50' S & S was located in the building directly behind the Citizens Bank. As little kids, we would hang around there and occasionally get samples from the workers. The building is still there and is an auto repair shop. The name of that auto repair shop is "MIAMEE'S". It's been there for some years.


---
BEGINNING OF CARR'S BOTTLING WORKS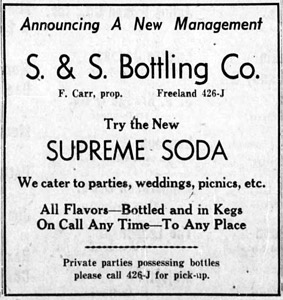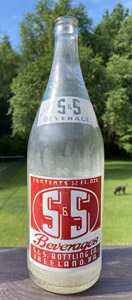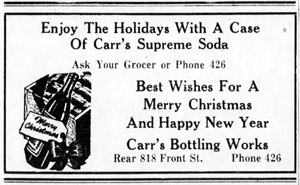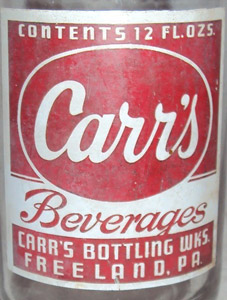 However, this June 12, 1948 ad shows S. & S. newly under F. Carr's management, and the 1950 ad shows Carr's Bottling Works at 818 Front. Carr's was also listed there in the 1952 and 1957 phone books, before they moved out to the 940 crossroads toward White Haven and Sandy Run. So it's been interesting to see how S & S Bottling Co. came into being, changed along the way, and was eventually succeeded by Carr's Bottling Works.



From Eddie Barna:

In the late 40's and early 50' S & S was located in the building directly behind the Citizens Bank. As little kids, we would hang around there and occasionally get samples from the workers. The building is still there and is an auto repair shop. The name of that auto repair shop is "MIAMEE'S". It's been there for some years.



Thanks to Charlie Gallagher for the photo of the former Fox Bakery building at 612 Centre, to Tim Matushoneck for the photo of an S. and S. bottle with red and white label, and to Eddie Barna for his memory of the S and S free samples and for the information about who's in that building now.