What's on this page:


>>> Newest site updates <<<
20th anniversary of this Freeland history website
Northeast Pennsylvania Genealogical Society (NEPGS) MOVING TO WILKES BARRE

Freeland's Roman Catholic churches' records have been digitized by NEPGS


Freeland Tribune

newspapers (1889-1903) available online at the Library of Congress
Thesis about Ralph Pecora's Tailor Shop
Links to past Featured Photos

---
>>> Newest site updates <<<

September 25, 2020
New Upper Lehigh schools page and an expanded Upper Lehigh page.

September 20, 2020
Expanded page on Billiard parlors and pool halls. MMI-related photo added to the Birkbeck building page. Rialto photo added to the Strand theatre page.

September 15, 2020
Photos of high school students, 1940s.

September 13, 2020
Lyric movie poster added to the Theaters page.

September 12, 2020
New pages:
Strand Theatre
Refowich Theatre
Boxing in Freeland

September 9, 2020
Page for Freeland's new ambulance in 1954 renamed Freeland's ambulance service and a photo/caption added for new Ambulance Association Corps, 1957.

September 6, 2020
New page made for Charles Maso. New pages made to relocate past Featured Photos content to other parts of the website:
Influenza epidemic of 1918
Gallagher - Brogan reunions in 1935 and 1941
Views from around town in 1966
A conversation about steeples on the Washington Hotel and the Borough Building
Mulhearn building on south Centre St.
Birkbeck building at Centre and Main

September 5, 2020
New pages for Sons of Italy in Freeland and for Benjamin F. Davis. New Featured Photos on home page from Valerie Bedard.

August 30, 2020
Billiard parlors and pool halls page and the old Parks, picnic grounds, recreation page have been added to the Sports section. A few more physicians were added to the Physicians page.

August 24, 2020
Updates made to these pages: Eckley and Upper Lehigh bus schedules added to Transportation companies page; ads for Bernard Gallagher and John "Nemo" Nemish, plus article about Nemo, added to Decor, furnishings, appliances page; more attorneys, plus photo of M. S. DePierro, added to Attorneys page; Gyp's ad added to General stores page; more information and images about Fairchild's Luncheonette and Woodie's added to Restaurants page. Find those pages here.

August 16, 2020
New Business section being uploaded.

July 27, 2020
Information added to these pages: Cheerleaders and majorettes (IDs for last 1940s photo), Joe Ranieri (photos of St. John's Nepomucene and St. Luke's churches aded), Christian Holiness church (changes to first paragraph).

June 14, 2020
St. Anthony's Church page expanded and updated.

June 9, 2020
New featured photos added to the home page about the banner of the Freeland Lodge #878 of the Sons of Italy.

May 25, 2020
Beth Sholom page updated with full copy of Dedication booklet.
Program for 1937 of new Post Office added.
Freeland Softball League documents from 1946-1949 added to Other Sports page.
School play and/or Commencement programs added to list on Schools page for Freeland High pages for 1946, 1951 and 1952 and MMI pages for 1946 and 1948.
Map crops for Centre and Front street business area from 1895, 1900, 1905, 1912 and 1923 were added to the page on Address numbering so that you can compare them when trying to find an address location.

May 24, 2020
Home page updated with links to various themes associated with the Military for Memorial Day.
Military page updated with photos of the Public Park Veterans Memorial from the 1960s and the Coxe Memorial at the Freeland Cemetery.
Basketball page updated to include a photo and text from Steve Mischissen, scroll to 1938 on that page.

May 17, 2020
Newly reorganized 20th-century business pages updated to include 1912 telephone directory listings.

May 9, 2020
Newly reorganized 20th-century business pages posted,

now expanded to 47 pages

. Update made to Opera Houses page.

February 23, 2020
Correction made to the Saving Your History page; information about meat hooks added to the Merrick and Gabuzda grocery pages; more added to the Ice Sellers page.

New pages added:
Sharp's Bakery
Freeland fire preparedness notes on Sanborn maps
Freeland Chamber of Commerce Annual Fashion and Appliances Show, 1950
1897 leading business houses of Freeland - Freeland Tribune, December 1897
Address numbering changes in Freeland

December 31, 2019
Info about the WWI Memorial Grove at FHS added to home page, and a page made for this also. Two new photos of FFD firetrucks from 1961 added to Municipal page. Names of Sesquicentennial Celebration committee added.
New pages added:
Ice sellers and companies
WWI Memorial Grove at FHS
A&P fire of 1974
First house built in Freeland

November 3, 2019
Two new photos of the old Upper Lehigh Honor Roll added, from Darlene Miller.

October 6, 2019
New page made for Patrick J. Gallagher.

October 5, 2019
Home page updated with two new featured articles by Joan Killian Gallagher about recovering and restoring her family homestead in Ireland, and a talk she gave about a scholarship to Notre Dame that she and her brothers established in memory of their grandfather, Thomas F. Gallather, Sr.


Numerous other additions and updates were made:


Photo of Eddie Gabuzda working at dad's store added to Eddie Gabuzda Orchestra page.
Two photos added to Gabuzda Brothers page: Eddie Gabuzda working at dad's store, and article about 60 steer received at the Gabuzda farm.
New page for Mamie Boyle, local teacher, linked on People and Schools pages.
Photo of MMI's interim location in the Birkbeck building added to School pictures page.
Four photos from Ed Merrick's First Communion and Confirmation added to St. Casimir's page.
New page for Pat Re's memories of growing up in a Highland company house, linked on a new Highland page (in progress); Highland page linked on Nearby towns page.
New page for Tom Yaruso's views of Highland from yesteryear, linked on a new Highland page (in progress).
New pages for FHS classes of 1936, 1938 and 1953 linked on Schools page.
Updates made to recent and less recent featured photos pages.

September 2, 2019
Home page updated with a new featured photo of Edward Gabuzda's big band; a page was also created for Eddie Gabuzda and his Orchestra. The introductory splash page and home page were also updated for 20th anniversary of this website, and an announcement was added for the 9/14/19 Open House of the Freeland Historical Society.

August 17-18, 2019
Home page updated with new featured photos -- Mamie Boyle, local teacher -- from Eleanor Boyle Duckett. Pat Re's reminiscences of growing up in Highland have been moved to the most recent featured photos page. Photo showing a group of students at St. Ann's school in Woodside in 1912, from Eleanor Boyle Duckett, also added to the page showing student group photos.

July 27, 2019
Silk mills page added under Factories in the 30th-century Businesses section; three Past Featured Photos pages updated.

July 20, 2019
Numerous small corrections and additions made:
19th- and early 20th-century businesses (corrected link to ads from 4-21-1882 Freeland Progress)
19th-century restaurants and cafes (corrected DePierro text)
Post offices (added postal workers listed in 1940 census)
Basketball (info added for 1930s Silvio Maso photo by Karl Krone, and for 1931-1932 Frank Balon photo by Eleanor Boyle Duckett)
Football (info added for FHS 1934 team by Eleanor Boyle Duckett, and for Beth Learn 1932 or 1933 photo by Karl Krone)
Churches and places of worship (updated St. Mary's Byzantine Catholic Church link)
Past featured photos page 2 (last entry about mystery factory - corrections in the DiSpirito and Ambra paragraphs)
Recreation (park behind FHS added by Karl Krone)
Businesses in the 1900-1901 city directory (correction to Bertie the Barber)
Businesses in the 1921-1922 city directory (correction to Mellet the Meat Man)
Grocery stores etc. (updated info on Krone's store, also Hoffman/Huffman spelling)

June 16, 2019
Added to Featured Photos, a piece by Pat Re on growing up in a Highland company house.

May 27, 2019
On Memorial Day, a note about that holiday added to home page, along with new featured photos of five Freeland silk mill locations.

March 27, 2019
A new page for St. Mary's Byzantine Catholic Church was added, under Churches.

March 26, 2019
A new page for St. Ann's Church was added, under Churches. A photo of the Freeland Shirt Company Annex from 1929 was added to the Factories page.

March 24, 2019
New pages were added for St. Anthony's, St. John Nepumucene's, and St. Casimir's churches, linked under Churches. A new page was made for Big Joe Ranieri.

March 23, 2019
Entertainment page reorganized, and with pages for Theaters, Opera houses, and Dances and balls. Saloons page also reorganized, in the Businesses section. Identifications added for St. Ann's 1932 graduating class on the Gallery of student class photos page. Two new pages linked from the Factories page in the Businesses section. A new Freeland Hall page was added to the Buildings section.

March 16, 2019
New page made listing Freeland area businesses and professionals listed in the 1917 Scranton telephone directory.

March 13, 2019
Pages about Franklin N. Becker added to Mines and People sections. Pages added under Schools for MMI 1949 and 1950. Pages were added to the Municipal page showing photos of fire trucks from the 1920s, 1960s and 1980s.


---
Celebrating 20 years of this website
When I started this website 20 years ago, it was a simple thing with maybe a dozen or so pages, no pictures. It was just part of my personal website. I remember just being excited to share online the names of people and businesses listed in some early directories (found at the Hazleton public library on microfilm), along with a list of businesses that my brother Steve and I had put together during a road trip as we tried to come up with the names of every business we could remember from the 1950s and 1960s. That was the site. Here's what it looked like: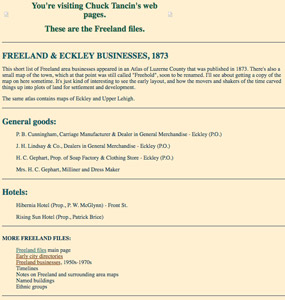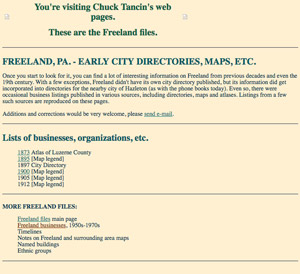 A year later I upgraded the site (still no pictures, though). In the late 1990s I had found Sanborn Fire Insurance maps of Freeland in microfilm at Carnegie Mellon, where I work, and I was ASTOUNDED that there were old maps of Freeland that actually showed every building, with their addresses. Not only that, a few of them also labeled most of the businesses by type of business (Hdwr., Sal., Confect., etc.). How completely amazing that these existed! I remember printing them out section by section on regular typing paper and taping them together, then taking those to Charlie Stumpf and Charlie Reczkowski to share with them (imagine them spread out sheet by sheet on the Corner Store's butcher table in the back room). So exciting!!! Sometime in the early 2000s I purchased digital copies, and my paper copies are now at the Freeland Historical Society. Anyway, here's what the September 2000 site upgrade looked like: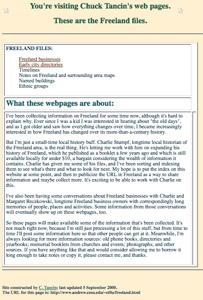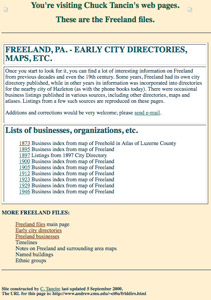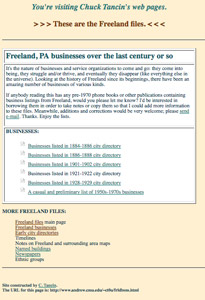 Later it stopped being just part of my personal website and became its own thing, with pictures and sections and the various features it has today. I'm so happy that this site continues to be a good way to share photos and information with anyone who has an interest. Many people have found references to their relatives here, and sent me images and information to share with others. Thank you to everyone who has contributed photos and information to the site (with special thanks to Ed Merrick and Charlie Gallagher), and to everyone who visits it. If you have something you would like to share online about Freeland area history, please consider sharing it here. And if you have some items relating to Freeland area history that you would like to have saved/kept, please consider giving them to the Freeland Historial Society. Thank you!!!


---
Freeland's past/present Roman Catholic churches' records now digitized by NEPGS
NEPGS HAS MOVED TO WILKES BARRE.


NEPGS headquarters located at:
Angeline Elizabeth Kirby Memorial Health Center, Annex II
57 North Franklin St.
Wilkes-Barre, PA 18701

Hours: Wednesdays and Thursdays, 11 a.m. - 4 p.m.
Phone: 570-829-1765


The Northeast Pennsylvania Genealogical Society, Inc. (NEPGS) in partnership with the Diocese of Scranton is digitizing parish records in eleven Pennsylvania counties, including Luzerne.

The project, which began in May 2016, reached a milestone in January 2017 with 100 parishes completed.

Freeland's Roman Catholic parish records are all digitized, including: Immaculate Conception/Freeland Catholic Community, Immaculate Conception Church - Eckley, St. Ann Church in both Woodside and Freeland, St. Anthony Church, St. Casimir Church and St. John Nepomucene Church.

It's important to know that NEPGS has a strict privacy policy for public access to the Catholic records:
Sacramental Records relating to events 70 or more years old shall be accessible to members and patrons of NEPGS, consistent with NEPGS Library Policies.
Sacramental Records relating to events less than 70 years old shall be sequestered and shall not be available to be accessed by members or patrons of NEPGS until such time as the record become 70 years old.
NEPGS removes from the accessible records, all references to adoptions which occurred after January 1, 1926, which is the effective date when civil adoption records were sealed in the Commonwealth of Pennsylvania.
The church records are only available on the NEPGS in-house network. The records are not available online.
NEPGS is an all-volunteer 501c3 nonprofit organization and is open to the public.
When you visit the society, volunteer staff can answer questions about the use of the Digital Collections.
For those who are unable to visit in person, research services are available at reasonable rates. Memberships are also available.

Note for visitors: Non-members are required to pay a $15.00 day pass prior to admission. An enhanced day pass for $25 also provides access to the NEPGS library. All members/patrons are required to sign the NEPGS Library Policy. Cameras and flash drives are prohibited.

Please check out https://nepgs.com for the latest information.
---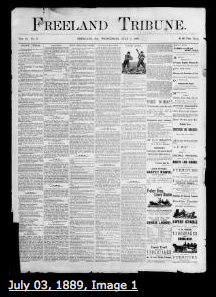 Freeland Tribune 1889-1903 now online.
There are now about 14 years' worth of

Freeland Tribune

newspapers (1889-1903) available online at the Library of Congress Chronicling America site. This represents 3 of the 14 reels of microfilm that were made from 35 years' worth of early Freeland newspapers owned by MMI Preparatory School. The microfilm for all of them is available for consultation at the Hazleton Area Public Library, and now part of it is also accessible online. Yay! Many thanks to the Hazleton Area Public Library, MMI Preparatory School, Penn State, and to all of those who contributed funds and those who have been otherwise involved in making this project a reality.



---
Thesis about Ralph Pecora's Tailor Shop
All of our featured photos have been wonderful, and this month we've got something extra special. Emily Pecora has recently completed a Masters Thesis about the tailoring business of Ralph Pecora, Sr., which stood on Freeland's Centre Street from the early 1900s until Ralph's death in 1959. While the thesis will be of particular interest to those who knew Ralph or other members of the Pecora family, it should have a larger appeal to all Freelanders and ex-Freelanders. It can be downloaded in full here (see below).
Emily is the great granddaughter of Ralph Pecora, Sr. and the granddaughter of Amelia Pecora. She welcomes comments or corrections and is particularly interested in any additional reminisces or information about Ralph and his family. She can be contacted at emily.pecora@gmail.com.


The Tailor of Freeland: Everyday Life, Labor, and Community in a Pennsylvania Town, by Emily Pecora

Clicking these links will open Adobe PDF files of Emily's thesis. If you don't have Adobe Reader on your computer you can download it for free at www.adobe.com.
Preface, illustrations, table of contents - (PDF file size = 1 MB)



Chapter 1 - (PDF file size = 3.1 MB)



Chapter 2 - (PDF file size = 5.1 MB)



Chapter 3 - (PDF file size = 4.7 MB)


---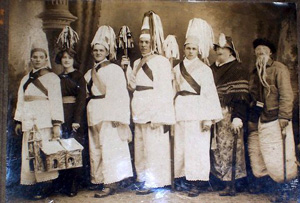 Here are links to three pages containing previously posted photos and information from the Featured Photos section of the home page: earliest postings, more recent ones, and the most recent ones. They are credited to the sources. Some of these have also been integrated into other parts of the site, while others are still waiting for that. Meanwhile, these past Featured Photos are always available via these links.