What's on this page:


>>> Newest site updates <<<
Northeast Pennsylvania Genealogical Society (NEPGS) MOVING TO WILKES BARRE

Freeland's Roman Catholic churches' records have been digitized by NEPGS


Freeland Tribune

newspapers (1889-1903) available online at the Library of Congress
Thesis about Ralph Pecora's Tailor Shop
Links to past Featured Photos

---
>>> Newest site updates <<<

November 12, 2018
Added to Schools section, pages for MMI 1947 and 1948. In the Businesses section, more added about Freeland's taverns, saloons, bars.

October 21, 2018
Added to Featured Photos on home page: Influenza epidemic of 1918.

September 30, 2018
New Featured Photos added to the ones posted on 9/21: St. Ann's Catholic Reference Book with photo of planned St. Ann's church building in 1920s. Also, a group photo and an invitation postcard for the Jeddo Progressive Club, photo dated 1894.

September 21, 2018
New page added for Drifton Shops in Mines section. A St. Ann's 1929 groundbreaking photo and related images were added to the home page, and one of the photo crops that also showed a factory building is paired with a link to an earlier use of that building as the Christian Holiness Church.

September 3, 2018
Page for Freeland High School class of 1915 added. Newspaper photo of Jeddo Skidoo Band in St. Clair parade added. Additional memory about Birvanton Hill School added to Schools page, as well as a photo of two FHS teachers, circa 1949. Correction added to page showing Eckley band. Graduation program added to MMI class of 1954 page. Photo of former Drifton School added to gallery of school pictures. Photo of Freeland's first ambulance of 1954 added. A page of ads from 1882 issue of the Freeland Progress was added. Second band ID on the Citizens Band page clarified, and a 1910 photo of St. Ann's Band, Drifton added to St. Ann's Band page. Still frame of John Tancin, Sr. from 1939 DVD added to John Tancin page. Photo of former Ridge Street public school added to Freeland schools in 1912 page. Short articles about removal of trolley tracks and CNJ railroad tracks added. Newspaper clipping about closing of Bonomo's Hardware attached to construction-related businesses page. Possible identification made of a Foster Township High School basketball team photo, early 1940s. Comments added to 1951 Memorial Day parades photos (bottom of page). Three postcards of Freeland streets added to Streets page: Washington at Carbon, Washington at Main, Centre at Luzerne mid-1930s. Corrections added to text posted with Refowich Theatre photos on home page, marked with ***.


August 9, 2018
Announcement of Freeland Historical Society Open House 9-15-18. Joe Bradish's pinball and jukebox business added to a page of 20th century businesses, under heading More Businesses. Sports teams and some teachers/staff added to MMI 1951-1954 pages, linked from the Schools page. Corrected name Robert Handlong on Foster 1958 class trip page, and Anna and Genevieve Carra on Freeland area school personnel of 1940 page.

August 7, 2018
A correction about steps and more information added to Ed Merrick's photos and info about the Refowich on the home page. Band leader photos, contracts and info added to FHS Band page. Photo and info on Freeland's 10th anniversary in 1886 added under Celebrations on the Celebrations page. A 1916 photo added to the C.T.A.U. Band page. Several photos (1918, 1944, 1952) added to the St. Ann's Band page, along with a link to a short history of the band written in 1944.

August 4, 2018
More St. Ann's Band photos added, along with photos of Memorial Day parades from 1950 and 1951, see Celebrations page.

August 3, 2018
More views of the Refowich posted as Featured Photos on the home page. Non-working links to Jeddo descriptions from Munsell and Bradsby histories removed from Jeddo page. A Freeland High School Band page was added to Celebrations.

August 1, 2018
The Celebrations section is being expanded.

July 29, 2018
Added to Schools section: pages on MMI classes of 1951, 1952, 1953, 1954; also a page for the Foster Township High School class trip of 1958. This News page updated, and old site update notes removed. Newspaper photo of 1904 Freeland Slavonian baseball team added to Baseball page. Another Standard Bottling Works bottle added to the Bottlers page. Names added to Citizens Bank staff photo on a page listing assorted businesses, including banks.

July 15, 2018
New photos of the Freeland High School Band and some majorettes from the early 1940s are on the Cheerleaders and Majorettes page; added comment on St. Ann's School postcard on home page; and a few more IDs for the 1954 class night photo.

July 4, 2018
New additions: A new Class of 1954 page; FHS 1938-1939 drum majors and majorettes, band and band leader added to Cheerleaders and Majorettes page; a corrected view of the familiar color postcard of St. Ann's School added to Schools gallery page.

July 1, 2018
New additions are six photos of FHS drum majors, drum majorettes, and the FHS band in the late 1930s, and a page showing how Freeland's fire protection and firefighting readiness were documented on Sanborn Fire Insurance maps 1895-1923. Also, Charlie Gallagher commented on the unnamed, undated basketball team photo at the end of the 1950s section of the Basketball page.

June 10, 2018
Addition of a Swamptown photo from Larry Maso on the Jeddo page, a new Jeddo Skidoo Band page from former band member Tom Bezick, and two new basketball team photos (FHS 1944-45 and 1945-46) from Larry Maso. Jackie Deshesky identified in Majorette photo. Also, businesses listed in the 1928-1929 city directory and 1940 city directory. And, a page of photos of Freeland Fire Department firefighters and firetrucks in 1948 (and one truck in 1941) from Charlie Gallagher.


---
Freeland's past/present Roman Catholic churches' records have been digitized by NEPGS!
More news: (NEPGS) MOVING TO WILKES BARRE. From their website:

We are pleased to announce that effective August 1, 2018, our headquarters will be located at the Angeline Elizabeth Kirby Memorial Health Center, Annex II, 57 North Franklin St., Wilkes-Barre, PA 18701. We are very excited about this move and, as always, remain committed to providing the same excellent services you have come to expect. Opening Day is Wednesday, August 8, 2018 - Hours: 11 a.m. to 4 p.m.
[I'll add, check their website for updated hours before visiting.]



The Northeast Pennsylvania Genealogical Society, Inc. (NEPGS) in partnership with the Diocese of Scranton is digitizing parish records in eleven Pennsylvania counties, including Luzerne.

The project, which began in May 2016, reached a milestone in January 2017 with 100 parishes completed.

Freeland's Roman Catholic parish records are all digitized, including: Immaculate Conception/Freeland Catholic Community, Immaculate Conception Church - Eckley, St. Ann Church in both Woodside and Freeland, St. Anthony Church, St. Casimir Church and St. John Nepomucene Church.

It's important to know that NEPGS has a strict privacy policy for public access to the Catholic records:
Sacramental Records relating to events 70 or more years old shall be accessible to members and patrons of NEPGS, consistent with NEPGS Library Policies.
Sacramental Records relating to events less than 70 years old shall be sequestered and shall not be available to be accessed by members or patrons of NEPGS until such time as the record become 70 years old.
NEPGS removes from the accessible records, all references to adoptions which occurred after January 1, 1926, which is the effective date when civil adoption records were sealed in the Commonwealth of Pennsylvania.
The church records are only available on the NEPGS in-house network. The records are not available online.
Located at the caretakerís house inside the historic Hanover Green cemetery in Luzerne County, NEPGS is an all-volunteer 501c3 nonprofit organization and is open to the public.
Address: 689 Main Road, Hanover Township, PA 18706.
Hours of Operation: Every Thursday 10 a.m. - 3 p.m., 2nd Saturday of the month, noon - 4 p.m.
When you visit the society, volunteer staff can answer questions about the use of the Digital Collections.
For those who are unable to visit in-person, research services are available at reasonable rates.
Note for visitors: Non-members are required to pay a $10.00 day-use fee prior to admission. All members/patrons are required to sign the NEPGS Library Policy. Cameras and flash drives are prohibited.

Membership: Member benefits include a discount on research services. An Individual membership is $30/year.
Please check out http://nepgs.com/wordpress/ for the latest information.
---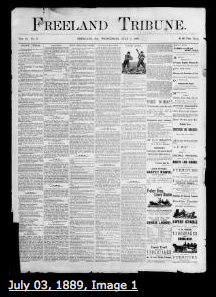 Freeland Tribune 1889-1903 now online.
There are now about 14 years' worth of

Freeland Tribune

newspapers (1889-1903) available online at the Library of Congress Chronicling America site. This represents 3 of the 14 reels of microfilm that were made from 35 years' worth of early Freeland newspapers owned by MMI Preparatory School. The microfilm for all of them is available for consultation at the Hazleton Area Public Library, and now part of it is also accessible online. Yay! Many thanks to the Hazleton Area Public Library, MMI Preparatory School, Penn State, and to all of those who contributed funds and those who have been otherwise involved in making this project a reality.



---
Thesis about Ralph Pecora's Tailor Shop
All of our featured photos have been wonderful, and this month we've got something extra special. Emily Pecora has recently completed a Masters Thesis about the tailoring business of Ralph Pecora, Sr., which stood on Freeland's Centre Street from the early 1900s until Ralph's death in 1959. While the thesis will be of particular interest to those who knew Ralph or other members of the Pecora family, it should have a larger appeal to all Freelanders and ex-Freelanders. It can be downloaded in full here (see below).
Emily is the great granddaughter of Ralph Pecora, Sr. and the granddaughter of Amelia Pecora. She welcomes comments or corrections and is particularly interested in any additional reminisces or information about Ralph and his family. She can be contacted at emily.pecora@gmail.com.


The Tailor of Freeland: Everyday Life, Labor, and Community in a Pennsylvania Town, by Emily Pecora

Clicking these links will open Adobe PDF files of Emily's thesis. If you don't have Adobe Reader on your computer you can download it for free at www.adobe.com.
Preface, illustrations, table of contents - (PDF file size = 1 MB)



Chapter 1 - (PDF file size = 3.1 MB)



Chapter 2 - (PDF file size = 5.1 MB)



Chapter 3 - (PDF file size = 4.7 MB)


---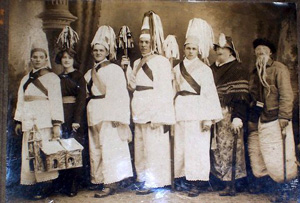 Here are links to three pages containing previously posted photos and information from the Featured Photos section of the home page: earliest postings, more recent ones, and the most recent ones. They are credited to the sources. Some of these have also been integrated into other parts of the site, while others are still waiting for that. Meanwhile, these past Featured Photos are always available via these links.