What's on this page:
Maps from D. G. Beers' Atlas of Luzerne County, Pennsylvania (1873)
New book on people from Buck Mountain and the local area, by Melanie Akren-Dickson (2020)

---

This is the beginning of a page on Buck Mountain. More to come.


---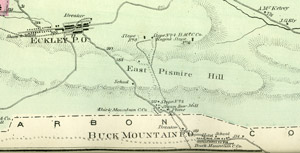 Company town of Buck Mountain at Slope #2, 1873. Melanie Akren-Dickson, whose new book about people of Buck Mountain and beyond, is described below, wrote this to me recently:

There was a second slope for the Buck Mountain Coal Company that was actually just over the line in Luzerne County, from what I've gathered. There is a portion of a map on page 73 in my book that shows it (I'll attach it here). I know about it, because I was confused by it. My great-times-whatever uncle James McClellan, who was a supervisor at the mine at Eckley in 1860, was in Foster Township in 1870, post office Buck Mountain. Then in 1880, the place where the McClellans lived was called "No. 2 mines Buck Mountain" in Luzerne County

.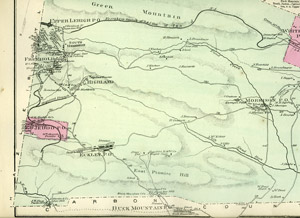 Buck Mountain Slope #2 area in Carbon County near Foster township, 1873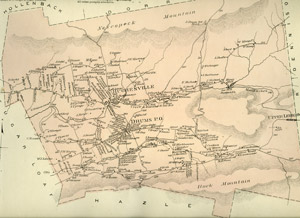 Buck Mountain area in Butler township, 1873








---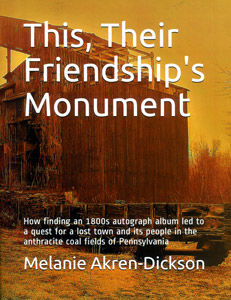 This, Their Friendship's Monument: How finding an 1800s autograph album led to a quest for a lost town and its people in the anthracite coal fields of Pennsylvania, by Melanie Akren-Dickson



Melanie Akren-Dickson has written a book about her great-great-great-aunt Mary Boyd of Buck Mountain's autograph album. Found among her grandmother's effects, the album was signed by 80+ people between 1881 and 1896, when Mary Boyd was age 23-37. Signers included coal miners, schoolteachers, Civil War veterans, even daughters of a Philadelphia magnate of industry, and many familiar names from the region. The album led Melanie to spend years researching the signers and the long-gone village of Buck Mountain. Through family documents and interviews, online resources, public records and other sources she found at least several pieces of information for most of the signers. The book is well illustrated and gives an intriguing view of the lives that intersected in this little autograph album – one of many compelling features of the book being that it documents women of the time as well as men. The main text is 311 pages, with another 64 pages of bibliography and notes. Very highly recommended, especially for those interested in the history of the region. Available on Amazon in both paperback (8.5x11") and kindle.



Pages shown below are poor reproductions from my scanner, showing shadows etc. that do not appear in the actual book, which was very well-produced.

Here are the entries for Sarah (Boner) McMahon and Hugh A. Shovlin. Images reproduced with permission of the author.