What's on this page:
Two photos of St. Mary's Band.

On related pages:
---
Here are two photos of St. Mary's Band, taken sometime between 1906 and 1920. The only person who has been identified to me at present is Michael Potochney, one of the founders of St. Mary's Church and owner of a bottling company in Freeland. He is carrying the sousaphone horn in these pictures. The sousaphone was created by John Phillips Sousa specifically for marching bands. Thanks to Lorraine Potochney for that information!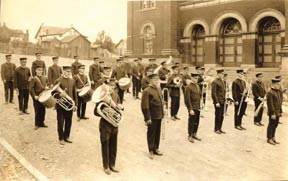 One photo is a formal group photo on the church steps, while the other shows the band in marching formation on Fern street.

Credits: Thank you to the family of Michael Potochney, through whose courtesy these two photos of St. Mary's Band were provided.