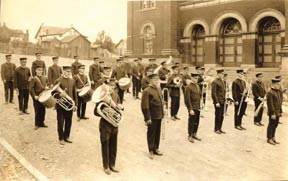 Here are two photos of St. Mary's Band, taken sometime between 1906 and 1920. One photo is a formal group photo on the church steps, while the other shows the band in marching formation on Fern street.

Two men have been identified so far. Lorraine Potochney wrote: "

Michael Potochney, one of the founders of St. Mary's Church and owner of a bottling company in Freeland, is carrying the sousaphone horn in these pictures. The sousaphone was created by John Phillips Sousa specifically for marching bands

." And John Pollack wrote: "You asked for help in identifying the members of the St. Mary's Band. In the photo where the band is standing on the church steps, the saxophone player in the second row left is my grandfather, Mike Pollack.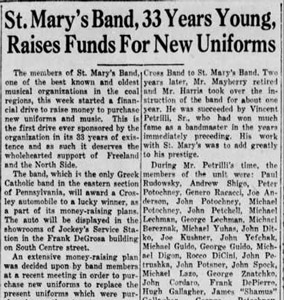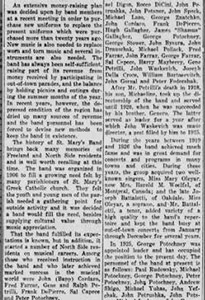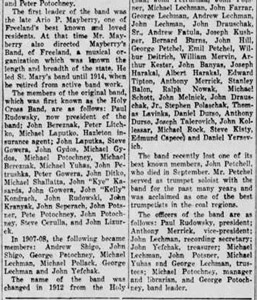 John Pollack adds: "In reading some of the old Hazleton papers, Mike Pollack is identified as one of the band's founding members. [In a follow-up email: This article lists Mike Pollack as joining the band in a second round rather than as a founder. I do recall reading he was a founder somewhere.] He is the same Mike Pollack whose barbershop photo you have posted elsewhere. … As to the date of the photo, I think it is later than 1906. My grandfather was born in 1893 and he looks to me to be about 20 in the photo which would date it to about 1910-1915. While I never heard my grandfather play the saxophone, my grandmother kept it in a bedroom closet for many years. The thing weighed a ton. … I have attached a copy of an article dated 2 November 1939 … The article is about a 1939 fundraiser which is "the band's first in its 33 years of existence," putting the founding of the band in 1906."


Credits: Thank you to the family of Michael Potochney, through whose courtesy these two photos of St. Mary's Band were provided. Thank you to John Pollack for additional information and the 1939 article.