What's on this page:
On related pages:
---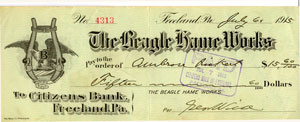 Welcome to the Businesses section. Much of the information and photos comes from correspondents, and I'll get even more of that onto the site as time goes by.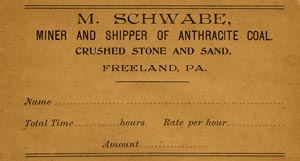 In 2018 I'll begin to highlight specific businesses or types of businesses with special pages. The newest such page is the beginning of a Saloons page. I've got a page for my grandfather's garage, tire and auto supply businesses, and for several other local businesses. If you have information about a business that you'd like to see highlighted in this manner, please let me know. Ditto if you have any additions, corrections or suggestions. I appreciate any information that you can send me.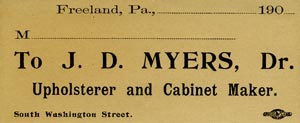 It's the nature of businesses to come and go: they come into being, they struggle and/or thrive, and eventually they disappear (like everything else in the universe). Looking at the history of Freeland since its beginnings, there have been an amazing number of businesses of various kinds, and we can find records of them in various places. In some years, Freeland had its own city directory published, while in other years its information was incorporated into directories for the nearby city of Hazleton (as with the phone books today) or even, early on, in the Wilkes-Barre directory. There were also occasional business listings published in other sources, including phone books, maps and atlases. Listings from a few such sources are reproduced on these pages. The directory listings tend to be fairly complete, and the map listings tend to be only partial listings.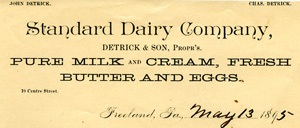 If you're interested in businesses and occupations, please also check the "People" link, as those lists of individuals also include information on occupations and on those instances where a home address was also the location of the family business. Freelanders will find many familiar names in these lists, in addition to some that have been gone since before current memory.



If anybody reading this has any pre-1970 phone books, city directories, or other publications containing business listings from Freeland, would you please let me know? I'd be interested in borrowing them in order to take notes or to copy them so that I could add more information to these files. Meanwhile, additions and corrections would be very welcome; please send e-mail. Thanks. Enjoy the lists.