On August 30, 1929, a local newspaper carried the following item:

Established Business in Freeland
John Temshia, who conducted a vulcanizing and auto repair shop in Upper Lehigh, during the past several years, is now established in Freeland, having secured shop quarters in the Adolph Zimmerman garage in the rear of his business place at the corner of Main and Washington streets. [My grandfather's Rusyn/Slovak accent was quite thick, as was true for many immigrants who came over to work in the mines. Thus the misspelling of his name in this newspaper notice. - CT]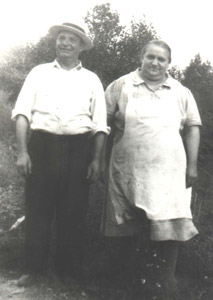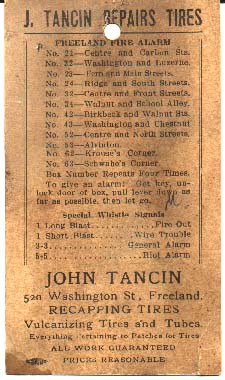 At some earlier point in the late 1910s or early 1920s, my grandfather John Tancin had started a tire repair business behind his home in Upper Lehigh, where he lived at 58 Main Street. At left is a photo of him and my grandmother, Mary Berta Tancin, from this time. He had come from northeast Slovakia in 1908 and worked in the mines in Upper Lehigh before beginning this new business venture. In 1929 he moved his business to 520 Washington Street in Freeland, on property rented from Adolph Zimmerman in Freeland at Washington Street just below Main Street, behind Genie Boyle's bar, and that move is what the newspaper article quoted above is reporting. In addition to being behind (south of) Genie Boyle's, the garage was also behind (east of) Adolph Zimmerman's Centre Street store. He and the family stayed in Upper Lehigh until the late 1940s.

Here at right is an interesting relic from that time, courtesy of Bob Celentano. It was a common practice to distribute cards containing the borough's fire alarm codes, to which were added an advertisement for a local business, in this case my grandfather's tire shop. (Note that there was a code at that time for "riot alarm.")

Amazingly, this garage is captured on the black and white DVD now available from the Freeland Historical Society that shows views filmed around Freeland in the 1930s. A little more than 2 minutes into the film you can see the garage and also my grandfather and my dad, then a teenager, working on someone's car! (Both are wearing caps, in case you get a chance to see the DVD.) For me, seeing this was like a time machine and I'm so grateful to the person who shot that film all those years ago, and to the people who have preserved it and made it available now. When I figure out how to capture still shots from video I'll post a few here.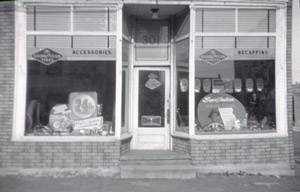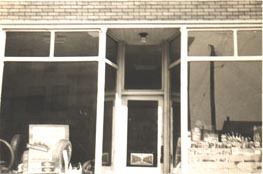 In the late 1940s John Tancin bought a property at 301-305 Centre Street, Freeland, which some years earlier had housed a bottling works and some other businesses run by Peter Timony. There my grandfather (whom we called Pop) opened an auto parts, tire repair and gas station business. Two views of the front of the shop are shown here. The building included 3 apartments and another small store next to my grandfather's, which he rented to Pete Kundra for his Novelty Corner store (more info on that store on the business pages). By the time I was a kid in the 1950s, we lived in the apartment upstairs from Pop's store, Pop and my uncle Georgie (and my auntie Helen before she got married) lived in the middle apartment, and my uncle Johnnie and aunt Aggie lived in the 3rd apartment.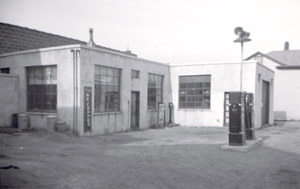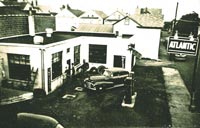 Pop's sons helped him in the early days of his business. John Jr. and my dad worked with him at the Washington Street garage, and then all of the sons worked in the garage at Centre and Carbon Streets, while their father worked in the auto supply store. My uncle Joe left early to move to Hazleton, while George, John and my dad kept working for my grandfather. My dad left in 1955 to start his own tire business, and George and John continued to work at Pop's garage for years. The photo at left seems to predate having the ground paved; the one on right was scanned from a negative and shows the place in action! That might be my uncle Joe walking into the garage.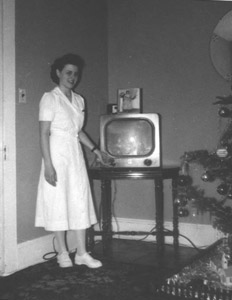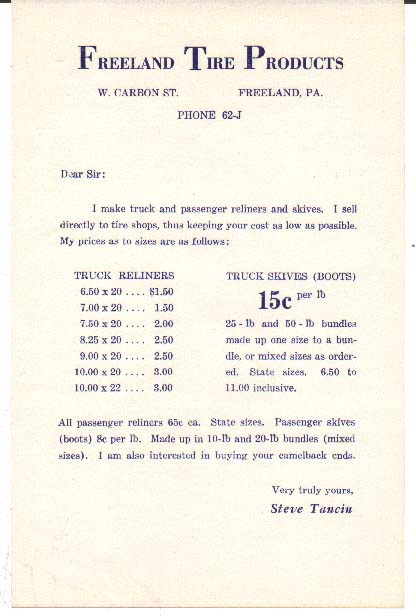 At near right is an ad for Tancin's Auto Supply, listing my dad Steve as manager. Look at the cool stuff they were selling, and the prices! At far right is a form letter that my dad put together for his father, soliciting business from other tire dealers. Both of these would have been from the early 1950s. I remember that 62-J phone number, used on the letter, from the days when we lived above the shop. A side note about that: in the 1952 telephone directory, the only Tancin listed in Freeland at that time was my mother, who was a registered nurse working private duty (shown at left in our living room in the early 1950s), and she needed to have the phone listed for her job. So the family business was apparently not yet officially "online" in 1952, but our home phone number was used in ads and correspondence, there being no phones in either the shop or the garage. It's strange, though, because although neither my grandfather nor his business are listed in the 1952 phone book, both are listed in the 1937 phone book, for the garage at the Washington Street address!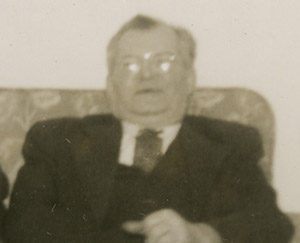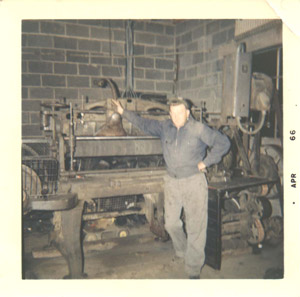 John Tancin, Sr. died in 1965. The photo at left was taken around 1950. His son Joe had left some years earlier to work for General Tire Company in Hazleton. John Jr. and George continued to work in the garage at Centre and Carbon for some years, then finally closed down the business; the garage was finally torn down in 2010 or 2011. The auto supply store was probably closed soon after Pop's death, although I'm not sure when exactly. My dad built his own garage in Freeland in 1955 and ran a successful used tire / tire repair business until his death in 1991. He's been gone for more than 20 years now, and his brothers and sister have now also passed on. That's my dad in his own garage in 1966 shown in the photo at right. He and my mom had a house built in 1960 next door to his garage, both of these buildings just 3 blocks away from Pop's place. To this day I run into people in Freeland who remember Tancin's tires and who were regular customers of my grandfather's and uncles' or my dad's businesses.

I end this page with a P.S. from Peter Kundra: "I recall the tire recapping business that the Tancins operated in the rear garage and the machines in the basement that cut up tires into strips and then assembled them into rubber door mats. I often wonder whether those mats were the origin of the same type of mat that is still available today."

I can add to that by saying that my mom remembers assembling door mats for Pop and being paid 10 cents a mat for that.