What's on this page:
A group photo showing B. F. Davis and others with President Mckinley in 1886

On related pages:
---
This was a "Featured Photo" posting on the home page in 2013. I have additional information to add about Benjamin Davis, but for now I'm putting this page up with the earlier post, to be updated.

Group photo with B. F. Davis - including a U.S. president and a presidential home!

[THERE IS ALSO MORE INFORMATION about this photo on a related page about Christian T. Miller.]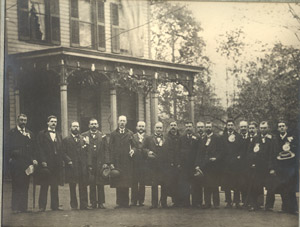 This photo comes from Bill Davis, and when I first posted it I wondered whether the Benjamin Davis purportedly shown in the 1886 photos above would have been the same B. F. Davis who had the feed mill. When he originally sent the photo Bill wrote: Freeland 'movers and shakers'. No names other than B F Davis is 9th from the left or 8th from the right. After looking at the picture with other software, I think it is a fraternal group. On the right side of the picture, several people are wearing large round medals with a head on them. I have not found a source for fraternal organizations to compare with. Why not post the picture on the Freeland web site and ask visitors if they have any information." When I emailed him recently to let him know that I'd posted the photo, he took a look and sent this follow-up note: That is the BF Davis who owned the Feed Mill and was my great
grandfather. His son William M Davis I, and his son William M Davis II continued to operate the feed mill until the 60's (?). I have no other info on the picture as all my relatives from that era are gone.


According to Bradsby's History of Luzerne County, Benjamin F. Davis was born at Buck Mountain in 1859 and was a dealer in flour, feed, hay and grain in Freeland. His feed mill and store opened sometime between 1888 and 1895, as it's listed in the 1895 city directory but not in the one for 1888. It lasted for approximately 70 years in Freeland, at Johnson and Birkbeck streets. On the page about 20th-century feed mills, there's an entry for the B. F. Davis feed mill with a photo from Ed Merrick taken just after the 1964 fire that burned down the building had been put out. The feed mill had closed just a few years before the fire happened.


In the photo from Danny Balon showing part of the celebration of Freeland's 10th anniversary, Ben Davis would have been about 37. For the photo shown above, though, we don't have a date yet, but keep reading and you'll see that we now have an approximate idea as to what it might be. I had posted this photo as an open mystery, asking for assistance, and Charlie Gallagher took on the challenge. At first he walked around Freeland looking for existing homes to see if he could see any possible matches, and he identified a few in the old part of town with the same door and window configurations, but there was nothing conclusive. A little later he sent this note:

>> Now I may be way off base here..
>> (Ted Williams missed 60% in his best year)
>> But, here's my theory..
>> Mr. Davis must have been a political animal to be appointed postmaster.
>> Now this is only a theory, but I don't believe the picture may have been
>> at Freeland at all.

>> The person in the center of the photograph with the top hat appears to be
>> President McKinley.
>> I think this may have been a Republican Party meeting or delegates to a
>> convention.
>> As Mr. Davis appears younger than when he was appointed postmaster and he
>> was postmaster throughout the McKinley years.

>> If the person is in the middle is McKinley, it appears that he was younger
>> than when he became President.
>> This picture may be of both gentlemen before they held office.
>> Maybe late 1880's early 1890's.
>> This may have been laying the groundwork for his appointment.

>> Look at a photo of McKinley and compare it to your image.

Well, wow!!! Sure enough, that's William McKinley there in the center of the photo. But where was that house? Charlie did a bit more reading and sent this follow-up note:

>> Here's the answer..
>> http://en.wikipedia.org/wiki/File:Flower_delegation.jpg
>> Same House (you can see the lanterns better on this photo running across the roof line).
>> It's also on the William McKinley page on Wikipedia.
>> About halfway down.
>> It's McKinley's home in Oil City, PA [Correction from Katherine Miller 7-2015: Canton, Ohio]
>> http://en.wikipedia.org/wiki/William_McKinley
>> And yes, I recognized him from memory once I started paying attention to the people and not the building.
>> Sister Philomena at St. Ann's said I never studied !!
>> Ha !!

So I sent all that back to Bill Davis, who wrote back: "Thanks so much for this information. I have learned more in a few emails than I ever knew. Yes, from all I have heard, my family has always been into the Republican Party. So much so than when I tried to get an appointment to West Point from the Congressman for the Freeland area, I was turned down because of the political ties of my relatives. So, I went to Penn State."

Amazing what can be learned from these old photos. Thanks to Danny Balon, Bill Davis, Charlie Gallagher, and everyone who enjoys these pages. Your comments and contributions of information and photos are always welcome.