Note: For more recently received corrections or added information, search for double asterisks ** and maroon-colored headings.
Here are links to three pages containing previously posted photos and information from the Featured Photos section of the home page: earliest postings, more recent ones, and the most recent ones. They are credited to the sources. Some of these have also been integrated into other parts of the site, while others are still waiting for that. Meanwhile, these past Featured Photos are always available via these links.

---
New photos from Ed Merrick, Charlie Gallagher, Diane Unangst, Nadine Heckler, Tom Yaruso - Happy New Year! More information from all of these folks was added 1-14-17 to update the text.

Posted Dec. 26, 2016 and Jan. 14, 2017:
Mike Remak's pine tree - updated 2-5-17; correction about Boyle's gas station
St. Casimir's Communion class 1914 or 1918 - updated 1-14-17

Cross made from old organ of St. John's Reformed Church - updated 1-14-17
Merkt Hotel - updated 1-14-17
Upper Lehigh honor rolls and school - updated 1-14-17
School children, public school on School St. just west of Vine St., early 1900s - updated 1-14-17
Freeland Overall Factory patent for trademark, plus a note on Thomas Oberrender

John Ricotta in WWI
1888 map of the coal fields in the Beaver Meadow and Druck Creek basins

A bar on Main Street in Freeland, still to be identified - updated 1-14-17


I have been remiss in getting my website updated, so here is a group of new images from some of our historical contributors who are kind enough to share these with everyone. Thank you, Ed, Charlie, Diane, Nadine and Tom!



Mike Remak's pine tree, from Ed Merrick:
"The modern photo of my grandfather's [Mike Remak's] garage with the giant tree (Norfolk pine?) in front intrigued me. I have attached a photo that was taken in 1940 of my brother on his confirmation day in 1940 in my grandparents' backyard. Note the tiny tree. My brother and I had a game for years of jumping over it. I think it's the same tree."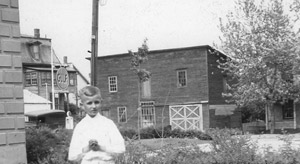 I asked Ed if he could identify the buildings in the background, enlarged here. He wrote: "The building on the left (southeast corner of Front and Washington) is the one that housed Lindsay's hardware store on the ground floor. The building to the right was a garage that may also have been owned by the Lindsays. I don't remember that service station, but I do remember going into Lindsay's with my Dad to buy, say, 5 pounds of 10-penny nails, scooping them out of a keg, and putting them into a paper bag, which promptly sprouted like a porcupine from the nail tips puncturing the sack."

Does anyone know whose garage that would have been behind Lindsay's?

Well, I asked that question and got email from Charlie Gallagher, who found some newspaper ads from the 1950s: "Boyle's Gulf Station Washington St., Freeland, Next to the A&P." Charlie and I were speculating on the possibility of a Brogan-Boyle marital connection through Mary Brogan, because I saw that in the 1940 city directory there's this listing: Brogan Peter A. gasoline 614 Washn r 1155 Schwabe, and Charlie had seen some information online about a Mary Brogan having married a Boyle.

Ed Merrick wrote to say: "The 1954 Minamek has an ad for Hugh Boyle's Service Station, Washington Street, Freeland. No street number is included."

Then Sandie Bredbenner wrote on facebook to say: "Good Morning, I'm new to this page, my maiden name is Sandie Stower. I lived on Schwabe St. next to the Brogan family home which was a summer home during my childhood. Peter Brogan's garage was not taken over by his sister Mary Boyle's husband. It was a different Boyle. Mary (Brogan) Boyle's husband was John and he was associated with Haze Drug in Hazleton and they lived in Hazeton. The Brogans were Sarah, Peter, Mary, Bill and Pauline."

So now I'm reporting that while that gas station was listed as being run by Peter Brogan in 1940, by 1954 it was run by Hugh Boyle. If anyone can contribute more information about these businesses and/or their owners, I'd be grateful and would be glad to post it here.

I'll add that the ealier Sanborn maps show a livery stable in that spot, and the 1921-22 city directory has a listing for a livery owned by "Cologno, Emilio – Washington cor Main." Does anyone know anything about this man or his business?



---
St. Casimir's Communion class 1914, from Tom Yaruso: "Nice picture of St. Casimir's Communion Class 1914, Freeland. My aunt Verna Martonis from Highland is 5th girl from left, top row. Wonder how many people will know their old family members by looking at this picture?" Tom later added: "The priest is Father Inczara. The date on the picture is August, 2 1914."










---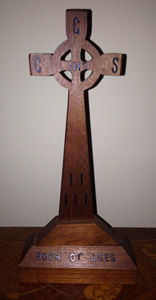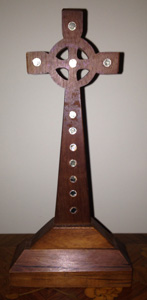 Cross made from old organ of St. John's Reformed Church, from Diane Unangst:
"I have been enjoying your History of Freeland website. I am a descendent of Freeland folks: my parents, grandparents and many of my great-grandparents. My parents and all grandparents were married in the St Johns Reformed Church. My Aunt (Mary Ellen Van Horn) played the organ there for many years. When they replaced the old church with the new one in 1934 they also replaced the organ. Reverend Kohler had them take the old organ and make wooden crosses out of it, and I have one of them which my maternal grandmother gave me. Attached is a photo of it. Don't know how unique it is because there may be many Freeland folks who also have one."
Does anyone else who is reading this know of others who own one of these crosses?
My brother Steve looked at the photo of the back of the wooden cross made from the old St. John's Reformed organ and said that those dots are probably made from the pearlized organ stops, probably abalone shell.
Charlie Gallagher adds this memory:
"Reverend Kohler was a great wood carver.
A lot of folks don't remember, but he carved and modeled old wood sailing ships throughout most of his life. His miniature ships were done to perfection with all the fabric sails and all the associated rigging. Hours and hours of meticulous work requiring a lot of pre planning and patience. He was a true craftsman."



---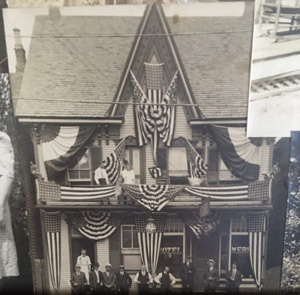 Merkt Hotel, from Diane Unangst: Clara Maso provided this photo of the Merkt Hotel, and she, Diane Unangst, Charlie Gallagher and I spent some time trying to figure out where that hotel would have been. Diane wrote: "I was just talking to Clara Maso (nee Drasher) who is now 90 and she remembers buying candy at Krone's. Clara is the great-granddaughter of Stephen Drasher who ran the Delmonico Hotel listed in the 1897 Business Directory. Clara is also the great-granddaughter of Jacob Merkt who ran the Merkt hotel ..." After checking with Clara Maso again, Diane wrote that Clara thinks that the young girl on the upper balcony may have been her mother. May Drasher (née Beach), who was born in 1905. May's mother was Mathilda Merkt whose father was Jacob Merkt, who ran the Merkt Hotel.

My brother Steve noticed that there are 48 stars on those flags (Arizona was added as our 48th state in 1912), so that helps with dating the photo. Wonder what the occasion was? He also observed, and Charlie Gallather agreed, that the woodworked trim is reminiscent of German-Austrian-Swiss architecture.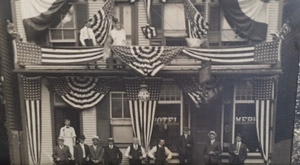 Diane found a newspaper article from June 21, 1910 referring to Jacob Merkt's hotel on Walnut Street; *possibly* he lived at or ran a hotel at 11 Walnut Street for a time, although that's just a guess (there was a hotel at that address, old address numbering system). Both Charlie and Diane found 1914-1915 references to Jacob Merkt in the Hazleton Plain Dealer and in the Wilkes Barre Record as having a saloon on Front Street, at 16 Front St. (old address numbering system) in 1914 and then at 723 Front St. (same location, new numbering) in 1915. Perhaps he had a boarding house along with his saloon and was turning it into a hotel. At least one of Diane's newspaper finds referred to a hotel license application.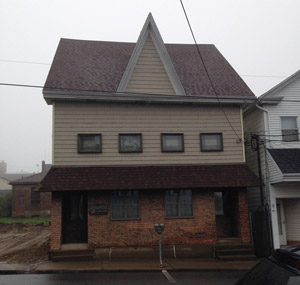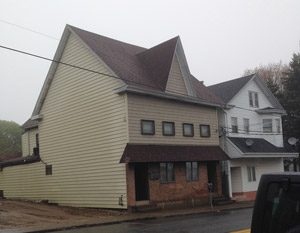 After looking around town for a similar building, Charlie wrote: "... that building between the newly emptied lot and what was Sharp's sure does look a lot like the building in the Hotel Merkt photo. I'm looking at the Sanborn maps. 1900, 1905, 1912 all show a dwelling on the left side of that 2-story building and a saloon on the right side. 1895 shows a dwelling on the left side, right side unlabeled. 1923, dwelling on left side and business of some kind on right side."

The outcome of all of this research and speculation is that it seems likely that the Merkt Hotel was in the building at 723-725 Front Street, shown in these photos that Charlie took last year during a demolition. Thanks, Charlie!

And, Diane found this article, which gives us some interesting background on Jacob's brother, Michael Merkt:
------
Plain Speaker - August 8, 1936 - Will Leave For Virginia
Michael Merkt, of Freeland, better known as "Charley" Merkt will leave next Tuesday for Bedford, Virginia, to take up his residence at the Elks Home there. Mr. Merkt is a retired Freeland merchant and for many years was an outstanding figure in Freeland's business activities. For many years he operated an ice cream parlor here which was the center of the town's activities. He started the first bus lines in this region, operating a service to White Haven, founded the first taxi service in Freeland and was the first wholesale confectioner in the region. He operated an ice cream and candy manufacturing business for many years in addition to his other activities. ... A charter member of the Freeland Lodge of Elks, he was not only one of the most active members of the Lodge but was one of the men who helped found the Elks Club and was one of its most prominent members. Next Monday night, on the eve of his departure, the members of the Freeland Lodge will hold a farewell party to honor him for his work in building the Lodge and the Club to its present day status.
------

The photo at top of this page, upper left also shows a Merkt confectionery and ice cream store, about which see the note near bottom of page. Someone had commented to me that he also had one near Belezza's, but when I posted that Ed Merrick commented: "Merkt could have had an ice cream parlor near Bellezza's, but, when I was a kid, Russell's Ice Cream Parlor was in where Charlie's Men's Store eventually was located."

If I can ever get the various Merkt businesses sorted out, I'll make a page about them.


---
Upper Lehigh honor rolls, from Nadine Heckler:
"Here are the photos of the Upper Lehigh honor roll ... they are copies of copies ...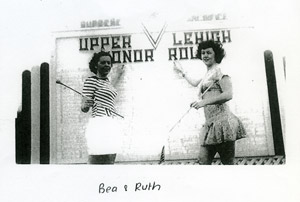 The women in the picture of the old Upper Lehigh honor roll are my aunts Beatrice Williams Taylor (left) and Ruth Williams Effrig. They're pointing to the names of a sister and brother who were serving in WWII. Photo probably taken around 1943. ... My aunt said the honor roll was across from the Upper Lehigh school, but she also said there used to be a building there. She described the building as a place where they held activities.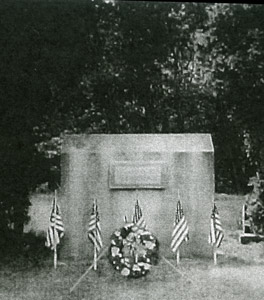 In the late 1930s she took tap dancing classes in the building. There was a man, Mr. Whitelaw (?), who gave the lessons. He was a 'champion tap dancer' who moved into the area for health reasons. She doesn't remember his first name, but he had two sons, Bill and Matt, who were about my Aunt Bea and Aunt Esther's age. I figure they were born in the mid-1920s. Anyway, the building was demolished and that's about where the original wooden honor roll went up. It was replaced by the marble one (standing now) by the VFW/American Legion. She thinks that one went up in the 1950s, but said the VFW or Legion should be able to tell you what year they put it up. My aunt also said that a playground was put up in the past few months where the Upper Lehigh school was."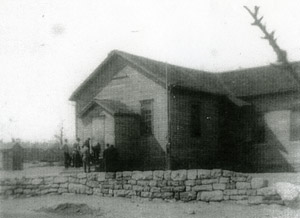 After I posted this, Nadine talked again with her aunt Esther and sent the following:
"My aunt Esther is 91. She says that when she started going to the UL school it only had 2 rooms and that the building that was across the street (where the honor roll eventually went) was where the 7th and 8th graders went. Then they added the 3rd room / addition to the UL school and that's when the other building was used for just activities. The activities building was eventually torn down due to its condition. My Aunt Gwenie, who is 88, says the foundation of that building is still there and that's where they put the honor roll." Here is a photocopied photo of the Upper Lehigh school that Nadine sent.



---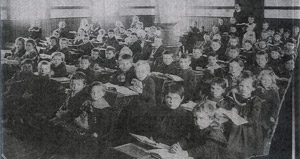 School children, public school on School St. just west of Vine St., early 1900s, from Nadine Heckler:
"The photo of the children in the school ... I'm told that Esther Williams is one of the children in that photo at a school in Freeland that was on Fern Street up near Walnut St. hill. The photo would have been taken I would say 1901-1905."
After I posted this, Nadine checked with her aunt Esther who confirmed that this was indeed the public school on School Street, just west of Vine street.
---
Freeland Overall Factory patent for trademark, plus a note on Thomas Oberrender, from Charlie Gallagher: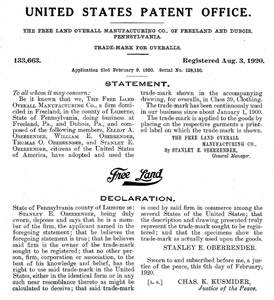 Here is the 1920 patent for the Free Land Overall Manufacturing Company's trademark. In it they note that the trademark "has been continuously used in our business since about January 1, 1900." Related to this company, Charlie also shares a story about the son of one of the Oberrender brothers who owned Freeland Overall. He writes:

"Of the four Oberrender Brothers that ran Free Land Overalls, William, Stanley & Elliot stayed in Freeland. Thomas went to DuBois to manage that factory that opened there in 1906. Thomas and Helena Graaf Oberrender also welcomed their son Thomas Olin Oberrender, Jr. on September 24, 1906 in DuBois. Thomas Jr. went on to the Naval Academy, graduating in 1927.

"Thomas Olin Oberrender, Jr., born in DuBois, Pa. on 24 September 1906, graduated from the Naval Academy in the Class of 1927. After serving in cruisers ROCHESTER, TULSA, and LOUISVILLE and other ships, he attended postgraduate school from 1934 to 1936, followed by duty in battleship NEVADA. Assigned as engineering officer in destroyer HULL in 1938, he became her executive officer the following year. After a brief period of duty ashore he reported on board the new cruiser JUNEAU in November 1941, when the ship was just fitting out. When she commissioned the following February, he was her engineering officer. Lt. Comdr. Oberrender died 13 November 1942 when JUNEAU was torpedoed and sunk in action in the Solomon Islands. USS Oberrender (DE 344) (1944-1945) was the first ship to be named in his honor. While it has nothing to do with Freeland history, if his father had remained in Freeland, perhaps Thomas Jr would have taken the same career path? Who knows..."

http://www.navsource.org/archives/06/344.htm (includes portrait of Thomas)

https://en.wikipedia.org/wiki/USS_Oberrender


---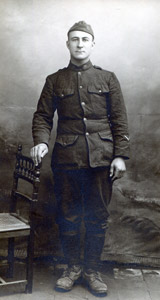 John Ricotta during WWI, from Charlie Gallagher: These photos are of John Ricotta of Freeland (he was Woodies waitress Carmelita Ricotta's uncle) during World War I. One photo is a portrait; in the other he is shown in France in 1918, second from the left sitting in the front seat of the truck. Charlie wrote that "John apparently never married and all of the Ricottas are now gone for the most part. ... John was like one of the family to my great grandparents. He lived at 420 Adams St. and they lived in the other half at 422 (1895-1922). When they moved to 507 Washington St. in 1923, the families stayed close. Those photos were from letters that John sent to my great aunt Mary B. Gallagher."






---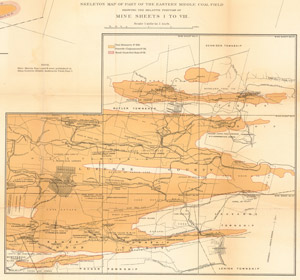 1888 map of the coal fields in the Beaver Meadow and Druck Creek basins, from Charlie Gallagher: Charlie shares this 1888 map of the Beaver Meadow and Dreck Creek Basins of Luzerne and Carbon Counties, Eastern Middle coal field mine sheet no. VI-2-AA, Atlas v. 2, plate 4.










---
A bar on Main Street in Freeland, still to be identified, photo bought on eBay a few months ago: This photo is glued to a mat board, on the back of which is written "Bar on Main St., Freeland, Pa." It doesn't say what bar it is. I love that the photographer or bar owner seem to have asked the other customers to move to the side so they're not in the picture, but you can see them all in the mirror (you can see this better in the crop, below). I've conferred with Ed Merrick and Charlie Gallagher to get their thoughts on which bar this might have been.


Ed wrote: "Compare it with the photo of Balon's, which you posted in Businesses. The tin ceiling is the same, but that doesn't surprise me. Remak's had the same ceiling. This could be an earlier photo of the same bar when it was much newer and less the worse for wear. The wooden supports under the arm railing are almost identical, although the decorative posts are missing. It would have been taken in the other direction, also. I guess we'll never know." Then he followed with this note: "Chuck, I just happened to remember the Italian Club on Main Street just west of Centre and right behind the store, which was a photo studio when I was a kid. I was never inside so I can't say this is a photo of the place, but it's a possibility."


Charlie wrote, about the calendar on the wall and about the photo in general: "Well, the best I can see is the date is Feb 11? 190_ something. What I can tell you is the building has a wallpaper ceiling. To the right is the front of the building and that must face south as there is the image of sunlight hitting the bar from the front window on the lower right. So if that is the case the building would be on the north side of Main. (Believe me sunlight never hits the front of the buildings on the south side of the east-west streets in Freeland.) I think that would leave out Dushak's (as that was later Genie Boyle's) on the southwest corner of Main and Washington. My best guess is it was the saloon on the northwest corner of Washington and Main on the 1895 Sanborn map. This is where the post office is today. Only a guess ..."

On Facebook, Joan Yersevich Hale wrote: "I remember the bar. Next to the post office and across the street from my aunt Elsie Peterssen's beauty shop. Her dad, my grandpa Adam Yersevich, would ask her for some coins to go for a drink. I could see him sitting at the bar while I sat on the porch swing. Great memories from the 40's."

Here below is the information that I had sent to Ed and Charlie, along with a copy of the photo:

There weren't all that many bars on Main Street in the early decades. Here's a list pulled from city directories, some of them located on a Main Street corner and fronting on the cross street. The address numbers (except for Remak's) are in the old numbering system.


1882-1884
Ferry, Morris – Washington corner Main
Gallagher, Hugh – Centre corner Main
Given, James – Centre corner Main
Kennedy, William T. – Centre near Main
Shigo, John – Centre near Main

1884-1886
Carey, Patrick – 27 E. Main
Ferry, Morris – Washington near Main
Kennedy, William T. – Centre near Main

1886-1888
Carey, Patrick – 14 E. Main

1895
SALOONS
Haas, Frederick - southeast corner Washington and Main
Murphy, Edward (or Edwin) - Centre corner Main
Snyder, Daniel - 17 Main
WINES AND LIQUORS, WHOLESALE
Dusheck, Charles - southwest corner Main and Washington
BOTTLERS
Zemany, Michael - 28 Main

1897
WINES AND LIQUORS, WHOLESALE
Dusheck, Charles - southwest corner Main and Washington
BOTTLERS
Zemany, Michael – 17 E. Main

1901
Gross, Samuel, saloon, Main
Murphy, Edward, saloon, cor. Centre and Main
Dusheck, Charles, liquor dealer, cor. Main and Washington

1921-1922 and 1928-1929
Remak, Michael – 709 Main (there from 1910)

So, website visitors, any other ideas as to which bar that might be in the photo? All feedback is welcome. My apologies to everyone reading this for being so late in updating my website. As always, if you have any information or guesses to share about any of these new photos (or anything else on the site), please send to me and I'll post to share. Thank you, and best wishes for the new year.



---
Featured photos: Ridge street Opera house, contributed by Charlie Gallagher, with additional information from Brigid McMenamin, posted 9-18-2016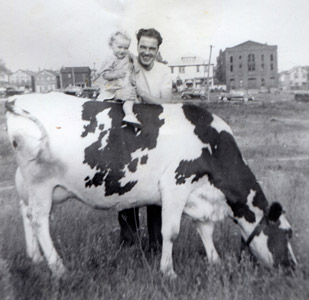 Charlie Gallagher sent me a photo of relatives of his, photographed with a cow. It was very exciting! They were standing in a clover field, and I thought it was near where later the Clover Bar was built (and, I've heard, named for the clover field). Many Freelanders in the old days had livestock (cows, pigs, chickens, etc.) and in the case of the cows they needed to be able to bring them to temporary pasture somewhere. The open field at Ridge and Luzerne streets was a popular spot for this purpose, and in this photo you see one of the local cows, photographed with Charlie's relatives. However, he emailed me back to offer a correction to what I'd written there: "My Pop (Bernie Jr.) holding my sister Sheila on the back of the cow. They would have been standing near the south end of St. John's parking lot on Vine Street. (Notice the cars in the background are on Fern St, not Ridge St.) "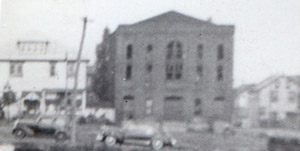 Ok, so there was more open land there in 1941 than I'd thought! But it wasn't just actually seeing a cow in what I thought was the legendary Clover Bar clover field that was exciting, although that was pretty cool -- it was also the buildings in the background. The large building is one of John Yannes's two opera houses (the other one was at Front and Washington streets), and although the photo is blurry you can get some idea of what that building looked like before it became a silk mill and later was turned into apartments for senior citizens.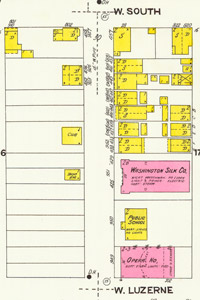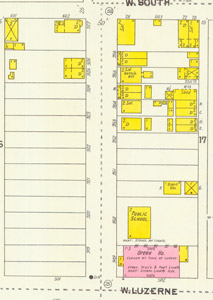 The building next to it had once been one of the small public schools (see Freeland schools in 1912 for the others), later Belekanich's beer distributorship, bar and restaurant. Both buildings are still there. Charlie's photo was from 1941. The map details shown here are earlier (left 1905, right 1923), but the maps and 1941 photo show that for quite some time much of the west side of that block of Ridge street remained undeveloped. Although you see that in 1923 the Band Room was already there!


More about the Opera House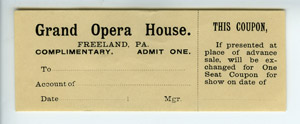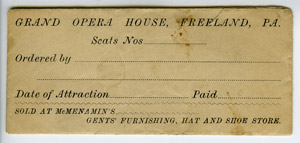 These two items also come from Charlie. John McMenamin's men's clothing store was on Centre street, two buildings down from O'Donnell's livery in the middle of the block between Luzerne and South streets. By 1923 the building number was 438 (earlier it had been 86 S. Centre, then 113 S. Centre - you see on the map details below how the previous number is in parentheses next to the new number for each building, as the address numbering was redone several times in town and the maps had to keep up). The Ridge street opera house was just a block or so away. Here we have a complimentary ticket to the Grand Opera House, along with the envelope that it or paid opera house tickets would be placed in. So McMenamin's store was one business where one could get tickets to shows. In the 1917 Scranton phone directory, which included other area towns, John McMenamin is listed at 436 Centre street as "Mgr. of Opera House." In the 1921 city directory, at 436 Centre the "men's furnishings" store was now being run by Bernard Boyle.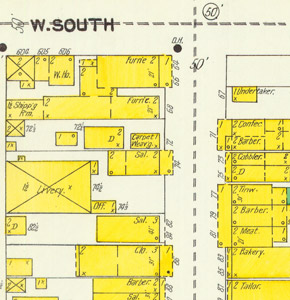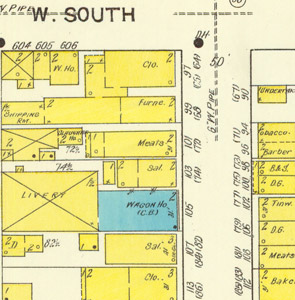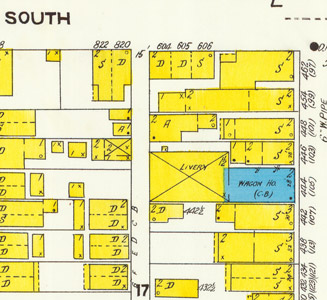 Awhile ago Brigid McMenamin sent some information to add to the Baseball page, writing: "I just noticed that in your 1903 photo of the Freeland Tigers the guy in the middle (jacket, tie, full head of dark hair) looks just like Hugh A. McMenamin (1878-1943) of Centre Street, who graduated from MMI, St. Michaels (Toronto) and Philadelphia Dental School 1907 and went on to practice in Scranton. I know he was associated with the [Freeland Tigers] team, which I believe was cofounded by his brother John J. (1872-1917), who also managed the Opera House, founded a men's shop on Centre, and co-founded the Ferry drugstore, and built a big house on Vine for his wife Margaret (Maggie Ferry, sister of Fanny & daughter of Freeland saloonkeepers/ hoteliers Maurice & Mary (McGinley) Ferry) and their 11 children."

In a follow up message, she added: "This is definitely a photo of Hugh A. McMenamin. Perhaps he was between college and dental school. I do know that John had been President of the Tigers club but by this time he was busy with a growing family, managing the Grand Opera, selling tickets out of his Centre Street haberdashery, and had just co-founded the bank. As for the Ferrys, I believe that what they called a hotel was really the saloon, though perhaps they also offered food and rooms. I'm guessing it was on the corner of South & Washington closest to 517 Centre, as that's where Fanny lived in the 60's. Whatever it was, it must have been a success, as the Ferrys led fairly comfortable lives, and were able to provide their children with music lessons, education in Toronto, and pleasure trips to Montana and even Ireland in 1897."

[In case you are rereading this section, I had earlier included here some listings of McMenamins and Ferrys from early Freeland directories, but I've removed them to use on another page about these businesses later.]

Thank you, Charlie, and thank you, Brigid for these featured photos and information that I'm posting here today. Great stuff!

P.S. Just as a matter of interest, here are previous occupants/listings possibly in that building at 438 Centre before John McMenamin was there (I say possibly because sometimes these published listings are wrong):

Grocery at 86 S. Centre (1895 Sanborn map)
Gillespie & Curry (John Gillespie and E. J. Curry), grocers (1897 city dir.)
Andrew Polesa's saloon (1897 city dir.)
Gillespie & Curry (John Gillespie and E. J. Curry), grocers (1901-1902 city dir.)
Curry, E. J., dry goods and groceries, 91 Centre! (did they move?-CT) (1901-1902 city dir.)
Andrew Polesa's saloon (1901-1902 city dir.)
Dry goods at 86 S. Centre (1900 Sanborn map)
Clothier (1905 Sanborn map)
McMenamin, J. J., gent's furnishers., etc., 86 Centre (1901-1902 city dir.)
Clothing - 113, formerly 86 (1912 Sanborn map)


---
Featured photos: Small grocery stores in Freeland, posted March 4, 2016
Coming SOON, three pages on the family grocery stores / grocery stores on wheels / meat markets run by the Merrick, Remak and Gabuzda families. Drafts have been sent to all involved for review, and I hope to post the pages before the end of summer. In the meantime, I've posted a few photos from each page here. For more than a century stores like these were a vitally important part of the social fabric of Freeland.

How did our local grocers get their start in the business? They could start from scratch, or take over a previous business, or apprentice with a grocer or butcher to get experience and then start a new business. Several examples are shown below.


Gabuzda Brothers
Photos and information came from Bernice Gabuzda Clapper,

Marion Gabuzda Denion,

Martha Gabuzda Cooper, and the late John Gabuzda

.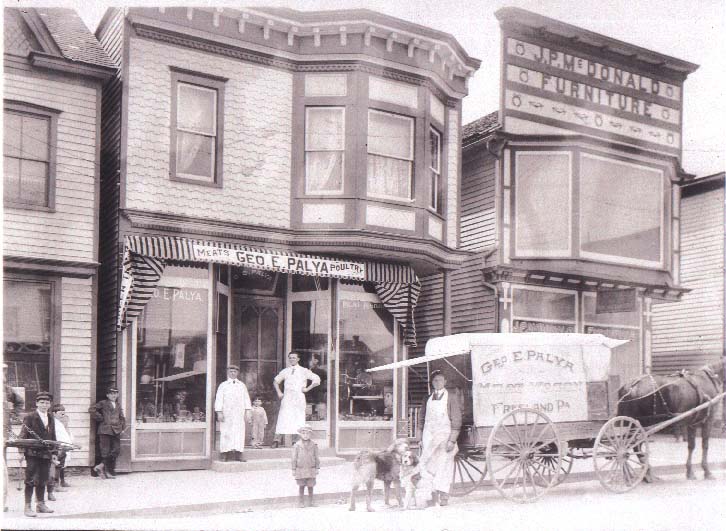 A few years after arriving in the U.S. from the Slovakia area of the Austro-Hungarian Empire, Srephen and George Gabuzda apprenticed themselves to their uncle, George Palya, an established Freeland "butcher" (now known as meat cutters). Stephen apprenticed with George Palya first, ca. 1908. George followed around 1910-11. The 1910 Census shows Stephen living in the Palya household, and his brother George was in Mahanoy City until 1910.

Photo caption: George E. Palya Meat Market and horse-drawn meat wagon, west side of 400 block of Centre St., near South St., Freeland, PA, circa 1908-1913. Owner George Palya stands on lower step, left of front door, shown along with brothers and Palya Market apprentice butchers George J. Gabuzda (right side of door, hands on hips) and Stephen Gabuzda (guarding the meat wagon). The brothers started their own business partnership, selling meat and their own milk, only 2 or 3 years after this photo was taken.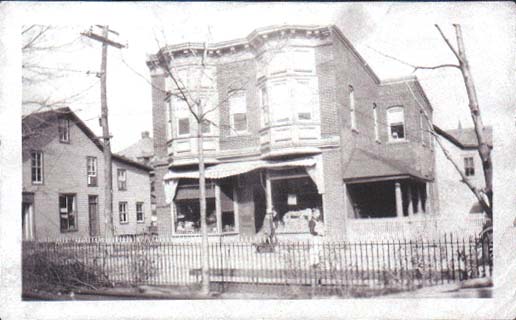 About 1912 they opened their own meat and grocery store, "Gabuzda Bros. Meats and Groceries" at the northeast corner of Centre and Chestnut streets while a store and residence building was being constructed for them on the southeast corner.

Photo caption: Building to the left is Reese's store and home where the Gabuzda Bros. first opened their business before moving into the new one pictured.

George and Stephen were in partnership about 1914-1933. Early on they had 4 delivery trucks serving the "patch" town residents. In the early years those would have been horse-drawn wagons like the one in the Palya photo further above. In the garage building were a smoke house and a slaughter house where they made their own sausages, scrapple and kielbasa. They also carried canned, boxed, and baked goods, home cleaning and laundry supplies and notions.


Michael Remak
Most of this information came from Nancy Remak Penn, with additions from Ed Merrick. Both are grandchildren of Michael Remak.



From Nancy: My grandfather Michael Remak (1872-1949) immigrated to America from Morva, Hungary about 1887. He was also a bottler (at the same Main St. location) and in 1912 he had applied for a wholesale bottler, brewer and distillery liquor license. According to his 1903 marriage license application his occupation was "driver" (this was probably a horse drawn wagon for beer distribution deliveries).

It was probably not long after 1903 that he opened his own liquor business. He applied for a liquor license for a business on Ridge Street in Freeland in 1905.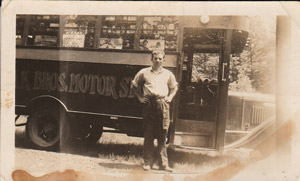 He also tried his hand in the stores on wheels, selling cabbages, vegetables, etc., that went from town to town in the 1930s. It was Michael Remak's sons John (1917-1992), George (1915-1998) and Mickey Remak (1907-1970) and his son-in-law Tony Merrick that operated the "Remak Bros. Motor Store" trucks.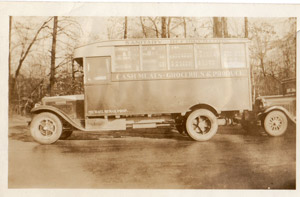 Left photo caption: John Remak standing in front of Remak Bros. Motor Store. (Nancy Remak Penn photo)


Right photo caption: One of the Remak trucks, from 1933. On the side is written: Sanitary refrigeration - Cash meats, groceries & produce - Michael Remak, prop.
(Ed Merrick photo)


Anthony Merrick
This information and the photos come from Ed Merrick with additions from Nancy Remak Penn.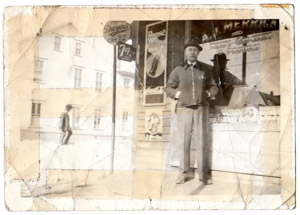 Anthony (Tony) Merrick first worked for the man who would be his father-in-law, Michael Remak, on Remak's grocery truck for awhile, and then he was hired by Emri Silvasi at Silvasi's Meat Market, where he and his brother Stanley Merrick worked as meat cutters.

Tony Merrick opened his own grocery store in a building the Merricks were renting from Mr. Sosnoski at 355 Washington Street, site of Sosnoski's previous butcher business.

Left photo caption: Ed wrote: "This is my dad, with his ever-present cigar, in front of our store at 355 Washington Street on March 23, 1941. That's 5-year-old me on the snow bank. The sign says: A. J. Merrick Meats, Groceries & Produce."

[

Note:

Enlarged copy of this photo was digitally repaired by Jay Cawley -- thank you, Jay!]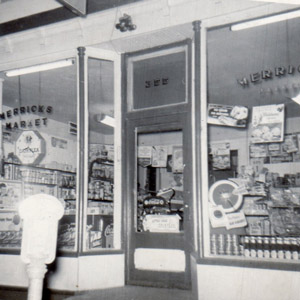 The Merricks moved to 355 Centre Street in 1950 (next to Kostick's) and opened a new grocery store there. Ed remembers: "When we moved to 355 Centre, we gave up the truck, although we did make deliveries by car on Saturday to our customers who couldn't make it to the store."

Ed noted that the inside view at right shows the store aisles, looking toward the front door. The bread shelves were in the center because bread was a big seller.

Right photos caption: Exterior and interior views of Merrick's on Centre street in 1956.


---
Featured photos for Christmas 2015, posted December 25, 2015:

A Christmas play, in Freeland or the Freeland area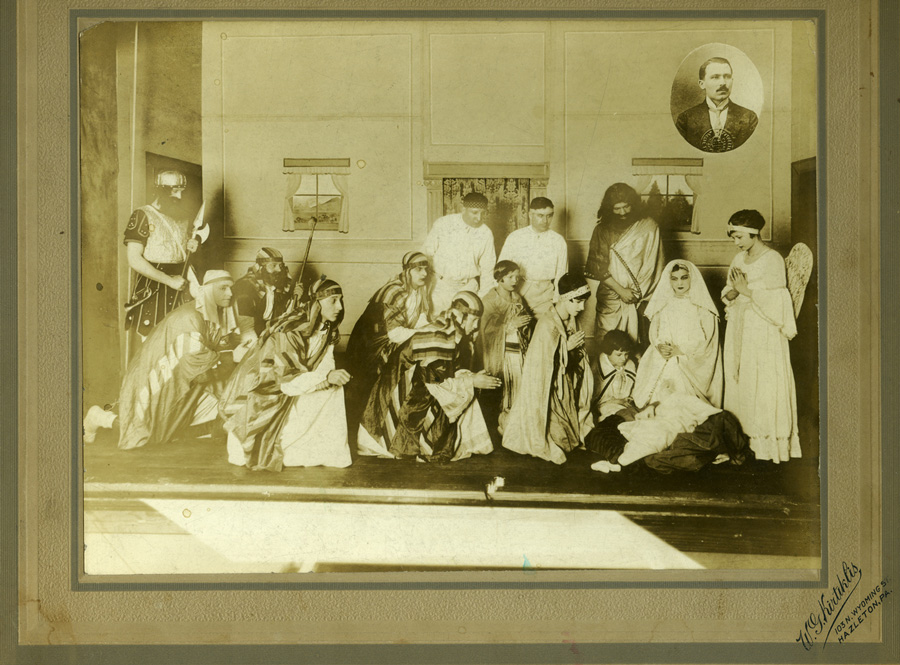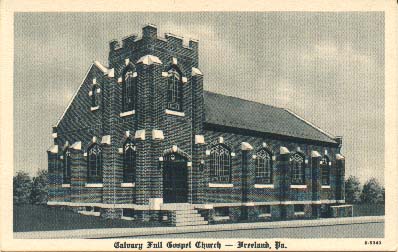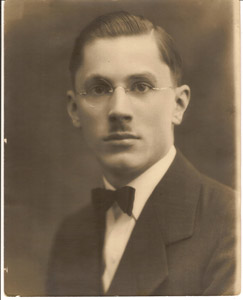 At present I'm not able to put my hands on documentation about this photo, but I wanted to post it anyway as a look at a common practice in some of Freeland's churches in the past. I have to say that the portrait in the upper right corner looks very much like Reverend John Grayson Jones, pastor of the New Calvary Pentecostal Church, now home to the Freeland branch of the Hazleton Area Public Library. Or, perhaps that's just a superficial resemblance. The more I look at the two portraits, the more I think that might be someone else. I'll look into this further at some point, but meanwhile please enjoy the photo of the participants in a Christmas play in our area, many years ago.



---
Gubi from St. Mary's church in Freeland - originally posted June 18, 2010

This photo comes to us courtesy of Ann Malenky Nakpairat.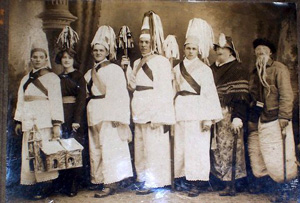 From time to time I receive photos or copies of photos reflecting Freeland area history from correspondents. I will feature one of these on this page every once in awhile, so that more people get to see them. Today's feature photo came from Ann Malenky Nakpairat. She doesn't know who any of the people are in the photo, but they may be from St. Mary's around 1929. Can you or someone you know help???

Ann wrote: "I believe [this photo] is a group of Gubi from St Mary's church in Freeland, who went out before Christmas singing carols and were scary as all get out to kids. It was my grandfather's. I remember it being at the farm ever since I can remember. Whether I ever saw these Gubi, I don't know; however, I do remember much talk about them and how scary they were. I also recall hiding the picture in a trunk. Sometimes lore takes on a life of its own. The first one is carrying a church model with, they say, a nativity set in it. Born in 1855, I doubt that my grandfather was a caroler nor my father. No one in our family can sing a note. I do not know the identity of any of them. They would have to be from St. Mary's as we celebrated both Christmases in our family."

Ann guessed that this photo might date from around 1929. Charlie Reczkowski also shared with me a recollection of a group that he called the Kuby Bace (pronounced "Koobee Botchee") from around 1930, who caroled in the Slovak, Polish and Greek Catholic parishes in Freeland at Christmas. The carolers included a Santa and several angels in white clothes with red and blue ribbons criss-crossing their chests. They would go from house to house, and would donate to the churches part of the money they received for their singing. As I look at this photo, I can see that it would have been the two individuals in masks on the right who would have been in charge of scaring kids. Notice also the sticks they carried.

There is an even more descriptive account of such singers on the web at http://www.iarelative.com/xmas/gubi.htm. Meanwhile, show this photo to your older family members and see if they remember anything like these Gubi. If anyone reading this page knows of other people who participated in this tradition, I would love to hear about it. Additional photos would also be very welcome. I know that something like this tradition is still practiced in parts of Slovakia, and I don't know whether it is still done in other countries in eastern Europe. However, this is a tradition that has surely all but faded from our American experience.


---
Featured Photos: St. Ann's in Woodside, a century or more ago - photos from Charlie Gallagher, posted 8-18-15

Charlie Gallagher is treating us to views of a St. Ann's that hardly anyone living will remember now – views of the old, old, old St. Ann's.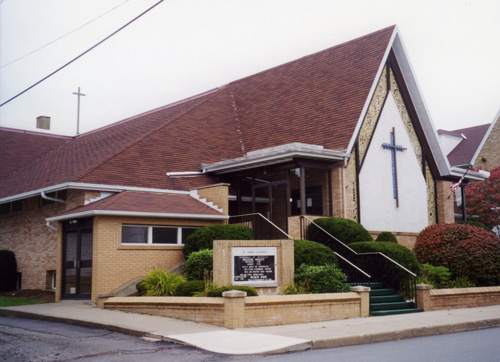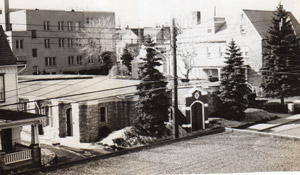 Not the old one that lasted about 40 years from 1967 to around 2007, before being transformed into Our Lady of the Immaculate Conception Church, an amalgamation of the four Roman Catholic churches in Freeland. (Photo at left - C. Tancin)

And not the older one that was also on Centre Street and also lasted about 40 years, from the 1920s to the 1960s. (Photo at right - Ed Merrick - thanks, Ed!)

No, these historical photos are of the oldest St. Ann's, the St. Ann's that was built in Woodside in the early 1870s as a mission of the Immaculate Conception Church in Eckley. With time and demographic shifts, the mission outgrew the mother church to become a large and prosperous parish.
The photos shown below were made several decades after the founding of that first St. Ann's in 1874. Charlie's family were parishioners, and many of these photos show at least one Gallagher family member.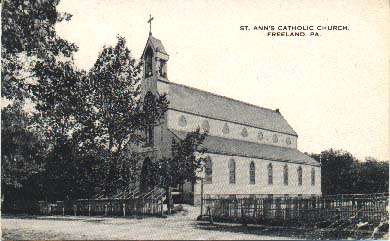 But first, here's the church, shown in an undated triptych postcard along with two views of the road near the church. Another postcard from my own collection was suggested as an addition because Charlie thought it would be good to highlight the hitching rail in front of the fence! That card at right is from the 1890s or early 1900s, and of course a hitching rail would not have been part of the later churches on Centre Street. Imagine a Sunday morning with a number of horses tied up there.

I've cropped some close-ups from the triptych postcard for a better look. I'd welcome any comments, especially about the two views of the road.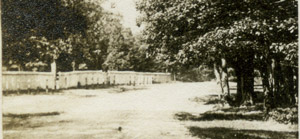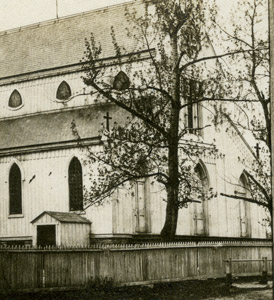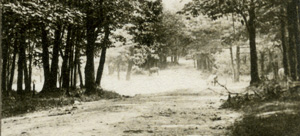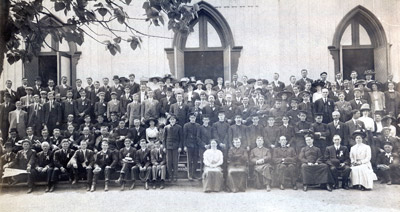 A group photo dated May 17th, 1911 shows mostly men of the parish, and one of them at front left holds a C.T.A.U. pennant (Catholic Total Abstinence Union). Most of the people in this photo (excepting the clergy and the band members) are wearing lapel ribbons of some kind. Charlie commented that this photo represents only a fraction of the parish, which would have been quite large by 1911, nearly 40 years after the church was dedicated. I think that looks like Rev. Falihee in a suit, seated front and center between two other priests in cassocks. Can anyone supply the names of these other clergymen?

In 1884, ten years after the church dedication, a convent and school were also built and dedicated. The school opened in 1886. Students were taught by members of the Sisters of Mercy, an arrangement that would continue throughout the lifespans of St. Ann's schools in Woodside and in Freeland.


Here are two graduation programs from 1902 and 1906. Both graduation ceremonies were held at the Grand Opera House in Freeland. The 1902 program at left is from the graduation of the senior class of St. Ann's Commercial School. The students graduating were: Cornelius Breslin, John Boyle, Mary Cross Salvador DePierro, Anna Denneny, Alphonsus Gallagher, Mary Green, Bid Herron, Maggie Kelley, Hugh Malloy, Aubrey Powell, Nellie Quinn, Charles Reilly, Grace Sweeney, James Thompson and Cornelius Welsh. Some very familiar names there!
The 1906 program at right was billed as the "Thirteenth Annual Entertainment by the Pupils of St. Ann's Parochial School. Second Night." The elaborate festivities included distribution of medals and certificates of honor, the salutatory and valedictory addresses, several musical pieces, a play and an operetta.
The next three photos show a group of young adults at St. Ann's in 1910, a few years after those graduation programs. Charlie says that the group in these photos must have been working on a show or a choral group performance.
The first photo shows the group sitting on a stage. Note the blackboard behind them. "A welcome to June" appears to be part of a program they're working on. Charlie's great aunt Mary Bridget Gallagher is fourth from the right in the first row sitting on the stage. You can see that this is a group of people who enjoy each others' company and are at ease together.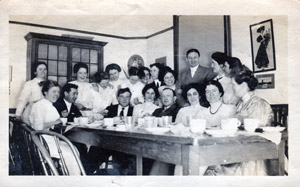 The next photo again shows the group, and his great aunt Mary Bridget Gallagher is second from the right in the back row, standing (she's wearing a black tie of some kind with her blouse). Note the Gibson Girl fashion plate in a frame on the wall. I love the expression on the face of the young woman at front left. Does that guy have a cup on his head? These people look like friends having a good time.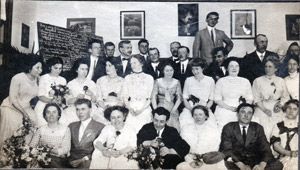 The third photo shows a larger group assembled on the stage in a more formal group photo. Note the blackboard behind them. It looks like lyrics for a song. Charlie's great aunt Mary Bridget Gallagher is fourth from the left middle row. Charlie notes that she was born in 1885, never married, and she lived with his family until her death in 1969. She was very religious, attending mass at St. Ann's every day, always sitting in the front left far side pew at St. Ann's. And a humorous side note: She listed herself as 25 years old on the 1910 census, 25 on the 1920 census and 25 on the 1930 census. "A woman never reveals her age" was one of her sayings.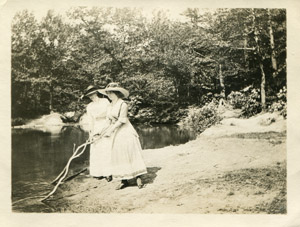 Woodside Lake was near St. Ann's and was a popular picnic spot in those days. This photo was taken in June 1913, and the person on the left is Emily Eckert Gallagher. I'm not really sure what they're doing there at the edge of the water with those branches. It's interesting to me to see how dressed up these young women are, out there in the woods. Their hats are amazing! The Flapper years (Roaring Twenties) are less than a decade in the future, but you would not know it to see these two. World War I has not yet begun. Prohibition and the Great Depression are still to come. These young people and their families and friends are enjoying what seems like an idyllic time on the brink of life-changing historical developments.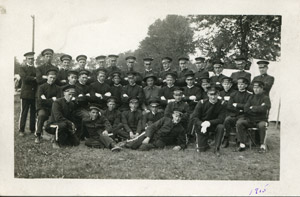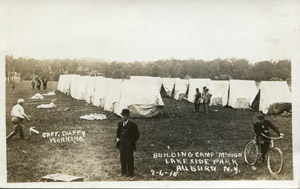 These photos of St Ann's Band are dated 1915. Charlie's grandfather Bernard Gallagher is fourth from the right in the back row in the leftmost photo. At right the band members stand in formation with their instruments. Apparently every August the band went to Auburn, N.Y. to play. A third photo shows them building "Camp McHugh" there in Lakeside Park.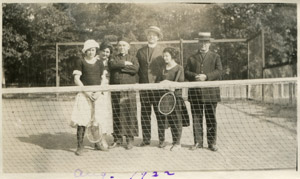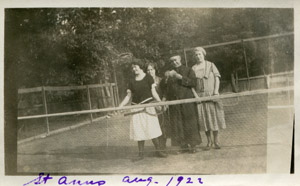 And finally, St. Ann's in Woodside even had tennis courts! These two photos were taken in August 1922. In the picture at left, Mary B. Gallagher is second from the left. In the other photo we see Emily Gallagher. This is nearly the end of the parish's time in Woodside. Soon a new church would be built (or at least begin to be built) on Centre Street in Freeland, and the Woodside days will be a memory.

Thanks to Charlie for sharing these long-ago views of a vibrant parish and an important part of Freeland's history. Most of us who remember St. Ann's, even our oldest family members and neighbors, remember the churches on Centre Street. These glimpses of what came before all that are truly priceless.

---
Featured Photos: Early views of St. Mary's Byzantine Catholic Church, posted March 20, 2015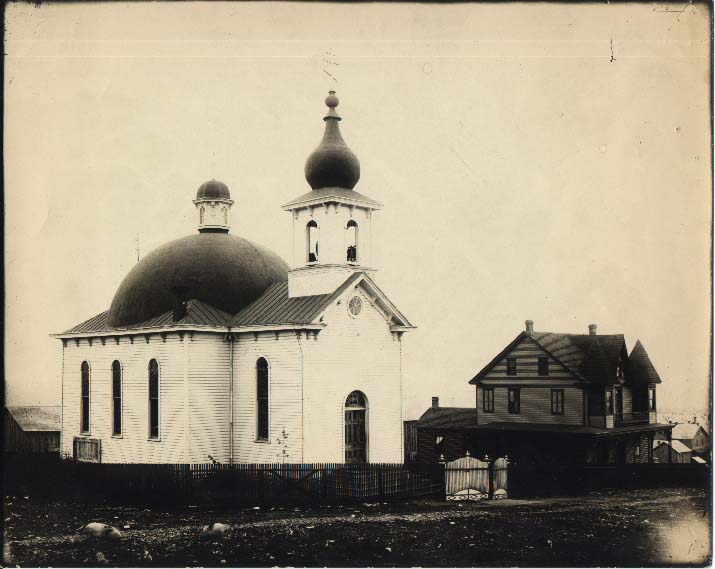 St. Mary's, known for years as the "Greek Church," was founded in 1887 by immigrants who came chiefly from the Carpatho-Rusyn area of Slovakia and perhaps also Ukraine. This photo came to me from John Zubach, and is evocative of very early Freeland. The architecture was unlike that of any other church in Freeland, with its exotic combination of a large round dome and a steeple topped with an onion dome and Byzantine-style cross with its three cross-bars, the bottom bar pitched on a slant. These crosses are found on both Eastern Orthodox churches and Eastern Catholic churches in the Byzantine rite. It looks to me like this photo is early enough that the building that the students in the next photo are standing in front of has not yet been built to the left of this church. The fence around the church is also interesting, with its gates of a very eastern European style. A number of Freelanders kept livestock in the early years of the town, and my brother and I speculate that this church fence was made in part to keep out livestock wandering in the area. I wonder if the rather elegant building to the right of the church was the original rectory.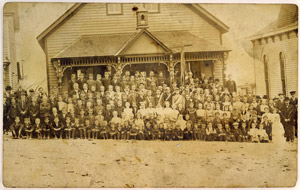 The photo at right was sent to me by Ann Nakpairat. It's an early photograph of St. Mary's Byzantine Church School, which she dates at around 1896. According to Ann, her father, John Malenky, is in the first row, fourth from the right. Born in 1890, he is wearing a cap and appears to be about 6 years old. Her grandfather, George Malenky, said to be a founder of the church, may be the gentleman with the mustache standing in the top row at the far left of the photo. I'm not sure whether there was an actual school building at that time at St. Mary's. If not, perhaps the children were instructed in the church? Or, perhaps that building they're in front of was an early school. If anyone reading this knows, would you please email me? The St. Mary's School that I attended was built quite a bit later than this photo and probably was situated on the site of the original church.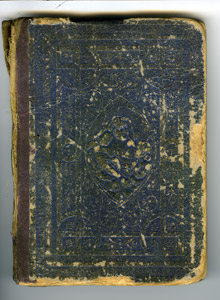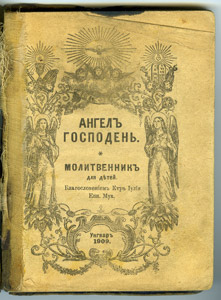 This is an early prayerbook from St. Mary's, once owned by a parishioner in Eckley. Perhaps they, like my grandparents and other eastern European mining families in Upper Lehigh, walked to Freeland to attend church every Sunday. When I was a child and attending school and church at St. Mary's, we learned to pray in Rusyn (referred to as Porusski, which is the Slovak word for Russian language, but in this case it was referring to Rusyn, or Carpatho-Rusyn). The prayerbooks we received for our First Holy Communion ("Heavenly Manna - Nebesnaja Manna," with white covers for the girls and black ones for the boys) no longer had the lettering in Cyrillic. We schoolkids sang the mass in Porusski six days a week. That linguistic connection to the old country was all but obliterated when the Vatican decreed in the 1960s that Catholic masses in the U.S. would only be celebrated in English, and that must have felt to the older parishioners like a severe blow. The page opening shown here is for Easter.




This Rusyn textbook at right was in use in St. Mary's in the 1920s-1930s and perhaps later. The children were taught Rusyn in school to maintain a cultural connection with the old country. This book was given to me by a classmate, Patricia Bzdil (now Patricia Paul). It was her mother's textbook from her own childhood at St. Mary's. By the time I attended school there in the 1950s, we were no longer taught to read, write and speak Rusyn as a second language. Note that this textbook and the prayerbook shown above are both printed in Cyrillic. I think that the Slovak language used at St. John's Nepomucene Roman Catholic Church in sermons and other uses would have been printed in the Roman alphabet that we're all familiar with, not in Cyrillic. See the Ethnic groups page for a PDF copy of this book.
---
Featured photos: Pal Whitehead died on Christmas eve, 2014, posted January 2, 2015

Because Pal played such an important role in Freeland in so many ways, and because he touched so many of us with his warmth, humor and generosity, I wanted to post the news of his passing especially for out-of-town readers, and share these photos from Ed Merrick and Charlie Gallagher.


Here's a link to his obituary in the

Standard Speaker

.


This beautiful photo comes from Ed Merrick, taken in front of Woodie's on February 23, 1987.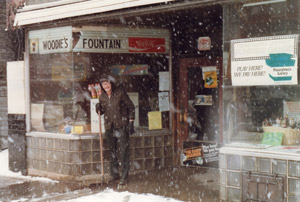 Charlie Gallagher shares this picture of Pal when he was Fire Chief in the 1976 Centennial Parade.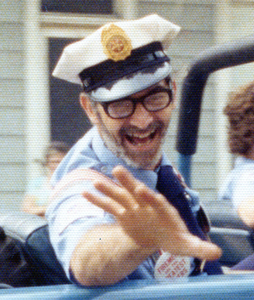 And here are some more photos from Ed Merrick, showing Pal and others enjoying pickup football games in the mid-1960s. Ed took the leftmost photo at a football game on September 6, 1964 at the Tigers Park, "or MMI Field as it has come to be known. Pal was coach of Woodie's Raiders, who lost to Smokey's Bears 18-0." I asked him if he could tell me more about these games at Tigers Park. He wrote: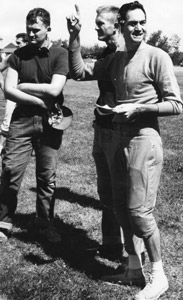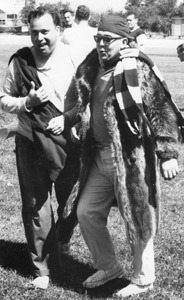 They were pickup teams. The manager of the Bears was Jim Quinn, whom I do not know. He was probably a guy who came in for a cup of coffee, started talking to Pal, and challenged him to get a team together and play. We had no helmets and pads; we didn't even have goal posts, hence the score. Tom Zubatch published a bunch of the photos in his Pennysaver, and I wrote a funny article to go with them.





For your information, [the photo at right] shows Don Snyder and Jack Timony, girded for battle; [in the center photo], Pal in center seated; standing, Carl Poppolardo, your neighbor; a fellow who is familiar but whose name I can't come up with; Don Snyder in white hat; and Ed Herbener, with his arms over a fence at right; I can't remember the name of the fellow in the middle.

A fourth photo from Ed shows this great action shot!



---
Featured photos: Highland views from yesteryear, sent by Tom Yaruso, posted October 1, 2014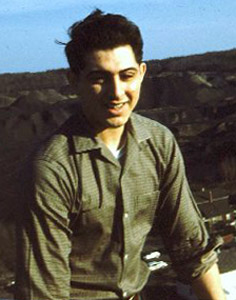 Tom Yaruso of Highland, now living in Raritan, N.J., has been a really helpful correspondent. At the end of one of his early emails to me he signed himself "Tom Yaruso, ex-Highland guy, Foster Township H. S. class of 1955." Although he first wrote to me in 2001, it's in the last year that he has sent me a number of his own photos taken during his life in Highland. I'll add them to a page about Highland at some point, but in the meantime I'm sharing them as our current featured photos. They will bring back memories for some people, and will give a new window onto another time for others. Thanks to Tom for sharing these pictures, and for the information he sent along with them.



Last October he wrote to me to complain that there was no picture of Highland School on my Schools page.



Highland School, Highland, I see nothing on Highland School in which I attended from 1942 to 1948, my mom attended 1919 to 1925, then attended Foster Township high school in Woodside building before Foster Township High School new building was built. I remember when in I think 1946 or 1947 Eckley, Sandy Run and Ripples schools closed and everyone attended Highland School. Our family members lived in the same Highland home from 1906 to 2009, then my mom, Evelyn Yaruso lived in St. Luke's nursing home in Hazleton for the last 17 months of her life, 2 months short of her 97th year.



I wrote back to him, and he followed up with this note: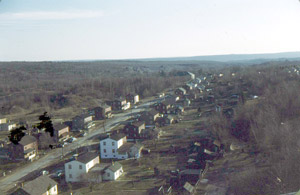 Thanks, the only picture I have of Highland School is one where in the top area the school can be seen. I took a picture of Highland from 150 feet up on top boom of dragline shovel in fall 1959 or 1960. It's looking west toward Hazleton. Highland School can be seen, so now you have a picture of Highland in the good old days. All of Highland can be seen except the last house, the shovel was back of our home. I was 24 years old at the time and you couldn't pay me to do it again.






Following on this, we had some correspondence back and forth about the coal breakers in Highland:



I also have picture of Markle Coal Company Highland #1 Breaker at east end of Highland, taken I would say around 1930 as found among mom's 500 or more pictures. My grandpa Peter Martonis worked in Markle Coal Breaker Highland #2 under ground from 1906 to late 1930's. This was his only job upon arriving from Lithuania with a wife and one daughter, and after that they had 7 more daughters and one son born in America. For this he died at age 72 from black lung. Highland was a beautiful village in those days, flowers, vegetable gardens and yes, we had an outhouse up to 1965. Those folks from Europe took pride in their company homes and gardens. We had coal region pride in those days.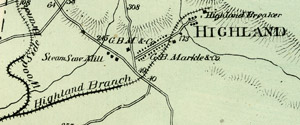 When I wrote back and sent him this section from a map from the 1873 atlas of Luzerne County, he wrote this:



Thank you, I have that map, our home was the 2nd from the end before railroad tracks, left side of road. Grandpa Peter Martonis, his wife and daughter lived there upon arriving from Lithuania in 1906, company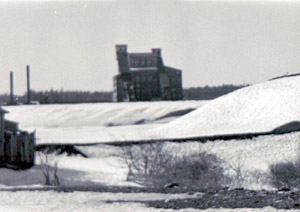 homes, he had 1 son and 7 more daughters born in that home, and my brother and I and a sister were born there in 1935 1936, 1937. My mom lived in the same home till 2008. Highland Breaker #1 was on east end of town. Grandpa worked in Highland #2 under ground for over 30 years and died of black lung in 1952. I remember the sawmill but it was only foundation and pillars at that time. I have a picture of Highland #1 breaker and picture taken from our front yard which you can see the washery. I also have a picture of Highland Breaker #1 on the east side of Highland village taken in 1920's, found in my late mom's album. As kids my brother and I with our mom would walk down at shift change to watch the miners being pulled up slope to the top in small coal wagons. This photo is of Highland Breaker #1 Markle Coal Company, located on east end of Highland, 1930, date is hard to make out on picture. The last house in Highland can be seen left side.



A month or two later I got two more emails from him: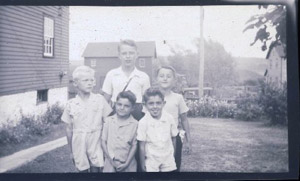 Hi, I came across another negative of a picture taken in our yard, Martonis family home, 44 Main St., Highland of me, my brother and cousins, I would say 1940 or 1941. There is a truck or horse drawn wagon in front of our house with Jonny's Ice painted on its side, I can find no information on Jonny's Ice in that area.

I am the first boy on bottom row right side, my brother next to me, rest are cousins. The truck says Johney's Ice, I can read it on the negative. Photo taken outside the Martonis home, Highland, 1941. Also the picture I sent to you of Highland taken from top of boom on drag line shovel, I found another one which shows all of back street in Highland.



Here's a note from mid-May 2014: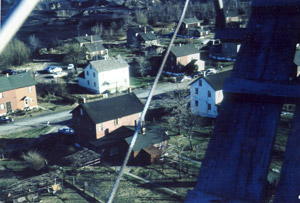 Here's a picture of the back street in Highland from 1961, and the other picture is members of Highland Social Club, I believe 1946 or 1947 by looking at my grandfather's picture, Peter Martonis, left side top of picture. I remember them all, fine men who all passed on years ago.

The Highland picture of back street is looking south where Highland # 2 breaker was, Eckley was just over mountain. I have pictures taken from the big dragline shovel, which was at that time back of our home, I will send a picture of me on very top holding on tight. Names on picture of Social Club are, front left, Peter Petrushka holding bottle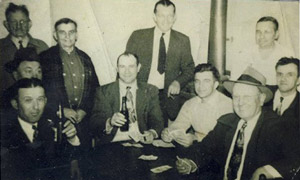 beer, across table with hat on is Nick Soberick, 2nd row left is John Spetz, Shine Tomari center holding beer bottle, father in law of Eugene Chitswara, Highland School and Foster Township H.S. buddy who sent the picture to me from Colorado, Peter Husowitch who delivered coal, Frank Laganosky on end, champion red top mushroom picker in Highland. Back row left side, my grandpa Peter Martonis who arrived from Brazil after leaving Lithuania, working in mines there to earn enough money to send his wife and my aunt Vern from Lithuania to Highland, I believe he was sponsored by his cousins, the Kuklis family in Freeland in 1904. J. Jupin, Mr. Kanyak and "Peggy" Stefanik, some names may be mispelled. The club house is still in the center of Highland on right side going down Main Street, in the early years it was in a 2 family house converted to single house, and as kids we were allowed to sit on benches and watch Howdy Doody, Frontier Playhouse on TV from I think 4 o'clock to 5 o'clock, only place in Highland to have a TV and a one-arm bandit which was against the wall on right side. The home was torn down I believe 40 or more years ago and rebuilt as it now stands. I have no pictures of Highland Hall, the old Highland school house. Any other questions I would be glad to help out as I soon will be 78 years young and have many good memories of Highland at that time when it was great.



Tom wrote again in August: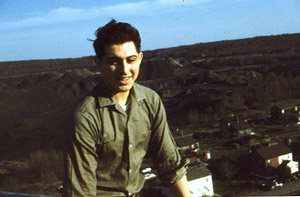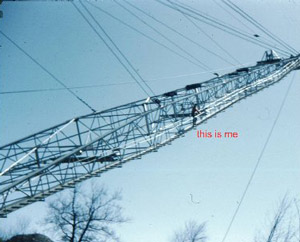 Hi, I found other Highland village pictures, it's me on top gangway of dragline shovel where I took pictures of Highland. Highland # 2 Breaker was even with my lips to the right side. Base of Highland Eckley mountain as shown on painting at post office. These were taken in 1961, the breaker was gone then. To the left of my head was the culm bank where culm was dumped by small rail cars, it extended far, it was not usual high bank which were high like the one off 309 south, left side by Audenried McAdoo.





And he added a note about the Post Office mural:



I remember my grandpa, Peter Martonis from Highland who worked underground at Markle Coal Company # 2 at base of Highland Eckley mountain, told me that breaker on the Post Office mural is # 2 where he worked from 1906 till I think 1939. We lived with him in Highland. It can't be Drifton breaker as no mountain was in back of Drifton breaker. See the recent featured photos page for an update on this breaker question!


---
Mystery solved! Update to Featured photos: Mines and quarries - Thinking about the Post Office mural, posted June 29, 2014 (full post a few posts below, dated June 29, 2014, so after reading this, you can scroll down to see the earlier post)

At the end of his Featured photos post on my home page in August 2014, former Highlander Tom Yaruso made this comment about the question of which breaker is shown in the mural that's on the wall in the Freeland Post Office:


I remember my grandpa, Peter Martonis from Highland who worked underground at Markle Coal Company # 2 at base of Highland Eckley mountain, told me that breaker on the Post Office mural is # 2 where he worked from 1906 till I think 1939. We lived with him in Highland. It can't be Drifton breaker as no mountain was in back of Drifton breaker.



More recently, I was in touch with Charlie Gallagher, who is inclined to agree. He wrote: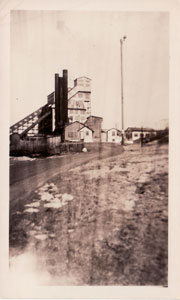 Your recent collaborator, Mr. Yaruso gives a compelling argument the the breaker is the Highland breaker. This makes sense to me, if the Highland breaker was around in the fall of 1937 and winter of 1938. If that is the case, then Mr. Follinsbee's related work "Freeland
Coalbreaker, West Pennsylvania" is actually the Highland Breaker and some of the Highland houses. (where he got West Pennsylvania from
[for the label]
is anyone's guess!)
Also, did you notice that the pencil Freeland study has a dog and a person walking just in front of the dump truck and the Freeland study in paint has two people walking in front of the dump truck that does not appear in the post office.

I was skeptical, largely because other Highland breaker images in my files don't look anything like that breaker in the mural. My brother Steve wondered whether it was the Drifton breaker, viewed through binoculars and brought forward in the painting. Reading Tom and Charlie's more recent comments, I realized that those images I'd been looking at were all of Highand breaker no. 5, and so after further digging I found a photo of Highland breaker no. 2, provided courtesy of the Freeland Historical Society. Take a look!



And now Ed Merrick has written this:


In the October 1993 edition of a publication called

Panorama

, which was sent to me by my sister, Part 28 of Charles Stumpf's
"Reflections: A Mini History of Freeland" has this to say about the Post Office mural:



In 1934 the Federal Works Progress Administration (better known as the WPA) hired artists to paint murals for federal buildings. The new Freeland post office was selected as one of the sites for such a mural. Artist John Folinsbee was commissioned in October 1937 to paint the mural, measuring 13 feet 11 inches long, and 5 feet 3 inches high. Shown in the left half of the painting are the twin domes of St. Mary's Byzantine Catholic Church as well as the roof of the Freeland Brewery, and one of the spires of St. John's Roman Catholic Church. On the right, the Highland No. 2 Breaker and a slate bank at Drifton, as well as MMI are partially visible. The mural hangs in its original position directly above the door to the postmaster's office, in the east wall. It extends the entire length of the lobby. The artist was paid $610 for his work.



So there we are! Thanks to Tom, Charlie Gallagher, Steve, Ed Merrick, the late Charlie Stumpf, and the Freeland Historical Society for helping to figure this out.


---
Featured photos: Do these young people look familiar? From Veronica Heston, posted August 10, 2014

Recently I received email from Veronica Heston:
Hi, I have two post card photos that were sent to my grandmother (Margaret Dougherty Flynn), one in 1907 and one in 1911, from Freeland. Unfortunately both photos were cropped and the message and name of sender was lost. Showing on the back is my grandmother's name, address and the post office stamp. The cards were sent her in Wilkes-Barre where she lived. Do you ever post photos on your website to ask if someone could identify the person in the photo? One is of a young man and the other of a young woman.
My grandmother, Margaret, had Dougherty relatives in Freeland and that's why I believe the boy and girl on the cards are Doughertys. I also understand that I might not get a response. Thanks for trying. Veronica

Here are the full photos, or as much of the full photos as Veronica has:









[The enlarged views of these photos have been digitally repaired by Jay Cawley - thank you, Jay!]
Do these look like people you've seen photos of before, either members of your family, or perhaps friends or relatives in photos of your grandparents or others in their generation? Any leads would be very much appreciated by Veronica. Thank you!


---
Featured photos: Mines and quarries - Thinking about the Post Office mural, posted June 29, 2014

This is a long, rambling vine of a posting. This past fall and winter I had a number of conversations (in person, on the phone, and by email) directly or indirectly about the view shown in the post office mural, and about the quarry that was the source of the stones used in St. John's Nepomucene Roman Catholic and St. Luke's Lutheran churches. My fellow conversationalists included Charlie Gallagher, Bob Zimmerman, my brother Steve, and Antoinette Ranieri Refowich. Today I'm taking the opportunity to share what I learned from them. Maybe someone reading this can contribute more.

My brother Steve and I were talking about the post office mural one day last fall, wondering where the artist John Follinsbee was looking from when he made the sketches for the Freeland mural in the late 1930s. Somewhere up on Butler Terrace, but where? Some people have suggested that what he drew was a stylized view that didn't directly copy what he saw. For a long time I thought that myself. But, it seemed worth having another look.

The three buildings highlighted in the mural are, left to right, St. Mary's, the Freeland Brewery, and St. John's Nepomucene. Further to the right is an unnamed colliery. Maybe it was supposed to be the Drifton colliery, just not shown exactly where it really was (because would he have been able to see it from where he was sitting or standing?). Artistic license, perhaps. On a side note, it's interesting that the logo created for Freeland
seems to feature the same two churches (out of 13 in town at the time), but as seen from the other direction. Charlie Gallagher tells me that the design was created by Victor Poleri, citing a 1993 newspaper clipping, which includes this note: "The Freeland Chamber of Commerce announced its appreciation to Victor Poleri for the painstaking effort he put into the design and installation of the attractive welcoming signs at the main highway entrances to Freeland. Poleri, the chamber said, is responsible for the innovative way of presenting Freeland as Pennsylvania's highest borough by depicting the community's skyline in silhouette."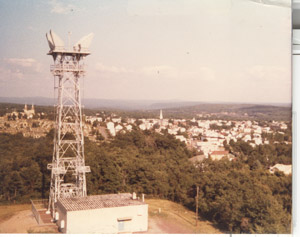 Meanwhile, my brother turned up this photo that he took around 1980, he thinks from the fire tower. Well, this was interesting. If you look at the enlarged cropped section shown at right below, the street visible to the right of the tower looks like Main Street, and would have led to within a half block of the brewery when it was still standing, putting it right where it is in the mural, between the two churches. So that seeming exact match made me wonder if perhaps there was actually a colliery somewhere there where one is shown in the mural.

Where exactly IS the spot in Freeland where Follinsbee shows a mining operation in his mural? And was he up in the fire tower seeing this view, or was he somewhere else? We know that the fire tower was actively used as a lookout point for spotting fires in the late 1930s; in 1939 Freeland's fire tower watcher Louis Corazza was quoted talking about how bad the fires were due to extraordinarily dry conditions (thanks to Steve Tancin for that link). So Follinsbee could have been up there; if so, what would he have been able to see? And if that's not where he was sketching from, I wonder where he was?

On the website for Follinsbee's work, there is a page about the Freeland mural and it includes this paragraph: "Folinsbee completed his mural on 9 March 1938, and it was installed two months later. His description, as submitted to the Section of Fine Arts, reads: 'This mural depicts a view of Freeland from Butler Terrace. Familiar buildings of the town may be seen at the left. In the central section are the mine and large breaker. In the right foreground is the Drifton State Bank, a landmark of the vicinity.' Folinsbee was so interested in this coal breaker that three years later he made it the subject of a large painting, Freeland Coal Breaker."



Questions:


1. Surely he meant to say "Drifton slate bank"?
2. What coal breaker is being referred to as the Freeland Coal Breaker?
3. Does the note about the Drifton slate bank mean that this was the Drifton colliery being depicted?
4. Could he see it from Butler Terrace?

For awhile I thought that this might have been the old Woodside colliery, but Charlie Gallagher says no, and in 1893 Bradsby wrote: "The old Woodside slope was once an active colliery but is not worked at this time. It is a short distance west of Freeland borough and toward Drifton."



The Freeland Stone Quarry



Meanwhile, around the same time that these conversations were taking place, I was also talking with my old high school classmate Harold Refowich's wife Antoinette, whose great-grandfather Joseph Ranieri built new stone churches for both St. John's Nepomucene Roman Catholic and St. Luke's Lutheran parishes. Not only did he and some of his compatriots from Italy build those churches, but they actually first quarried the stones themselves locally.

Antoinette has kindly shared information about Joe Ranieri and his family, as well as two photos. Giuseppe (Big Joe) and Elisabetha (Scarfone) Ranieri came to the U.S. from the town of Borgia, in the Calabria region of Italy. They had 8 children: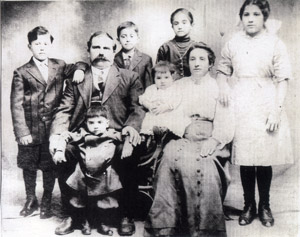 - Seraphine (Procopio)
- Bruno
- Rose (Poleri)
- Leonard
- Conjetta (died in infancy)
- Frank
- Conjetta (Senape)
- Pauline (Franklin)
When this wonderful family photo at right was made, Pauline wasn't born yet.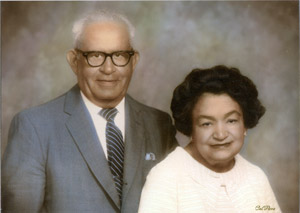 In 1914 Big Joe Ranieri encouraged his stonemason friend in Italy, Raffaele Pulera (Poleri), along with Raffaele's son Vito, to come to Freeland to help build St. John's Nepomucene Church. Another paesano who came to Freeland from the same region was Salvatore (Jimmy) Procopio. Both Vito Poleri and Jimmy Procopio married daughters of Big Joe and Elisabetha, Vito marrying Rose (at left) and Jimmy marrying Seraphine. They worked with their father-in-law at the quarry and on his building projects. It was Joe Ranieri who founded the quarry from which the stones came that were used to build St. John's, St. Luke's, and also the grocery store on Main and Ridge streets that he ran with his wife. The Procopios had a bar just a little way down the block from the Ranieri's grocery store on Ridge Street.

Charlie Reczkowski had told me several years ago about Mr. Ranieri building the churches, adding that Mr. Ranieri previously owned the site of the Corner Store and had himself built the foundation and store using that same quarried stone. There had been a grocery store on that site at Main and Ridge streets as early as 1895 (see 1895 map detail below), but in the 1920s Mr. Ranieri built a new building there that still stands today. He and his wife Elisabetha ran a grocery store there, later taken over by Billy Nitka (one of several stores he had over the years), and then later taken over in turn by the Reczkowskis and only closed fairly recently. What a wonderful long run that site had as a grocery store of one kind or another, for more than a century.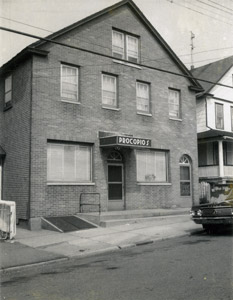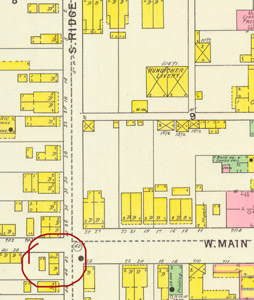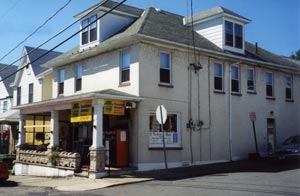 Antoinette offered to ask her uncle Bill where the quarry was, and he told her that it was "out by the Wooden Nickel." He says that the quarry founded by Joe Ranieri was on Green Street (south of South Street), second from the last property on Green Street, next to where Antoinette's grandfather Vito Poleri had his shop. The property next to that belonged to the Citro family.

I do realize that there is probably no connection between the quarry and the colliery in the mural, but these were parallel queries as I was digging for possibilities, and somehow it seemed remotely possible that these properties might have been in the same general vicinity. Or not. It does also seem possible that one might have been able to see the area where the quarry was from the fire tower, although perhaps not the actual quarry itself.

On another side note, if you're in Freeland, go and take a fresh look at St. John's Nepomucene (while it's still there) and St. Luke's churches. The stones and the stonework are really beautiful. Think about these strong and wonderfully skilled men cutting the stones out of the ground, shaping them, fitting them together to create these gorgeous buildings. What talent, what skill, what incredible ability they applied to this extraordinary undertaking. I have great admiration for these and other stonemasons who helped to build Freeland. The original St. Luke's was made of wood and built in 1876-1877; the cornerstone for the new stone church was laid in 1924. The original St. John's Roman Catholic church was also a wooden building on the corner of Ridge and Luzerne, cornerstone laid in 1892, dedicated in 1893, and the new cornerstone is dated 1915. Both of these early wooden churches, one German and the other Slovak, were replaced with larger, more solid and more complex stone buildings, built by these Italian stonemasons. St. John's new church was built a few blocks away from the old one.

Just to share a few more connections that surfaced through the emails, Bob Zimmerman noted that "Mrs. Procopio, of the bar on Ridge St. a few doors south from the Corner Store, was a Ranieri. Her daughter, Elizabeth Procopio, was my Spanish teacher in high school. … I remember her saying that her grandfather built the Lutheran Church with stone quarried somewhere near that site at the bottom end of Green St. which we always called St. Ann's. One of Betty's brothers was called 'Deitz.' It was his job to put out lanterns at construction sites where his grandfather worked. The manufacturer of the lamps was "Dietz". It has been years since I have seen Betty. The last time I visited her was several years ago at her home near Danville. We put together an art show at Eckley featuring local artists. I borrowed some of Vic Poleri's water colors from Betty and from her niece."

[I'll add from my conversation with Antoinette Refowich that apparently a number of Vic Poleri's paintings of Freeland churches are now at Our Lady of the Immaculate Conception church.]

Charlie Gallagher wrote: "I knew Vito Poleri and his son Ralph well. They had Poleri Construction on Ridge Street next to the Clover Bar. I did a lot of drafting work for Ralph when I was at Penn State and just afterwards. I did the preliminary drawings for the Refowich when AMBART Realty bought it in the 70's. AMBART stood for Ann Maryann Bernie Amy Rosemary Tara. AMBART was owned by Ralph Poleri, Edward Herbener (by the way, my best man) and James Senape.

A

nn was Ralph's wife,

M

aryann was Eddie's,

B

ernie was Jimmy's.

A

my was Eddie's daughter,

R

osemary was Ralph's and

T

ara was Jimmy's. They were going to convert the Refowich to apartments and offices. You may recall that Jimmy Senape's offices were there for a short time when he first set up his practice after leaving Martin O'Donnell. Then they sold it to Freeland Associates and it became the Freeland Senior Apartments. Many of the building trades were Italian in the Freeland Area: Poleri, DeFeo, Deitos, Pignatari, Marchetti (plumber and there was also a mason). I also remember Bruno Ranieri, but all I can recall is that he was retired. But for some reason, and I don't know why, I seem to recall an office on Main Street between Centre and Ridge Streets with Ranieri on the door. (Jack Della Croce and I would go up there to see his Grandmother Della Croce when we were kids.) (By the way, speaking of the Della Croces, where the Della Croce house is at 436 Washington Street was the site of the former Washington Street School.)"

Whew. So what have we learned here today, besides the notion that everything is connected to everything else? Seems like a lot, although not necessarily any answer to the question of the identity/location of the colliery shown in the post office mural. But this shows how fascinating it can be to pull a loose thread and not know what will come with it. My gratitude goes out to all who have shared photos, information and speculations with me. I will try to share more of this, as I receive additional input, so please send your ideas regarding that colliery. Thanks to all!


---

Featured photo: An interior view of an early Freeland factory, from Judy Domchick Hall, posted November 19, 2013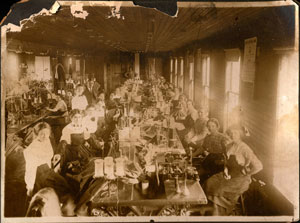 When Judy sent me this photo, she wrote: "Hello again. I was going through my Dad's albums and found two pictures you might be interested in. The first is a picture of my grandmother Elizabeth Wilson Domchick, seamstress. She was the wife of George Domchick, the Butcher. She was born in 1894. She left school at 14 and went to work as a seamstress in a factory. I don't know which one, but she lived on Alvin Street so maybe the one across from the high school? In this picture, she is the 6th young lady on the left, counting from front to back, in a dark blouse." The photo, as you'll see, is amazing. [

The enlarged view was repaired digitally by Jay Cawley - thank you, Jay!

] I have never seen an interior view of a Freeland factory from so long ago. There is so much information in this image! However, it also contains some mysteries. Perhaps some of our readers can help to solve them.


First, who are the other people in this photo? If you recognize anyone, please let us know!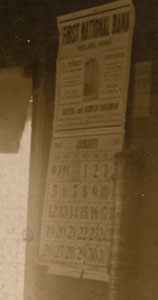 Second, when would this photo have been taken? Judy didn't have any information on that. There is a calendar on the factory wall at the front right part of the photo, from the First National Bank. [Here's an enlargement at right.] I can see that it's showing the sheet for January, and that January 1 is on a Wednesday. I checked at http://www.timeanddate.com/date/weekday.html and saw that January 1 was a Wednesday in 1908, 1913, 1919, 1930. (For some reason there didn't seem to be another Jan. 1 on a Wednesday between 1919 and 1930; perhaps that's an error from the website I checked? This needs further checking.). If Elizabeth Wilson quit school at age 14 to go to work at the factory, that would have been around 1908, and looking at her in this photo she seems to be a young woman, so this suggests that it may have been taken in 1908, 1913 or 1919. My brother Steve noticed that Elizabeth is dressing in black, while most of the other workers are wearing white blouses, suggesting that perhaps she was in mourning. Judy is checking with relatives to see if that suggests anything in terms of what year this photo was made.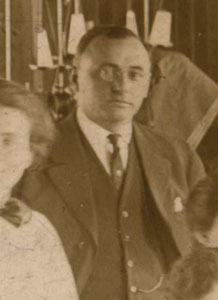 Then, a third question: what factory was this? Here at left is one clue, and I'm hoping that perhaps someone reading this page will be able to help with it. I've cropped and enlarged the image of the man in the suit who's standing in the center area of the photo – the factory owner? He looks familiar to me, but I don't know who he is. Yet. Someone out there will recognize him. Please email me and let me know! A bit further down on this page you'll see some guesses as to which factory this was, but first pleast enjoy the following additional close-ups cropped from the main photo.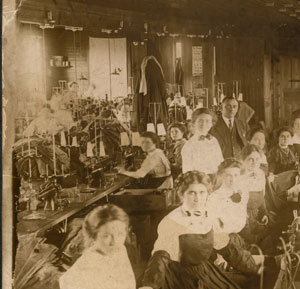 Fortunately Judy sent a high-resolution copy, so we can all benefit from the resulting detailed views. These enlarged details almost allow us to walk into the photograph. The first one [at right] focuses on the left side of the main photo, showing us that there were apparently three long tables in this room. Think of the noise! At least there was a fair amount of natural light admitted through the windows, and there were lamps hanging over the tables every few feet. Still, this must have been eye-straining work for long hours in a noise-filled room. It's interesting to see the stacks of fabric, the wooden boxes, the coat racks. This crop also gives a good view of the sewing machines.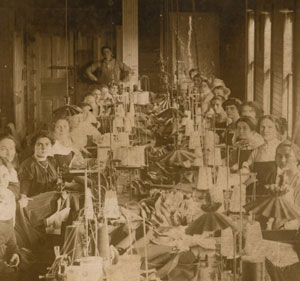 Another cropped detail [at left] focuses on the table most in focus in the main photo. What were they sewing? The fabric seems to be of various colors, but the thread all seems to be white. Judy's grandmother is clearly shown here. Most or all of these women seem fairly young. The man standing at the back of the room would have been, what, maybe a foreman, or (he's wearing overalls) a janitor or handyman? The overhead lamps are easier to see in this photo. It's really pretty impressive to see how many work stations have been fitted into the space. People today who work in offices with cubicles complain about the lack of private space, but compared to this factory situation, those cubicles seem kind of luxurious.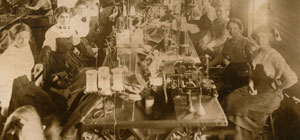 A third cropped detail [at right] focuses on the front edge (closest to the photographer) of the table most in focus in the main photo. It's easier to see that these women are wearing dark skirts and white or light print blouses, some of them also wearing aprons. They're just sitting on stools! That can't have been comfortable, hour after hour. Maybe the stools had cushions on them.

Meanwhile, site contributors Bob Zimmerman and Charlie Gallagher have both looked at the factory photo and given some feedback as to which factory it might have been. Possibilities suggested: the factory that used to be located at Foster and Cunnius streets, the DiSpirito feed store, the Freeland Bobbin Works across the street from the feed store on south Washington street, and the Abrams factory that was on north Centre street just a few buildings up from Chestnut street, across from the old Herkalo's store. (All four buildings are now gone.)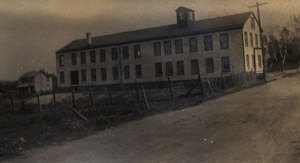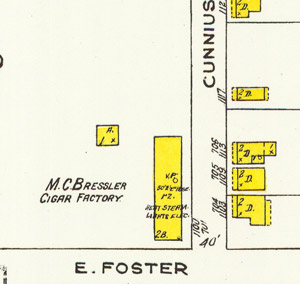 The factory that used to be at Foster and Cunnius streets was the first location of the Blass Overall Factory in 1896 (which became the Freeland Overall Manufacturing Company, later moving to south Ridge street), and later was Bressler's Cigar Factory, and even later the Major Shirt Corporation. Here's a photo showing what it looked like, along with a detail cropped from a Sanborn map.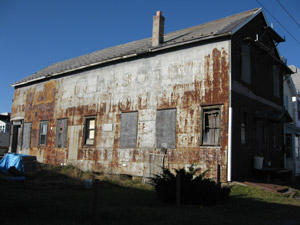 The Dispirito feed store (recently torn down) is an attractive possibility from the perspective of the configuration of the building, but there doesn't seem to be any reference to its having been used as a factory at any point. Bob Zimmerman wrote: "Architectural comparative anatomy works! Seven windows on the right side of the factory picture. Assume seven on the opposite side - et Voila! - matches the exterior shot of the feed mill. The interior picture also gives a strong suggestion that there was an outside entrance at the left rear of the building. Encore une fois - et Voila! The feed mill sports one at the same general area. Estimating the height of the ceiling on the interior at about 10 ft. and trying to make a comparable guess using the front porch ghost line it looks to me as though the distances are similar. It also seems that the width of both buildings are almost identical. I realize this is not conclusive proof but I'd like to propose Dispirito's feed mill as your sewing factory." Charlie Gallagher wrote: "Also, the Dispirito Store building on Washington always had railroad tracks adjacent to it on the South Side. It started out as the Armour Chicago Beef warehouse on the 1895 Sanborn map. I believe the railroad preceded the building. Armour is still listed on the 1912 Sanborn map, so I have no reason to believe that it was a factory for another purpose during the 1895 to 1912 time frame." Hm, but what about after that? Do we know when the Dispirito feed store opened?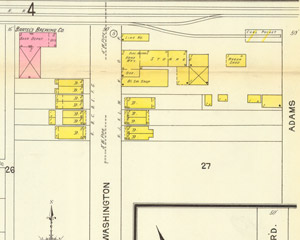 The Freeland Bobbin Works was approximately across the street from the feed store, but my impression is that it was a factory that actually made bobbins, and the few references in my files refer to their staff as being men, not women, so it doesn't seem to me that it was a sewing factory. Charlie Gallagher wrote: "The interior photograph suggests a very narrow building. This may have been the Freeland Bobbin Works. I'm a little confused as to the location, but if you look at google maps, there ia a large building just south of Dispirito's on Washington (that would have been across the railroad tracks and the first property on Foster Township). The Bobbin works is always listed at South Washington Street, but that used to start with any location south of Front Street back then. But then there is also a description as being south of Carbon Street. I'll have to do more digging." Charlie later was able to identify its location as being part of the same building shown on this map detail from 1912 labeled "Hame M'f'y." My notes list it at 175 south Washington street, which would be about right for that location.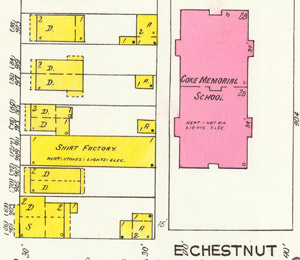 The fourth proposal for this factory location is the Ambra Manufacturing Company, which was managed by Irving and Phillip Abrams, later becoming the Freeland Shirt Company annex. According to Charlie Stumpf it was originally built by Emmanuel Berger, Freeland contractor, for a religious sect known as the "Burger Church" (listed on Sanborn maps as the Christian Holiness Church). It was purchased by the Bethel Baptist congregation as its headquarters until their new church was erected, and later the building was used by the Freeland Shirt Company. According to a 1931 newspaper clipping in my files, it was the first factory to be operated by the Freeland Shirt Co., but was abandoned "when the new Dewey street mill was completed." It was remodeled and converted into a cutting department and storage house by the company and was used in that way until it burned down. I have the impression that after the fire it was rebuilt and continued to be used as a factory for another couple of decades. Bob Zimmerman wrote of this location: "Another possibility is the old Chapel across from Mike Herkalo's little store on North Center St. I know it was used as a factory in 1941 as I remember large trucks with the Arrow Shirt logo loading in the alley behind D.C.M. School when I was in 1st grade. Of course, your picture is much earlier; if only the year on the wall calendar was legible." Charlie Gallagher also suggested this location: "Now there is one other possibility for the building in the picture. There was a factory of very narrow width on Center Street just north of Chestnut on the east side of Center. This was a sewing factory and was torn down years ago."

What about you - can you who are reading this page tell us anything about this factory photo?