These views of Highland were sent by Tom Yaruso, who grew up there in the 1940s-1950s. They were initially posted in 2014.


---
Featured photos: Highland views from yesteryear, sent by Tom Yaruso, posted October 1, 2014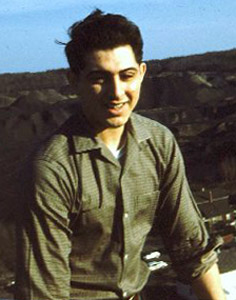 Tom Yaruso of Highland, now living in Raritan, N.J., has been a really helpful correspondent. At the end of one of his early emails to me he signed himself ďTom Yaruso, ex-Highland guy, Foster Township H. S. class of 1955.Ē Although he first wrote to me in 2001, itís in the last year that he has sent me a number of his own photos taken during his life in Highland. Iíll add them to a page about Highland at some point, but in the meantime Iím sharing them as our current featured photos. They will bring back memories for some people, and will give a new window onto another time for others. Thanks to Tom for sharing these pictures, and for the information he sent along with them.



Last October he wrote to me to complain that there was no picture of Highland School on my Schools page.



Highland School, Highland, I see nothing on Highland School in which I attended from 1942 to 1948, my mom attended 1919 to 1925, then attended Foster Township high school in Woodside building before Foster Township High School new building was built. I remember when in I think 1946 or 1947 Eckley, Sandy Run and Ripples schools closed and everyone attended Highland School. Our family members lived in the same Highland home from 1906 to 2009, then my mom, Evelyn Yaruso lived in St. Lukeís nursing home in Hazleton for the last 17 months of her life, 2 months short of her 97th year.



I wrote back to him, and he followed up with this note: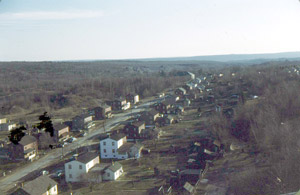 Thanks, the only picture I have of Highland School is one where in the top area the school can be seen. I took a picture of Highland from 150 feet up on top boom of dragline shovel in fall 1959 or 1960. Itís looking west toward Hazleton. Highland School can be seen, so now you have a picture of Highland in the good old days. All of Highland can be seen except the last house, the shovel was back of our home. I was 24 years old at the time and you couldnít pay me to do it again.






Following on this, we had some correspondence back and forth about the coal breakers in Highland:



I also have picture of Markle Coal Company Highland #1 Breaker at east end of Highland, taken I would say around 1930 as found among momís 500 or more pictures. My grandpa Peter Martonis worked in Markle Coal Breaker Highland #2 under ground from 1906 to late 1930's. This was his only job upon arriving from Lithuania with a wife and one daughter, and after that they had 7 more daughters and one son born in America. For this he died at age 72 from black lung. Highland was a beautiful village in those days, flowers, vegetable gardens and yes, we had an outhouse up to 1965. Those folks from Europe took pride in their company homes and gardens. We had coal region pride in those days.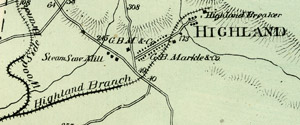 When I wrote back and sent him this section from a map from the 1873 atlas of Luzerne County, he wrote this:



Thank you, I have that map, our home was the 2nd from the end before railroad tracks, left side of road. Grandpa Peter Martonis, his wife and daughter lived there upon arriving from Lithuania in 1906, company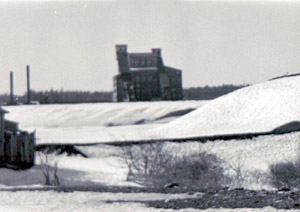 homes, he had 1 son and 7 more daughters born in that home, and my brother and I and a sister were born there in 1935 1936, 1937. My mom lived in the same home till 2008. Highland Breaker #1 was on east end of town. Grandpa worked in Highland #2 under ground for over 30 years and died of black lung in 1952. I remember the sawmill but it was only foundation and pillars at that time. I have a picture of Highland #1 breaker and picture taken from our front yard which you can see the washery. I also have a picture of Highland Breaker #1 on the east side of Highland village taken in 1920's, found in my late momís album. As kids my brother and I with our mom would walk down at shift change to watch the miners being pulled up slope to the top in small coal wagons. This photo is of Highland Breaker #1 Markle Coal Company, located on east end of Highland, 1930, date is hard to make out on picture. The last house in Highland can be seen left side.



A month or two later I got two more emails from him: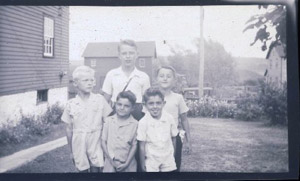 Hi, I came across another negative of a picture taken in our yard, Martonis family home, 44 Main St., Highland of me, my brother and cousins, I would say 1940 or 1941. There is a truck or horse drawn wagon in front of our house with Jonny's Ice painted on its side, I can find no information on Jonny's Ice in that area.

I am the first boy on bottom row right side, my brother next to me, rest are cousins. The truck says Johney's Ice, I can read it on the negative. Photo taken outside the Martonis home, Highland, 1941. Also the picture I sent to you of Highland taken from top of boom on drag line shovel, I found another one which shows all of back street in Highland.



Hereís a note from mid-May 2014: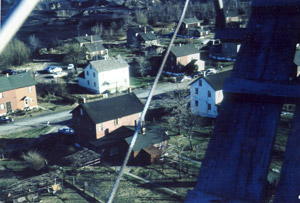 Hereís a picture of the back street in Highland from 1961, and the other picture is members of Highland Social Club, I believe 1946 or 1947 by looking at my grandfatherís picture, Peter Martonis, left side top of picture. I remember them all, fine men who all passed on years ago.

The Highland picture of back street is looking south where Highland # 2 breaker was, Eckley was just over mountain. I have pictures taken from the big dragline shovel, which was at that time back of our home, I will send a picture of me on very top holding on tight. Names on picture of Social Club are, front left, Peter Petrushka holding bottle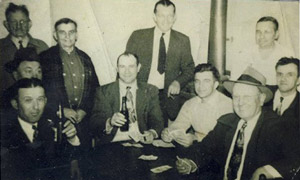 beer, across table with hat on is Nick Soberick, 2nd row left is John Spetz, Shine Tomari center holding beer bottle, father in law of Eugene Chitswara, Highland School and Foster Township H.S. buddy who sent the picture to me from Colorado, Peter Husowitch who delivered coal, Frank Laganosky on end, champion red top mushroom picker in Highland. Back row left side, my grandpa Peter Martonis who arrived from Brazil after leaving Lithuania, working in mines there to earn enough money to send his wife and my aunt Vern from Lithuania to Highland, I believe he was sponsored by his cousins, the Kuklis family in Freeland in 1904. J. Jupin, Mr. Kanyak and "Peggy" Stefanik, some names may be mispelled. The club house is still in the center of Highland on right side going down Main Street, in the early years it was in a 2 family house converted to single house, and as kids we were allowed to sit on benches and watch Howdy Doody, Frontier Playhouse on TV from I think 4 oíclock to 5 oíclock, only place in Highland to have a TV and a one-arm bandit which was against the wall on right side. The home was torn down I believe 40 or more years ago and rebuilt as it now stands. I have no pictures of Highland Hall, the old Highland school house. Any other questions I would be glad to help out as I soon will be 78 years young and have many good memories of Highland at that time when it was great.



Tom wrote again in August: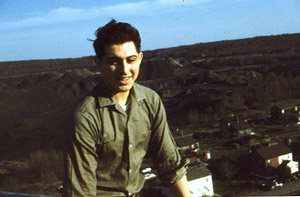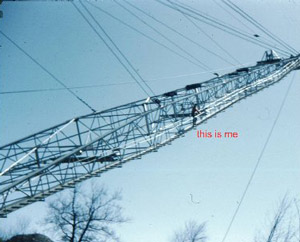 Hi, I found other Highland village pictures, itís me on top gangway of dragline shovel where I took pictures of Highland. Highland # 2 Breaker was even with my lips to the right side. Base of Highland Eckley mountain as shown on painting at post office. These were taken in 1961, the breaker was gone then. To the left of my head was the culm bank where culm was dumped by small rail cars, it extended far, it was not usual high bank which were high like the one off 309 south, left side by Audenried McAdoo.





And he added a note about the Post Office mural:



I remember my grandpa, Peter Martonis from Highland who worked underground at Markle Coal Company # 2 at base of Highland Eckley mountain, told me that breaker on the Post Office mural is # 2 where he worked from 1906 till I think 1939. We lived with him in Highland. It canít be Drifton breaker as no mountain was in back of Drifton breaker. See the recent featured photos page for an update on this breaker question!