Every once in awhile I'll pick a date and see what I can find about some aspect of what was going on in the Freeland area that year. Here we're looking at the schools that were operating in Freeland in 1912, just over a century ago. The Sanborn Fire Insurance maps that were produced for Freeland that year listed eight schools. Here are details cropped from the maps to show where the schools were located. When I can, I'll add some information about the schools from around that time. Meanwhile, please also visit the other pages in the Schools section, where you can see pictures of schools with some information about them, group photos of students with their teachers, and a list of Freeland area school personnel culled from the 1940 census. Also posted are lists of schools reported in early city directories and map indexes, and the members of Freeland school boards from 1895, 1897 and 1921. I'm eager to add more content to this section, so please let me know if you have any information or photos that you would like to share. Meanwhile, enjoy.

[Note: At some point I might put these images into a table, but for now they're just positioned in such a way that if your browser window isn't open wide enough, the sections with more than 6 or 7 images might get jumbled onto the next line. Just make your browser window a little wider and it will fix the problem -- a temporary fix.]


---

This is the index from the 1912 maps, and you can see the eight schools listed there.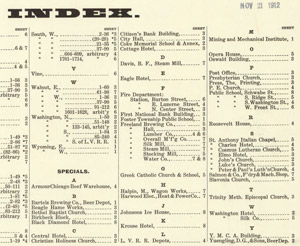 ---

Here are the four public schools listed under the letter "P".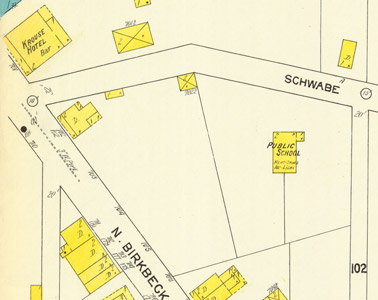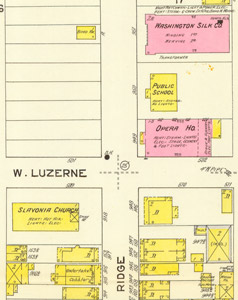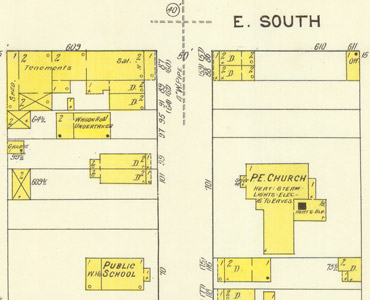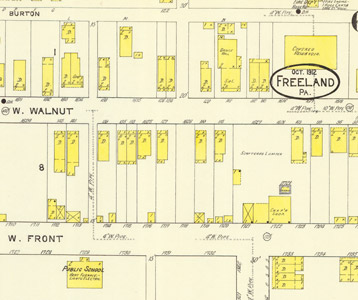 The "Schwabe St. School" is the South Heberton School. There's a picture of students and their teacher in front of the school around 1900 on the page containing several photos of student groups. It's the first photo on that page. The "S. Ridge St. School" still stands; it is Belekanich's house on Ridge Street, just up from Luzerne Street. The "S. Washington St. School" building is no longer there. Nor is the ""W. Front St. School," for which I assume School Street was later named.


---

Two more public schools are listed in the map index.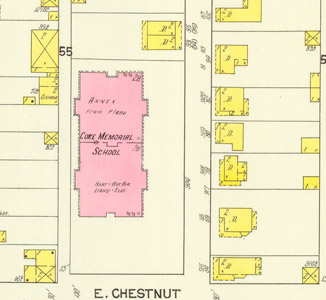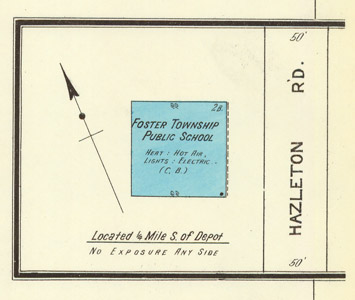 Daniel Coxe Memorial School is erroneously called "Coke Memorial School & Annex" on the map; perhaps they were transcribing from the earlier map and misread the X for a K. You see on this map detail that the proposed expansion of the school was mapped although it had not been built yet. On the page showing some pictures of schools you can see the original school building and the expanded version. Another view of the original school is shown at the top left corner of this page.

Foster Township Public School is also listed and depicted on the 1912 map, although technically it was not in Freeland. This was the old Woodside Public School, a photo of which is on that same web page showing pictures of schools.


---

Two private schools complete the 1912 listing.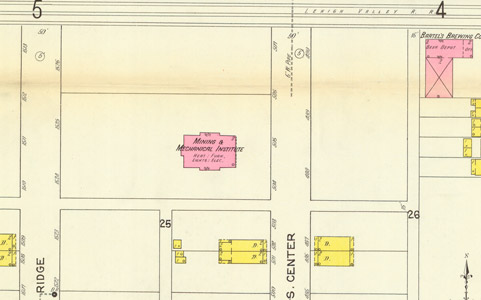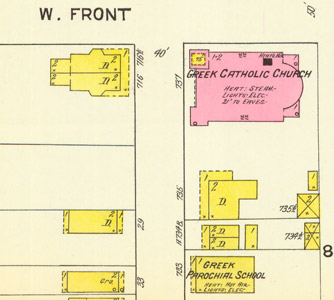 The "Mining and Mechanical Institute," MMI, is shown in its third and current location on south Centre Street. This building shown on the map was completed in the fall of 1902.

The "Greek Catholic School" was St. Mary's School, which I attended as a child. It was located on Fern Street between St. Mary's rectory and St. Anthony's Church. At the time this map was printed, I assume that students were learning both English and Rusyn. St. Mary's was founded by Carpatho-Ruthenian immigrants and the mass was still being conducted in Rusyn when I was in school there in the 1950s. Elsewhere on the site you can see a Rusyn textbook used at St. Mary's School in the 1920s.


---

Sanborn maps were made for communities with a population of 5,000 or more, so we don't have such maps for the smaller communities near Freeland. In 1912 St. Ann's parish also had a school in Woodside out in the area where the St. Ann's Cemetery is now; later they built a new one in a new location on Chestnut Street in Freeland. There were public schools in Eckley, Jeddo, Sandy Run, Upper Lehigh, Ebervale and many other small towns in the area. There are pictures of the schools from Jeddo and Sandy Run on my school pictures page. I will add more as I find them.