What's on this page:

Photos and postcards of Freeland area basketball teams
Team mascots

As always,

if you can identify anyone in these photos not already identified below

, will you please let me know and I'll post the information. Also, additional photos or information can be shared here. Thank you, and enjoy.


---

FREELAND AREA BASKETBALL TEAMS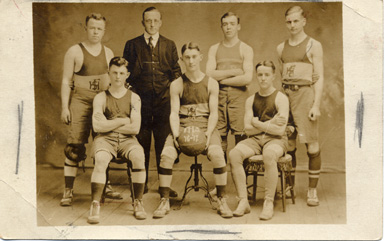 This photo of the 1916-1917 Freeland High basketball team comes to us from Tom Lavinka, a longtime site contributor. The larger image of the photo has been repaired digitally by Jay Cawley.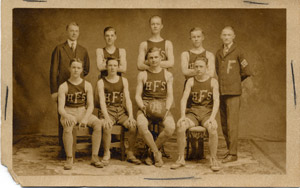 This photo of the 1917-1918 Freeland High basketball team also comes to us from Tom Lavinka.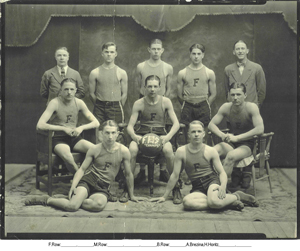 This photo of the 1926 Freeland High basketball team comes from another longtime site contributor Eddie Barna. The photo at top left shows the basketball they used when they won this championship game. Eddie wrote: "The only two I can identify are in the back row; second from the left is my uncle Andy Brezina and the guy in the center back is Howard Hontz, the teacher."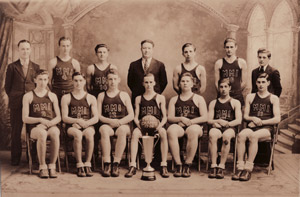 This photo of the 1933 MMI basketball team comes to us courtesy of MMI. If you recognize anyone in the photo, please let me know.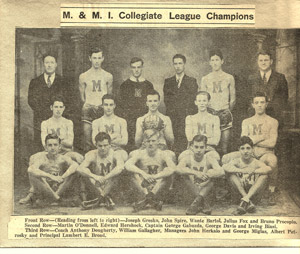 This photo of the 1936-1937 MMI basketball team comes from Barbara Bartol Rentenbach, and that's her father Wante Bartolo in the front row, center. Front row, left-right: Joseph Gresko, John Spire, Wante Bartol, Julius Fox, Bruno Procopio. Second row, Martin O'Donnell, Edward Hershock, Captain George Gabuzda, George Davis, Irving Biasi. Third row, Coach Anthony Doughterty, William Gallagher, Managers John Herkalo and George Miglas, Albert Petrosky, and MMI Principal Lambert E. Broad.



Here's an MMI team photo from yet another longtime site contributor, Ed Merrick, showing the MMI 1939-1940 team. Ed wrote: "This photo shows my uncle, Ed Remak, holding the basketball for an MMI team photo. The presence of the trophy and the "MMI 39-40" on the basketball would seem to indicate a championship." The enlarged image was repaired digitally by Jay Cawley; here's what the actual photo looks like. Amazing what someone skilled in digital graphics can do.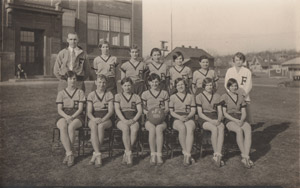 Marion Gabuzda Boyle Denion is sharing this great photo of the 1931 Freeland High School girls' basketball team. She wrote: In the photo I`m sending, Eleanor Yannes is seated with the ball. Irene Gabuzda is standing on the right end. The coach was Herb Rathey. Can anyone reading this identify anyone else? Please let me know and I'll post the information here.

After I initially posted this, I heard from Eleanor Boyle Duckett, who says that the woman standing in the back row, next to the coach, is Eleanor Boyle. One of her brothers, James Boyle, is pictured in the 1934-1935 championship picture further down on the page. James went on to play basketball at the University of Scranton. At Freeland High, he was #7.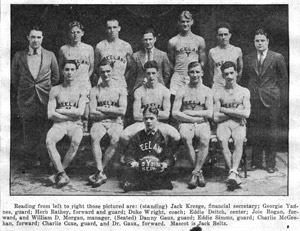 This photo of the 1931-1932 Freeland High basketball team comes from another correspondent, Ethel Maso Paoletti. It is from her late brother Silvio's scrapbook, which she sent to me awhile back so that I could make a copy and then return it to her. Silvio died in 2007 at age 89. Back row, left to right: Jack Kresge, financial secretary; George Yannes, guard; Herb Rathey, forward and guard; Duke Wright, coach; Eddie Deitch, center; Joie Rogan, forward; William D. Morgan, manager. Seated, left to right: Danny Gauz, guard; Eddie Simms, guard; Charlie McGeehan, forward; Charlie Coxe, guard; and Dr. Gauz, forward. The team's mascot, shown holding the ball, was Jack Beltz. Here's the full page from Silvio's scrapbook.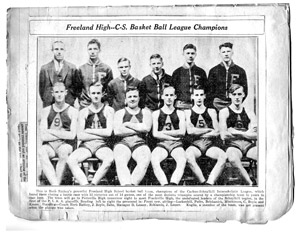 Another photo from Silvio Maso's scrapbook doesn't have a date attached to it but would appear to be from the 1930s. The caption reads: This is Herb Rathey's powerful Freeland High School basket ball team, champions of the Carbon-Schuylkill Interscholastic League, which found them closing a hectic race with 12 victories out of 14 games, one of the most decisive triumphs scored by a championship team in years in that loop. The team will go to Pottsville High tomorrow night to meet Frackville High, the undefeated leaders of the Schuylkill region, in the first of the P.I.A.A. playoffs. Reading left to right the personnel is: Front row, sitting - Luckenbill, Putro, Belekanich, Mischissen, C. Boyle and Krone. Standing - Coach Herb Rathey, J. Boyle, Zahn, Manager D. Lesser, Rowlands, J. Lesser. Kuglis, a member of the team, was not present when the picture was taken.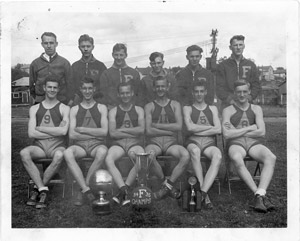 These pictures of the 1934-1935 and 1936 Freeland High teams come from Eleanor Boyle Duckett and her brother Gerald - their father James Boyle was number 7. She added: Gerald believes "Chappy" Boyle may be number 10 in the 1936 photo. We have no idea what the names are of the other players.




1948 BASKETBALL MEMORIES FROM LARRY MASO AS HE LIVED THEM!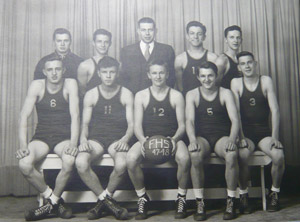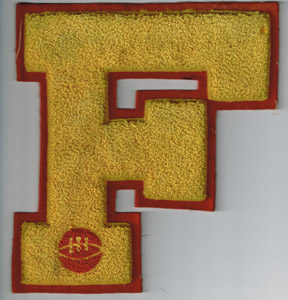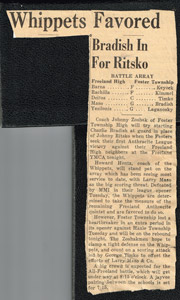 Here is a photograph of the 1947-1948 FHS Whippets. Also shown are Larry's varsity letter and an article about a then upcoming Whippets-Foster game. In the photo: front row, Victor Dietos (Deitos?), Larry Maso, Richard Yesilonis, John Barna, William Rachilla. Back row, Edwin Spock - Manager, John Lawrence, Howard Hontz - Coach, Herman Vitagliano, Joseph Barna. Missing when the photo was taken: Irving Horn and John Bobby.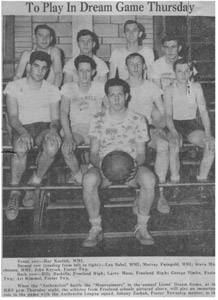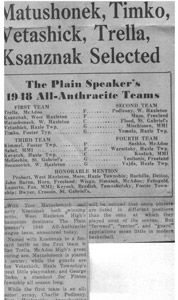 Here at left are boys from Freeland, Foster and MMI who were part of the annual Lions' Dream Game in which the Anthracites played against the Mountaineers. Front row: Ray Kostick, MMI. Second row: Len Sabel, Murray Feingold, Steve Mischissen, all MMI; John Keyock, Foster. Back row: Billy Rachilla, Larry Maso, FHS; George Timko and Art Kimmel, Foster. Also shown is an article about the Plain Speaker's 1948 All-Anthracite Teams, listing the participants and those receiving honorable mention.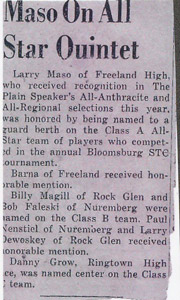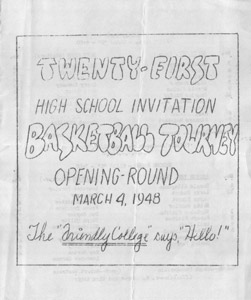 The article here says that Larry Maso has made the "all-star quintet" selected to compete at the annual Bloomsburg STC tournament. Larry also saved his program from the opening round of the 21st High School Invitation Basketball Tourney, opening round, March 4, 1948. Here's a pic of the front page, and the whole program is provided in PDF below.




Clicking the link below will open the Adobe PDF file. If you don't have Adobe Reader on your computer you can download it for free at www.adobe.com.
21st High School Invitation Basketball Tourney, 1948 - (PDF file size = 1.9 MB)

Thank you, Larry!

---

TEAM MASCOTS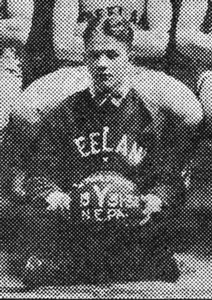 This is the mascot for 1931-1932 Freeland High basketball team, photo courtesy of Ethel Maso Paoletti from her brother Silvio's scrapbook. His name is Jack Beltz.