What's on this page:
Images from previous century
1873 map of the area
On related pages:
---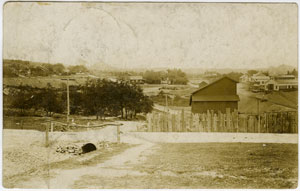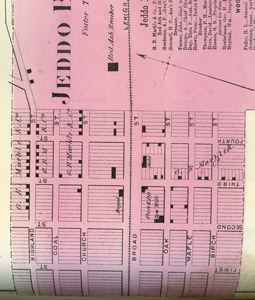 This is an early 20th century view of Jeddo, from a postcard with what I think is a 1908 postmark. There is so much to see in this photo! Further below on this page there's a map of Jeddo, and here at right I've turned it 90 degrees so that it matches the perspective you're looking at this photo from. You can see the breaker at back left, and homes in front of it and to its left; see the mine company buildings at right and the boarding house (on the spot marked "hotel" on the map?) beyond them. Try opening the map in a separate browser window so you can look at both of them side by side.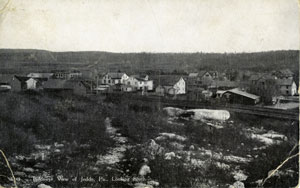 Another view of Jeddo, from a postcard with a 1915 postmark. The postcard's caption calls this a bird's-eye view. You can see why some of the land in the foreground hasn't been developed for building.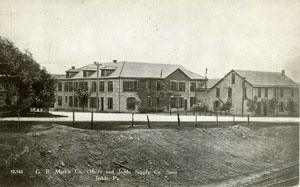 These are the offices of the G. B. Markle Co. and the Jeddo Supply Company Store. The card is postmarked 1915. I don't know who was running the store in 1915, but on the 1873 map below, P. H. Thompson is listed as merchant and postmaster, while George Henkelman was the local butcher.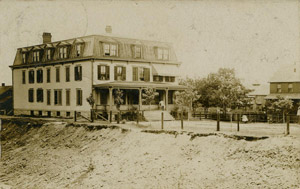 This view of a boarding house in Jeddo comes from a postcard with a 1908 postmark. At right is the back of the postcard, apparently written by one of the owners or managers, who writes, "we are keeping boarders and find lots of work."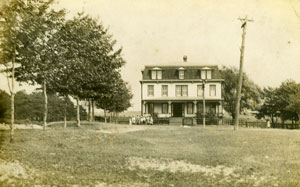 Here's another photo postcard with a front view of the same boarding house. The card is postmarked 1909. This boarding house is visible in 4 of the 5 photos shown on this page, a visible landmark seen from various directions. Does it qualify as a hotel? This is later than the map shown below, but might be the same building shown there; the business listing in 1873 names G. B. Husson as proprietor of the Jeddo Hotel, "Fine accommodations for summer boarders." I would be grateful for information on this or any aspect of Jeddo's history.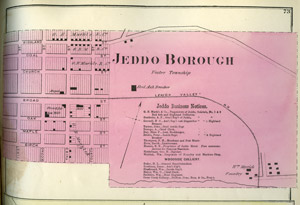 Here's the map of Jeddo that appears in D. G. Beers' Atlas of Luzerne County, Pennsylvania (1873). Interestingly, the business listings include a small section on the Woodside Colliery.