What's on this page:
Michael Zemany

Zemany printing/publishing and other businesses

Buildings and property sold for new post office

On related pages:
Sts. Peter and Paul's Slovak Lutheran Church (in progress)

Post offices - two photos of 1930s construction on former Zemany property

---
Zemany's Hall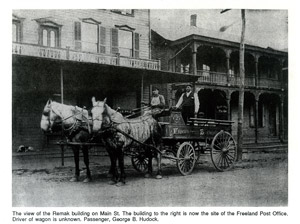 This photo appeared in Charles Stumpf's Panorama book, Freeland. The caption: "For many years the building on the left housed the Remak saloon. The building on the right is the present site of the freeland Post Office. The identity of the driver of the Freeland Brewery wagon is unknown, but the passenger is George B. Hudock." That Zemany building and another on the corner, plus a garage behind it, were sold in the 1930s to make space for the creation of the current Post Office.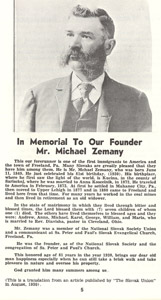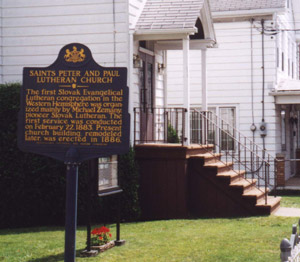 Michael Zemany (1849-1933) organized Saints Peter and Paul Slovak Lutheran Church (which vies with another church in Streator, Illinois for the honor of first Slovak Lutheran church in the U.S.). The memoriam piece about Michael Zemany comes to us thanks to Bill Davis.

Bob Zimmerman said of Michael Zemany: He was one of the founders of the Slovak-Lutheran Church, had a beverage distributorship and belonged to the Woodsmen of America which was a Benevolent Association. I've seen a stoneware jug with his name in blue-cobalt script which seems to indicate he may have either had a bar or supplied alcohol to other bars in town. He is buried in the Freeland Cemetery with a Woodsman tombstone at the head of his grave.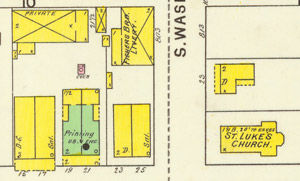 Several Zemany businesses were conducted at his Main street location: hotel, saloon, bottling business, and a printing and publishing business. Upstairs was a space referred to as a hall and a meeting room, including a dedicated meeting space for the Young Men's T.A.B. Corps. For a time Zemany and Coxe had the livery stable out back. Here you see the Remak building at 15-17 Main, and the Zemany buildings at 19-21 and 23-25; the Fishers Bro. Livery is marked Zemany & Coxe on the 1905 map.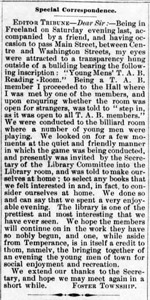 Regarding Zemany's hall being the meeting site for the Young Men's T.A.B. Corps (Total Abstinence and Beneficial Society), they would hold large events at the Yannes Opera House and the Grand Opera House, but for a time Zemany hall was their regular meeting home, as described in these articles from Ed Merrick.




Regarding the Zemany printing and publishing business, they published Slovenska Pravda, a weekly, in 1894-circa 1906. It was published by Andrew Zemany, Manager, at 19 E. Main St. (old address numbering). In 1897 Michael Zemany Jr. is also listed as a printer there.

Listings in city directories:
1895: Printers - Slavonic Truth - 19 Main
1897: Newspapers - Slavonic Truth, Andrew Zemany, mgr. - 19 E Main
1901: Slavonic Truth, weekly newspaper, $1.50 yearly, Main

An ad for this paper appeared [in English] in the 1896 city directory:
The Slavonic Truth - The only Slavonic paper published in eastern Pennsylvania. The best advertising medium. Slavonic Truth & Pub. Co., Freeland, Penn.

In city directories, Michael Zemany, Sr. was listed this way:
1884-1886 - Zemany, Michael, hotel &c, 21 E. Main
1886-1888 - Zemany, Michael, hotel &c, 21 E. Main
1895 - Zemmy, Michael, bottler, 28 Main, home ditto
1896 - Zemany, Michael, wholesale beer, home 15 E. Main
1897 - Zemany, M, Sr., 17 E Main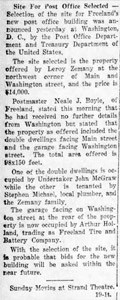 The Zemany building next to Remak's and an additional corner property were sold in 1935 for the site of the new Post Office. The garage behind the corner building that was also sold as part of this transaction had earlier been the site of a livery stable owned by a series of proprietors, including the Fischer Brothers (1895 map) and Zemany and Coxe (1905 map). That livery went through several ownerships and later was Hugh Boyle's service station, one of several examples in Freeland of a livery stable transitioning to a garage, following the progress from horses to automobiles and trucks.





Thanks to Ed Merrick who did research for this, and to Bill Davis, Bob Zimmerman and Charlie Gallagher for assistance. More of what they shared about Michael Zemany will be part of a page in progress on Sts. Peter and Paul's Slovak Lutheran Church.