On related pages:
---
Remak's third floor meeting room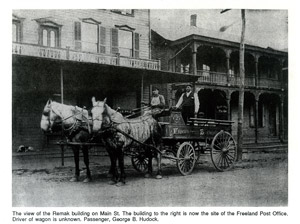 This photo appeared in Charles Stumpf's Panorama book, Freeland. The caption: "For many years the building on the left housed the Remak saloon. The building on the right is the present site of the freeland Post Office. The identity of the driver of the Freeland Brewery wagon is unknown, but the passenger is George B. Hudock."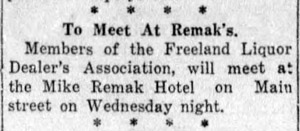 Remak relative Nancy Penn wrote: "The bar … stayed in business until my Uncle John (the bachelor bartender who never left home) died. His sister, my Aunt Anna, lived on in the house for a few more years. I think it was sold by her, maybe five years or so prior to her death in 2001. I remember another interesting thing about the house is that on the 3rd floor, there was a very large meeting room with a podium for a speaker to use. I know my grandfather had some kind of meetings/gatherings up there - but I'm not really sure what they were about."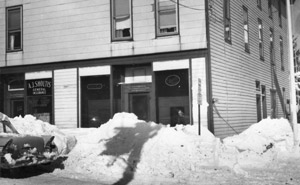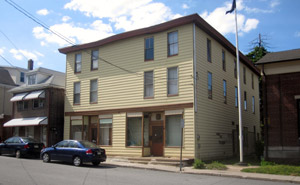 Michael Remak engaged in several business activities, the most longstanding of which was his bar. Here are two views of his Main street building from Ed Merrick (who is also a Remak relative), and more photos and information are at a webpage about him.




Thanks to Ed Merrick for clippings and photos, to Nancy Penn for information about Mike Remak and his building, and to the late Charlie Stumpf for the photo in his Freeland book.