What's on this page:
Story of Mike Remak (including Sarna family photo added 4-2018)

Newspaper coverage of the mining accident that killed Mike's father
Family reminiscences from Nancy Remak Penn's cousin at 91 (Mike Remak's granddaughter)

---

Most of this information came from Nancy Remak Penn, with additions from Ed Merrick. Both are grandchildren of Michael Remak (1872-1949).

Early years in Freeland

From Nancy: My grandfather Michael Remak immigrated to America from Morva, Hungary about 1887. His father was a coal miner who had immigrated to America in 1881 and then sent for his son Michael to join him. Family stories tell that shortly after Michael Remak arrived in America his father sent him to MMI. I believe that the school was originally established to educate sons of coal miners. He went there for a period of time and by 1900 he was living in Foster Township and working as a day laborer (according to 1900 census).

[Ed Merrick adds that a daughter of Anna Remak had told him that Michael Remak attended evening classes at MMI to learn English.]

Mike Remak's father was killed in a mining accident in 1901. See further down on this page for local newspaper coverage from that time. He is buried in the Freeland Cemetery.

Mike and his wife Anna married in 1903 and had 10 children together. According to his 1903 marriage license application his occupation was "driver" (Nancy thinks this was probably a horse drawn wagon for beer distribution deliveries).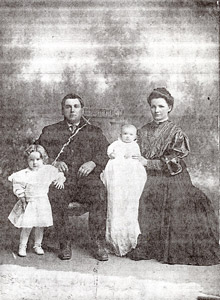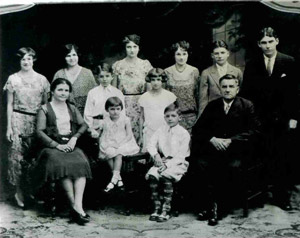 Photo from about 1906. Mike & Anna with their first two children (2-year-old Anna and baby Agnes). As a special treat, at the end of this page you'll find reminiscences from the *daughter* of 2-year-old Anna at age 91.

Photo from 1929: Mike and Anna Remak with their 10 children. Enlarged version is annotated with names and dates. Photos from Nancy Remak Penn.



From Nancy: It was probably not long after 1903 that he opened his own liquor business. He applied for a liquor license for a business on Ridge Street in Freeland in 1905. He and others in the business received a good deal of attention from the Anti-Saloon League around that time. From 1906 to 1908 there are several newspaper references about cases brought against Michael Remak (and others) by Rev. Riley of the Anti-Saloon League. In those days there were laws about serving liquor on Sundays.



Many of the bars closed their front doors on Sunday and customers came in by the side door instead. By the time of the 1910 census Michael Remak and his family were living on Main St. and his occupation was recorded as hotel operator; perhaps the saloon on Main Street was also a hotel at that time, or maybe a boarding house. He was also a bottler, perhaps at the same Main St. location (or perhaps he contracted out this work), and in 1912 he applied for a wholesale bottler, brewer and distillery liquor license. It appears he was still registered as a bottler in 1917 (according to his WWI draft registration). This is his bottle mark.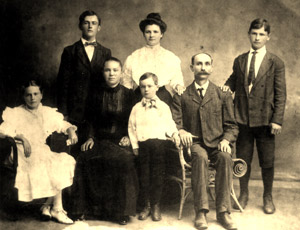 In early 2018 Ed Merrick wrote: "I just found this wonderful photo, which connects the Sarnas with the Remaks and the Gabuzdas. Seated are Mary Sarna (Steve Gabuzda), my great-grandmother Anna Sarna, Andrew Sarna, and great-grandfather George Sarna, and standing George Sarna, my grandmother-to-be Anna Sarna (Michael Remak), and John Sarna."












---

Remak's Store on Wheels

From Nancy: "In the 1930s, he tried his hand at the stores on wheels that went from town to town, selling cabbages, vegetables, etc. Mike Remak's sons John (1917-1992), George (1915-1998) and Mickey Remak (1907-1970) and his son-in-law Tony Merrick (1905-1978) operated the "Remak Bros. Motor Store" trucks."

She also shares this story: "I remember my father (George Remak) telling me about the time he and his brother Mickey were in the cellar at 709 Main Street and all of a sudden wilted cabbages came flying down the cellar steps. It seems after their return from the store on wheel delivery route they had forgotten to take the cabbages out of the truck and store them in a cool place overnight. It was their father Michael Remak tossing the ruined and wilted cabbages down the cellar stairs. I don't think he was aiming at the boys but at any rate none of the flying cabbages hit my father or my Uncle Mickey. No one was hurt and a lesson was learned."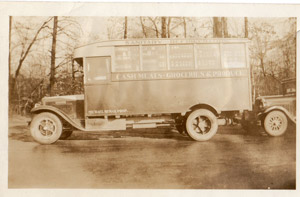 Remak store on wheels, 1933. On the side are written:
Sanitary refrigeration
Cash meats, groceries & produce
Michael Remak, prop.
Photo from Ed Merrick.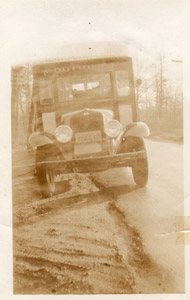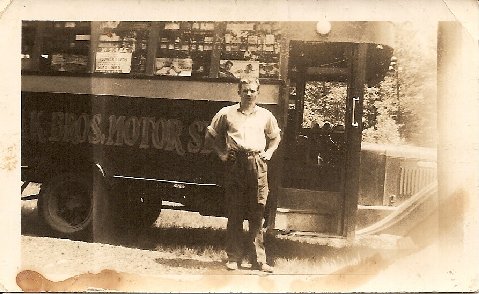 At left is a front view of one of the grocery trucks; above the windscreen is written:
Meats Groceries Produce
Photo from Ed Merrick.

At right, John Remak standing in front of Remak Bros. Motor Store. Photo from Nancy Remak Penn.







---

Remak's Bar/Saloon

Nancy: "I do recall family stories that early on in the start of his business he used to go to the mines to sell "shots" to the miners as they came out of the mines at the end of a long, hot and dirty workday."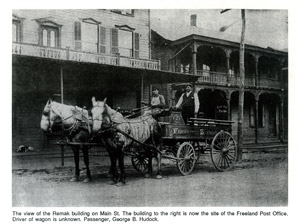 In Charlie Stumpf's book on Freeland's history, published by Panorama, there's a photo on p. 6 (the section about the 1890s) with this caption: "For many years the building on the left housed the Remak saloon. The building on the right is the present site of the Freeland Post Office. The identity of the driver of the Freeland Brewery wagon is unknown, but the passenger is George B. Hudock." Photo from Stumpf's Freeland, Panorama.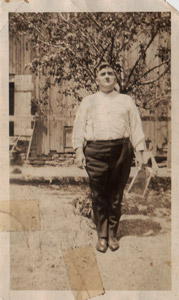 Ed Merrick: "This photo [at right] of my grandfather, Michael Remak, was taken probably in the late 1920s. In the back is the stable at 711 Main Street, where he kept the two horses that pulled his beer delivery wagon. My cousin knows the names of the horses, but I can't remember them. He lived in Eckley, and I believe that he lived there with my grandmother, Anna Sarna, when they first got married. They also lived for a time in Upper Lehigh." Photo from Ed Merrick.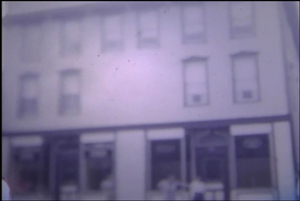 For at least part of the time that they owned the 709-711 Main Street building, the Remaks used both sides; sometimes they rented out one of the storefronts. Nancy wrote: "Attached ... is a 1955 "front" view of the Remak bar at 709 Main Street (sorry it's so out of focus). The Remak's bar entrance with the two bay windows is shown on the bottom right of the picture. FYI, there was also an entrance to the bar on the side of the building. The side entrance of the bar faced the side of the post office building and an alley separated the two buildings. I think the bay-windowed entrance on the bottom left of the building was rented out and was occupied by a barber at one time." Ed Merrick notes that a daughter of Anna Remak had told him that the Remaks housed boarders at 711 Main Street, and he adds: "I remember the upstairs layout on both sides: there was a shotgun corridor at the top of the stairs so that all the rooms opened onto the hallway, which was ideal for privacy."



I am assuming that his bottling was done at the same location, although I don't know that. Perhaps it's equally possible that he could have made arrangements to use another bottler's operation to do his bottling. Nancy wrote that he was a bottler at one time according to one of the old census reports; according to the 1900 census they lived in Freeland and his occupation was "own business - hotel". In the 1910 Census it says they were at 709 Main Street.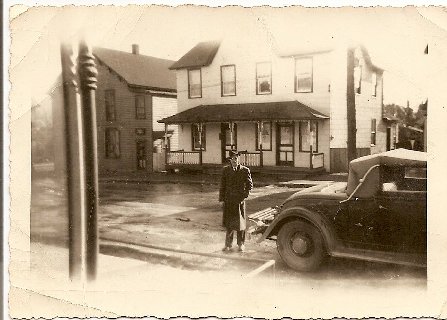 The photo at right shows the view FROM Mike Remak's bar at 709 Main St., looking out across the street. Ed Merrick commented: "The view in this photo is from the inside of Remak's, through one of two bay windows, which flanked the front door. The building to the left is, or would become, Gene Boyle's Cafe, on the corner of Main at Washington Street. The house to the right had been converted into a pharmacy when last I visited Freeland, and the upstairs had been converted into an apartment, which my aunt Irene (Remak) Corazza rented until her death in 2002. The bay windows housed window seats, which could be closed off with folding doors. The bar itself was of dark, carved wood, and the ceiling was a classic tin tile pattern. Before TVs became widespread, my grandmother would allow the patrons to crowd into the living room, just beyond the bar, to watch the heavyweight fights of the 1940s, such as the Joe Louis and Billy Conn battles, but, as soon as the fights were over, they had to clear out and go back to their Stegmaier. Judging from the car on the street, I would say the photo dates to the 1930s." Nancy also commented on this photo: "I found another old photo that I believe was taken from the bay window of my grandfather's bar at 709 Main Street. It gives a good view of the buildings across the street. It looks like my father in the photo and I believe the building behind him is now Greco's pharmacy. My dad looks to be about 20-25 years old and he was born in 1915 - so I'm guessing the photo was taken around 1935-40." Photo from Nancy Remak Penn.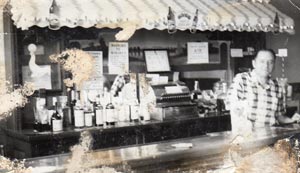 Ed Merrick says: "The photo shows my uncle, John Remak, in March 1966 behind the bar of his cafe on Main Street." [When you click on this photo you'll see that this copy was repaired digitally by Jay Cawley - thank you, Jay!] Photo from Ed Merrick.




Mike Remak invested in stock and was fairly well off for his day and time. He died in Freeland in 1949. He and Anna are buried in St. Peter & Paul's Cemetery.

More from Nancy Penn: "The bar he had stayed in business until my Uncle John (the bachelor bartender who never left home) died. His sister, my Aunt Anna, lived on in the house for a few more years. I think it was sold by her, maybe five years or so prior to her death in 2001. I remember another interesting thing about the house is that on the 3rd floor, there was a very large meeting room with a podium for a speaker to use. I know my grandfather had some kind of meetings/gatherings up there - but I'm not really sure what they were about." [my emphasis - I wonder who was using that space for meetings! - CT]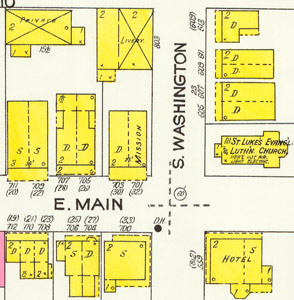 Here is Mike Remak's saloon location as shown on the 1923 Sanborn map, around the time when he was listed in the 1921-1922 directory. I am assuming that his bottling was done at the same location, although I don't know that. Perhaps it's equally possible that he could have made arrangements to use another bottler's operation to do his bottling. Ed Merrick commented: "I know my grandfather was a distributor, but I didn't know he did any bottling. He delivered originally with a wagon pulled by two horses."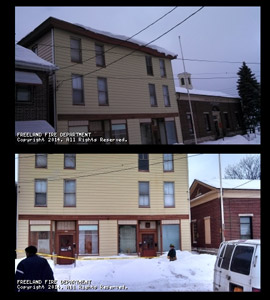 Left: The building at 709-711 Main Street was destroyed by fire in 2014. Photo courtesy of FFD, via Cal Herring. Compare to out-of-focus photo from 1955 shown under "Remak's Bar/Saloon," above.

Right: Remak's garage still stands on the site.







---

THE MINING ACCIDENT THAT KILLED MIKE'S FATHER IN 1901

[Nancy obtained these Plain Speaker articles from Dalice Fadden, who found them at the Hazleton Area Public Library – the first article incorrectly refers to Andrew Remah instead of Mike Remak.]

KILLED IN COAL MINING ACCIDENT
Hazleton (PA) Plain Speaker, Wed. Aug. 7, 1901
A sad accident occurred at No. 4 colliery of G.B. Markle & Co. at Jeddo at 4 o'clock yesterday afternoon by which Andrew Remah and Andrew Shepock lost their lives [note: error in newspaper text - names should have been printed as "Mike" Remah and Andrew Shepock]. The men were working partners in a breast which was driven only a sufficient distance from the gangway to enable them to erect their platform. They were in the act of blasting a shot and both men went to the gangway after igniting the squib. At this moment they heard a trip of cars approaching, and they crawled under the newly erected platform to let the cars pass. The shot exploded and loosened some coal which fell directly on the platform, smashing it down, and crushing out the lives of the unfortunate miners who sought safety beneath it. Both are married men. Remah is survived by a wife and four children while a wife and three children survive Shepock. Both funerals will take place at 2 o'clock on Thursday, and Workers, of which both area members, will attend in a body. The remains of Remah will be interred in Freeland cemetery, and those of Shepock in St. Mary's Greek cemetery.

Hazleton (PA) Plain Speaker, Thurs. Aug 8, 1901


[Here is the coverage of the same event from the Freeland Tribune. The Freeland reporter did better with both men's surnames. Eastern European surnames seemed to be particularly difficult for reporters to spell, or even hear!]

TWO LIVES CRUSHED OUT
Fatal Accident in Oakdale Colliery Yesterday
Mike Raymuck and Andrew Chepa Instantly Killed by a Fall of Coal Which Broke Through Their Platform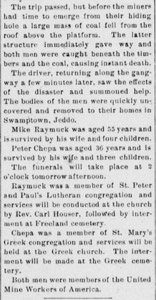 Freeland Tribune, August 7, 1901
[left and center images of article]

Freeland Tribune, August 9, 1901
[right image, funeral note in bottom paragraph]







---
FAMILY REMINISCENCES FROM NANCY'S 91 YEAR OLD COUSIN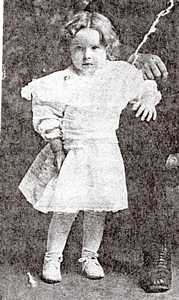 The little 2-year-old Anna in the 1906 family photo (shown at right) later had a daughter who was 91 when Nancy corresponded with me a year or two ago. She has shared many memories with Nancy via correspondence, and Nancy is sharing some of those here:

"Grandpa's father's name was Michael. He is buried in the Freeland cemetery. I could take you right to his grave. Every 30th of May my mom and I took the flowers to put on the graves. Go in the Birbeck St. gate, turn right. The grave is not too far down on your left, still clearly marked."

"Grandpa never said which country he came from, just that his ruler was Franz Josef. That makes it the Austro-Hungarian empire, but I don't know where. Grandpa didn't come from Hungary but from Austria. He said he had a sibling, a sister. I don't know whether she was older or younger nor even her name. She stayed in Europe, married. I don't know her married name. She used to write - Gran did the writing. I remember seeing a snapshot of her with a little boy. She had written Stefan on the back. She had a small factory where she made clothing, had 10 or 12 women working for her. Gran would get ready boxes of outgrown clothes and non-perishable food to send off to her. They had contact until sometime in the 1930's. War was stirring in Europe. We stopped hearing from her, don't know what happened to her - such a pity."

"Michael's father left Europe after his first wife died, he left his son, Michael, and his sister behind. When Michael was 14, he sent for him. He immediately sent him to M.M.I. a school in Freeland. One of the things he wanted him to learn was to speak English well. He did that ... that was why he had no accent." Our grandfather spoke very good English with no accent at all."

"Michael Remak had stepsisters named Nancy (Rooney), Annie & Suzie. Michael's father was married twice and the stepsisters come from his 2nd marriage, to Mary (last name unknown)."

"Saloons were supposed to be closed on Sundays. None of them ever were. Remak's was open from mid-morning until evening. The men came and went through the side door in the alley. Grandma would go to 7:00 am mass. When she came home, Grandpa got ready to go to St. Peter and Paul's service. She tended bar while he was gone."

"Where the post office now stands in Freeland, there were two double houses 707-705 and 703-701. The latter had an undertaker by the name of McGraw. 707-705 was owned by a man named Zemany. We always called him and his wife Zeddo and Setka / phonetic spelling meaning Uncle & Aunt. Zeddo was marred to Grandma Sarna's sister, so of course, she was Gran's aunt. They had a daughter named Annie, a cousin. I can't remember her husband's name but still remember what he looked like. They had a daughter, Mamie (probably Mary) who married a man named Kesta. They had a girl, Alfrieda, who played with Mary and me. Between 709 and 707 there was a wide alley. It was black topped, had a high fence, at least 12 feet high, with a big gate that opened onto Main St. We played there a lot."

Thank you for visiting this page about Mike Remak, his family and his businesses. Please also see the related pages on Tony Merrick's stores and Freeland's bottlers, both of which mention him.