What's on this page:
Story of Tony Merrick and his grocery stores

Notes on several other grocery businesses owned by relatives of his

---

The people who contributed most of the information and the photos for this section are Ed Merrick and his cousin Nancy Remak Penn, with additions from John Gabuzda. All photos are from Ed Merrick unless labeled otherwise.

Several years ago I asked Ed Merrick if he would tell me about his father's grocery store, Merrick's Food Market, which I remembered from my childhood as being located at 355 Centre Street. We lived at the other end of the block, and I remember being sent to Merrick's by my mom to get groceries. Ed said that before his father opened the store on Centre St. in 1950, he had a store-on-wheels, and

before that he had a store in the double home that Stanley C. "Butch" Sosnowski owned

at the corner of Washington and Luzerne streets. So here is an interesting look at the changing forms of the business of one of our local grocers from years ago.


---

Early years

How did our local grocers get their start in the business? One could start from scratch, or take over a previous business, or apprentice with a grocer or butcher to get experience and then start a new business; some might do several of those things. In this case, Anthony (Tony) Merrick started out working for the man who would be his father-in-law, Michael Remak, in his store-on-wheels.

Michael Remak (1872-1949) immigrated to America from Morva, Hungary about 1887. Early on, he distributed beer from a horse-drawn wagon. He also had two stores-on-wheels in the 1930s. The "Remak Bros. Motor Store" trucks were operated by Michael Remak's sons John (1917-1992), George (1915-1998) and Mickey Remak (1907-1970), along with his son-in-law Tony Merrick (1905-1978). Later John Remak took over as proprietor. So this was Tony Merrick's start in the grocery business.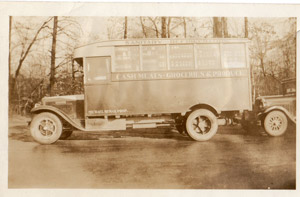 At right, Ed's and Nancy's grandfather's store-on-wheels from 1933. On the side is written: Sanitary refrigeration - Cash meats, groceries & produce - Michael Remak, prop.

Then Tony was hired by Emri Silvasi at Silvasi's Meat Market, where he and his brother Stanley Merrick worked as meat cutters. That store was located just north of McNulty's at 409 Centre Street, as listed in the 1921-1922 city directory. Tony was working there when he married Helen Remak. As Ed says, they got married, and then Tony showed up for work the next day. Such was life during the Great Depression -- no honeymoons for hardworking grocers and meat cutters.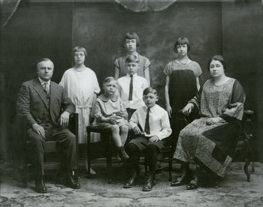 Tony's second employer, Emri Silvasi, and family. Photo from John Gabuzda.













---
Merrick's store at 355 Washington street in the 1940s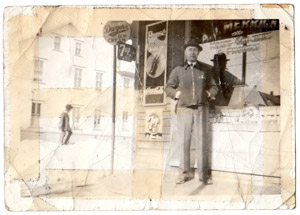 Using the experience he got from working with Mike Remak, Tony Merrick opened his own grocery store in a building the Merricks were renting from Mr. Sosnoski. Ed wrote: "This is my dad, with his ever-present cigar, in front of our store at 355 Washington Street on March 23, 1941. That's 5-year-old me on the snow bank. The sign says: A. J. Merrick Meats, Groceries & Produce." [The enlarged view of this photo was digitally repaired by Jay Cawley - and you can see that this repair was sorely needed - thank you, Jay!]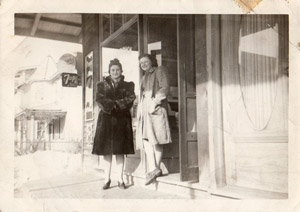 Another photo of the Washington street store shows Ed's mother, Helen, on the left and her sister, Mary Remak, in front of the store. The house in the background belonged to George Feissner.

Ed remembers: "We lived in the Sosnoski building when we had the store there. I loved that big, old house. It had rooms going off at odd angles, and the attic was huge because it extended over both sides of the house, and the old hayloft in the garage was exciting. We had a smokehouse in the back yard where my Dad smoked the sausage that he made. His fresh sausage was the best I have ever tasted, and I have never come across its equal. He used the best ingredients and added fennel seed, a mouth-watering touch."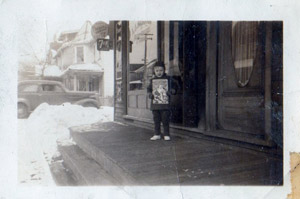 Ed Merrick, age 5, holding what he thinks was The Night Before Christmas in front of the Washington Street store in 1941.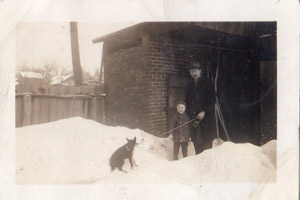 Tony Merrick, young Ed, and dog, Twiggy by the smokehouse, 1941. The wooden garage, formerly a stable, is behind the smokehouse.









---

So the Merrick's were renting their home and store from Stanley Sosnoski, who was listed in the 1929 city directory as Sosnowski, selling meats at this address. Before him, his father Jacob J. Sosnoski was a butcher there. The smokehouse and stable were still there! In Charlie Stumpf's book on Freeland's history, the photo shown below is on page 9 with this caption: "Butcher Stanley C. Sosnoski had a store located at 355 Washington Street and delivered his products from door-to-door. In 1900 steak sold for twenty-four cents a pound. Shown here is Sosnoski's delivery wagon." In the 1895, 1897 and 1900 city directories and the 1917 Scranton phone book Jacob J. Sosnoski or Sosnowski, butcher, is at this address. Stanley took over the business after his father's death. The photo comes courtesy of the Greater Hazleton Historical Society. It also appears on p. 9 of Charles Stumpf's

Freeland

book.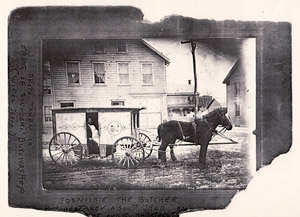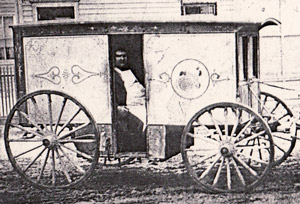 ---

I asked Ed if there had been an active business at that address just before his family moved in, and if the smokehouse was already there on the property, because it would have been Sosnoski's smokehouse. He replied: "I believe that "Butch" (as you know, everyone in Freeland had a nickname) Sosnoski did operate a store at 355 Washington Street before we moved in. He later lived in one side of another double house he owned on Washington Street two houses down from our house at 342 Washington." Here are two more 1941 photos that show Ed and his brother Tom near the Sosnoski/Merrick smokehouse.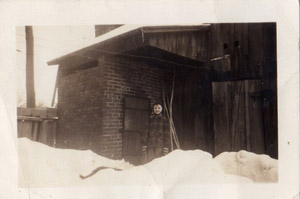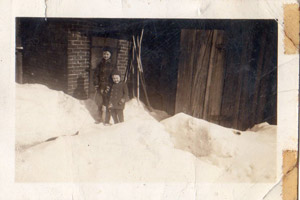 ---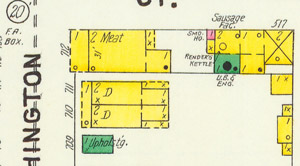 The meat business at that corner of Washington and Luzerne is noted on the Sanborn maps in 1895, 1900, 1905, 1912 and 1923. There were buildings at the back of the property all that time, but they weren't labeled on the maps until 1905, as shown here. Notice how the buildings are labeled here. Detail of Sanborn map, C. Tancin.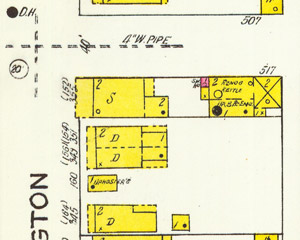 This map detail is from 1923 and shows the smokehouse in pink behind the butcher store, and another building where there was a rendering kettle, also labeled on the 1905 map. On these maps, buildings labeled "D" were dwellings, and "S" meant businesses. The later maps, unfortunately, didn't label the type of business, as the earlier ones like the one above did. Detail of Sanborn map, C. Tancin.






---

Tony Merrick's store on wheels

Tony Merrick began his own store on wheels in the 1940s, and for awhile (between having the store on Washington street and the one on Centre street) that was the only kind of store he maintained. This tells us something about how much business could be done in the Freeland area by bringing the store to the customer. Ed remembers that they would alternate days between Highland and Jeddo. "When we moved [across the street] to 342 Washington Street, we gave up the store and were strictly store on wheels. My Dad enlarged the garage in the back and installed a walk-in cooler. The walls of the garage were lined with shelves for the groceries we stored there, and, when the truck came in at night, my brother and I had to leave the ball game that was always going on in the alley to unload the meat and restock the shelves. Before we got the cooler, I remember going to the ice house near Freeland High School for ice. I'll never forget the smell of the coal oil stove he had on the truck to provide heat for the stops in the winter. We went mostly to Jeddo and Highland. I'm sorry to say I don't have a photo of the truck. When we moved to 355 Centre, we gave up the truck, although we did make deliveries by car on Saturday to our customers who couldn't make it to the store."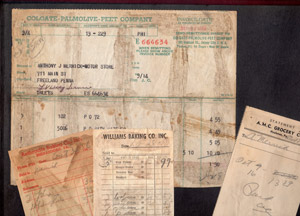 This photo shows invoices from Merrick's store-on-wheels, which are (interestingly) billed to 711 Main Street, the Remak home, in 1946. Apparently there was some kind of ongoing work connection there with his former employer and co-workers.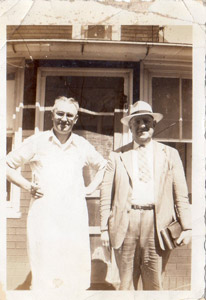 Ed says of this photo: "My Dad and Art Kramer, salesman for C&R Provision Company of Hazleton, behind our house at 342 Washington in 1949. They are facing the garage, where we kept the truck and groceries."

Ed also said: "My father at one time parked our store-on-wheels in the McNulty garage in the alley between Centre and Washington streets."










---

Merrick's store at 355 Centre Street in the 1950s-1960s

The Merricks moved to 355 Centre Street in 1950 (next to Kostick's) and opened a new grocery store there. Ed remembers: "When we moved to 355 Centre, we gave up the truck, although we did make deliveries by car on Saturday to our customers who couldn't make it to the store."

These five photos are from 1956. Ed writes: "The first photo shows Mike Slank and Germy Mattis in our store at 355 Centre Street. I imagine Mike was helping out my father in the store because I was at Lehigh then. The next shows Germy in his bread truck. I used to cover his route for him when he was in the hospital. The third shows the store aisles looking toward the front door. The bread shelves were in the center because obviously bread was a big seller. The others are views from the outside."


---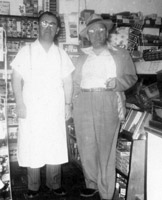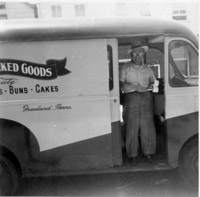 ---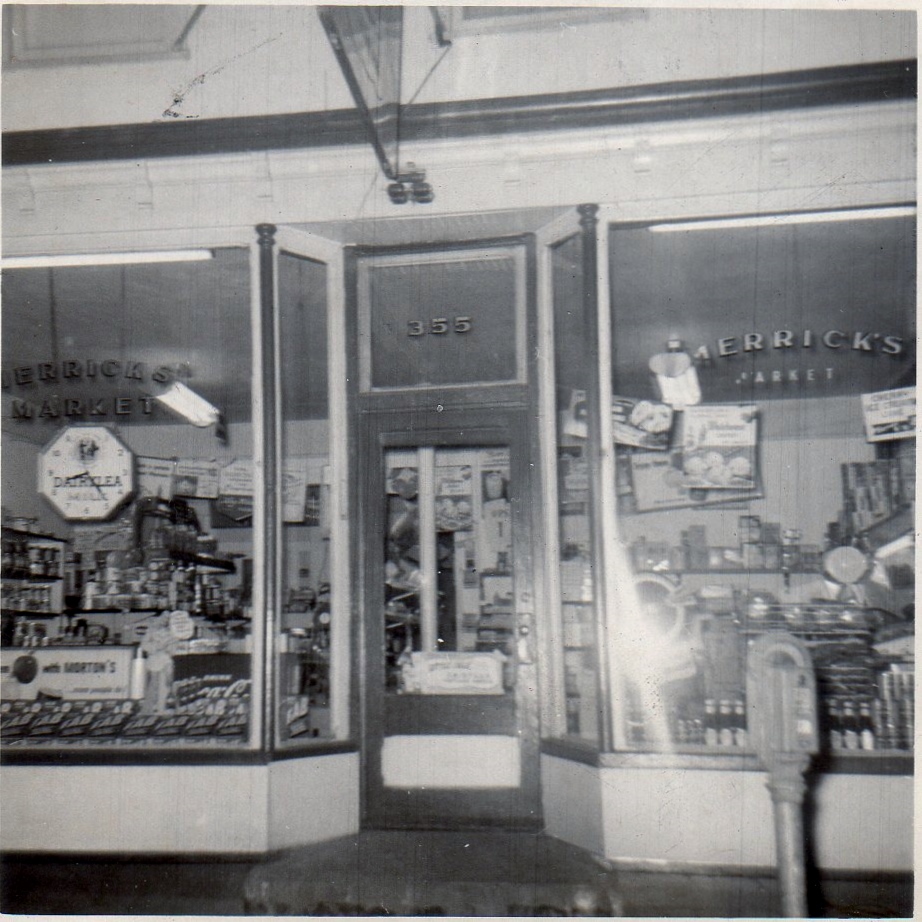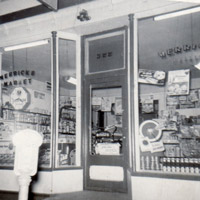 Ed wrote, comparing the Merrick meat operations with those of George Gabuzda: "When I was refreshing my memory of the Gabuzda businesses on your web site, I looked more closely at the two photos of George Gabuzda in the store and would like to point out an interesting detail: In the photo on the left, notice the claw hook dangling just about George's hat. It is attached to the beam scale above. When the meat provision companies from Hazleton delivered a side of beef to the store, the beef was hung on the claw and weighed. Notice the weights on the scale above George. I would guess that the room-like structure with the window behind him is a walk-in cooler, where the side of beef was stored until George cut it up. We had both items in our store at 355 Center Street and bought our beef from C&R Provision Company in Hazleton. I spent many an hour with frozen hands trimming meat from bones, which I then ground up into hamburger. Every week, what we called the tallow company would arrive to pick up the fat and the bones we had trimmed and hadn't sold for making soup, weigh the lot, and pay us for the trimmings. During World War II, the fat and grease that housewives brought in was collected and used for making explosives."


---

The next two photos of the store were taken on February 17, 1958. Good old Freeland winter! From Ed: "Bill Wise is wielding the shovel, and Germy Mattis is exiting. Billy, his wife, Irma, and their three children lived in the rental apartment behind Kostick's next door. Billy was a volunteer firefighter. Germy (I'm using a phonetic spelling of his nickname. I think his formal name was Joseph. I will have to check the 1940 Census to verify.) was a salesman for Hazle Maid. We also carried Spaulding's and Stroehmann's bread and TastyKake pastries. My mother is visible in the glass panel to the left of the door. Our name, Merrick's Market, is on the front window but is hard to make out for the snow and glare."





















---

And these two photos take us forward a few years. Ed says that the photo at left, below "is from February 1964 and shows my Dad standing in front of Joe Chaykowski's former store, then being run by Jack and Fay Cichy. The old sign, Joe's Meat Mkt., is still up. In the background is the sign in front of Ostroff's Groceries, Pennsupreme Ice Cream. 18 inches of snow had fallen." As I said, good old Freeland winter! The photo at right below shows Kostick's Bar and Grill (left) and the North-Side Pizzeria at 355 Centre Street, where Merrick's grocery store used to be, on February 1, 1966.




---

Several grocery/food businesses owned by Merrick relatives

This last section is more fuel for my conviction that everything is connected to everything else. It's so interesting to see the interconnections among grocery businesses in Freeland, through the interrelationships of the people who ran and worked in those businesses. Blood relatives, relatives by marriage, apprenticeships, co-workers, taking on a business from someone else, starting your business on the site of a similar business ... there are so many ways that these businesses can be connected. We're just scratching the surface here.


---

Mike Remak's store-on-wheels

Nancy Remak Penn wrote to me some years ago and sent photos and information about her grandfather, Mike Remak. She and Ed Merrick are cousins and they are grandchildren of Mike Remak, so there is information from both of them here. As noted at the top of this page, Tony Merrick got his start in the grocery trade by working for Mike Remak on Remak's stores-on-wheels.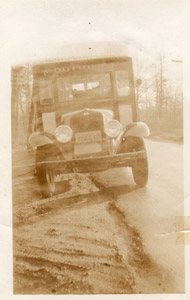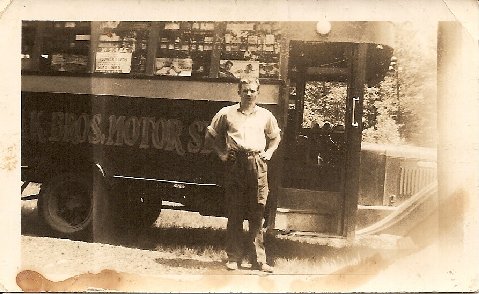 At left, a front view of the Remak grocery truck with license plate T24-017. Above the windscreen is written: Meats Groceries Produce. Photo from Ed Merrick.


On the right, Nancy's and Ed's uncle John Remak with the Remak Bros. Motor Store in Freeland. She wrote: "I don't know the year the photo was taken. My uncle John Remak was born in 1917 and that's him in the picture. He looks like he's maybe 25 years old or so. So I'm guessing it was taken around 1942." Photo from Nancy Penn.



---
Billy Nitka's grocery stores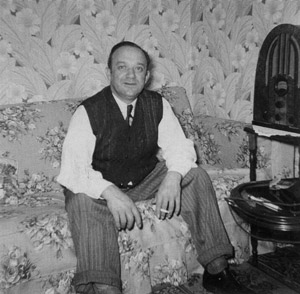 Billy Nitka, who had several grocery stores in Freeland over the years, was married to Ed's aunt, Agnes Remak. The store of his that I recall was on South Street between Fern and Vine streets. In 1953 he had a store at 511 Fern St., where at another time there was a store run by the Brantz family. At some point he also had a store at Ridge and Main, at the site of what later became the Corner Store run by the Reczkowskis. There had been grocery stores on that site going back as early as 1895. Joseph Ranieri (who built St. Luke's and St. John's Nepomucine churches) built the current building there at Ridge and Main streets in the 1920s and he and his wife had a store there for a while. Nitka at one point also had a store on the Airport Road in Hazleton. Susan McKenna, a granddaughter of Billy Nitka's, asked her mother, Dorothy Nitka Hagarty, to send me this photo of him, which she kindly did. Photo from Dorothy Nitka Hagarty.




---
Stephen and George Gabuzda's meat, grocery, dairy businesses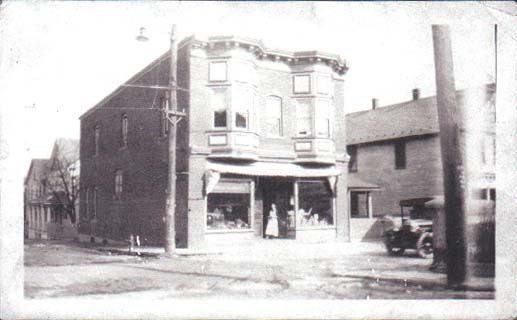 George and Stephen immigrated to the U.S. from Slovakia in the first decade of the 20th century. They first apprenticed with their cousin George Palya to learn the butcher and grocer trades, and then a few years later they began their own business. They were in partnership about 1914-1933. Early on they had 4 delivery trucks serving the "patch" town residents. In the early years those would have been horse-drawn wagons like the one in the Palya photo further above. In the garage building were a smoke house and a slaughter house where they made their own sausages, scrapple and kielbasa. They also carried canned, boxed, and baked goods, home cleaning and laundry supplies and notions.

Stephen Gabuzda married Mary Sarna. She was Ed Merrick's great aunt, his maternal (Remak) grandmother's sister. The Glen Almus Dairy was owned by his great uncle Steve's brother, George Gabuzda. Photo from John Gabuzda.

Please also visit the pages about Mike Remak, George Palya, and the Gabuzda Brothers. Thank you!