What's on this page:
Joseph H. Lindsay and his businesses

1881 construction of new Lindsay building

William Williamson hardware store

Joseph P. Lindsay hardware store
Other uses of the building

On related pages:
---



Lindsay's Hall



In his 1880 History of Luzerne, Lackawanna and Wyoming Counties Pa., W. W. Munsell wrote this about Joseph Lindsay:
J. H. Lindsay, general merchant at Freeland, was born in Philadelphia, Pa., March 26th, 1838. He enlisted in Company I 6th Pennsylvania volunteers in April, 1861; re-enlisted in July, 1861, and was discharged on account of wounds received at Antietam, September 17th, 1862. He married Martha Williamson, of Eckley.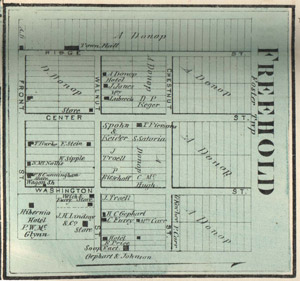 In his Panorama book Freeland, Charles Stumpf mentioned Lindsay several times. He noted that Joseph H. Lindsay (1838-1890) arrived in Freeland in 1868 and opened a miners' cooperative store in 1874. [On the 1873 atlas map of Freehold shown here, J. H. Lindsay & Co. Store was shown on Walnut street, just west of the business on the SE corner of Walnut and Washington that was the Welch & Furey Store.]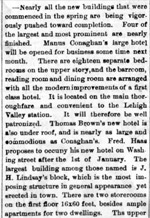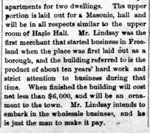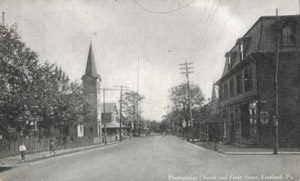 In 1881 Lindsay had a new business building erected on the southeast corner of Front and Washington streets. You can see it in this postcard showing the old Presbyterian church on the left, and the Lindsay building on the right. That building is still there. This 1881 report on its construction describes two storerooms and two apartments, plus a hall to serve as a Masonic hall.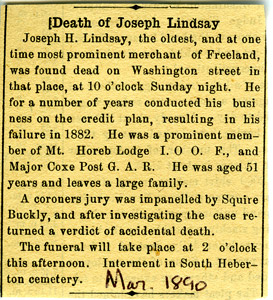 The 1882-1884 directory says Joseph H. Lindsay had a general store at Front corner Washington. Sadly, his business failed not long after the 1882-1884 directory was published, as mentioned in this March 1890 report of his death (shared by Charlie Stumpf). Lindsay kept the building after losing his business, living upstairs with his family, and maintaining a meeting hall upstairs.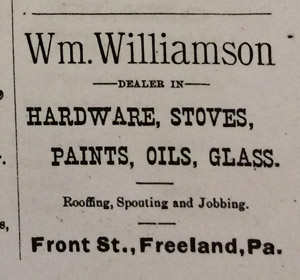 On the 1895 Sanborn map, the building is labeled hardware / tin shop at 36-38 E. Front street. At that point it was William Williamson's store, listed there in the 1895 directory. This 1894 ad comes from Carol Jones. His 1900 obituary includes this:
"… Mr. Williamson … was employed for several years on the breaker and running engines about the mines. Later he followed the carpenter trade, working for some time at Drifton, after which he engaged as a clerk for the late Jos. H. Lindsay, his brother-in-law, who conducted a store here." It seems that after Lindsay died in 1890, Williamson had a hardware store there at Front and Washington. He was still listed there in the 1900-1901 city directory. Not long after that, he moved his hardware business to Centre street, and Lindsay's son Joseph P. Lindsay opened his own hardware store in his father's building and did business there for several decades, as shown on this 1925 bill header.



But in addition to the several businesses conducted in that building, various groups also held meetings and religious services in the upstairs rooms of "Lindsay's Hall." In July 1892 this church directory was printed in the Freeland Tribune. That year two Baptist churches in Freeland were still under construction: Bethel Baptist at Ridge and Walnut streets, and Zion Welsh Baptist on Fern street. [While Bethel Baptist is still in existence, Zion Welsh Baptist lasted less than a decade, and was then sold for the newly formed St. Anthony's congregation.] This church directory shows that during that construction period the congregation of Bethel Baptist was meeting at Lindsay's Hall, while Zion Welsh Baptist's congregation met at Donop's Hall at the southwest corner of Ridge and Walnut, coincidentally across the street from where Bethel Baptist was being built.

Here are three more recent photos of the Lindsay building that I took. I seem to think that in perhaps the 1950s or 1960s the Knights of Columbus met in this building. When I was a Brownie in grade school, Mrs. Ceol was our leader and we had our meetings in the Ceol apartment upstairs there. One or both of Mrs. Ceol's daughters (Janet and Donna?) were also Brownies / Girl Scouts in that troop. I also remember being part of a group in my late grade school or high school years that went Christmas caroling in that neighborhood, after which we were brought to the first floor of this building and served hot chocolate and cookies. So the Lindsay building has had a long and active history in the Freeland community.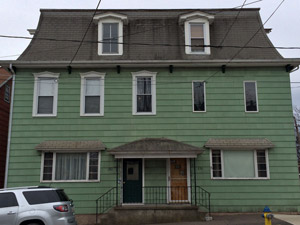 If you know more about the Lindsay building or have information to share or correct, please email me and I'll post here. Thank you to Ed Merrick for research and clippings, to Carol Jones for the 1894 Williamson ad, to Melanie Akren-Dickson for Williamson and Lindsay information, and to Charlie Stumpf for the Joseph Lindsay death notice.