!ffe4b0>



You're visiting
Chuck Tancin's home page.



---
&nbsp

&nbsp &nbsp

&nbsp &nbsp

&nbsp &nbsp

&nbsp &nbsp

&nbsp Cats&nbsp

&nbsp &nbsp

&nbsp &nbsp

&nbsp &nbsp

&nbsp &nbsp

&nbsp
---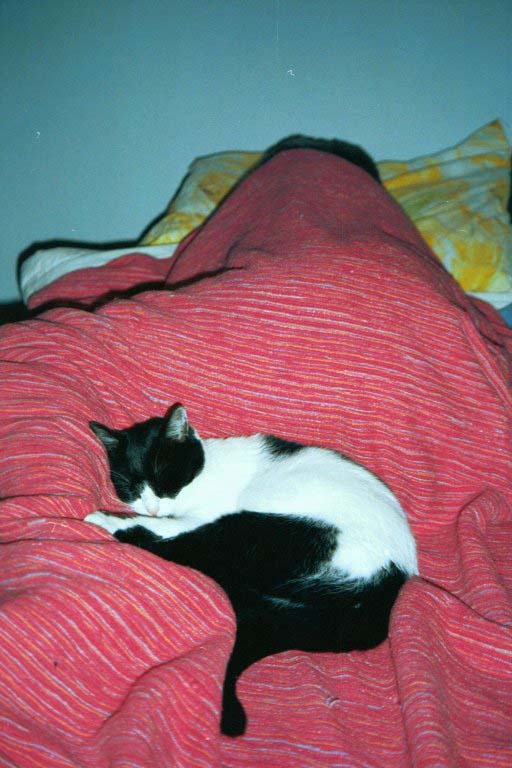 &nbsp

&nbsp Casey and Chuck, fast friends, fast asleep
This is a photo of our youngest cat (youngest of three), as she and I were snoozing together one Saturday afternoon. Although she's quite fearless, she has a strong homebody streak and likes to hang out with us for large portions of the day when we're home. As a kitten this cat had belonged, with 3 of her siblings, to a neighbor on the other side of the woods behind our house, and in the first few days there this kitten just decided to see what else was out there. After one or two nights out alone in the woods, she ended up in our yard. By the time we found out where she'd come from, we were really smitten with this kitten, so we negotiated with the neighbors and got to keep her. She's quite a sweetie.


---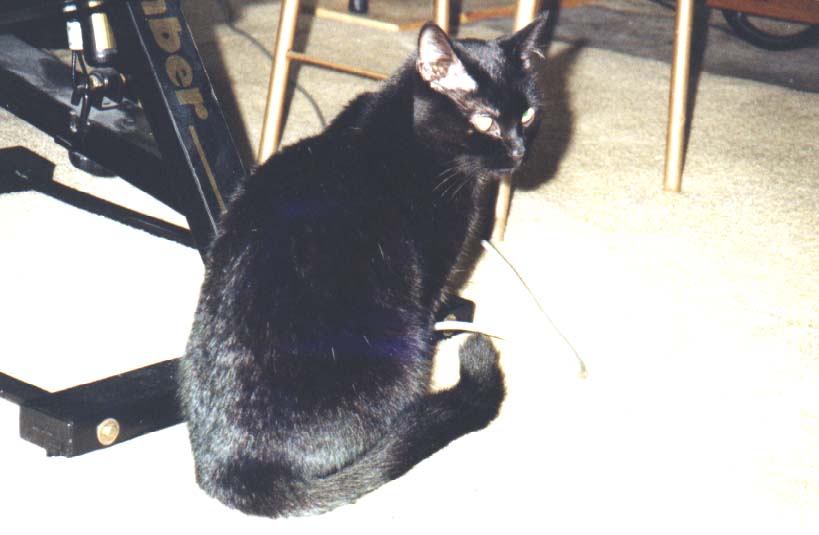 &nbsp

&nbsp Beauty Cat
This is our middle cat, Chelsey, looking bemused. Named Chelsey by her previous owner, she came to us when she was a year old and had to make the adjustment to a new home already occupied by another cat who didn't want any company. It wasn't easy for her, but things got a lot better after we added a third cat to the mix. Chelsey has an engaging personality, cheerful and affectionate, trusting and companionable. Willy never liked her, as he was an only cat until she came along and he never got over it, but she and Casey are great pals.


---
Willy died 19 Nov. 1998 - we buried him in the woods where he came from.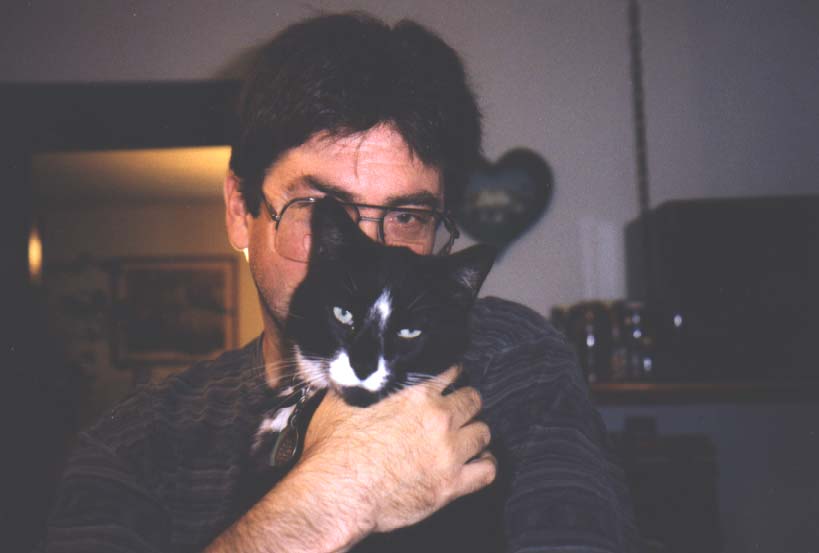 &nbsp

&nbsp Male bonding: Wilson and Doug
Willy was our first cat and it seemed as though he'd been with us forever. He was a wild stray living in the woods behind our house, and he accidentally got trapped in our garage one day when he was quite young ... so we took advantage of the opportunity to more or less domesticate him. Because he started out wild, though, he never completely took to domestication, which we saw as part of his charm. In his last several years he had a congestive heart problem, and we just tried to take good care of him (which involved medicating him 3 times a day) and to keep him as happy as possible (which involved letting him spend a lot of time outside, patrolling his domain). We had a good routine worked out and he lived several years past when the vets thought he'd be a goner. He was a tough little guy and we miss him.


---
Photos copyright D. Metzler and C. Tancin, 1996, 1998.
---
---
VISIT THE REST OF THE SITE:
Home page
Personal news
Photos from the Southwest (U.S.)
Photos from England
Photos from the Missouri Botanical Garden
Photos from the University of Virginia
Photos from Holland
Photos from Slovakia
Photo from Florida
TEMPUS FUGIT ... CARPE DIEM.
---